Tell us a bit about yourself and what you do
I'm Dan Orlowski, I've been a social worker for about 5 years (in housing for individuals with mental health and substance use concerns), and I'm the vocalist in deli girls, nu jazz, and I have a solo project called guido. I went to school for painting (lol) and went through the art school—>musician pipeline, very much by accident. I never anticipated being a vocalist, it just happened, and made sense later.
I first heard about you through your project Deli Girls; could you talk about how that started?
deli girls started around 2013 when a group of friends that we did an online radio station with (where we all regularly aired our new bedroom-core music we made each week) somehow got offered a show spot at a now defunct venue in greenpoint. The friends asked if I wanted to do a set, and most of our friends from the radio station were included in the show, except Rae who regularly produced a lot of quality music on the radio show. So with two weeks out, I suggested to Rae that we do a set together, and that I would do vox. This was odd for me because until then I primarily focused on producing and didn't see myself as a front person at all. We practiced once or twice, with one drum machine and one shitty amp. And then we just kept playing shows.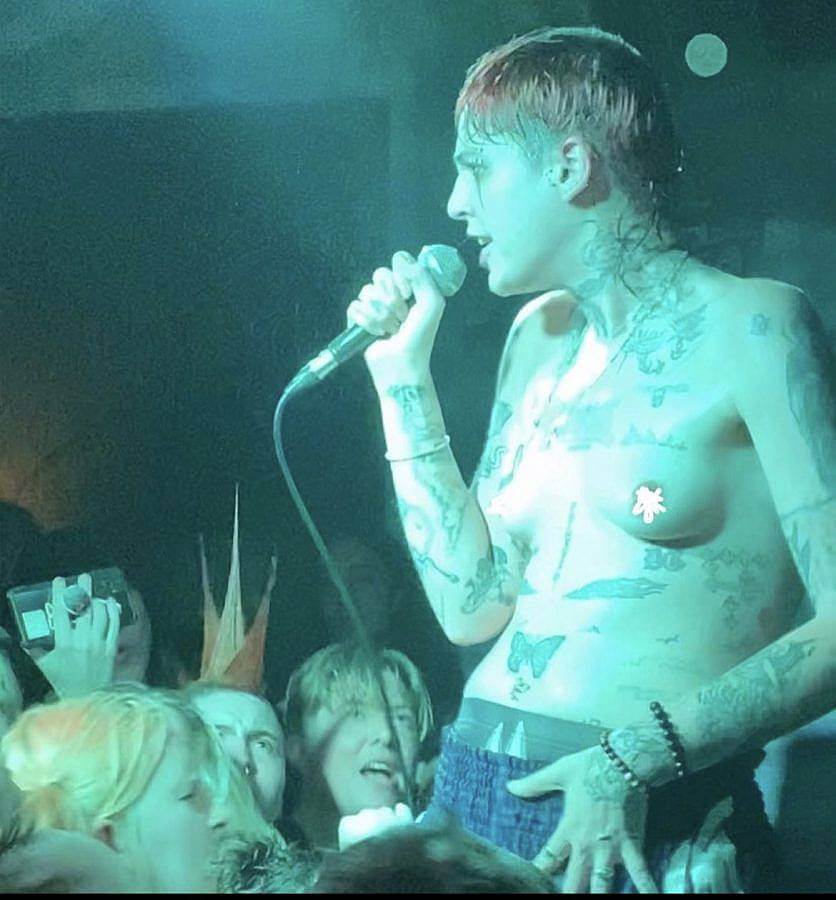 How do you usually approach writing lyrics?
the lyrics have to feel really real to me otherwise I can't scream them. A lot of times each song has a really direct topic—I really value directness, and economy with word choice. There's too much poetic, flowery pretentious nonsense out there, that just uses buzzwords and doesn't say anything; or the fake, distancing academic. I think it's also important not to be too ambiguous, and TO chose a side, politically speaking. Neutrality kills. Literally, as well as spiritually. I try to capture things as they come to me, because sitting down and going "ok now I'm going to write lyrics" doesn't work for me. AKA big notes app user.
What are some of the most memorable shows you've played, either good or bad or in-between?
Definitely this past year, playing CTM at Berghain with Dani Rev, one of my favorite shows ever. Also on this recent tour with Hatechild: particularly London because a lot of trans masc people came out, and that was really humbling. I met some amazing trans people who organized a piss protest in UK (Pissed Off Trannies), that was about making a statement against the law they are trying to pass about needing official ID to use public restrooms separated by gender. They gathered more than 60 trans peoples' piss and shut down the EHRC. They were excited to tell me that they put a DG song to the documentation of the protest. What an honor!
https://www.vice.com/amp/en/article/jgpj5y/pissed-off-trannies-ehrc-protest
We did also play with Genesis P. Orridge once, years ago. There are so many good ones.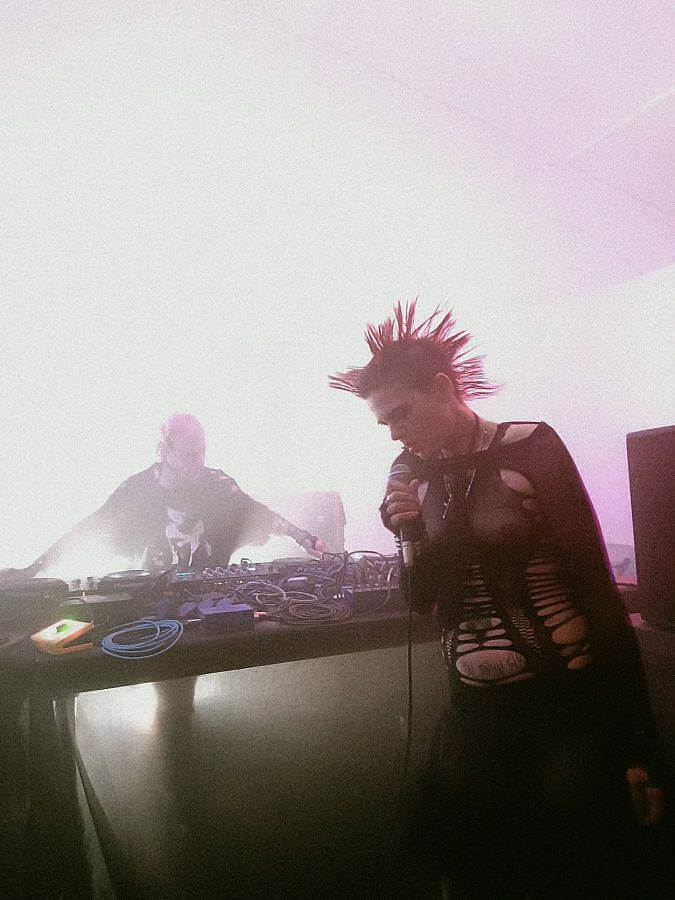 How was your recent tour in Europe?
Incredible! My favorite tour yet. I love playing with Hatechild., it felt seamless. He uses the CDJ's like an instrument, which is perfect for where I'm at. A lot of firsts on this tour-first UK show, first time playing in Italy and Poland, which I have been dying to for a long time. First time talking at a university, (Academy of Fine Arts in Prague); shouts out CreepyTeepee family!
What have you been listening to recently?
Deep diving into jazz; Yusuf Lateef, Sonny Sharrock, Irreversible Entanglements (Moor Mother's jazz project), Charlie Parker (specifically Afro-Cuban bop record), Jaimie Branch (RIP), Rashied Ali, Jason Ajemían, Masayuki Takayanagi, to name a few. I Recently getting into Hole lyrics (never actually listened to the full records before), some indie throwbacks. As far as more scene stuff: 99jakes, Swan Meat, Union Jax, TONFA, Serpe Terror, Deejay Chainwallet, Casper McFadden.
You also play with Nu Jazz, which has 5 other core members. Could you tell us about that project and how it differs from the other work you do?
Nu jazz is so pure: Ben Shirken on electronics, John Bemis on drums, Kevin Eichenberger on bass, Ryan Easter on trumpet, vox by me, and rotating various keys players. Our record is coming out Jan 2023. Playing with these guys has got my chops up, they're all so damn talented and teach me so much. I'm less afraid to SING and be melodic now. Regular practice is a purge; an exercise in mindfulness and communication. It feels like we're doing something new. I feel I can talk about more nuanced topics than in my other work; more sentimental, (always personal), sometimes more meta. I can be someone else, and more genuinely find myself again that way.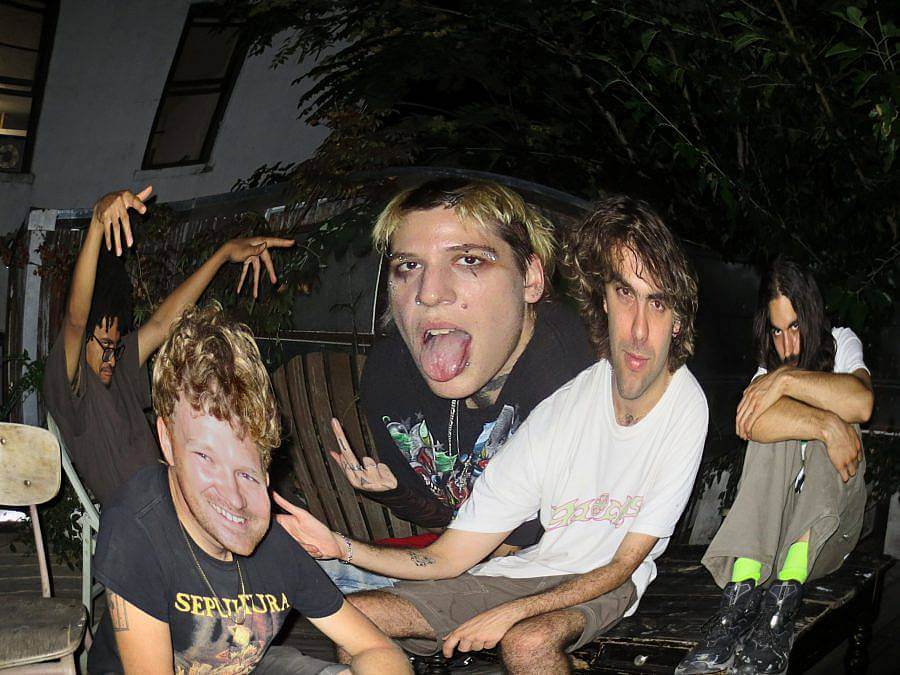 What do you collect?
Recommendations-whether that be for music, books, movies. My own thoughts (again, notes app). Shoes. My friends' merch. Items from traveling. Playing cards I find on the street.
Do you have a pre-show routine? 
Not really. I don't ever play drunk (I'll have a drink or two) or high (when I smoked weed). I don't like to have dairy or be too full before shows. There's been a lot of shows I bind with tape, but a lot of times I'm just like "fuck it." I don't do warm ups.
What does screaming in a musical context mean to you?
I think it's a sound, that you have to find your own pocket of either harmony or contrast with the rest of the music. I used to need to feel real pain about each lyric and song, get into the full mindset, and commit fully to the role for every performance; an exorcism of a specific pain. But now it's more of a language and state of being I've developed vocabulary for, the aforementioned being a given condition for.
How would you characterize the scene(s) you are part of in New York, and do you ever see yourself leaving the city?
There are a lot of scenes in NY and they all overlap somewhere. For all the shortcomings (like all scenes) I am extremely lucky to be here; people are really ahead of the curve all the time (for better and worse). Sometimes it trips us all up: too many layers of irony and everything has already been understood so much that it can often devolve into confusion, or loss of a sense of meaning. It's still one of the best places in the world to be trans, even though it still sucks sometimes. I'm really hopeful about all the younger people who are onto some new shit right now (200+ bpm queer chaos).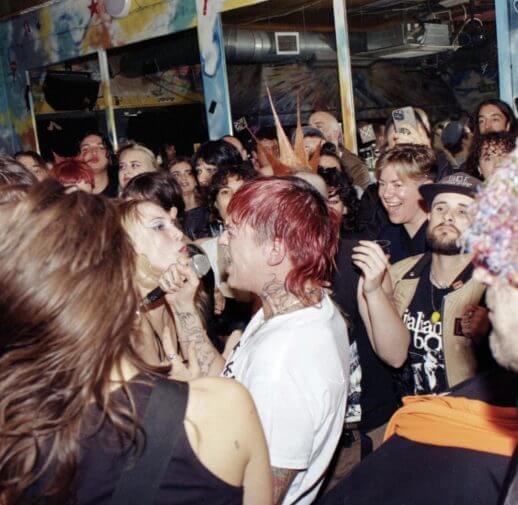 What's your dream collaboration?
for Nu Jazz to play with Irreversible Entanglements. Probably to do vox on a Venetian Snares track or something like that.
How do you want your audiences on to feel after seeing any one of your shows?
I guess I don't want any one to do anything (really usually don't like musicians who tell the audience what to do); but reactions I am humbled by are when people tell me how cathartic it was for them, or when someone says some version of "I really needed that," or "this helped me through a hard time in my life" or "you made me feel comfortable about my tits," (people have said that one a lot, lol). The ideal reaction is the POT protest, of course!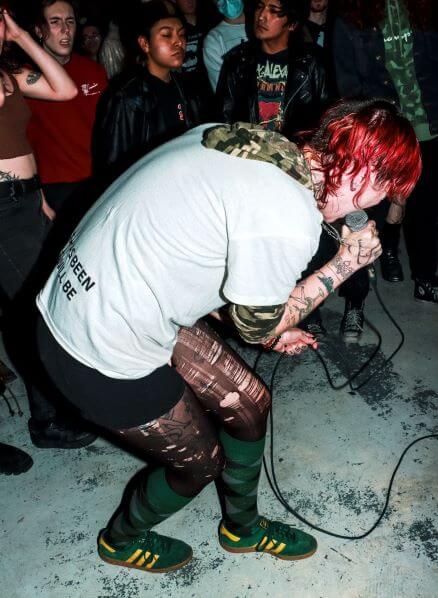 You also have a Solo project, called Guido; What's the story behind the name and how do you feel about working solo vs. in a group?
Guido, like I'm Italian-American from Queens, lol. Probably the one ironic name I've ever chosen (it's not really ironic), because irony isn't real. And yea, I'm way more timid about playing alone (at least in my head). I love playing with other people so much; I think it's way more interesting to watch a conversation. But I do love to produce too, which people don't see as much of from me.
Do you have any upcoming shows, projects, or otherwise that you can share with us?
Nu Jazz record is coming out in January 2023!! And I've been working on a ton of new music for my main bops with a variety of producers I admire so much (Manapool, Gehena, RXM reality, Swan Meat, Hatechild., Dani Rev, to name a few). It's been incredibly fun and inspiring.
Interview Conducted by Milo Christie