Tell us a little bit about yourself and what you do.
I am a multimedia artist, musician, and fashion designer. All of my work is about Clocks and Time. 
What are some recent, upcoming, or current projects you're working on?
I just finished a pageant for Leap Day, called Spare Time. It tells the story of Pangaea, a child born on Leap Day, who blows out the candles on her birthday cake and embarks on a magical journey. She first encounters a Grandfather Clock analog Time deity and an ethereal digital Clock goddess and later returns from her journey for cake and a rousing dance number. The whole project was a collaborative effort with @pangaeas_planet and Olivia De Rosa. The music was pulled from all over. I sang an aria from Ravel's L'enfant et les sortilèges; Pangaea sang a pitched down, slowed down, YouTube karaoke rendition of Time After Time; and Olivia recited Burnt Norton over a glitchy/ambient track created with Andrew Shoemaker. The finale was an original parody of Groove is in the Heart, called Time is in the Clock. We built quite an elaborate set with two sided panels and objects which hung from the rafters. Each scene had a distinct set, and we did all of the set changes ourselves. We live-streamed the performance on Instagram on Leap Day, and it's now posted on my and Pangaea's Instagrams.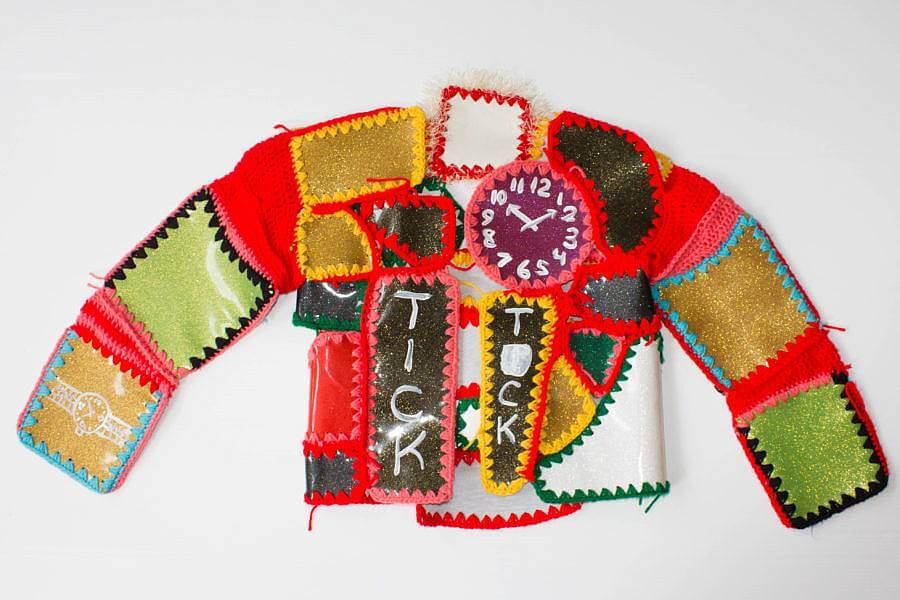 What is your relationship/interest/obsession with clocks and time?
On August 21st, 2014, between 12pm – 3pm, I saw The Clock by Christian Marclay. It's a 24 hour long supercut of Clocks clipped from movies and then placed so the Time on the Clock in the movie matches the Clock in real-Time. Immediately after leaving the film, I began taking pictures of every Clock I encountered and quickly decided to attempt to incorporate Clocks into every possible aspect of my life and work. Prior to seeing The Clock, I was already interested in obsession and repetition; choosing to obsess over Clocks and Time seemed like an organic progression. Earlier in 2014, I did a 9.5 hour group performance of Erik Satie's Vexations in the living room of my house in college. 
Your shows often happen on days that remind us of the absurdity of time, which we often overlook (daylight savings day, leap day). Can you talk more about why this interests you? 
I have always loved holidays! When I was a kid, I used to make decorations for all the holidays. One of my favorite activities was to make themed table settings out of various holiday detritus. I actually have quite a bit of Christmas Clock/Time music. Celebrating Daylight Savings Time and Leap Day as holidays was a natural choice for me since they are already basically Time holidays that we all observe, if not celebrate. Leap Day and Daylight Savings Time are both especially weird in that we all agree to participate in these kinds of huge disruptions of our lives and routines without any second thought. By celebrating them, I'm just trying to remind everyone that Clocks are the real reason for the season.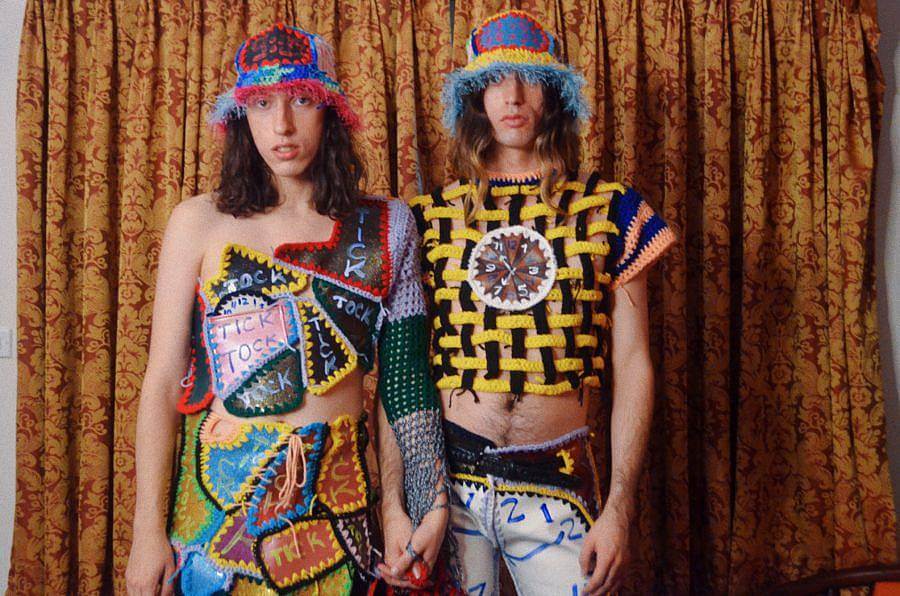 Tell us about your work process and how it develops. 
I'm often just trying to replicate a Clock that I love over and over again. For instance, I have an ongoing love affair with the Hour Time restaurant Clock in West Lafayette, IN. It was made to sit on a pole and to advertise the restaurant from the highway. When the restaurant closed, they took it down and set it on a little hill next to a gas station. It's big and red, with four clock faces. I made a replica out of gingerbread, another out of vinyl with crochet for Soft Body at Adds Donna, plus countless selfies of us together.
With clothes, I'll see a garment on the internet or in a movie and decide to make my own version of it — but with Clocks and yarn. I am not a very diligent or talented replicator, so things usually morph pretty substantially once I begin working. I'm currently working on a Barbarella inspired bustier, but it's leaning more Vivienne Westwood, so I'm going there instead! The process is kind of like, "what would that costume from D.E.B.S look like if it existed in a world where everything had Clocks on it and people crocheted and knitted their own clothes instead of buying fast-fashion?"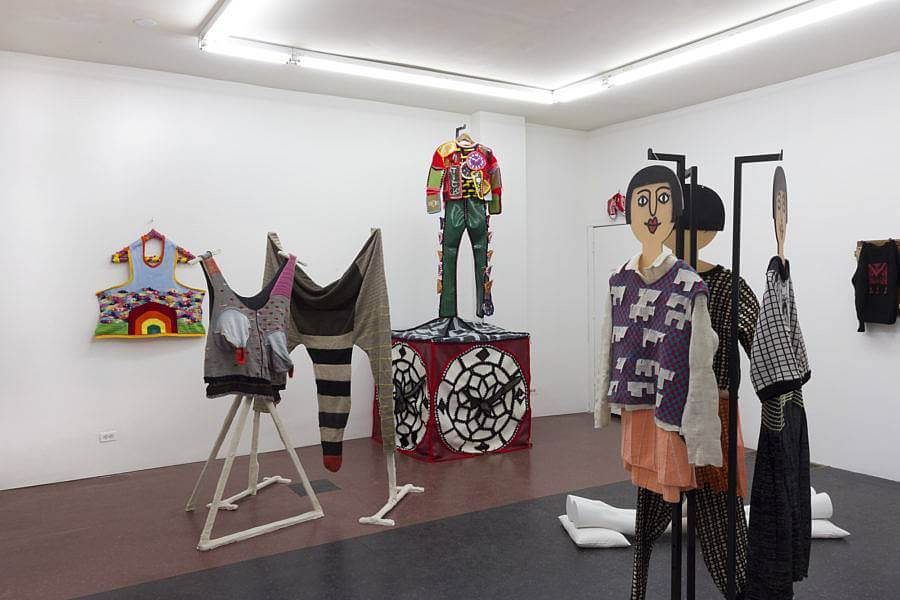 What is your studio or workspace like?
I work out of my living room in the apartment I share with Michael Cuadrado and Will Krauland. To keep organized, I store older work and a lot of my materials in my closet. The clothing rack has recent garments and works in progress. My desk is where I work on music or edit photos and videos. I usually use the center space to cut out pattern pieces or paint. I do most of my knitting/crocheting on our couch. 🙂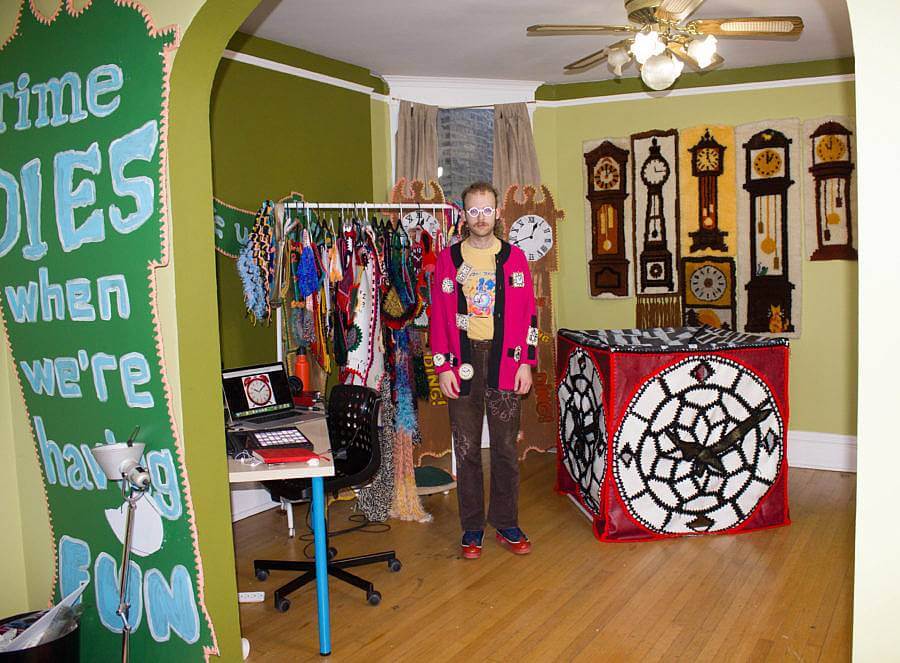 Can you tell us about the fashion shows you've been putting on? Do you see the events themselves as part of the work?
I think of all my work as contributing to some kind of alternate universe where Clocks are the most important thing. The fashion shows are special to me because they bring other people into Clock-world, where ordinarily I am the only permanent resident.  I love seeing how other people move in my clothes and how it makes them feel.
What are some of your design influences or inspiration?
I love movies, and I take a lot of inspiration from the way directors, costume designers, set stylists, etc work together to build worlds. I also pull a lot of inspiration from vintage clocks. I  window shop as research on several online shopping sites pretty much every day for Clocks and Clock print clothing. Some of my favorite Clock brands are Seiko, Blessing, Junghans, Empire Art Products, Howard Miller, Swatch, and Kienzle. Some of my favorite artists/directors/designers are Gregg Araki, David Cronenberg, Peter Greenaway, David LaChapelle, Schiaparelli, Vivienne Westwood, Vaquera, and Jean Paul Gaultier.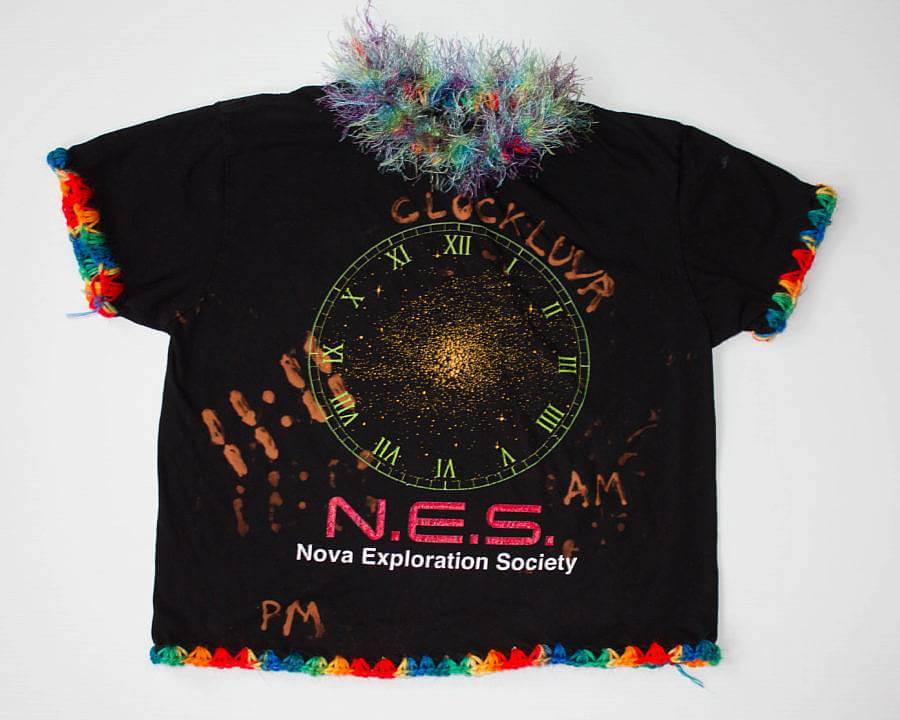 Your clothing uses a lot of knits. Can you talk about this material choice?
I like knits for a lot of reasons. I love all the different textures you can make and the way they stretch and drape off the body. I also love that knitting allows me to adjust color and texture as I create a piece vs sewing where the textile you choose is more static. When I first started knitting, I was drawn to its duration and repetitive nature. I think it makes a nice parallel with my interest in Clocks and Time.
Who would be your dream person to dress or style?
Big Ben or perhaps the Allen-Bradley Clock tower in Milwaukee, WI.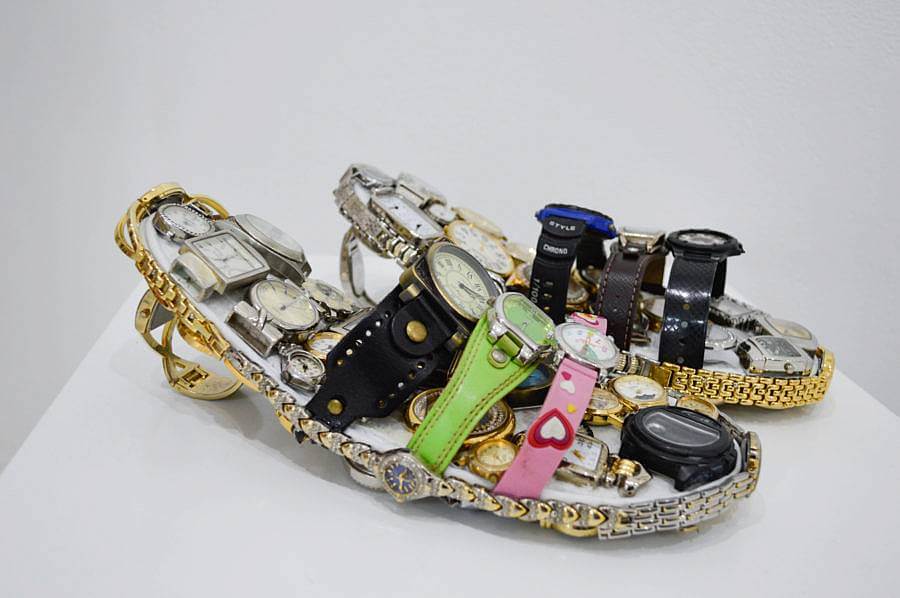 Can you share one of the best or worst reactions you have gotten as a result of your work?
A few years back I made a knit mini-dress for a friend. It was a really wide knit sheer slip made with this novelty yarn called Fun Fur. It had a felt yoke with a clock, and it was attached to a cream crocheted net on top of the slip. There were a lot of different textures, yet it was very sheer and very short. My friend was cooking dinner with a date and she said something like, "I'm going to go put on something more comfortable," and then came back in the dress. She said that he was simultaneously baffled and very turned on. I love garments that are weird-sexy, and I try to make things that are sensual and strange.