Tell us a little bit about yourself and what you do. I am an artist who has always gotten satisfaction from the production process. Over the last decade my professional path has consisted of freelance photography and graphic design, high-end framing, and working for the School of the Art Institute at their Service Bureau for the past 4.5 years. These experiences gave me the confidence to start my own company in January 2018, Loupe LLC, to continue offering my knowledge and skills to the Chicago community.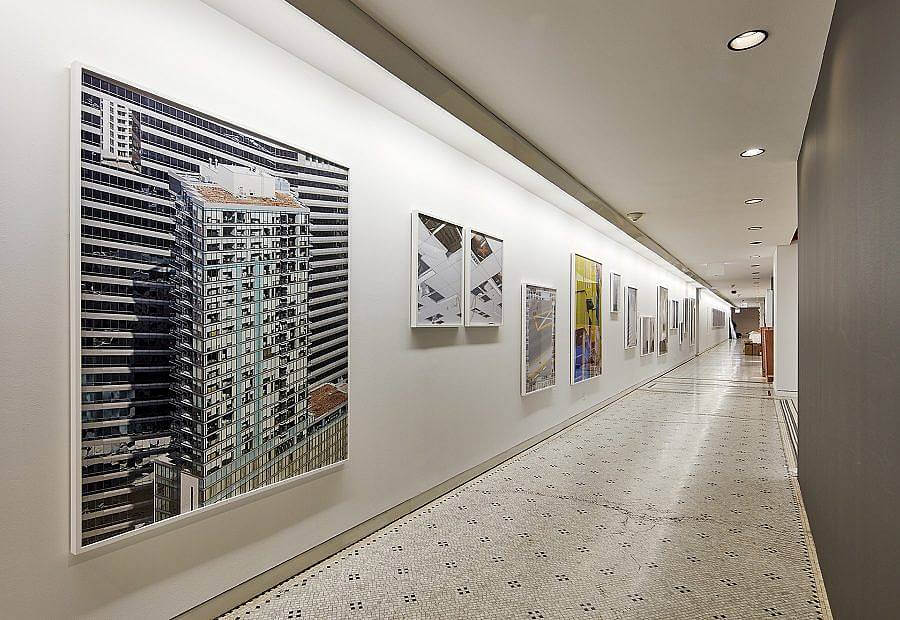 Framed prints by Loupe, work by Daniel Everett, Chicago Architecture Biennial, photo by Tom Harris
How did your interest in fine art printing begin? When I was in college studying photography I was married to the darkroom and avid about using film for all of my assignments, and it was the processes and tools used in the darkroom that turned me onto the world of printing. My new interest in printing collided with my technology adeptness when I made my first digital print. I am someone who loves to research a lot, implement and then review results. Digital printing hit those boxes for me. There are so many little nuances between software and hardware settings, learning to master this process became my goal, and I have been researching, testing, and printing ever since.
What are some recent, upcoming, or current projects you are working on? In the past month I worked with Derrick Woods-Morrow for a few black and white prints for his show Keeping Record at Chicago Artist Coalition and two prints for Alex Chitty's upcoming exhibition. Alex has been doing something a bit different with her prints where she layers a ruby lith on top of the print itself, which requires quite a bit of tweaking to get the right tone. I also just finished designing a catalog for Richard Gray Gallery featuring an exhibition of Theaster Gates for Frieze New York. An ongoing project I have right now is printing art for a hotel in Las Vegas, 1600 prints in total. I'm not getting a lot of down time. Separate from Loupe, Contango Journal which I co-founded, releases its second issue mid-May, and I am currently finishing the design before we send it off to print!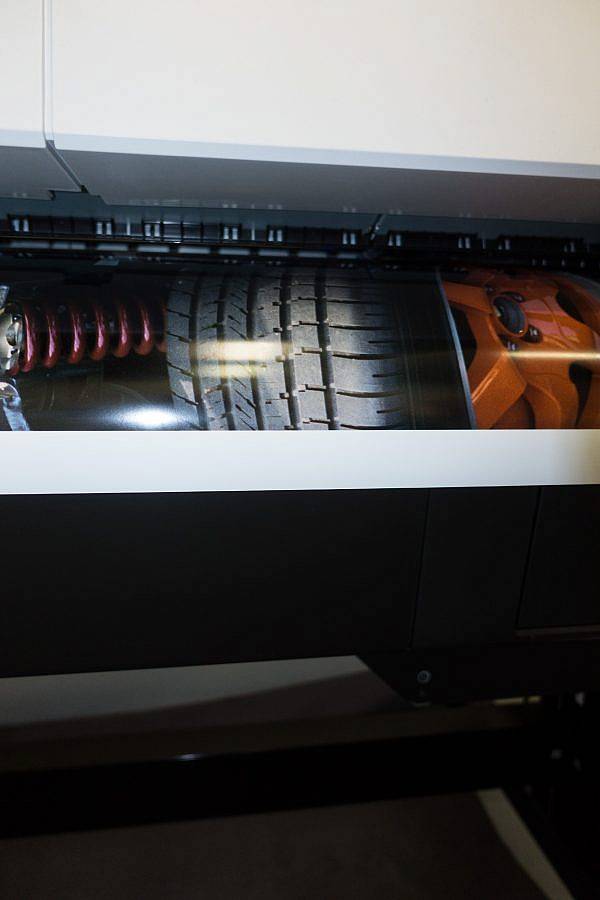 What artists or designers are you interested in right now? I pay attention to a lot of graphic designers, often those addressing current societal, cultural and political issues; Michael Oswell, David Rudnick, Heikki Lotvonen and Finnish group GRMMXI, and Metahaven. A few artists I have been following are Josh Kline, Trevor Paglen, Walid Raad, and Sam Rolfes.
Describe your studio/workplace. I have a space in East Garfield Park, 3039 W Carroll, an artist building with galleries, artists, and professional makers. My printer takes up a good portion of one wall, while paper storage, flat files, and my multiple work tables fill up the rest. My friend Dan Devening has his gallery in my building which has been nice, he has already given me a little work too. I enjoy sharing the building with these various galleries as it allows for my customers to have a better idea of where I'm located and also helps drive some foot traffic to my neighborhood.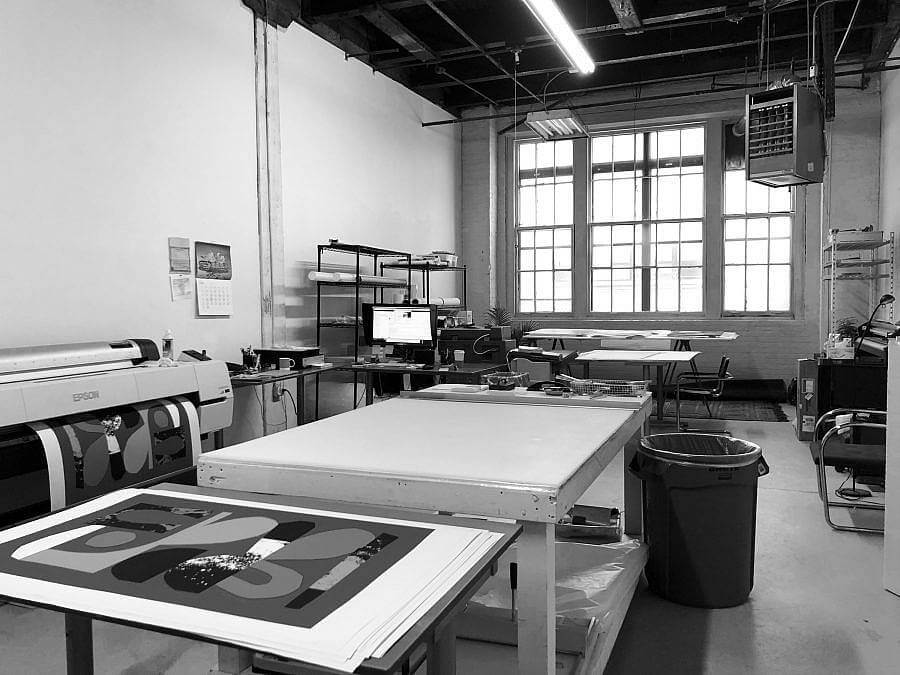 What are the pros and cons of owning and operating your own business? A few pros are being your own boss, the possibilities, using your own organizational methods, the ability to execute your own vision. There is this awesome feeling of accomplishment and excitement when you start to get clients and things are generally going well. On the other hand, running a small business has its struggles. My biggest con would be the fact that I am my only employee and it gets lonely! But things like the unfortunate cost of printer ink, doing taxes four times a year, and loss of weekends, are all things that make it tough. However, there is infinite potential for my business and I get to be the one to make it happen.
What's it like living and working in Chicago? I like Chicago for it's fickleness. There can be something so grim and rough about this city, where you don't ever really know what's coming, which I think gives Chicagoans a certain solidarity for one another. I currently live in Humboldt Park and love it. I know my neighbors, can easily step into the park to hang, and am only a eight minute bike ride to my office. In terms of business, it was not difficult to apply for and start an LLC. One advantage is that being in the middle of the U.S. is there are a lot of distributors in the Central Time Zone so I get orders pretty quick.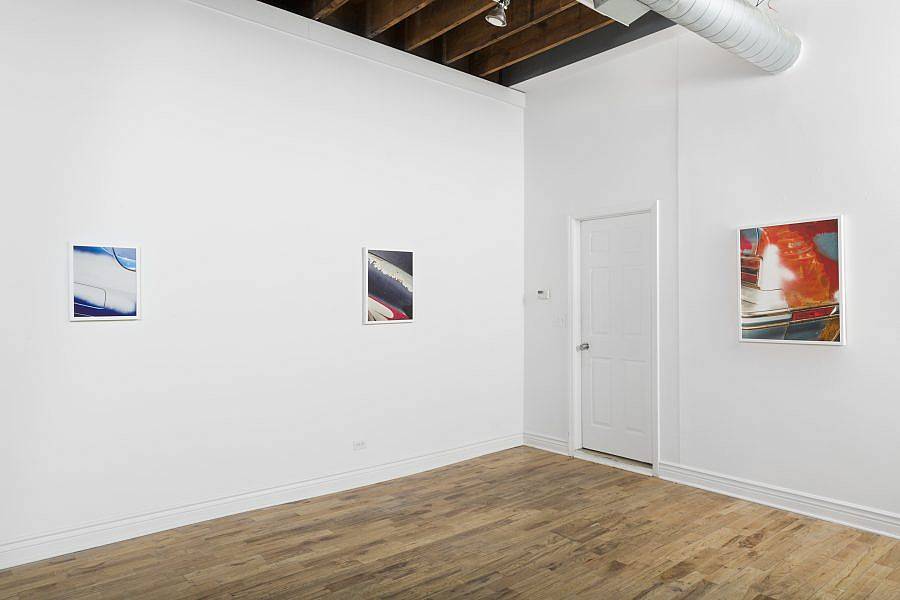 What are you listening to right now? Shout out to NTS radio and BBC World Service, what get me through every day.
What is one of the bigger challenges you and/or other printers are struggling with these days and how do you see it developing? One of the largest challenges I have is industry support for reference, troubleshooting, best practices, and product/paper reviews. It just feels like a bit of a closed off industry where a lot of the knowledge is insular. I guess we (us printers) want to keep our secrets. The specific machines and papers I use are not used by a lot of commercial shops, so local support/knowledge is very limited and seemingly not a lot is posted online either. I always think there will be competition, but I wish there was a stronger network for the companies that are in the wide format digital print business. Unfortunately I do not see printer manufacturers taking on the task of creating a network for its users and providing a platform for discussion, critique, or hacks. Facebook has not proved to be helpful for me in networking with other printers in the city, although Instagram has. I have found a good number of printshops worldwide that are similar to myself and there is a friendly liking of photos, but the few times I have reached out about more technical stuff, no response. Being as I am just getting into this business I am figuring out it can be a little cutthroat.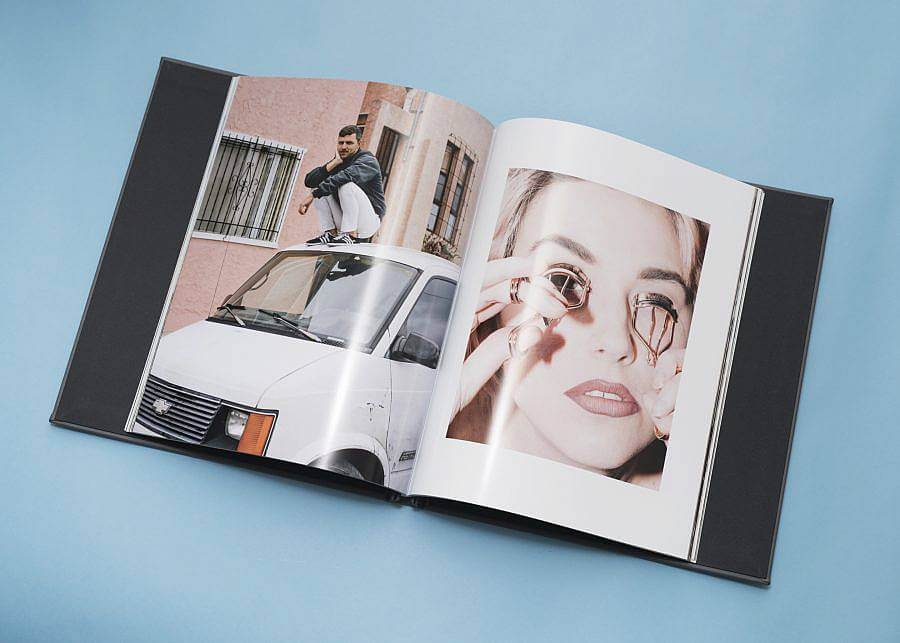 Who would be your dream collaboration? Printing for Roe Ethridge. Definitely one of my favorite photographers over the last 15 years and he tends to print big. I would love to be that guy who prints them big.