Tell us a little bit about yourself and what you do.
I'm a 38-year-old gay ex-Mormon born and raised in Utah, married to a man, have two poodles, and live in Chicago. It took me a long time to figure out "what I do." Life in Utah was strange. There are many expectations placed on Mormon boys and men; pressure to obey church leaders, follow the Book of Mormon, and go on a church mission when you're 19, marry young, and have lots of Mormon babies. And choosing to step away from the church comes with its own stressors and shame. Because of all this, my creativity was stifled. It wasn't until moving to Minneapolis in 2014 that I gained some perspective. Now, what I do (making objects out of clay) is a chance to compensate for lost time. Play and exploration.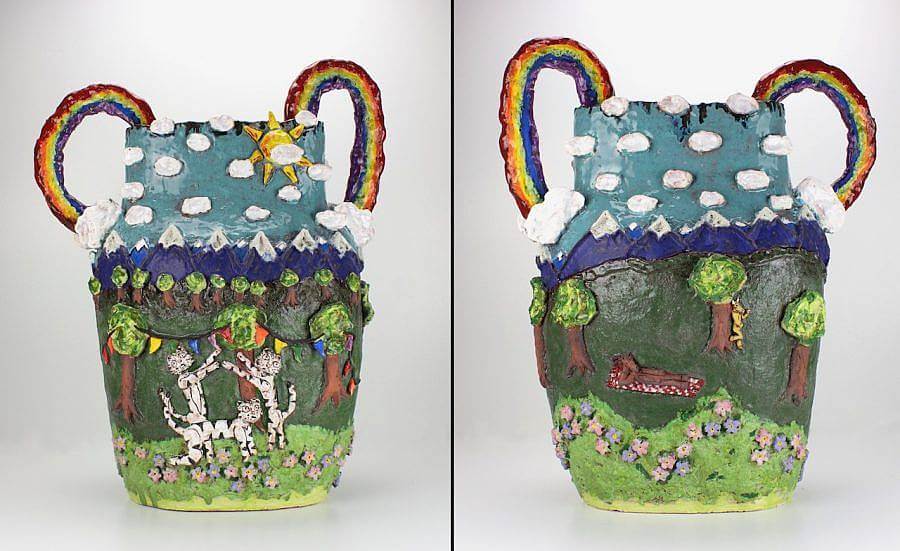 How did you get started working with ceramics, and what has this been like for you?
I came to art later in life. I was 31, living in Minneapolis and managing about 75 people for a fancy hair salon. It was stressful, and I was miserable. My husband Richard signed us up for a couples ceramic class at a small community center by our house to cheer me up. He hated it, and I loved it. I would go to the studio every day after work for about six months, and one day I came home and told Richard I wanted to quit my job and learn everything I could about clay. And that's what I did. Seven years later, I make things out of clay full-time.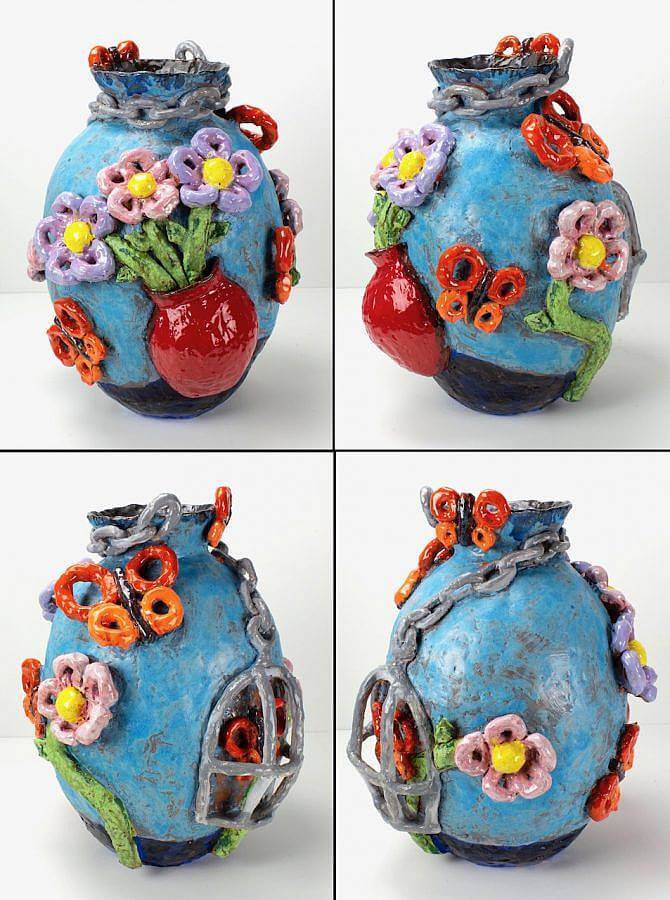 What inspires the animal-esque figures found throughout your work?
The animals are inspired by many things. Memories, pop culture, family lore. My three main animals are the White Tiger, the Horse, and the Ox. For me, the white tiger represents queer optimism, the Horse represents desire, and the Ox blind faith.
What about the form of the vase is enticing to you? What draws you to them?
The vase allows me to tell a story in the round or 360 degrees. But I avoided making vases for a long time. While I lived in Minneapolis, I assisted a handful of functional potters in their studios which gave me a huge appreciation for ceramic tradition. But I had a chip on my shoulder that, to be taken seriously as a ceramic sculptor, I needed to avoid utility and function. I'm realizing that way of thinking is a symptom of art school. School loves reinforcing material hierarchies, and thinking in those terms isn't creatively productive for me. Now I look at making vases and say, I'm a storyteller, and for hundreds of years, vases have been vessels for telling stories, so it's a perfect fit.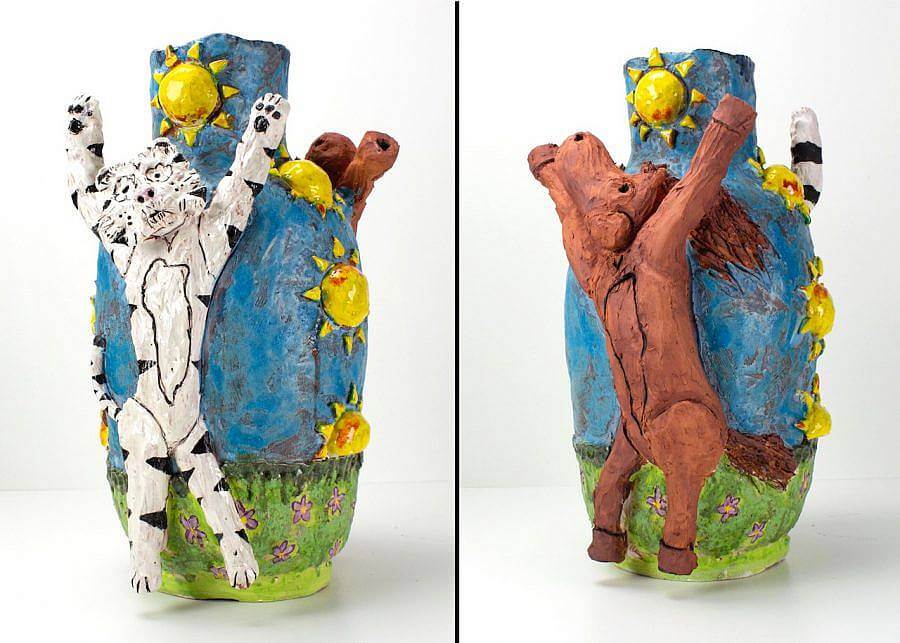 What role does queerness play in your work?
This is a surprisingly difficult question for me to answer. On the one hand, queerness is everything in my work. I'm queer. My work is campy, colorful, tongue-in-cheek, and strange. On the other hand, I'm not sure queerness is the most interesting thing about my art.
What role does narrative play in your work?
I think about the role narrative plays in my work a lot. I'm a storyteller. Sometimes it's as simple as making a vase with a giant flower standing alone in a field and calling it Last Picked, or it's as complicated as making a vase that distills my confused concern over the children's game follow-the-leader. Titling helps convey the narrative. I love a good title.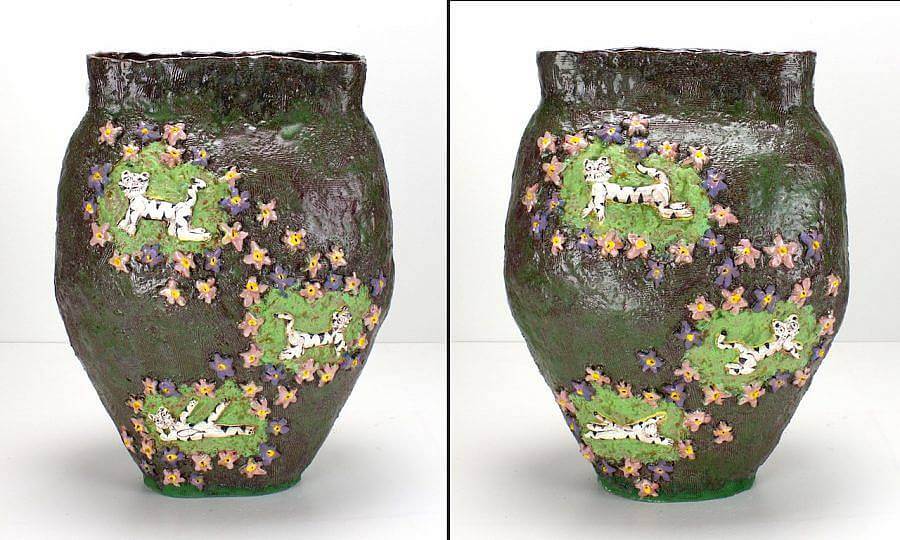 Could you talk about your ''Flaccid Flowers'' series, and the role metaphor plays in your work?
The flaccid flowers speak most directly to the idea of not performing or not meeting expectations. The expectation is that a flower be erect. My flowers aren't erect, but they aren't dead. They are very much alive and beautiful. They're just flaccid and happy. I think more than a metaphor; I love a double entendre.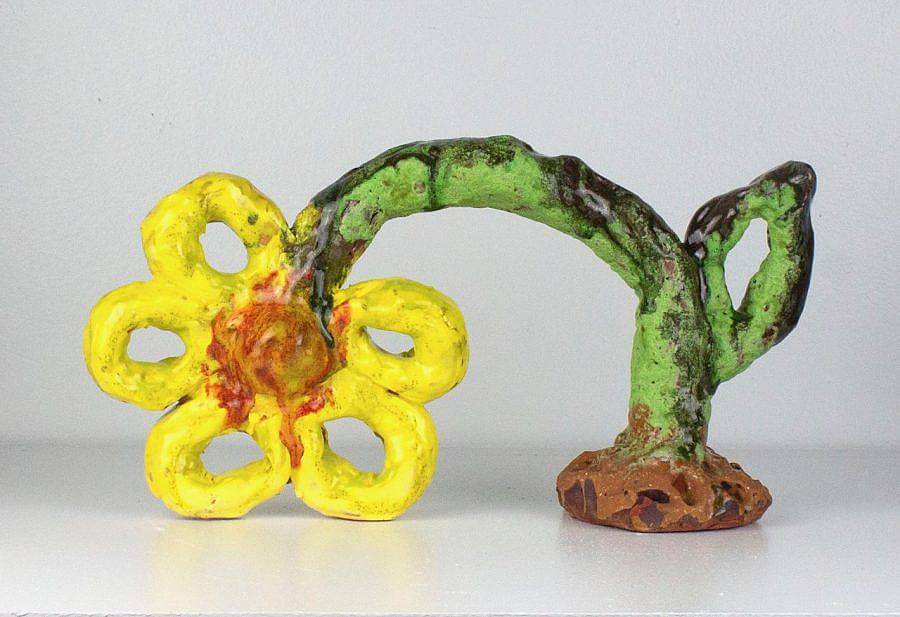 Your pieces have such vibrant colors, how do you plan out/ select the colors for each piece?
I make my own glazes, allowing me to add a depth that I haven't found easy in other materials. Color can be tricky sometimes because it can sway a piece's reading. I never want my color choices to be too saccharine. I use color to help the underlying melancholy go down easier. I watched a video interview with artist Athi-Patra Ruga a few years ago. He talked about his use of color, saying (I'm paraphrasing) that he wants his vibrant colors to lure the viewer in and hopes they stick around long enough to see the haunting.
What artists are currently inspiring to you?
Oh gosh. So many. Artists Roxanne Jackson, Raven Halfmoon, Natalia Arbelaez, and Nicki Green use clay and individually create rich visual languages with the material. Also, the work of curator and writer Angelik Vizcarrondo-Laboy. She both writes about and centers exhibitions around ideas of cuteness and what she calls the aesthetics of optimism, which I find really exciting. I get a lot out of her podcast Clay in Color, which she co-hosts with another artist I love, Alex Anderson.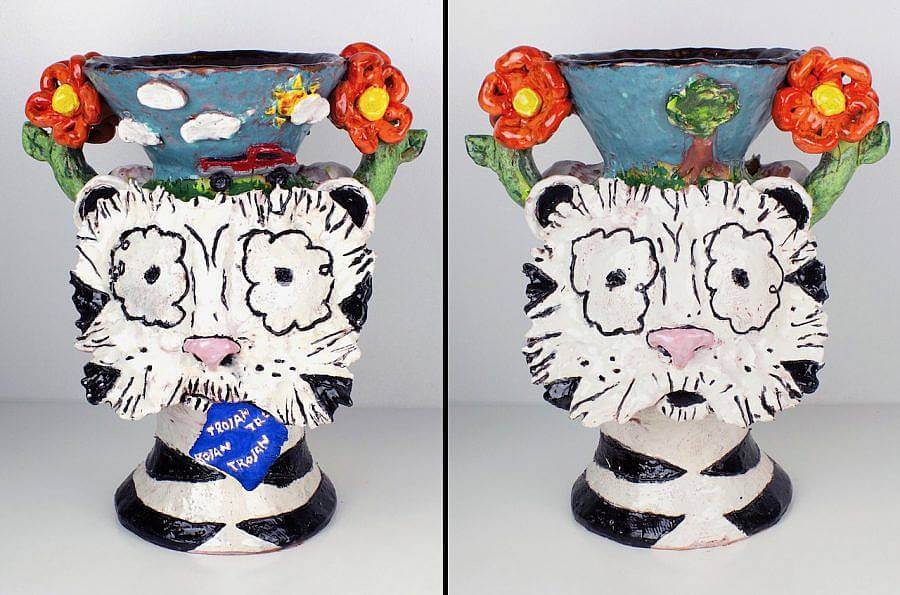 What have you been listening to?
I discovered joy in the form of the Eurovision song contest this year. It was televised, and I watched the semi-finals and the grand finale. The performances from each country are so over the top; dramatic, campy, and dripping with sentiment. It's right up my alley. I have listened to a playlist with all 37 Countries' Song entries. On repeat. Since May.
What is your studio setup/ workspace like?
My studio is a bit of a commute, but it feels homey. I have enough space to spread out, safely fire my kiln, document work, and easily clean up between projects. After years of working in communal ceramic studios, having my own space is nice.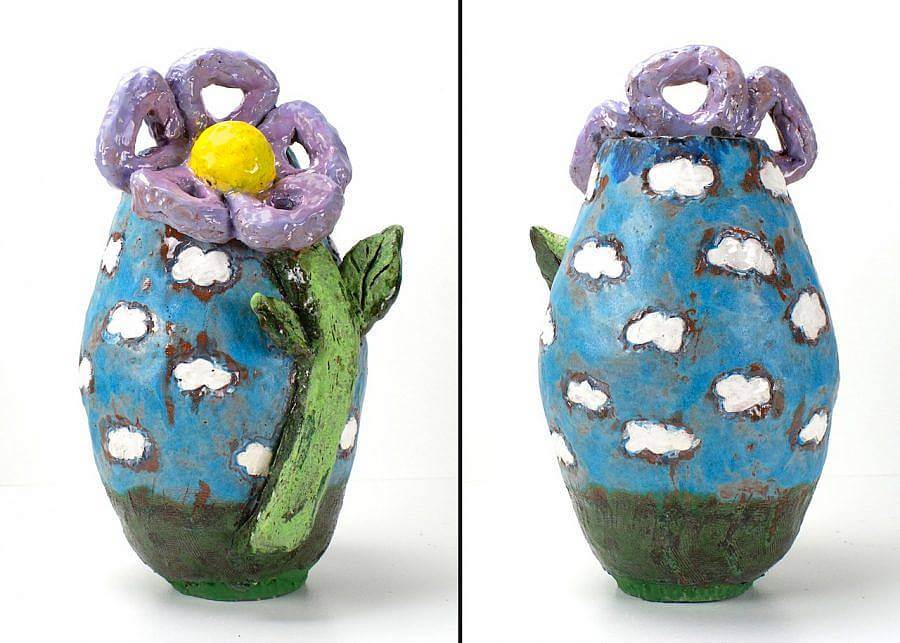 Have you seen any shows recently that are exciting to you?
Yes. In November, Jade Yumang had a solo show at Western Exhibitions here in Chicago called Open House Spatter. The show was soft, colorful and haunting, and sexy all at once. So lovely.
Any upcoming projects you are excited about?
I will be in a group show at The Pit in Los Angeles. I'm super excited. It opens on August 12th and runs through September 9th. And in the studio, I'm in the early stages of a new body of work. The research and experimentation have been fun. I'm giving myself a year to see what comes out of it.
Interview conducted and edited by Ben Herbert.