Tell us a bit about yourself and what you do.
We are Blair and Elias (Eli) Hansen, artists who live in the top left corner of the US with our two daughters, Frances and Smokey. In 2017, we started a glass design and production house with the hope of connecting with people and creating more joy or care in their everyday lives.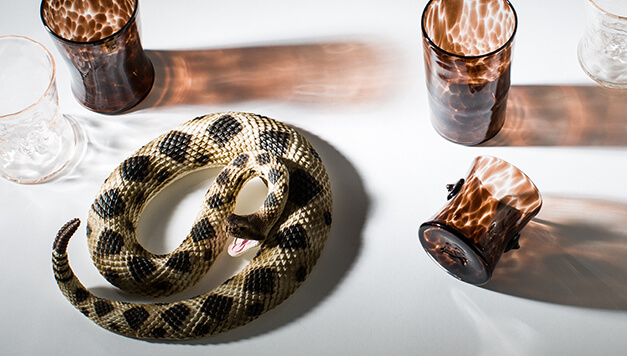 What is the origin of the name "Asp & Hand"?
Blair: We wanted to choose a name that had a timeless feeling because glass art is one of humanity's oldest traditions (dating back to at least 3500BC in Mesopotamia). I was thinking about Medusa a lot already, as she has long been my favorite feminist icon, and I love how each snake on her head is both a protector and an assailant. It's a maternal stance. The snake contains so much symbolism and divine power, and its meanings are often double or paradoxical, which feels true to life. For example, the snake is both phallic and a symbol of female fertility in shedding its skin and rebirthing. We chose "asp" because this is the kind of venomous snake that would most likely have lived on Medusa's head (if you pretend she was real). "Hand" is in the name because everything we send out is handmade by us. Combining the poisonous snake with "hand" also introduces excitement and potential danger: what will happen in this meeting of the hand and the asp?! 
Asp & Hand appears to be rooted in drinking glasses. Can you talk about the choice behind focusing on a simple form with a simple function?
Blair: Yes, this question is so intrinsic, thank you for asking it. I always come back to the idea that a cup is the most perfect single unit of sculpture. First, it is a vessel or container, which serves as a great metaphor for artwork (I see art as a container for ideas and feelings). Second, it often moves from one person to another, one person pouring into the cup, the next pouring the contents out of the cup, and into themselves like a chain (or snake, if you like) of energy. Again, this is both an actualization and an allegory of personal connection through art. Finally, I would say that we got the idea for the business when I couldn't eat solid food due to cancer treatment and was drinking all my calories. We just had cups as healing tools on our brains. 
Eli: The cup is the first big achievement of most glassblowers and are often made as a quick one off, so the culture of exchanging cups between glassblowers is really fun.  Everybody has a crazy collection in their cupboards, oftentimes with historical stories that are part of the web of connection we all hold. 
When Blair was in bed recovering from surgery and radiation treatment for cancer on her head and neck, we talked about the idea of making cups as gifts for people, something she could design and I could make and would be a fun distraction from the terror of reality. Those small batches of cups became a source of life for us and we kept moving towards that.  As soon as Blair was healed enough, we sold the house and headed back to the NW to make cups.  At the core of both our life practices is a belief in sharing and the idea of making cups to share drinks with people around the world seemed like a good direction to take our lives.  Though both our cancers were difficult and scary, they also gave us incredible courage to make bold choices, choices we certainly wouldn't have made without a strong sense of mortality.
We still have a few cups from those initial batches, though we shared most with friends as we drove across the country, and I will still hold those cups and cry, thinking about Blair and her incredible courage to get through her sickness and design these beautiful objects.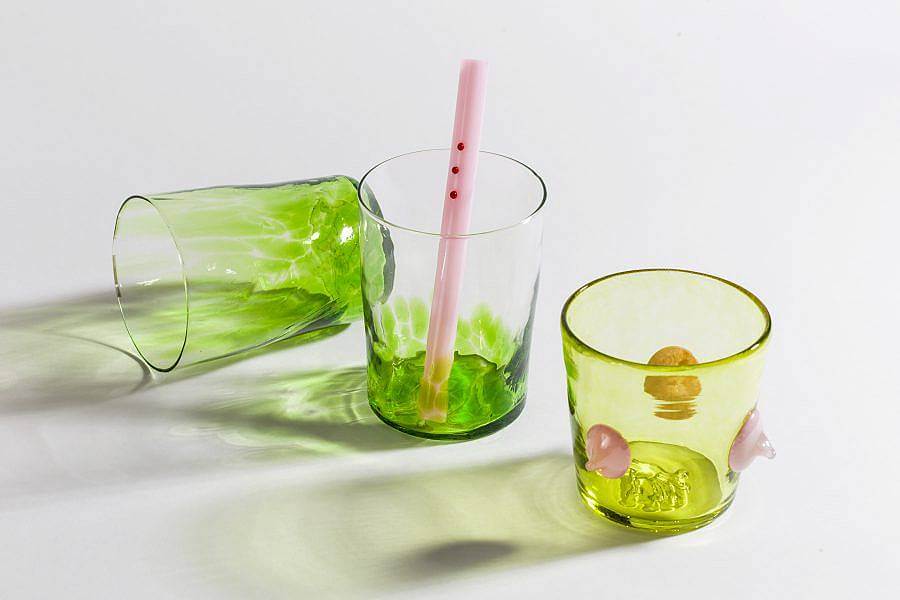 There is a strong sense of surrealism and kitsch in your glassware. Can you talk about how these elements function alongside tradition and contemporary design?
Blair: Thank you for noticing ☺. The kitsch element is connected to hobnail glass and all of that great textured press-molded Depression glass you see in junk shops. Of course we also pulled from medieval Bohemian beer steins, which had "prunts" on the side like ours to prevent the hand from slipping. Surrealism is one of my favorite passages from Modernity, as its expressions are those of illogic, passionate feeling, and confusion, to which I strongly relate. I love anything that is happy to be a little bit strange. For me, the women of Surrealism, like Leonora Carrington, Dorothea Tanning, Meret Oppenheim and Remedios Varo, created the strongest works of the movement. I personally believe this is because they were totally resolved in expressing their emotional lives viscerally through imagery, where perhaps the men were more forging images to portray themselves as shamanistic or godlike. I knew that I didn't want to simply continue design traditions that convey status or power, like a goblet, but rather I wished to make a simpler cup that was captivating in a new way. In our case, I think the cups "touching you back" with their pointy bits is a way to say to the user, "we are here together right now."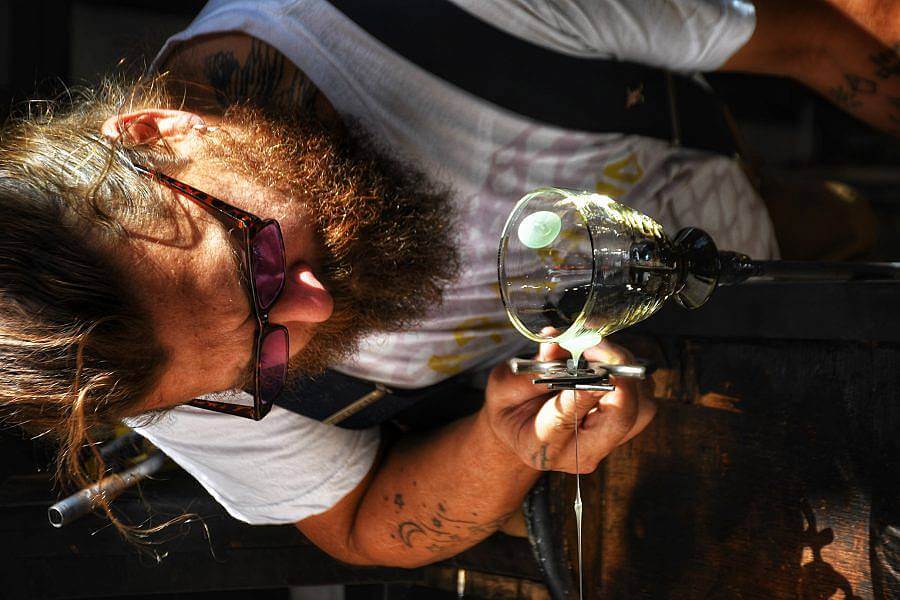 How does living and working in the Pacific Northwest influence your work?
Blair: The reason to live in the Pacific Northwest is that MOTHER NATURE RULES HERE. 
Eli: The Northwest is a very powerful place, the way the water and the trees and mountains meet is unlike anything else.  But as you study the ecosystem, you'll find veins of death and destruction that all lead back to the genocide, treaty breaking, and illegal colonization of the area. I grew up on occupied Suquamish land, then moved to occupied S'Klallam land, then to occupied Samish, and back down to occupied Puyallup territory, where I lived when Blair and I met.  We moved to the east coast and lived on occupied territory of the Lenni Lenape, then returned to live on the occupied territory of the Lummi people. All of these places are just normal cities in the Northwest, but they all occupy spaces that used to be full of people who had lived here for thousands of years without cutting down the old growth.  The main portion of old growth was cut down in less than ten years, about a hundred years ago.  I grew up with the elders of my community, who passed down their logging equipment that had been used to remove all that beautiful forest.  I proposed to Blair with the most expensive thing I owned at the time, a pocket watch passed to me from a pair of brothers who spent their youths logging old growth.
When I approach making work in the NW, the gravity of the situation never leaves me.  From our hiring practices to our packaging, I always think about the impact on the environment, and what I can do to change the economic disparity that is present in the NW, and only getting worse.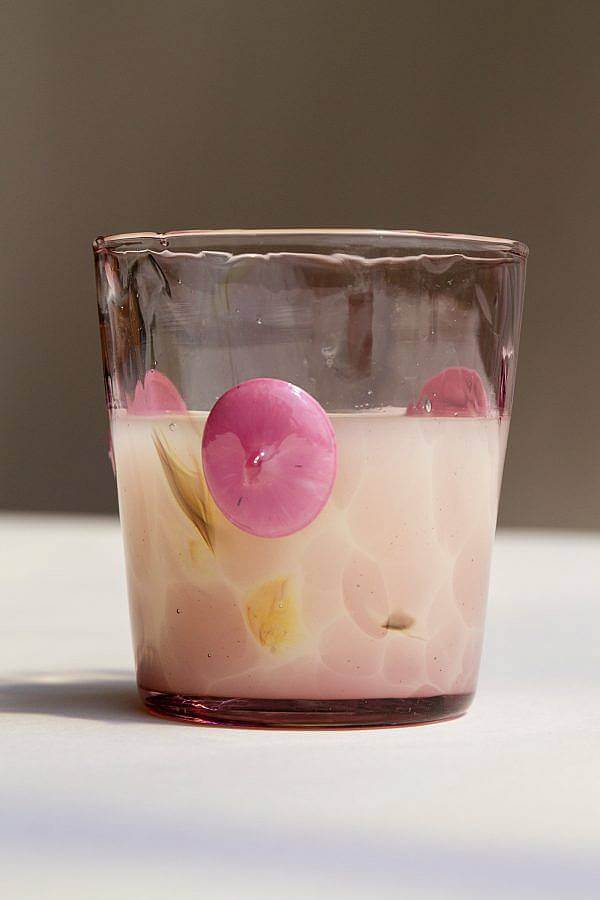 As a family-run business, do your children play any role in Asp & Hand?
Blair: Absolutely. Eli and his brother grew up in their parents bookbinding business, and so from the get-go, he was incorporating the girls into Asp & Hand. Frances and Smokey have been the biggest troopers in the world for basically their whole lives. Their aesthetic influence is in all of our designs (for example, I went straight to pink and purple color combinations right off the bat, when we were in peak princess mode). We have them stamp packing materials with our logo and make little drawings on the coasters we send out to people. Sometimes they shuck pipes in the hot shop, though they mostly want to play roblox and go on the tire swing. They do NOT want us to close down, which is the sweetest thing in the world, as we figured they'd be fine with that after being locked up in the studio for years. We are so grateful to them for being radical. 
Eli: My parents operated a small book bindery in the Northwest for 25 years, so I grew up immersed in the bindery.  By high school, I was spending summers repairing old bibles and binding custom leather photo albums. I know about as much about paper, binding, and printing as I do about glassworking processes. Most of that information was acquired before I turned 18, so to me, it is an invaluable time to allow access to the materials and tools.  I don't push anything on them, I just answer questions when they are curious and try to engage them from time to time.  There is so much to learn about materials and the way our bodies can engage with them so I try to keep it as open-ended as possible. The most important thing is to have fun, so I make sure not to push them if they're uncomfortable; there is plenty of time to learn everything. I have told them since they were big enough to listen that everything in an art studio is a tool AND a toy, so they should feel free to play, build, and destroy however they see fit.  That's a tall statement in a glass shop, but I think it's important to establish a level of trust with my kids that they have their autonomy and free will.
My own journey through craft in my twenties and thirties brought me to so many amazing places; I love the idea of sharing that possibility with them.  Then again, I'd really love it if they went to college and did something else besides art!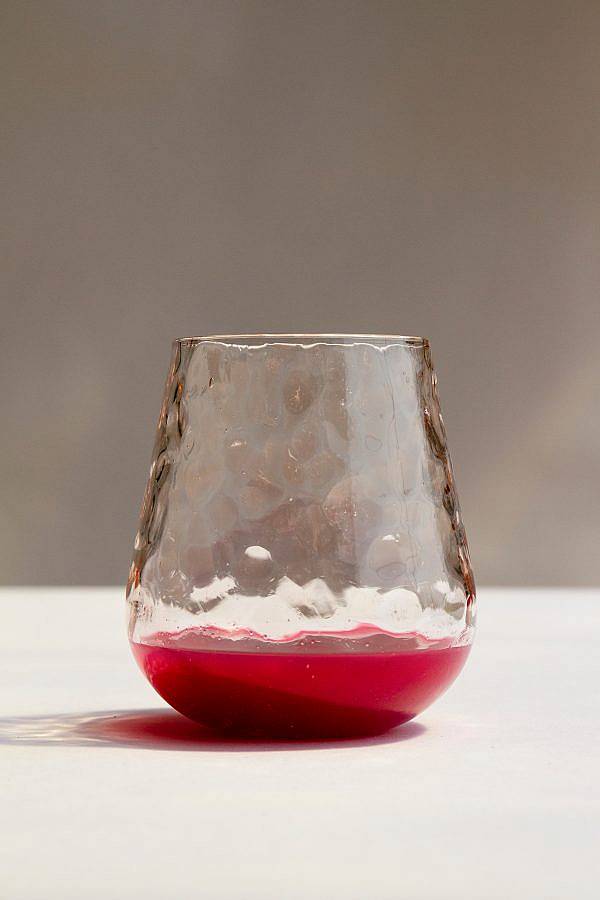 You've stated previously that you like to think of your glassware as one enduring performance. Can you share more about this idea?
Blair: We think of it as one big sculpture (made of 30,000 vessels and counting). We consider it as a social art practice in the sense of setting up dialogic/conversational mode between us and those who use the vessels, as well as those they share the vessels with, and outward and outward. And we think of it as an endurance performance in the sense that we work constantly and incredibly hard. That one is maybe more of a joke. These are pretentious things to say, but we come from art backgrounds, so it comes with the territory. We definitely make a point to say, "these cups are art," to emphasize that we are trying to find a way to be artists outside of or at least alongside the larger Art World system that makes or breaks that opportunity usually. 
Eli: I've always thought of my work as small chunks of a larger story, so when we started talking about making cups, it was easy to imagine it in a larger context, each unit composing a bigger picture.  It's all the same process, making things. It's just sitting down at the bench and getting to work.  It's always bewildered me that I can sell a cup for $50 to anybody that wants one on the internet, but I can freehand a little vessel in about the same time, and that gets sold through an exclusive and opaque network of galleries and collectors for $1000. The world of objects and collectivity is very interesting and sensational, and fun to bet on, but not very reliable or intellectually stimulating. In my 4 years making cups for Asp & Hand, I've had way more interesting conversations around our cups than I have in the 20 years I've been going to art fairs, gallery openings, and museum dinners.
In this way, the cups are an even more subversive, egalitarian redistribution of cultural wealth. As our performance continues, the sculptural ephemera finds its way further and further into the populace, undetected by the gallery houses and art collectors.
What material qualities of glass are most exciting and inspiring to you?
Blair: First, it's relationship to humanity over thousands and thousands of years. We love to feel connected into this massive human web of glassmaking. The magic of the alchemy of glass is never ever lost on us as it moves through colors and forms and demands endless care from us. 
Eli: When working glass, there is no break until the piece is done.  The piece must keep turning perfectly or it can all be ruined, there is no moment to rest or catch one's breath.  This challenge is one of the biggest hurdles.  In the first three to four years of glassblowing, it is often impossible to even finish anything as there are so many things that can go wrong, even just being exhausted and unable to turn the piece correctly.  To push through these years was an enormous mental feat for me, and taught me a lot about how to work through stressful life situations that also don't allow breaks.
After all that, glass as a material is still fascinating.  I still find myself saying "come here, look at this!" when something strange happens.  Having spent 20 years staring at hot lava moving around on the end of a stick, I have seen some of the most beautiful, mesmerizing things that are only viewable at around 2000 degrees, and it still keeps me staring every day I do it.
What is the current music or podcast rotation in the studio?
Blair: Always a lot of Outkast, southern rap, and hip hop in general. I am very into Doja Cat rn and babyxsosa. I also have a metal mix we blow glass to sometimes, which has like Slayer, Angelblood, plenty of Nirvana, and the Melvins of course. 
Eli is listening to a podcast hosted by hip hop producers Open Mike Eagle and DJ Prince Paul right now. My favorite pod is called "It's Not Just in Your Head;" it's about how Capitalism affects our mental health.
Eli: Louder Than a Riot, Red Onion Randy, and Dopey Podcast.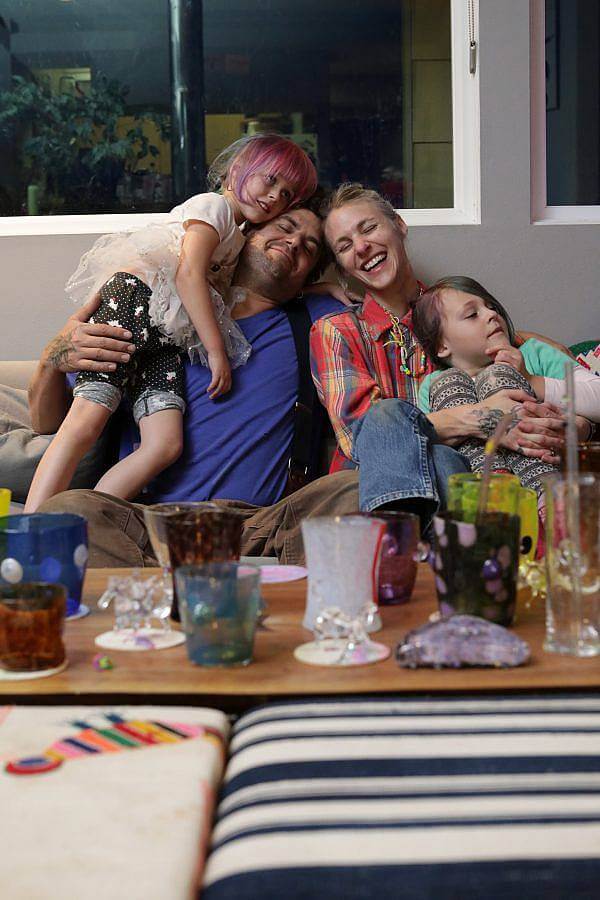 Who are some of your favorite artists and designers?
Blair: We are most inspired by our friends, most of whom are artists or makers in one way or another. One of the coolest parts of having our glass biz is being able to trade for other art and goods with people we love. I recently got to trade with Anna Santangelo for jewelry, Lauren Rodriquez for denim, Sarah Trogdon for natural skincare, and Becka Diamond for music. All I can say is that I feel FORTIFIED AF! 
Eli: The Reader (a graffiti writer and artist)
Interview composed and edited by Ruby Jeune Tresch.