Noël Morical (American, b. 1989) lives and works in Kansas City, MO. She received her B.F.A. from the The School of the Art Institute of Chicago in 2011. She has had a recent solo exhibition High Swoon At Andrew Rafacz Gallery, Chicago and at the Fiberspace Gallery, Stockholm. Group and two-person exhibitions include Weinburg-Newton Gallery, Chicago; 99¢ Plus Gallery, Brooklyn; Athen B. Gallery;Oakland, Chicago Artist Coalition, Chicago;Slow, Chicago, LVL3; Chicago.
Working with a richly colored palette of paracord, Noël Morical creates complex hanging sculptures through the process of macramé. Re-contextualizing a familiar, contemporary material and employing a centuries old knotting technique, she produces objects that relate to the practical and domestic (plant hangers, apparel) but stand as sovereign, otherworldly objects. Unabashedly romantic and personal, each sculpture is a response to the manifested situations in her life. For the artist, hers is a meditative practice. She creates from her lived experience, while addressing nostalgia and the possibilities of ecstasy through escape.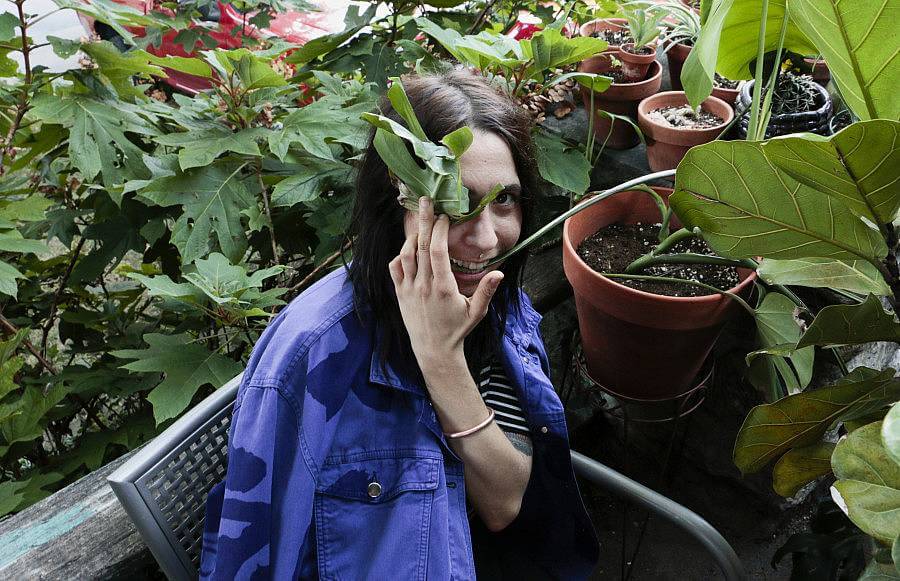 Tell us a little bit about yourself and what you do. I grew up in exotic Indianapolis, IN. I moved to Chicago in 2009 to attend SAIC after deciding I didn't want to go into behavioral psychology. I recently moved to KCMO after receiving a year long residency through the Charlotte Street Foundation. I work as an herbalist during the day. I have been working on/expanding on series of suspended forms and environments that emerge from ritual, a love science fiction, and an urge to materialize color. I'm an aries, love the color orange, and totally believe in extraterrestrial life.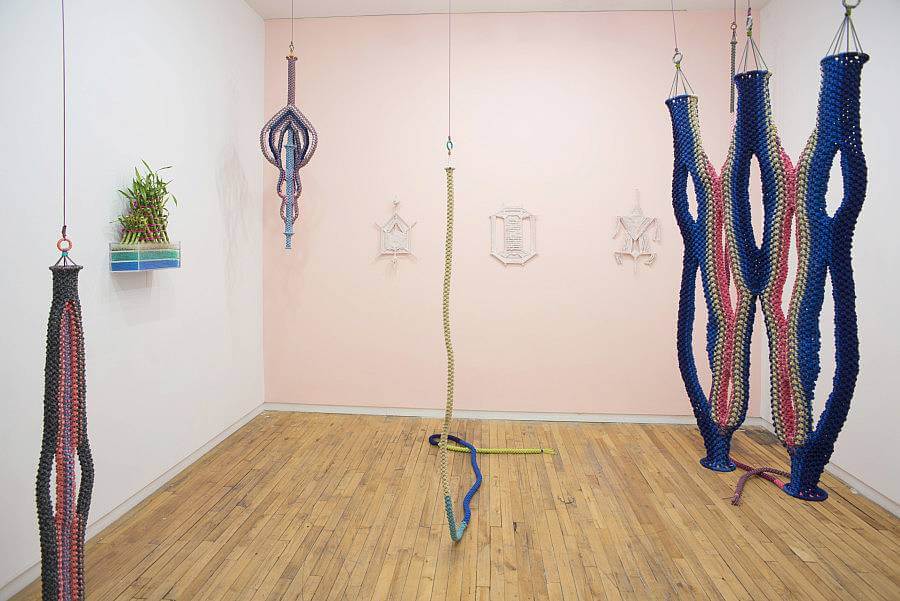 What are some recent, upcoming or current projects you are working on? I just sent out work to Athen B. Gallery in Oakland CA and ArtHelix in Brooklyn NY and prepping some ceramic work for FAMILY Books in LA-That's been the bulk of my summer since my move to KCMO. I've been excited about collaborations with in my new community-Continuing wearables/functional objects with Joey Watson as SNEAKYKARMA, garments for an opera by J. Ashley Miller, some wicked jump ropes with Jennifer Wilkinson-and hopefully much more in the upcoming year. I've been considering curating a show in my pink car too. I'm looking forward to coming back to Chicago in September to be apart of  INSIDE\WITHIN x LVL3 x Arts of Life stARTup Art Fair Booth, and then again in October with a trippy beaded ball chain curtain for a group show at SLOW. I feel a little all over the place, but there is a lot of exciting momentum happening, I'm hyped.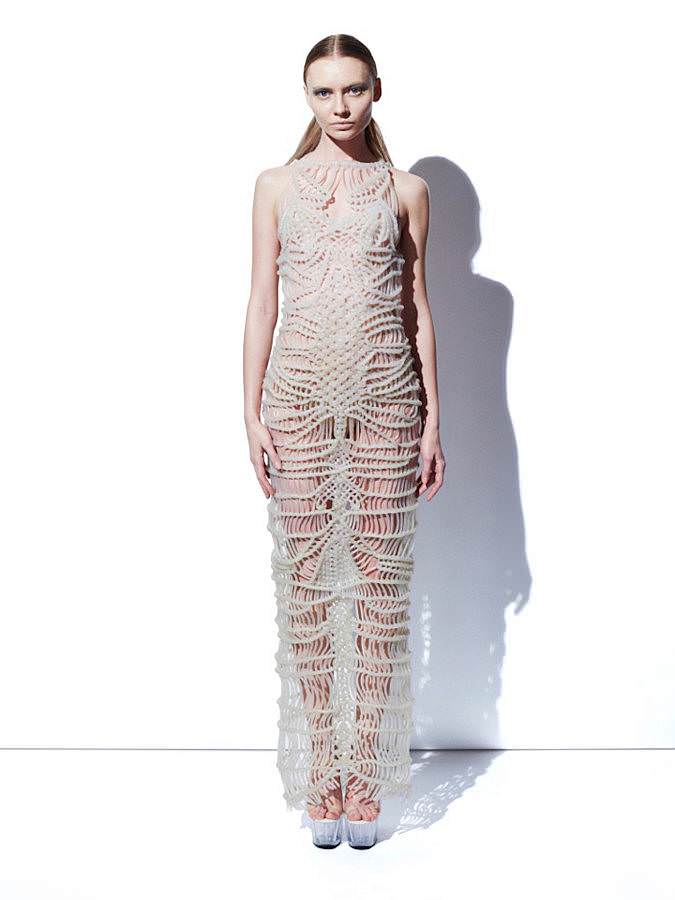 What is one of the bigger challenges you and/or other artists are struggling with these days and how do you see it developing? Money and the number of working hours in a day are always a challenge. I'd also have to say social media influence. I see things like Instagram as one of the most useful platforms/tools for connecting with other artists and galleries and checking out cool work by new people. However, I feel like it breeds insecurity due to the amount/type of attention, or in some instances, too much attention leading to style being duplicated. #supportyourfriends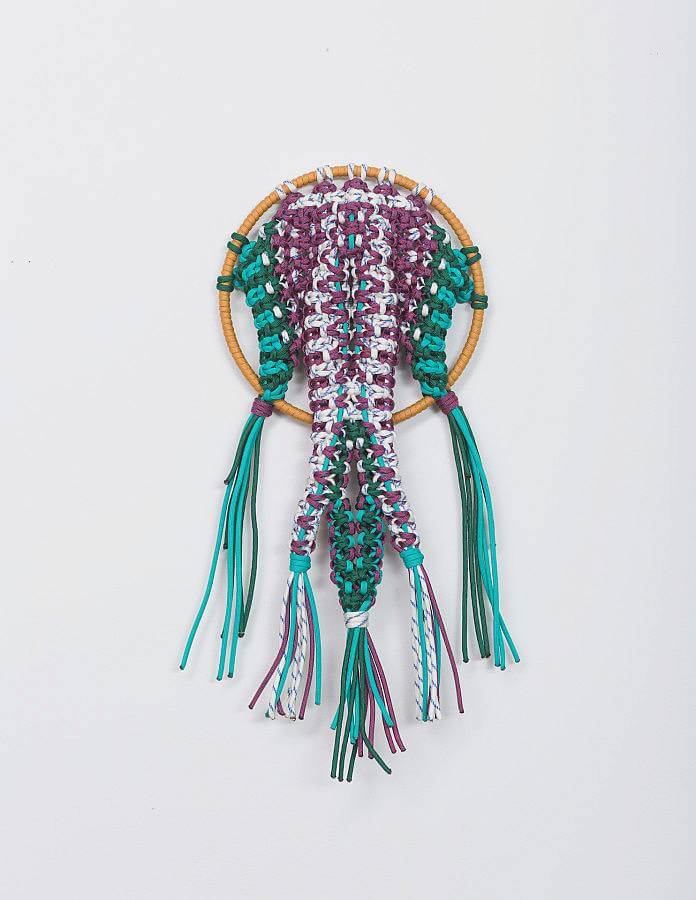 How did your interest in art begin? I was lucky enough to grow up surrounded by 3 generations of strong willed creative women-my mom, who at the time was working as a graphic designer, my grandmother, who is still an avid knitter and crafts person, and my great-grandmother, who was a children's story author and an amazing seamstress. I would have to say creativity has always been an ingrained and supported part of my existence. My mom does have a really epic framed finger painting I did when I was three in her home. It's pretty good.
If you had to explain your work to a stranger, what would you say? "Imagine what an alien forest would look like, on acid."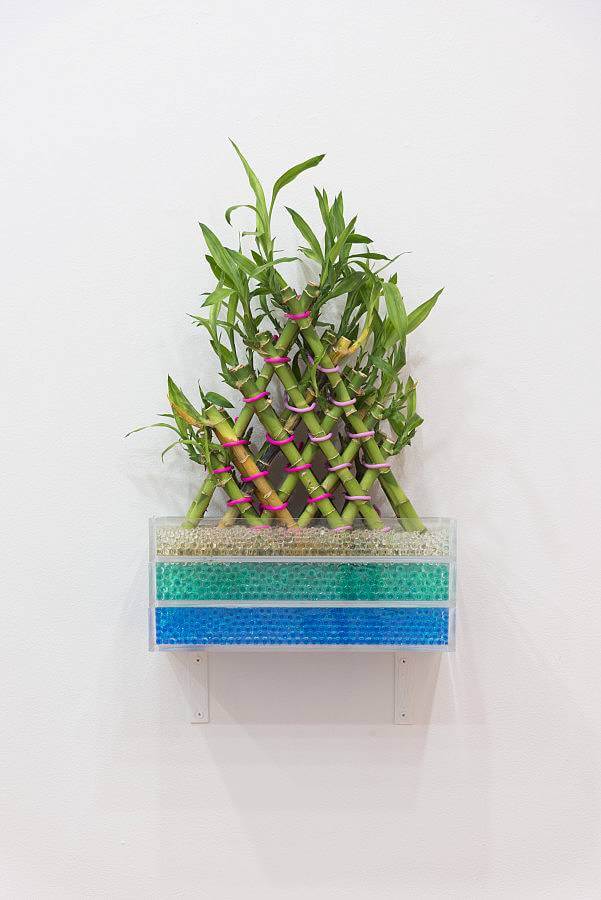 What materials do you use in your work and what is your process like? Right now I am working a lot with paracord, ball chain, brass tags, ceramic, and surface treatments via home depot. I am constantly prowling for modes to materialize color. Paracord is a really great mediator for the inexplicable relationship our eyes have with color. I was completely drawn to it based on the spectrum of color and pattern available. I like that paracord has a strong/suspension/more macho undertone to it-I think it adds a layer of inherent physicality to the work.
As for process,I don't usually know what something is going to look like when I start, I let the colors/amount of cord dictate the form. My work takes a fair amount of time and tending-I'll be the first to acknowledge that  working repetitively for long periods of time can be exhausting but meditative-I remember having to do a research paper on Kazimir Malevich in college and really feeling his quote "Repetition is knowledge". I like thinking about muscle memory, and how after repeating something like a square knot so many times over, that there is a deeper understanding of the nature of the knot itself, but also an ability to go into autopilot mode.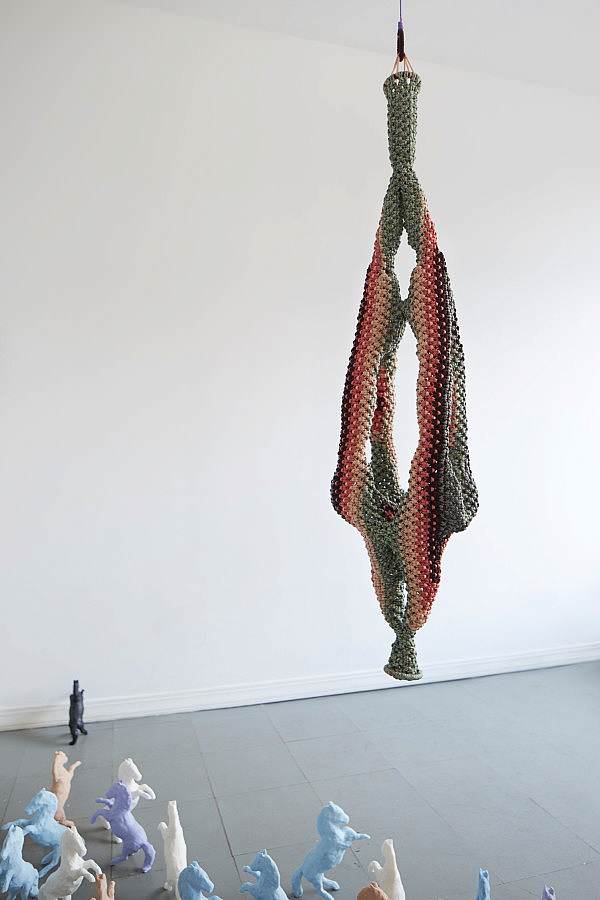 Tell us a joke. Q: What do you call a fake noodle? A: An Impasta
What artists are you interested in right now? This could be a never-ending list, there are so many people out there/I know doing truly inspiring stuff, but the first people who come to mind are Caroline Wells Chandler, Karolina Gnatowski, Chris Wilson, Doug Johnston, Alex Chitty, Ron Nagle, Karina Bisch, Dan Gunn, Cody Tumblin- I love these people's work for so many reasons-but to keep it short- curious aesthetic, amazing craftsmanship.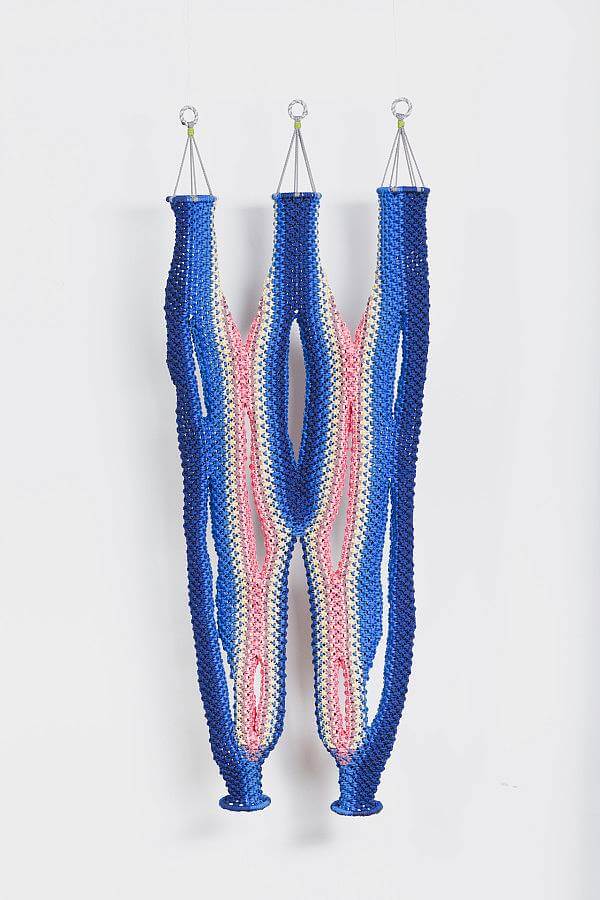 What's your favorite thing about Kansas City? Cheap rent, free museum access all the time, an abundance of nature, and new amazing people. I'm still exploring my new home, so far-so good.
What was the last exhibition you saw that stuck out to you? That Kerry James Marshall exhibition at the MCA was truly compelling. Min Song At Carrie Secrist was also pretty wonderful.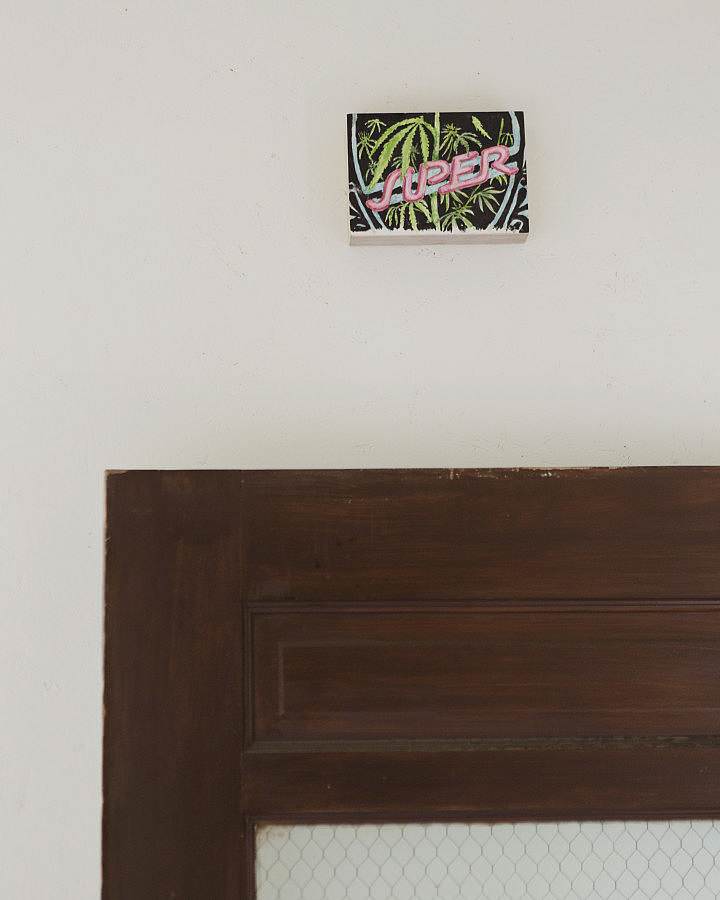 What is your snack/beverage of choice when working in your studio? I love a quality pretzel. I've been gravitating towards fresh stuff like papaya and avocados. I've been learning how to make dehydrated crackers and jun tea to diversify my snack pallet.  I was recently turned onto coconut butter, and it's a game changer.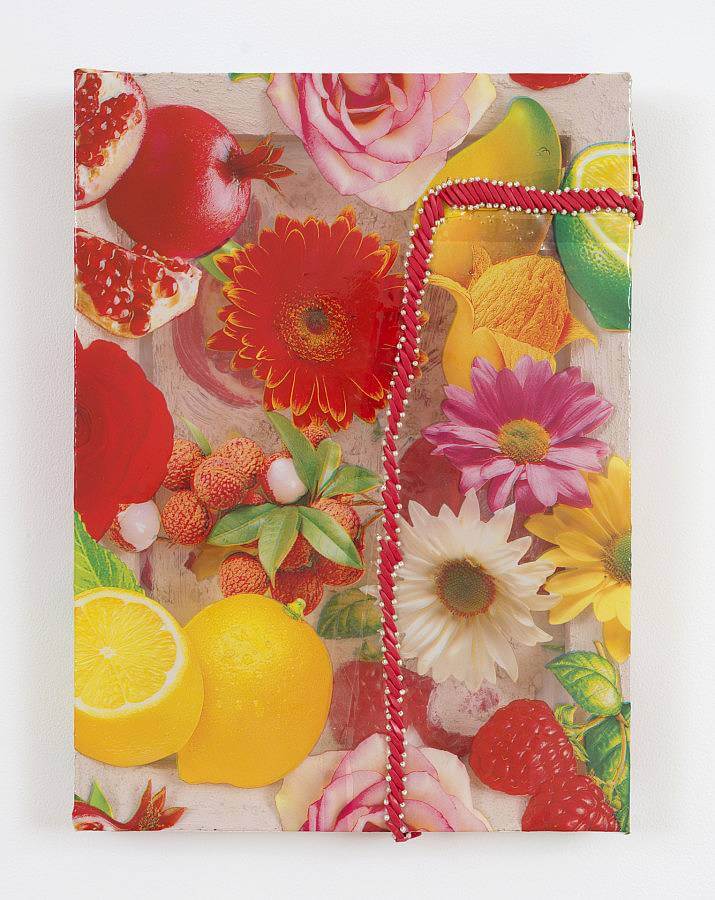 What do you do when you're not working on your art? I've been embracing summer to the fullest-hanging out with new folks, taking long walks, developing a yoga practice, learning how to use a dehydrator, and trolling eBay.
If you hadn't become an artist what do you think you'd be doing? Who knows. I think I found my path in the weird way I did for a reason and I have to respect that.
What are you listening to right now? In addition to the cacophony cicadas and crickets:
ARCA/Majid Jordan/Future/Silk Rhodes/Sare Mabo/Hawkwind/SZA/T.Rex/Tinariwen/The Shangri-las/JUCE/Chromatics/Francis Bebey/Girls Names/CAN/Roedelius/Geneva Jacuzzi/Exploding Hearts/ Canned Heat/New Order/Yung Thug/That New Frank Ocean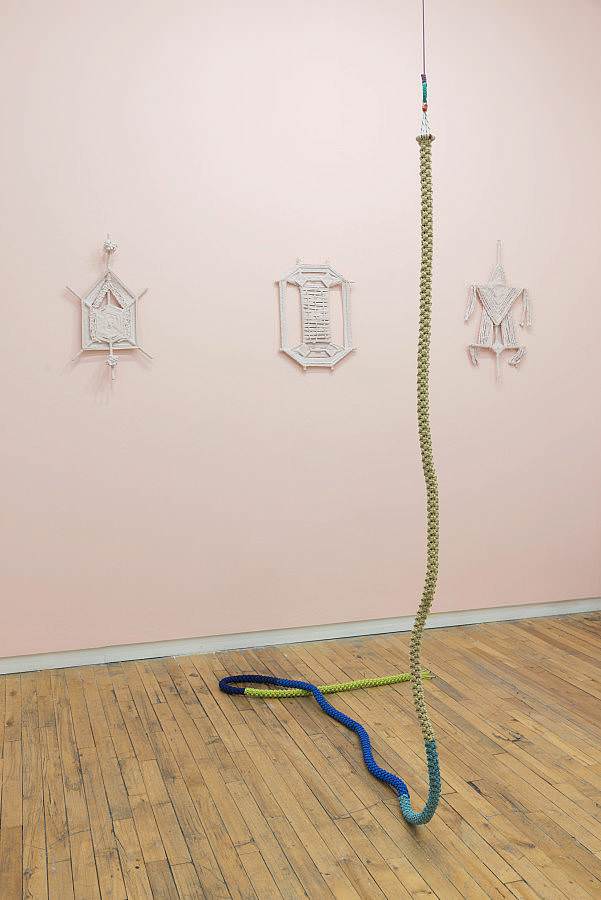 Can you share one of the best or worst reactions you have gotten as a result of your work? I feel like the work itself is pretty neutral-It's hard for it to rub people the wrong way. I love when people tell me about how much they just want to touch the work-and how excited they get when I tell them they can.