Kate Klingbeil (b. 1990) is an artist based in Brooklyn, NY. Her work moves between mediums and is centered around ideas of pleasure, seduction, toxicity, and psychology. Kate graduated from CCA in 2012 with a BFA in printmaking, and has been a resident at Kala Art Institute, Venice Printmaking Studio and ACRE.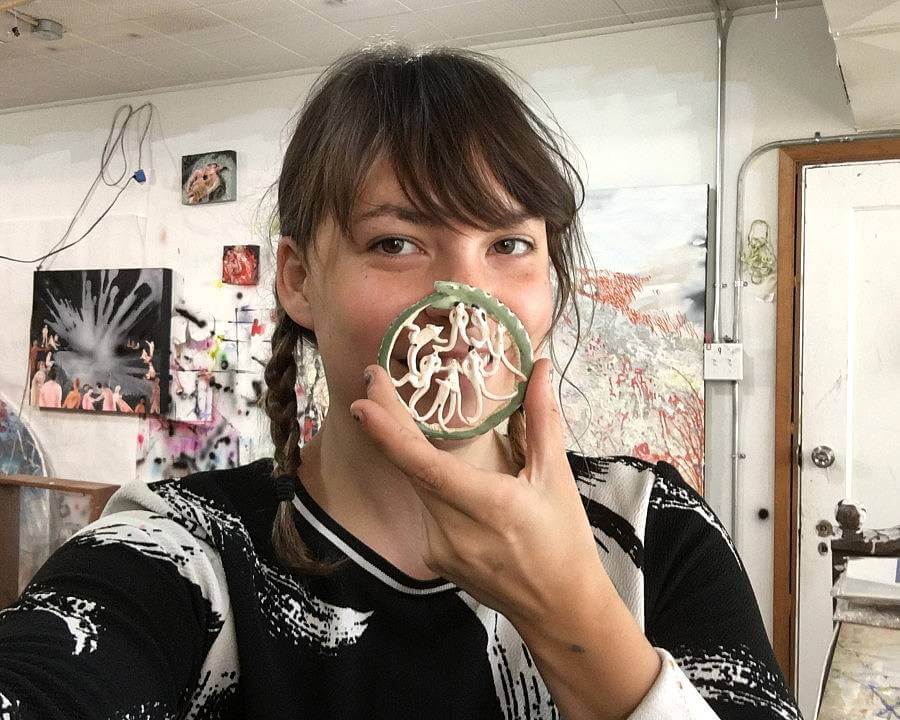 Tell us a little bit about yourself and what you do. I'm a printmaker turned painter, sculptor, and animator originally from the midwest, but have spent the last 8 and a half years in Oakland.  I just left Oakland and moved to Brooklyn a month ago so I'm in a bit of a transition. My family lives on a farm in Wisconsin, and I grew up surrounded by animals, so my work often involves horses coexisting with humans in lush landscapes. In the past few years, the work has moved towards the erotic, and recently I've been questioning ideas of voyeurism, my experience of being female, and the line between pleasure and toxicity.
A lot of my practice and thinking moves between mediums, looking at life and ideas from opposing viewpoints. I work with paint for a few days, then move to the ceramics studio and dig into clay. Sometimes my work is thick, a mess, and other times it's more controlled with gouache on paper.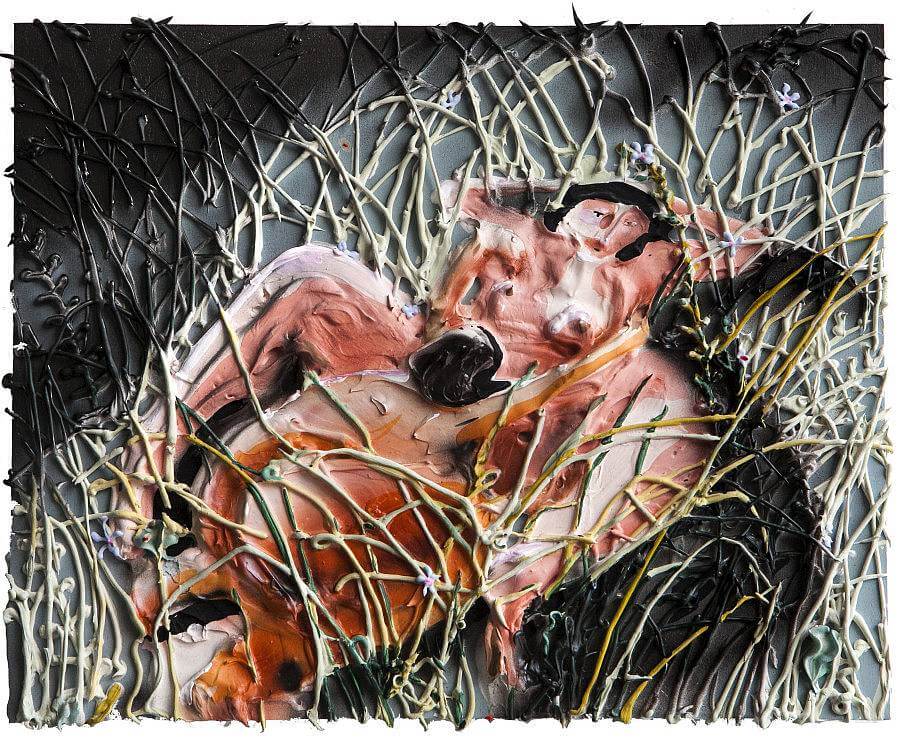 What are some recent, upcoming or current projects you are working on? I'm working towards a few group shows. One is in January at a new New Jersey space, HARPY gallery with Austin English and Maren Karlson, and the other is in April at Oakland's Athen B. Gallery with Winnie Truong, Lynnea Holland-Weiss and Alexandra Levasseur. For the HARPY show, I'm making paintings, and for the Athen B. show working on figurative, somewhat erotic ceramic sculptures of women and animals. I also have plans for a few new stop motion animations in the near future.
What is one of the bigger challenges you and/or other artists are struggling with these days and how do you see it developing? Right now feels like such an important time to be an artist. Art can have a profound impact on people and as artists we have the potential to provide perspective and invite people to question their reality. Art and beauty have power. It's important to make work that is thoughtful, and I feel a responsibility more than ever to be making images that add to a progressive conversation instead one of meaningless, insular art world chatter. The past few weeks have been super dark with the election but I am impressed and sparked by the recent work and conversations I've heard from artists. We need to keep making work about our experiences.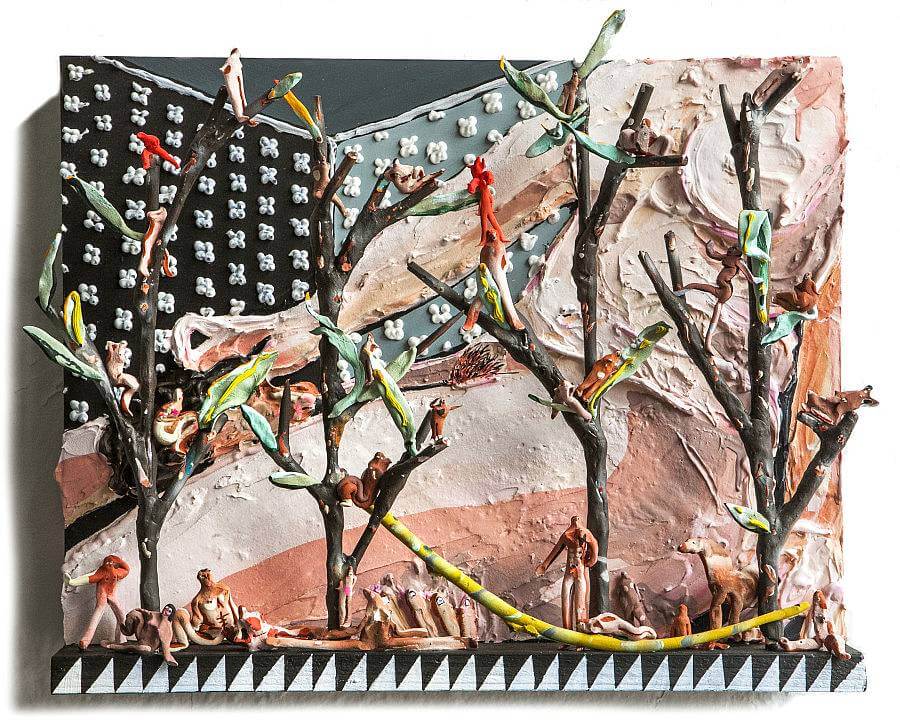 How did your interest in art begin? My parents noticed my interest in art, and they nurtured my creativity by giving me opportunities to explore it. Neither of them are artists, but they kept art supplies out for me, took me to museums and enrolled me in art classes. I really need to thank them for that more.
If you had to explain your work to a stranger, what would you say? I make thick, sometimes erotic, feminist paintings and sculptures celebrating pleasure and emotion. My paintings look edible but would probably kill you.
Guilty pleasures? Drake. Help me. I listen to so much top 40. The lyrics are in total conflict with my feminist views but I can't stop.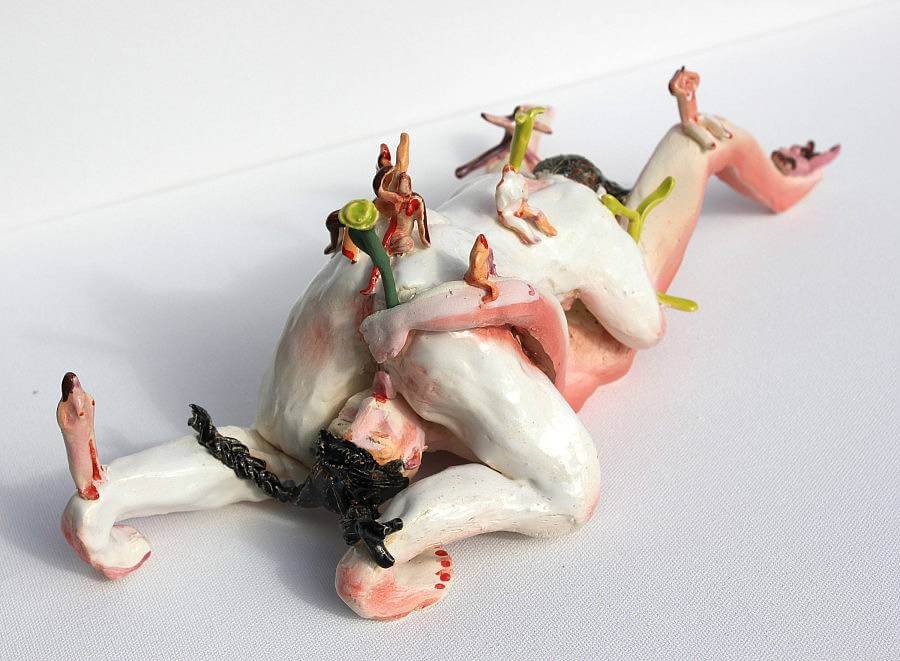 What are you listening to right now? I've been listening to a lot of Rihanna, Solange, Beyoncé, Chance The Rapper. I like upbeat music in the studio. I listen to albums until I can't any more. I also really like the podcast "Risk".
Cats or dogs? Love them both, although I relate to cats more at the moment.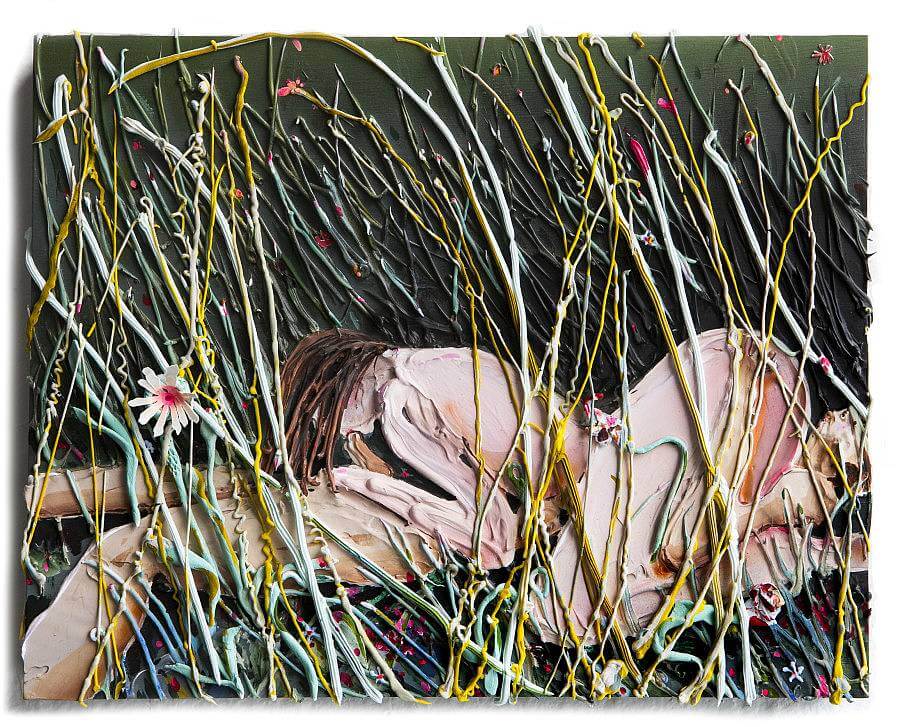 What was the last exhibition you saw that stuck out to you? The Female Gaze Pt. 2: Women Look At Men at Cheim & Reid in New York. It was refreshing to see men objectified. There are so many paintings by men of women with tiny waists and huge breasts, to see men as the sexualized subjects this time was great. The show included some amazing artists like Cecily Brown, Tracey Emin, Louise BoGina Beavers & Dana Schutz. I also just saw the Marilin Mintor show at the Brooklyn Museum, and that was incredible. It was a savior in the post election week from hell.
What artists are you interested in right now? Contemporary artists that I'm most drawn to are mostly women exploring psychology and the figure. Right now my favorites are Cecily Brown, Erin M. Riley, Katarina Janeckova, Allison Schulnik, Lisa Yuskavage, Eva O'Leary, Caleb Yono and Rebecca Morgan. I'm into the physicality of painting, and work that looks human. I like when work has a strong message and is backed by a satisfying handling of the material.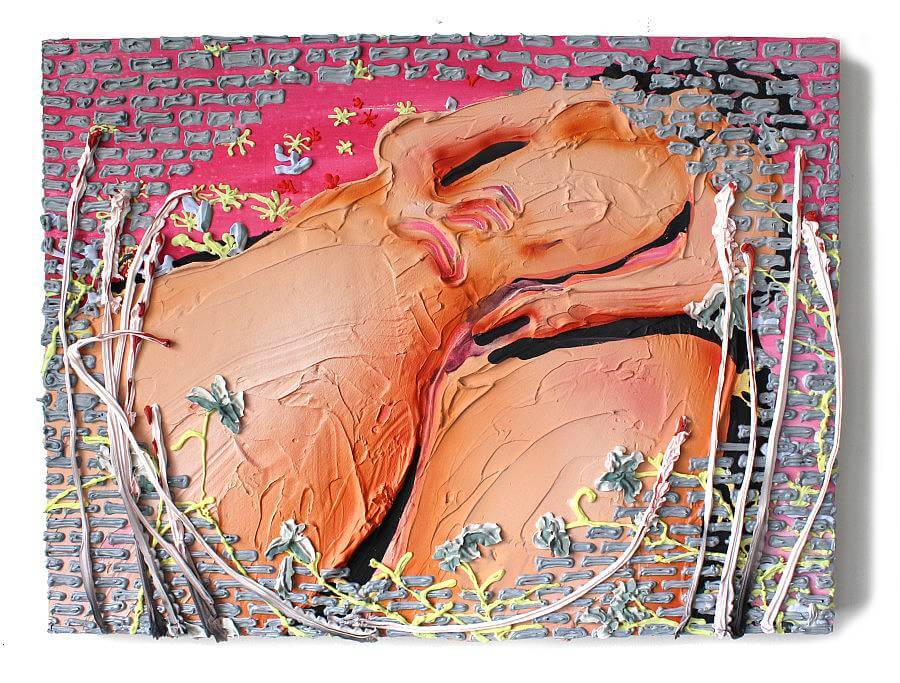 What do you collect? Small objects from friends and travels. Bronze figurines, weird ceramic sculptures, and paintings by friends.
Favorite Oakland hangouts? (and why) I just moved to Brooklyn from Oakland so I really miss the Oakland taco trucks – mostly Tacqueria Sinaloa on International Blvd. I miss the community of artists at the Athen B. studios where I had my studio in Oakland for the past 2 years. My studio space in Brooklyn is private and windowless, and I'm excited, but it's a lot of time alone. I'm getting used to it. If anyone wants to get together and talk art in Brooklyn, hit me up.
What is your snack/beverage of choice when working in your studio? Tea and kettle chips. Chewing helps me think.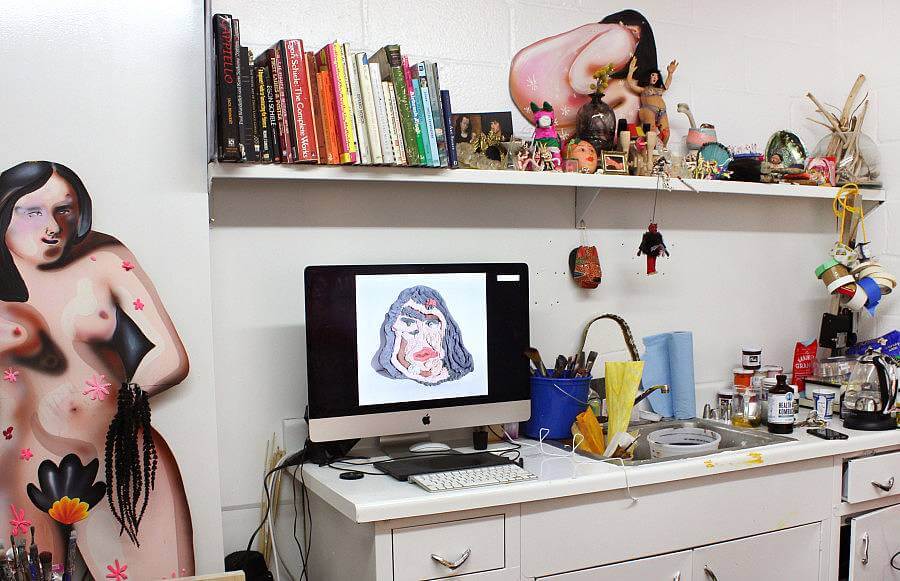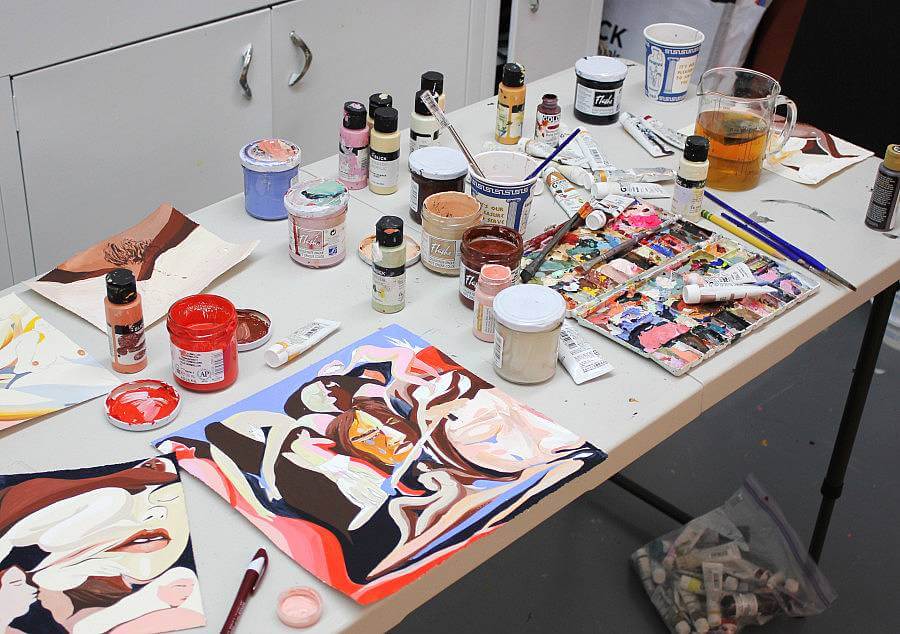 What do you do when you're not working on your art? I like to look at art. I go to gallery shows, museums, bike, and I love to cook and feed people. Sometimes I go to museums and draw one painting for a few hours. I ride horses whenever I get the chance. Mostly when I'm not working on art I just think about how I wish I was.
Can you share one of the best or worst reactions you have gotten as a result of your work? Worst: I stood behind a man interpreting one of my sculptural painting to his friend. The painting was a found wooden gate with many small spaces that housed tiny figures, almost like a buzzing apartment complex of miniature nudist people. It had a gradation that went from yellow/green to bring red. He said that the gate represented a crib and the color shift was the fetus growing redder as it got closer to birth. I've also had a man tell me that I have control issues after looking at my work 😉
Best: People often say they want to eat the work. I love this. I love thinking about toxicity and pleasure, wanting what you can't have and the alluring nature of paint. I'm dealing with some health issues due to art materials so I'm getting deeper into this idea of illusion and food. People say that my work looks fun to make, which is mostly true. If someone recognizes themselves in the work, wants to paint after looking at it, or leaves with questions, that's the best. Then I have done my job.