Tell us a little bit about yourself and what you do. I was born and raised in Los Angeles. I went to school at The San Francisco Art Institute (SFAI) and worked on a few projects in the Bay Area after school (Ever Gold, SFAQ, Morroso Projects). After 9 years in the Bay Area, I got pushed out of my warehouse space in the SOMA, so I threw a massive warehouse party at the end of my lease and left the next day. I moved back to LA about 4 years ago, and it's been amazing to be back in my hometown close to family and friends.
What are some recent, upcoming or current projects you are working on? Recently I was included in exhibitions at Romer Young (San Francisco), R/SF (San Francisco), Shulamit Nazarian (Los Angeles), and a solo exhibition at Andrew Rafacz (Chicago).  Right now in the studio I'm working on some new paintings and developing some concepts for future projects and exhibitions.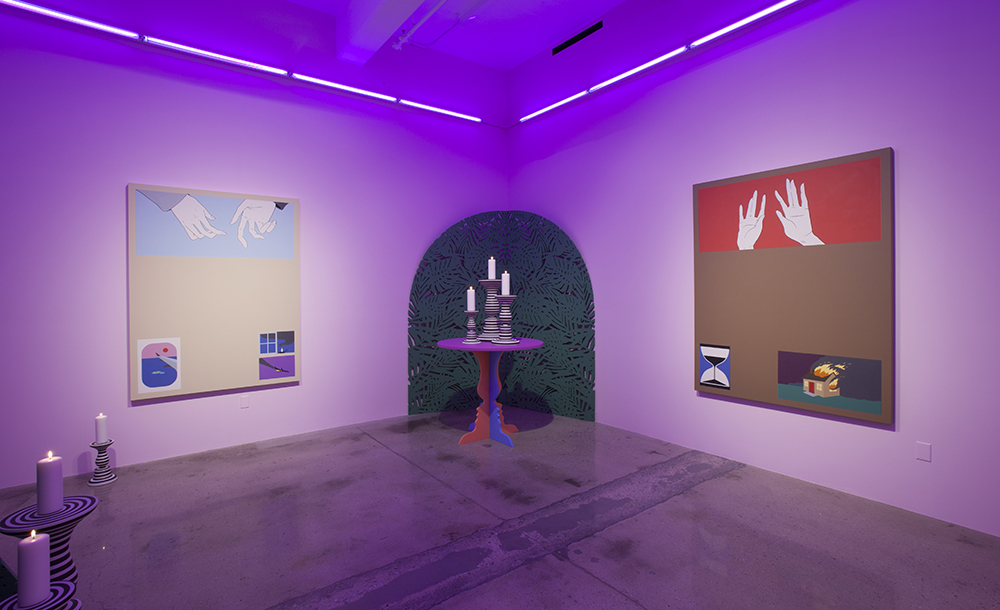 What is one of the bigger challenges you and/or other artists are struggling with these days and how do you see it developing? I feel that a lot of artists are struggling to live off earnings from their art practice, as well as having their galleries close due to a lack of sales, and even though this is the case today as well as the past, I have always made a point to have a job. I don't want to put my practice in jeopardy by adding the pressure of living and sustaining off my art sales. It just doesn't seem to be an option right now for most, but for some, it works, and that's awesome that they can do so. I know most artists would decline a day job, but I'm pretty lucky to have one that is steady but flexible and conducive to my art practice. Keeping my practice separate from financial burden allows me to maintain creative freedom in the studio, to take risks and work on more ambitious projects that take a lot of time and money with an uncertain return.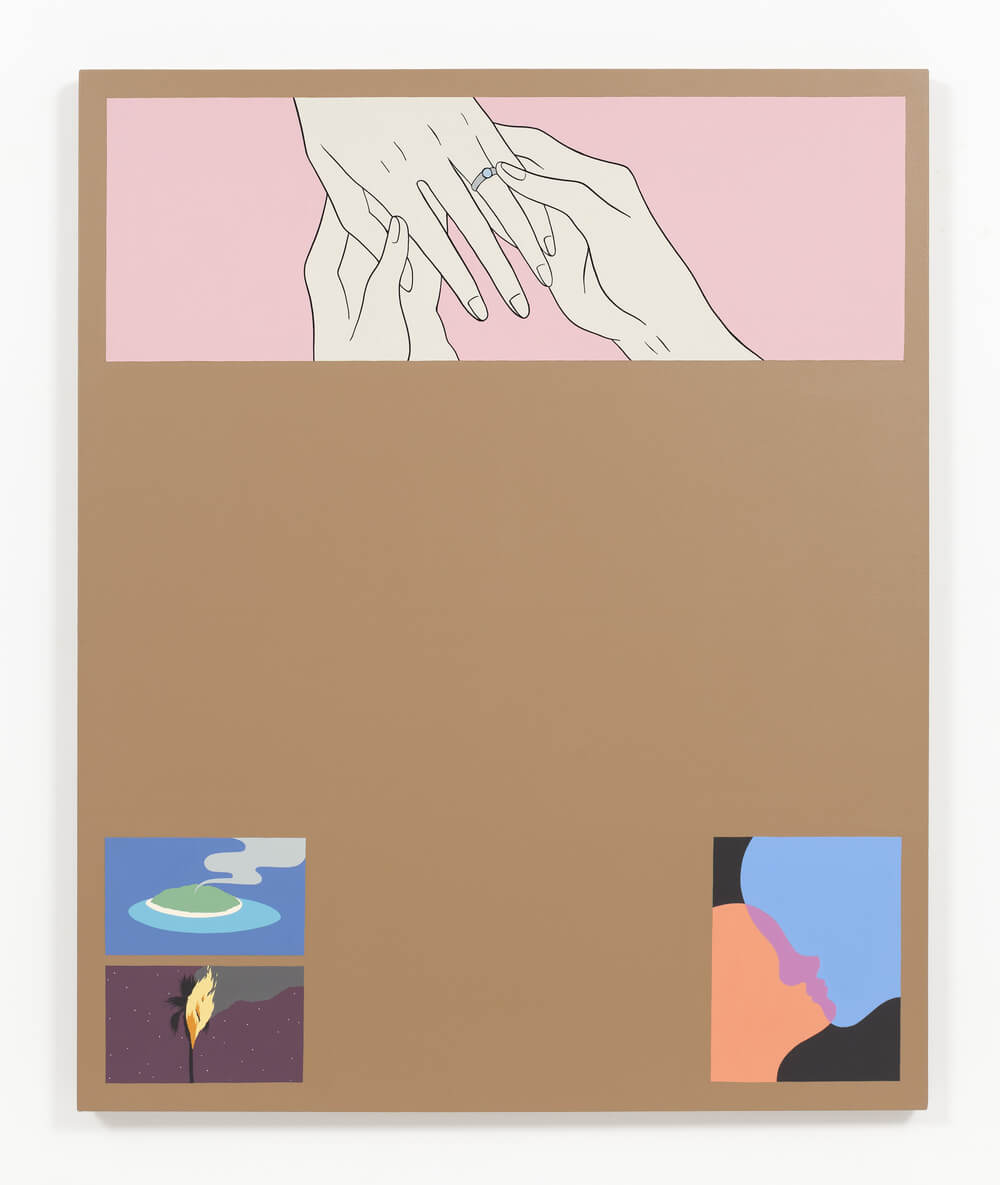 How did your interest in art begin? I would have to say that my interest in art came from my family. My family has always been a creative one. My grandfather used to paint signs, and my grandmother was a seamstress. It was pretty cool visiting their house. My grandpa had his small shop where he would fiddle with random projects, and my grandma had a whole room dedicated to sewing with numerous patterns scattered on the tables, and sewing needles littered the ground which I would collect for her.
My aunty Peggy is an animator and arts-n-craft guru. She is a well of information, and throughout my childhood, her house was the clubhouse. There were drawers full of craft materials, right next to her animation table where I watched her flip through sketches with characters like Count Chocula, the Trix Rabbit, The Simpsons, etc. Her husband, uncle Rob, worked in special effects, so his cinema collection was huge. I remember this one time uncle Rob took my cousins and me to Hollywood where he bought us cap guns that looked super real. I thought that was pretty bad ass. Their kids ended up working in the movie industry too as a story board artist, editor, and project manager.
My aunty Donna was a graphic designer back in the day, but now manages Echo Park Pottery (EXP) and the studio for her husband Peter Shire who is an artist based in Echo Park. Uncle Peter's home and the studio has been the setting for many family get-togethers, so visiting an environment like his studio growing up was truly inspiring. I remember being really young when I made the decision to have my own studio one day, one just like his. His daughter Ava is also an artist and hair stylist, and her husband also an artist and camera man.
Lastly, my younger brother Alex Ito is an artist too, based in NYC. He's my only brother, so we're really close.  We've done a couple of exhibitions together, one at Et al. in San Francisco and SADE in Los Angeles. We frequently talk on the phone about art and life stuff. I'm lucky to have a brother like him, but both of us are even luckier to have our parents who supported us during our artistic journeys. Even though they are both pharmacists, having both of their children become artists was no surprise. They always encouraged our creativity, with endless art materials, after school art classes, summer programs like CSSSA at CalArts, and eventually sent us off to art school in SF and NYC.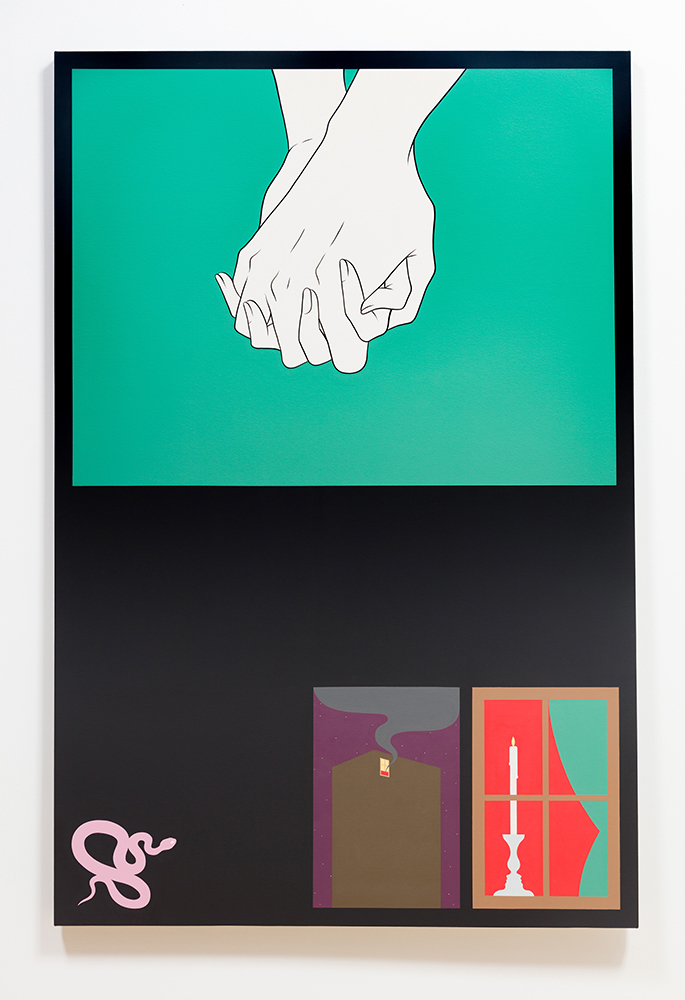 If you had to explain your work to a stranger, what would you say? Hopefully, if I've done a good job, I wouldn't have to explain the work. But briefly, I would say my practice includes painting, sculpture, and installation, all used together to tailor immersive environments. The paintings I create are compositions of flat, crisply rendered vignettes that contain pared down imagery and symbols culled from children's books and popular culture depicting open narratives that evoke an emotional response. Sculptures are treated as props, while installation sets the stage for the story that is being told. When you walk into an exhibition, you will enter a new world, one of wonder, romance, mystery, and tragedy.
Guilty pleasures? Watching the group chat spiral out of control.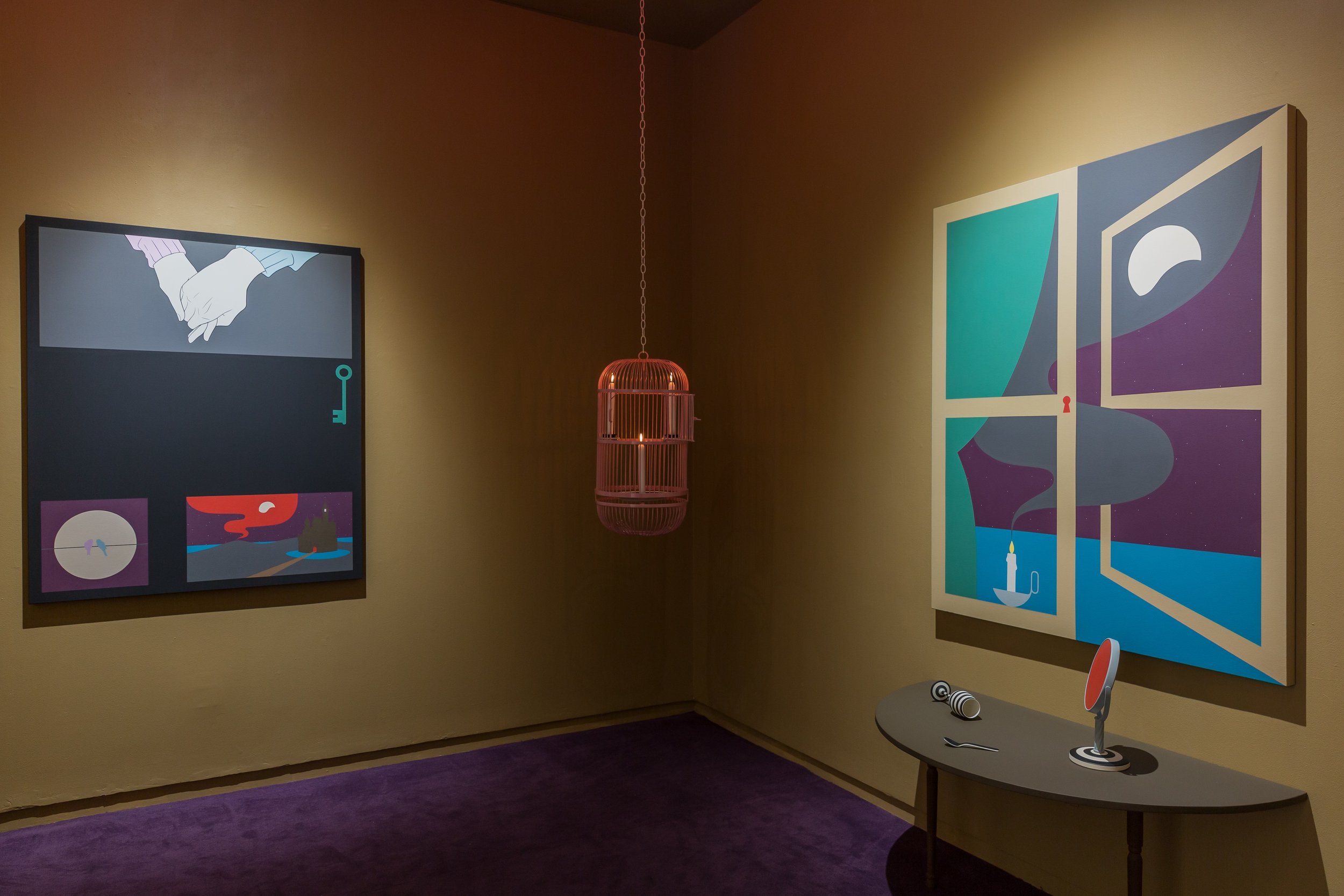 What are you listening to right now? Right now I have been listening to a lot of mixes online by Chances with Wolves, and playlists I find on Soundcloud. I'm really good at listening to music over and over until I can't stand it anymore, so playing mixes by friends and people I find online to keep me from playing out everything in my library which is primarily rap and r&b. I also like to listen to music by friends too like Jamma Dee, Benedek, Wool, Natural Curves, Mark Aubert, D33J, and The Koreatown Oddity. I think it's great to listen to music made by people you know.
What was the last exhibition you saw that stuck out to you? One of my favorite exhibitions I've seen this year was by my good friend Mario Ayala at SADE titled "Seasoned And Embarrassed, Like A Wet Dog." It was a collection of paintings and sculpture in an installation mimicking the LA landscape of concrete, dead grass, and chain-link fence.  His paintings are incredible and full of imagery that I relate to. The mood of his work encapsulates how I feel about LA. It's a never-ending romance story with the city's skyline, car culture, the river, and the people.  Mario and I went to school together in SF, worked together the years following, and continue to kick it to this day. It was his first solo show, but certainly not his last.  Expect great things from Mario Ayala and his infamous studio assistant Bubba Gucci.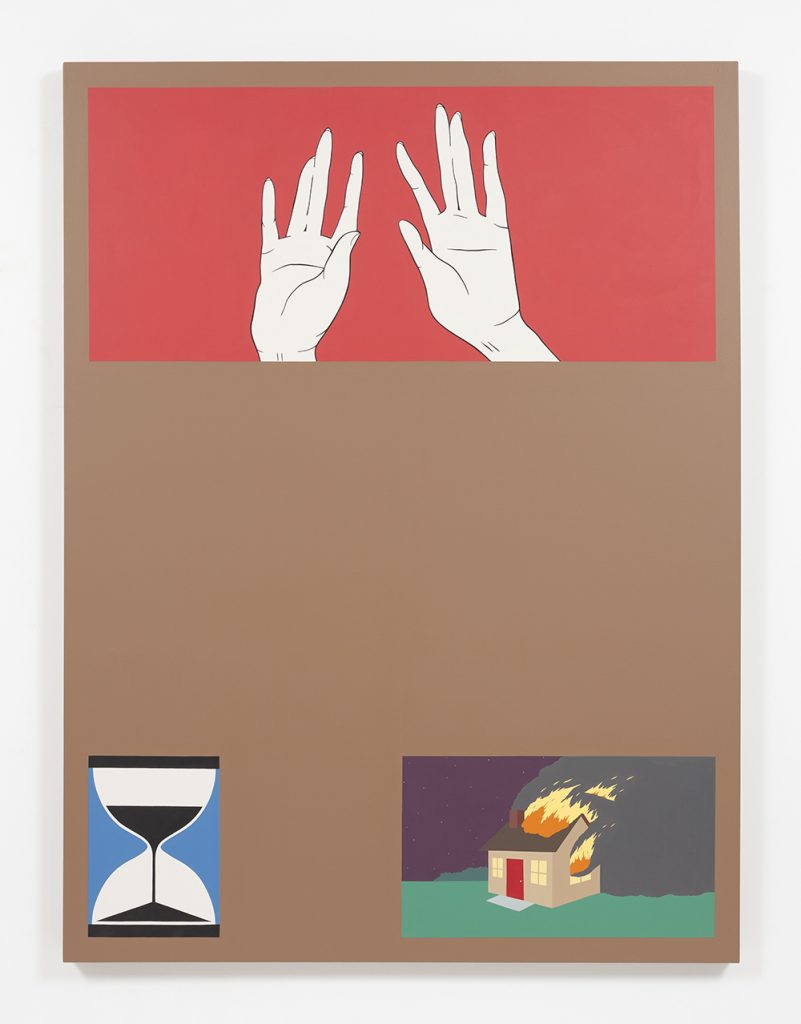 What do you collect? I collect all sorts of objects. Most of them are all connected to an experience I had, a place I've been, people I've met. I have a lot of random rocks, shells, old bottles, rail road spikes and stuff like that. All from adventures, I've had in the past. I also really like to trade work. Most of it is small in scale, but thoughtful. They are constant reminders of the talented people in my life. It keeps me going.
What materials do you use in your work and what is your process like? My paintings are acrylic, house paint primarily, on canvas stretched over panel. They require a lot of attention, and meticulous hand painted layers.  Making superflat paintings are a pain in the ass but the outcome is amazing when done right. The paintings' compositions emerge out of a tornado of source imagery and reference material, color choices are made, and paint is then applied.
The sculptures and installations I make are much more playful regarding their materials and construction. The options are limitless, from working with wood, metal, ceramic, light, different surface treatments, using readymades, and outsourcing fabrication that I couldn't do myself. I've had the pleasure of installing numerous exhibitions as a prep, fabricating art and props, managing studios and back rooms of galleries, various productions for commercials and photo shoots. From all those experiences I've learned that anything is possible, which has helped expand the reach of what can be accomplished in my studio practice. Pushing a space to its limit is always a goal in mind.
Who are some of your favorite artists? Recently I've been looking at work by René Magritte, Giorgio de Chirico, Yves Tanguy, Katsushika Hokusai, and Hieronymus Bosch. They all work within my mood spectrum.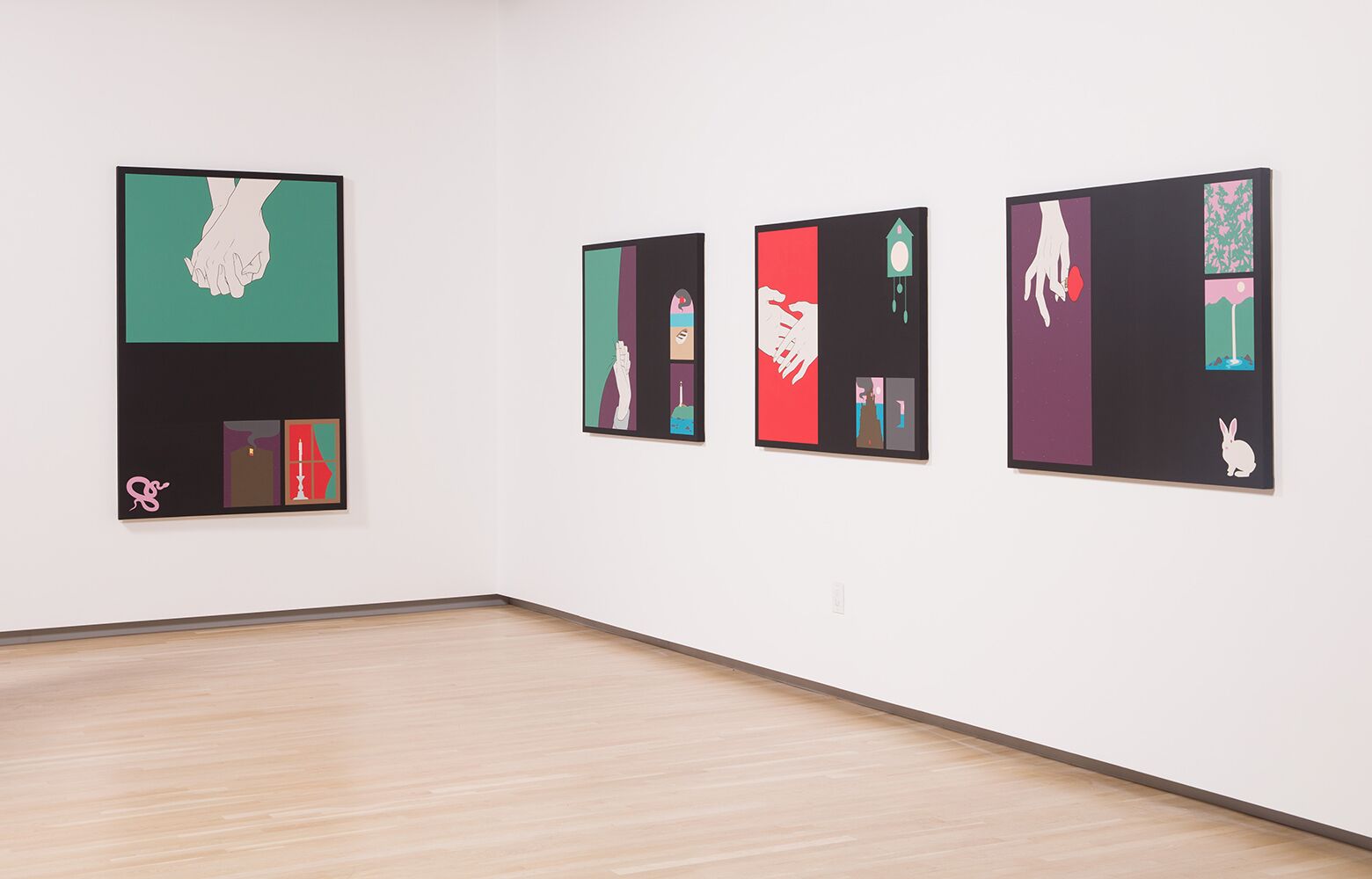 What's your favorite thing about LA? I think my favorite thing about LA is the city itself. I've gotten to know LA much more since moving back.  The life I've been able to build the past few years is beautiful.  My job is great, and I live in an amazing house in Chinatown near Downtown LA with my girlfriend.  My studio space is perfect for me at the moment and just 10 mins away from home. There is a great community of people in the area all doing cool stuff. But if I had to choose one thing that would be BBQing with my friends.
What do you do when you're not working on your art? Recently I've been enjoying camping.  Being in nature away from the constant barrage from the internet and the city is so healing.  I turn off my phone and disconnect for a while. It's humbling and comforting. I enjoy the road, fishing, cooking over an open fire, peace, and quiet, and seeing the stars again. Everything that the city can't provide is waiting for me in the wilderness.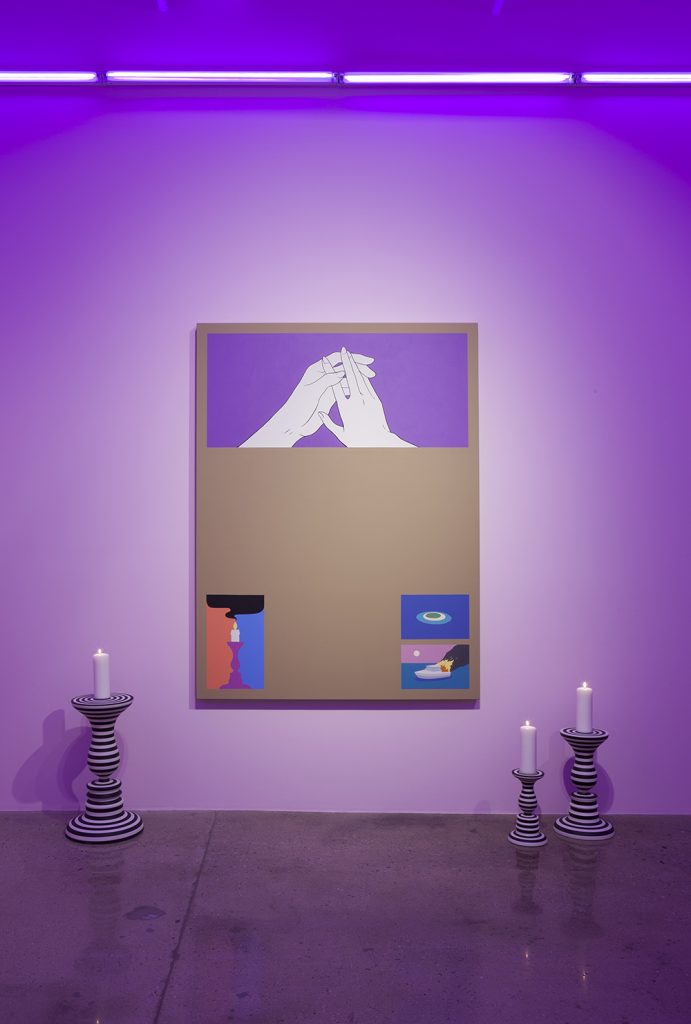 Describe your current studio or workspace. I absolutely love my studio. I found it on Craiglist shortly after moving back to LA. My landlord cut me a good deal, and the rest is history. It's south of downtown near USC on the border line between gangland and college town.  When I first moved in the place needed a lot of work. I spent my savings building out the walls and fixing it up bit by bit. It's now a beautiful white space and I rent out a couple of studios to friends to help with rent. They're talented too and great to have around during those endless studio nights. It's a home away from home. I practically lived out of my studio for a while before finding my current house. The best thing is that my studio is on the way home from work, so I normally stop by there on the way home to put in a few hours. I'm never letting go of my studio; I love it too much to see it become something else.
Can you share one of the best or worst reactions you have gotten as a result of your work? One of the best interactions I had was with a deaf man when he visited my show "Soothsayer" at Steve Turner, Los Angeles. He was looking at "Home Sweet Home," a painting depicting hands on a red background, an hourglass, and a house on fire. He told me he enjoyed the painting, and the hands reminded him of "fire" in sign language. He explained he wasn't deaf his whole life, but when he lost his hearing at a young age, it was really devastating, changing the way he viewed life, which he related to the vignette of the house on fire. The man said he now has a whole new outlook on life, and that time isn't over yet and pointed to the hour glass. I never thought that the painting would describe a man's journey like that.