Fay Nicolson plays with the limits of painting, image and object and how these definitions relate to the learning, performing, producing body. Fay graduated from the Royal College of Art in 2011 and Central Saint Martins College of Art and Design in 2006. Recent solo exhibitions include: UN MAKE ME, Galerie Rolando Anselmi, Berlin, 2016; OVER AND OVER PURE FORM, Grand Union, Birmingham, UK; PLAY SENSE, Gerald Moore Gallery, London, UK (both 2015).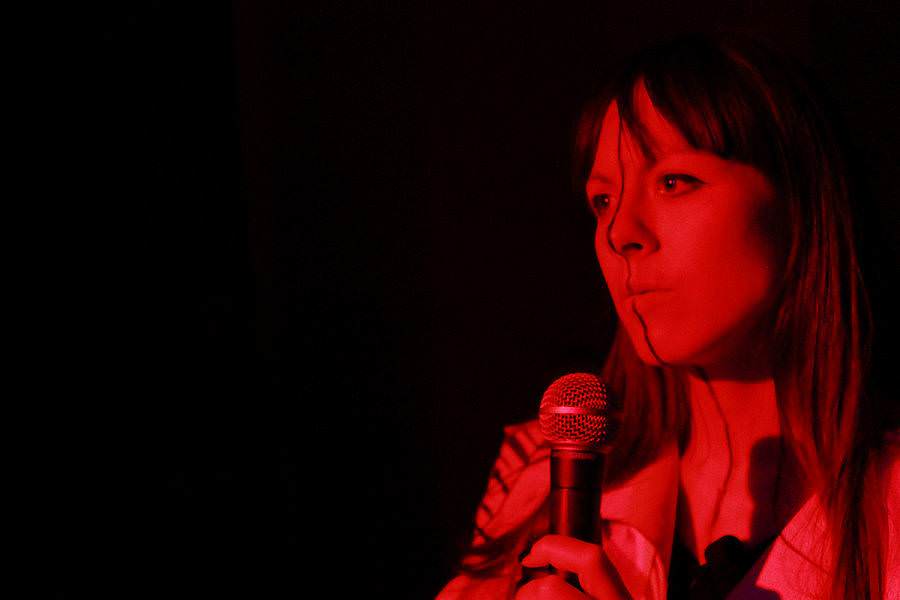 Tell us a little bit about yourself and what you do. I'm an artist working across the disciplines of painting, print, photography, performance, writing and more. I'm interested in transitory or ambiguous objects and curious about modes of working that test or collapse our ways of reading discipline/s. I like images that imply process or a history of looking, gathering, translating, combining, and repeating. I am interested in weavings as a metaphor for expanded (image) making; taking separate elements, handling and twisting them, knotting and inverting them to form a structured surface, a malleable object that can also be read as a flat image. However, this surface only reveals one aspect of whole form and could be unpicked and unravelled to re-form something else. Weavings also imply an element of craft, use, the home, the body, manual labour, and gender that opens making up to discussions about history, context and politics. I live in London and have a studio further down the river in estuarial Essex. I also teach on the Fine Art BA courses at Brighton and Norwich.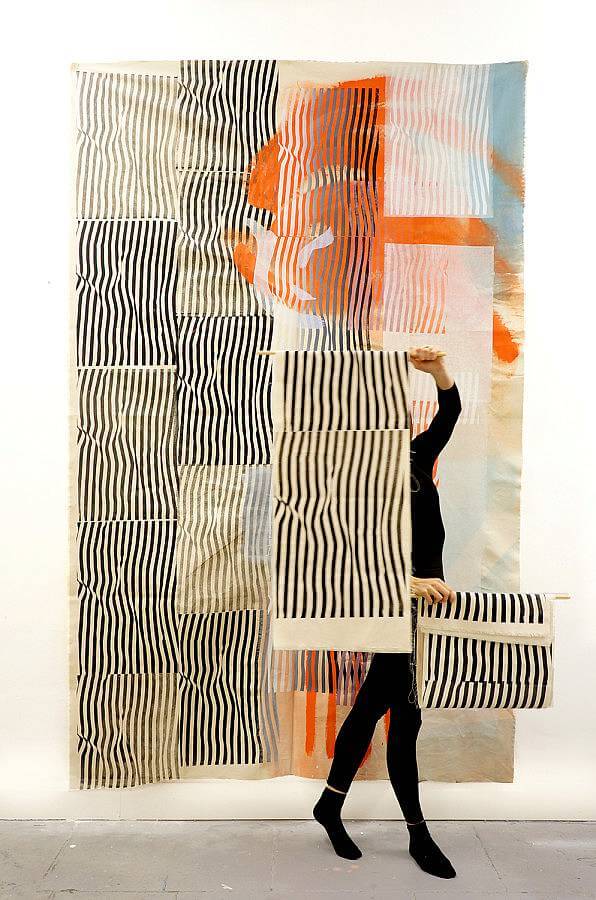 How long have you lived in Derby and what brought you there? I was born in Derby and grew up in a small village called Draycott amongst derelict factories and steel bridges standing alone in the middle of fields. This dilapidated landscape gave space to roam, dream, disappear. I moved to the neighbouring city of Nottingham to study and then eventually to London to go to Art School. I left because it felt constricting and in this context, studying Fine Art was swimming against a tide of expectation. However, I still feel a strong connection to that area and solidarity with people who grew up in similar situations. I love going back to Nottingham. The place encourages a kind of DIY collaborative energy tinged with punk realism and post-industrial fantasy. For example; director Shane Meadows and the band the Sleaford Mods or the numerous galleries and studio groups that exist there; Primary, Syson Gallery, One Thoresby Street to name a few.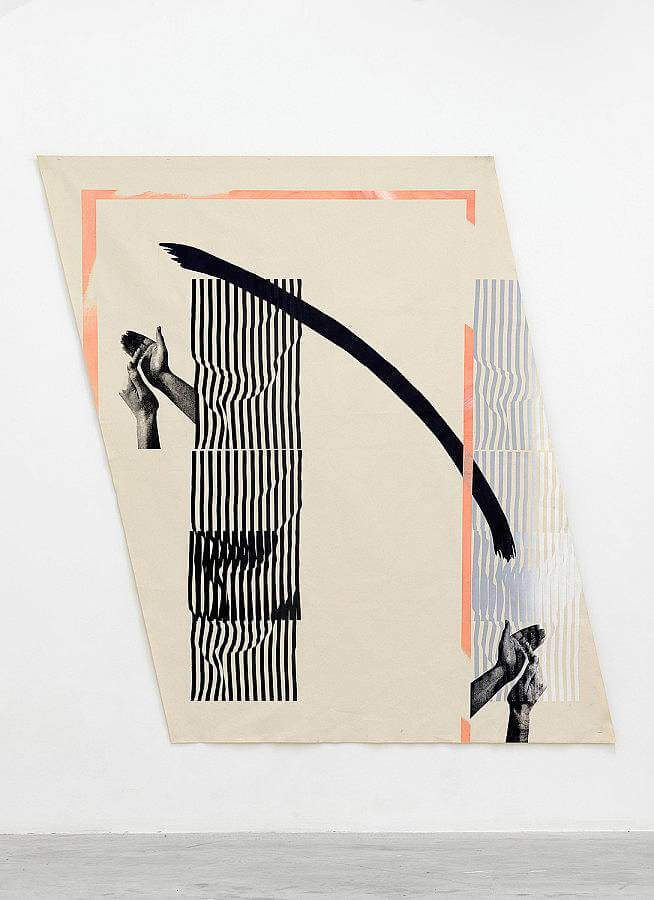 How has living in Derby affected your art practice? Growing up in the East Midlands gave me a strong creative and collaborative base. From the age of 14 onwards I was playing live music, going to gigs, writing, sharing within a scene. It gave me confidence to be bold and take risks.
What kinds of things are influencing your work right now? A huge mix of experiences and research filter into my work. Contemporary art education and how this butts up against the ideals of previous models is a constant influence. E.g. The Bauhaus, Black Mountain College, the radical A Course at Saint Martins. I am also influenced by dance and music. I'm fascinated by the ways choreography, pattern, and scoring clash with embodied learning, intuition, expression.  I love Philip Glass' works, especially Songs from Liquid Days because it combines the rigourous, almost mathematical, clarity of Glass' compositions with disjointed narratives about 'humming refrigerators' and 'giving God a beer'. The Lyrics were written by Paul Simon, Suzanne Vega, David Byrne and Laurie Anderson.
Collaboration is important to me at the moment. I like being part of groups (however transient) that give licence to experiment and indulge common drives whilst drawing on individual perspectives. I like to take part in other artist's projects (from performing with Jenny Moore in her Mystic Band to going Caving with artist Flora Parrott), and equally I love working with artists in my own performances and projects.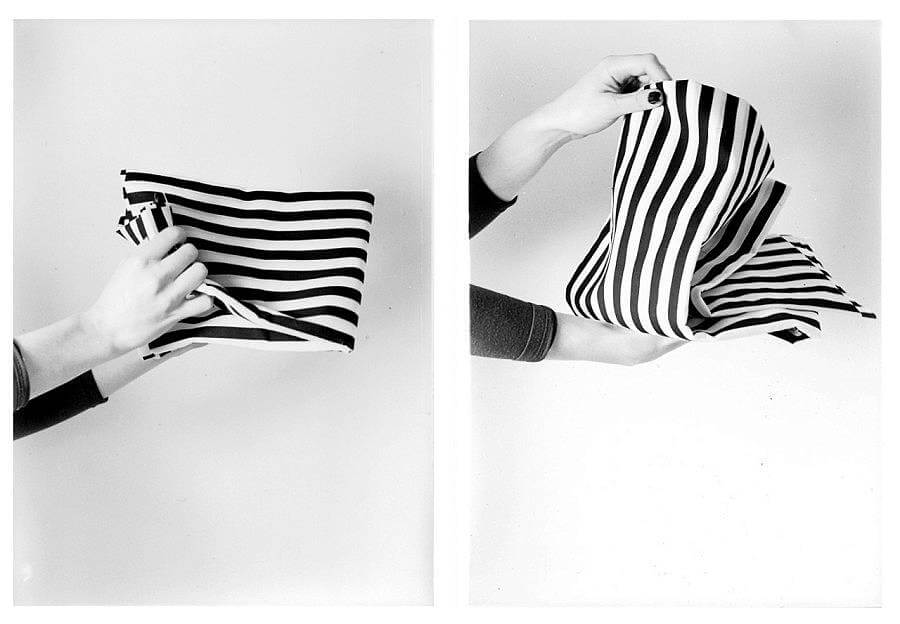 What are some recent, upcoming or current projects you are working on? Last week I performed OVER AND OVER PURE FORM at Kunstraum in London. The project explores the reality of art education today and how bodies, behaviours and attitudes are moulded through formal terminologies or ideologies. It is meant to be immersive, critical, humorous and a bit masochistic. This piece brings different elements of my work together. Large screen prints/paintings hang like backdrops in the space. A chorus of four performers sing harmonizing chants and move to various rhythms performed by a drummer. I sing and deliver a text from the position of a fantasy student/tutor, moving between rigorous 'studio exercises' to a euphoric, psychotropic, post-punk trance that emerges in the middle of a critical studies lecture. Through this piece I want to reconsider the role of the body and the subject in learning, rather than education being focused on measurement, assessment, convention, business.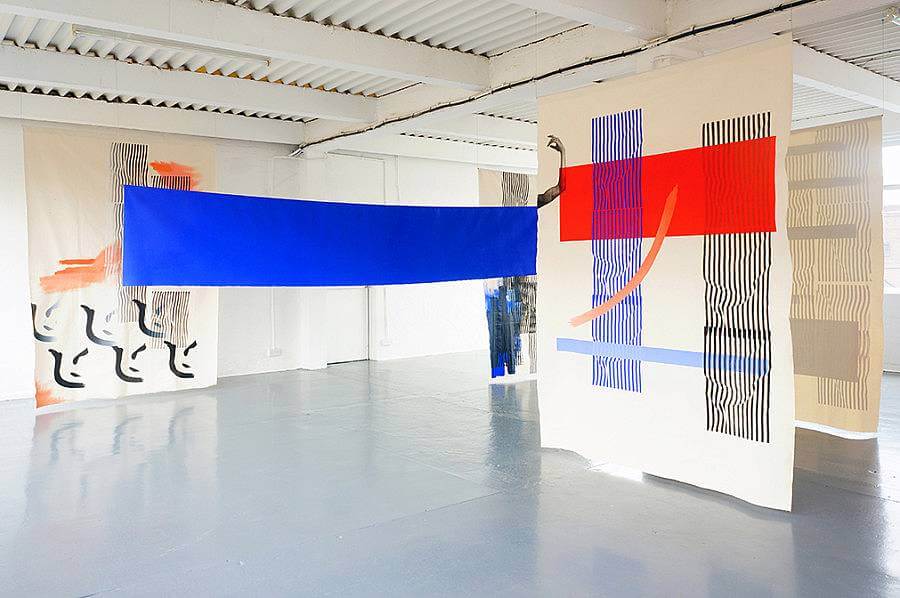 Top 3 favorite or most visited websites and why? I love archives so my favourite websites operate in this way.  I spend a lot of time watching performances and videos on Ubu web. Most recently I watched Beach Birds for Camera by Merce Cunningham filmed by Elliot Caplan.
It's not original but You Tube is my most visited website. I search for music, talks and obscure recordings of performances. The model of user generated content is conceptually relevant too. Most recently I've been searching for Ukrainian choral music and discovered the most beautiful song by a choir called Drevo. Without You Tube how would I have access this stuff? Finally, my current favourite site is Folkcostume Blogspot. It's painstakingly put together by someone who wants to 'share their love and knowledge of Traditional Folk Clothing and embroidery'. I spend hours going through this thinking about why certain conventions of dress and movement, or methods of production develop in certain places, and how they tie people together, a practice that becomes a code to pass down culture.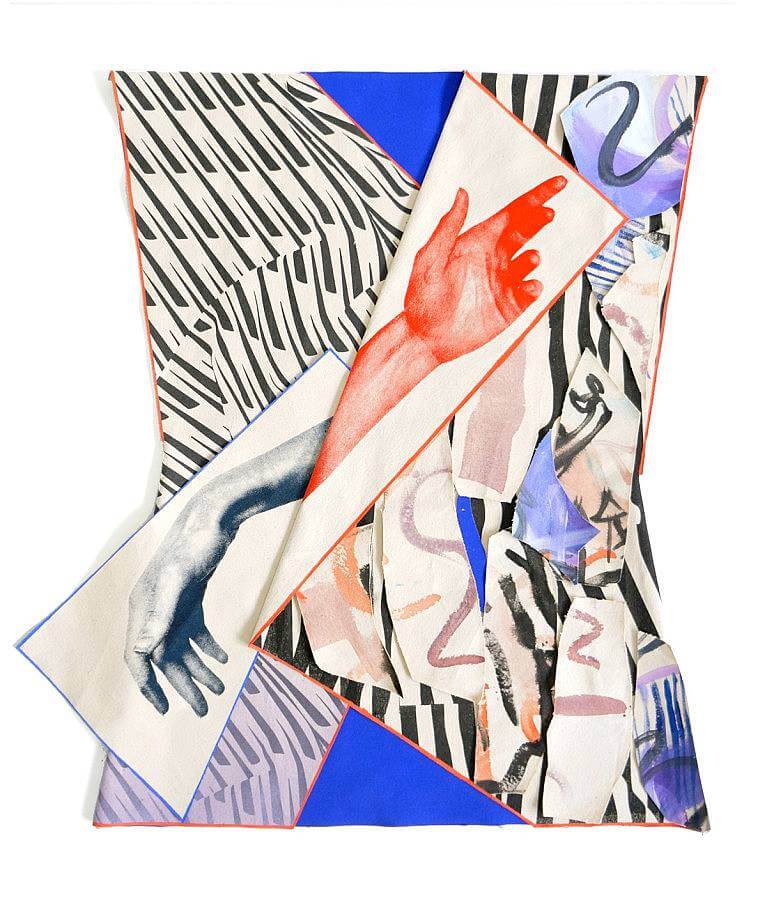 If you were a drink what drink would you be? I would be a Margarita. Strong, great in hot weather, wincingly sharp, a provincial desire to be glamorous and exotic, hedonistic tendencies, occasionally a step too far.
What artists are you interested in right now? I love Joan Jonas! Hito Steyerl, Jamian Juliano-Villani, Rinus Van de Velde, Matthew Lutz-Kinoy, Sylvia Sleigh, Franz Erhard Walther, Kris Kraus' novels, Sigmar Polke's sketches, Robert Morris' performances, Yvonne Rainer, Patrick Staff, Sophie Michael amongst many others, and I saw an amazing Andrea Fraser retrospective at MACBA recently too. I love practices that disregard the idea of taste, trend and definitions of 'good' and 'bad' art to establish a whole new aesthetic or political logic. I like practices that can transcend or dissolve conventions, resist definitions, and still emerge as a strong, immersive force, space, statement, narrative, action or atmosphere. I am also hoping to collaborate with artists Samuel Fouracre (on a moving image work) and Laura Oldfield Ford (with which I share an interest in sound, space, narrative).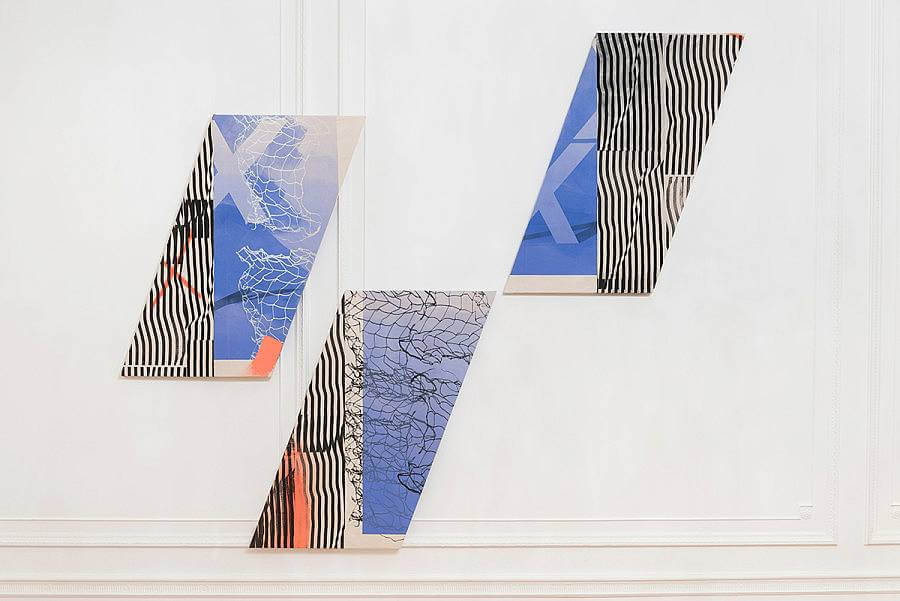 Tell us about your work process and how it develops. I bring props (fabric, basic materials) into the studio, use them to perform to camera, sometimes these props are existing works of mine. Then I translate this documentation, often editing certain images digitally into black and white stencils and eventually silk screens. Once I have silk screens I plan out large works on canvas using Photoshop to mock up compositions as well as working reflexively and intuitively. I work on the floor and a DIY screen printing desk in my studio combining silk screen, stencils, masking off areas using tape and free hand mark making, mostly with acrylic, mediums and water colours. I like to play with definitions of a graphic, digital, painterly or performative gestures to create layered images in which motifs are weaved and repeated.
I go through experimental phases of testing, playing with new materials or ways of drawing, moving, recording, writing. These periods may not initially lead to new work but introduce new ways of thinking and different approaches that can seep into my practice over time. I always work in series as I am drawn to repeating things, to exhausting different options, to observing a progression over time, a feedback loop between testing, learning, knowing. Making my work is a bit like dancing.
What do you want a viewer to walk away with after seeing your work? I would like them to be curious, drawn in, excited. I hope my work operates on different levels and connects with viewers in terms of what they also bring to the conversation; their attitude, interests and experiences. I don't expect everyone to connect, but I want my work to spark ideas or excitement in a few people. In the way that individuals don't invent language, they learn it, partake in it, extend it, share it, I think about artists and art work. I make my work to have possible visual, material, sensual, philosophical conversations with others.
What's your absolute favorite place in the city/the world to be? Jumping into the deep green 'Ladies Pond' at Hampstead Heath in London on a boiling day. It's usually hot enough for me to do this one or two days a year in London. You have to take your chance and dive in, swimming around in a murky pond amongst the ducks and willows. It's a peculiar type of heaven that ruptures the starched routines of this city.
Describe your current studio or workspace. The most striking thing about my studio is its location. It's on the Eastern part of river Thames halfway between London and the sea. It's a new ACME studio development next to the Royal Opera House production workshop. These buildings are surrounded by commercial ports, small housing estates, overgrown verges, trails of articulated Lorries, marshes, defunct Ford factories, landfill, former barracks, and dolphins have been sited off the river bank. Inside, my studio is a heterotopia; it is here and anywhere, white walls, grey floor, wifi connection. When I am there I feel like I am in my own world, which is both liberating and incarcerating.
What were you like in high school? A dark, pretentious outsider looking for an edge. (ha ha ha).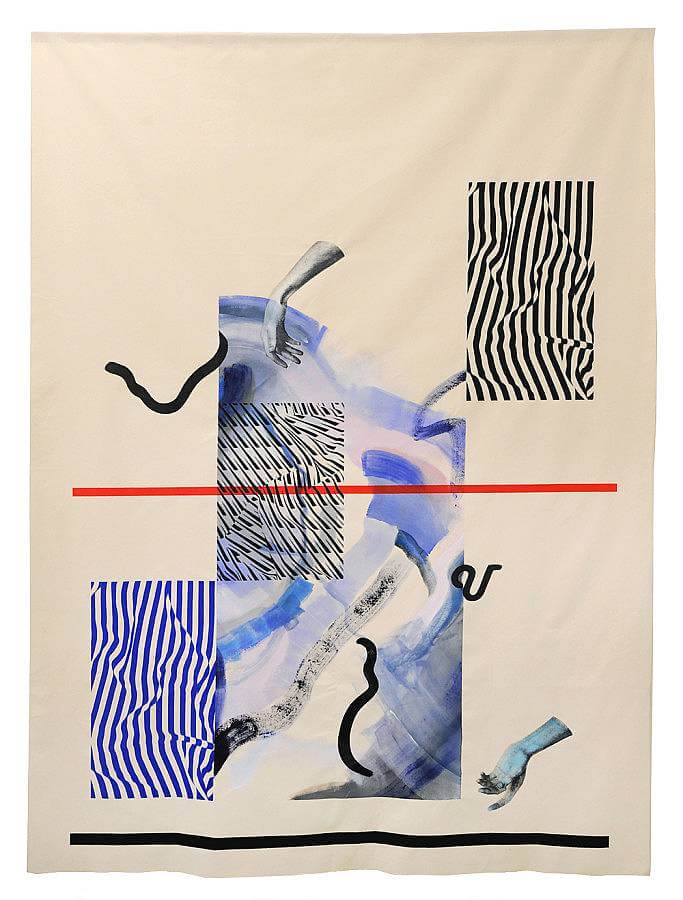 Can you share one of the best or worst reactions you have gotten as a result of your work? Last week someone told me that my performance was incredible. That rare comment made me feel brilliant! Reflection and criticism is very valuable, but the thing I hate most is when people try and crit your work at the actual private view. There have to be times to celebrate the end of a project and relinquish critical focus, otherwise you feel as if you are on a treadmill.
What are you reading right now? I am reading; 'Chaosophy: texts and interviews 1972-77'; Félix Guattari; 'The Argonauts', Maggie Nelson; 'The Ideology of the Aesthetic', Terry Eagleton; and 'Posthumanist Performativity: Toward an Understanding of How Matter Comes to Matter', Karen Barad. I like to read different books in parallel!