Tell us a little bit about yourself and what you do?
Hi! I was born in 1979 and grew up in the suburbs of DC. My formative years were spent in my father's recording studio, watching him build musical scores by stacking digital sound blocks onto a moving timeline. His compositional structures are layered frameworks to improvise within. We shared endless conversations about timbre and affect, rhythm and timing, sprinkled with reminders about the necessary discipline it takes to be good at anything. From these experiences, I gleaned essential understandings that now comprise my core values as an artist: work hard, revise fearlessly, embrace improvisation and collaboration, make something from nothing (alchemy), whenever possible do-it-yourself, and create space for many voices by allowing complex structures.
Interested in the ways relationships between self and others are evolving as temporal experience is reframed by digital technologies and publics are rearranged into networks, I work between the on and offline. My practice demarcates the studio as a site for transformation and transmission, where the environment of making functions as backdrop to performances staged for capture. Employing experimental processes and improvisational methods I make room for unexpected collisions: durational engagements that allow for the emergence of performative gesturing and language play.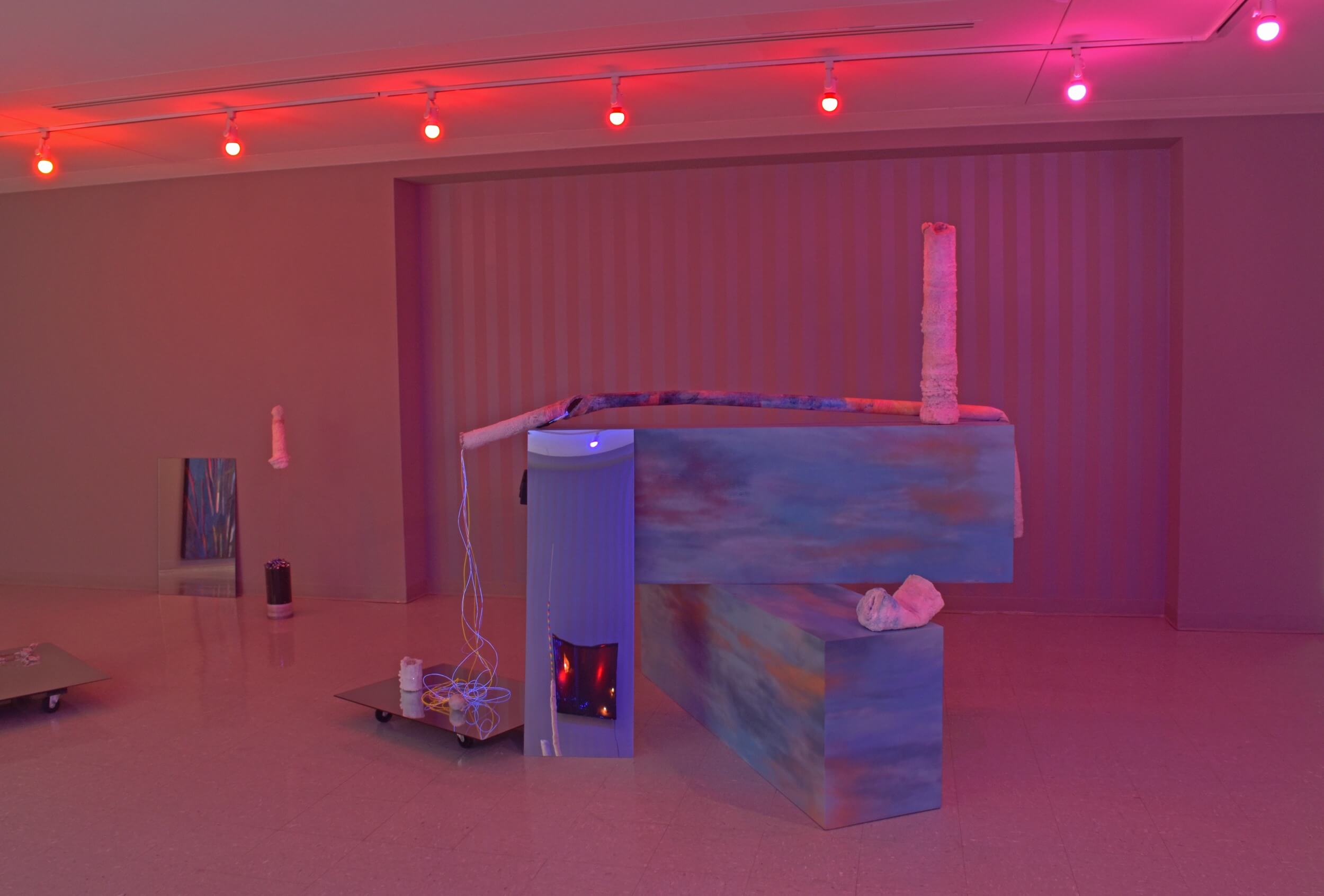 What is it like living and working in St. Louis? What is your favorite part about the community there?
As a practitioner, my most essential needs are time and space. St. Louis offers both; it's an ideal context for making work. It will charm you with its red brick buildings and tree-lined boulevards. You can drive across town in ten minutes and the cost of living leaves plenty of extra for travel – a kind of breathing room. I moved here four years ago after discovering my now studio, a 2000 sq. ft. live/work space in a 1920's assembly hall. The St. Louis community is super supportive. I've been lucky to make amazing friends who have interesting practices in diverse fields – good conversations abound.
A favorite St. Louis based project is Charting the American Bottom by Jesse Vogler, Matthew Fluharty, and Jennifer Colten. This work is a multi-pronged investigation into a Southern Illinois flood plain known as the American Bottom, which stretches from the confluence of the Missouri and Mississippi rivers to the Kaskaskia River confluence; it takes the forms of publications, experimental bus-tours, convenings, web-based narrative geography, and a mobile community-center. James McAnally, founder and caretaker at The Luminary wrote a great piece in February's Art in America, "Atlas St. Louis: The Fate of The Landscape" that gives context.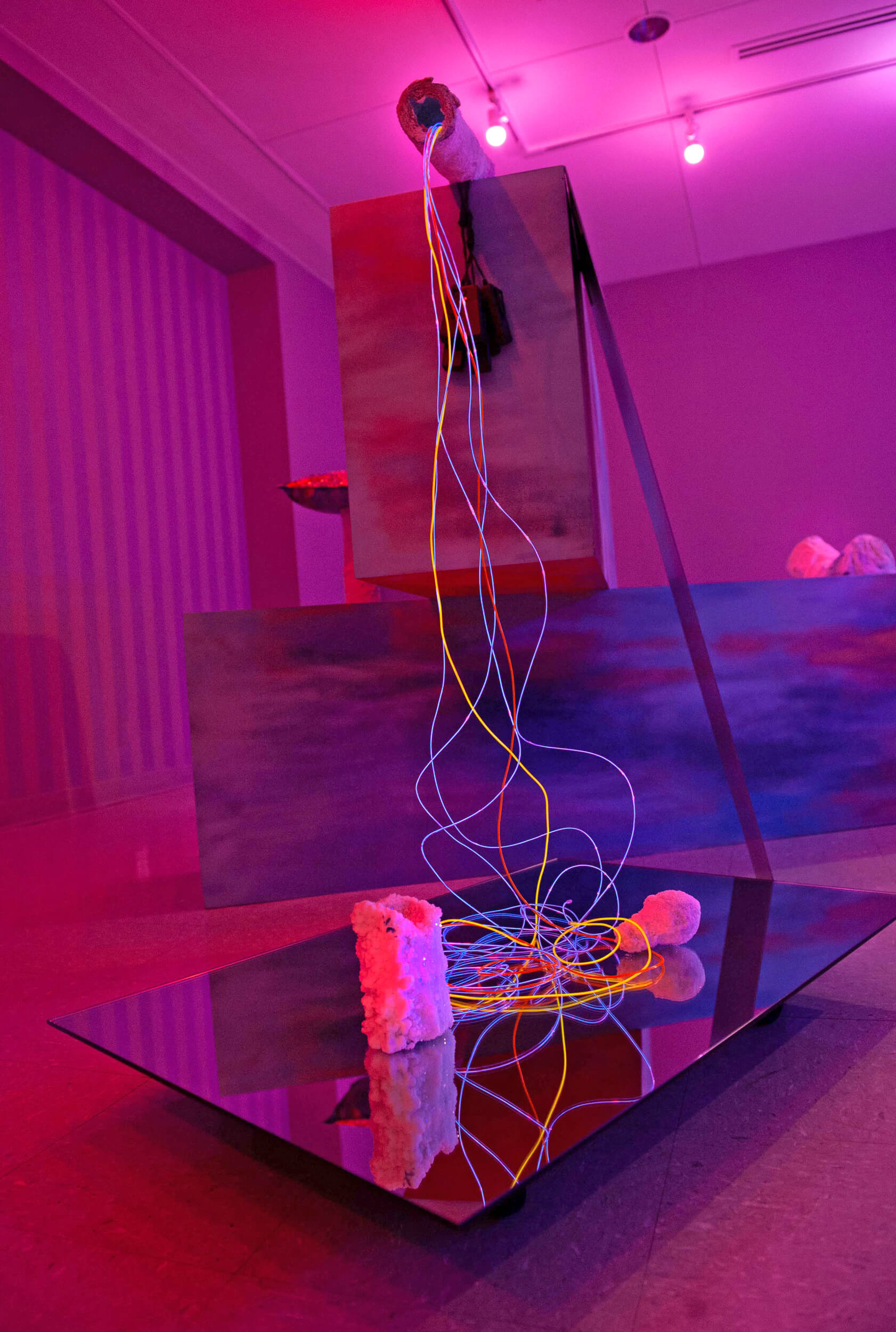 What is influencing your work right now?
Hand reliquaries and their dead fingers
Touching touches: touch ID for touch-access and touch-screens with their swipe sequences
Big skies of the Midwest and aerial POV
Cloud storage and data ownership
Stages of twilight
Cave-time, cave-structures
Feedback loops of all kinds
What materials do you use and what is your process like?
Drawn to that which is ubiquitous, ephemeral, or newly obsolescent, I work with a wide-range of materials, anything from dum-dum lollipops to expired grow-lights.  Materials are props for language play.  
Processes are durational; I instigate temporal experiments over long periods to express a yearning for deep-time in the age of no-time. Processes produce artifacts; they are loosely coalescent aggregates that take multiple forms including, installation, performance, painting, and video.
Currently the studio is like a garden, a stalagmite-garden of crystallized tube towers. These accreted salt totems were grown over many years through a daily watering routine, where a super-saturated solution was ladled over the forms' surface. Residual moisture evaporates leaving a mineral trace that slowly accrues over time. Crystalized flow as an index of its own making.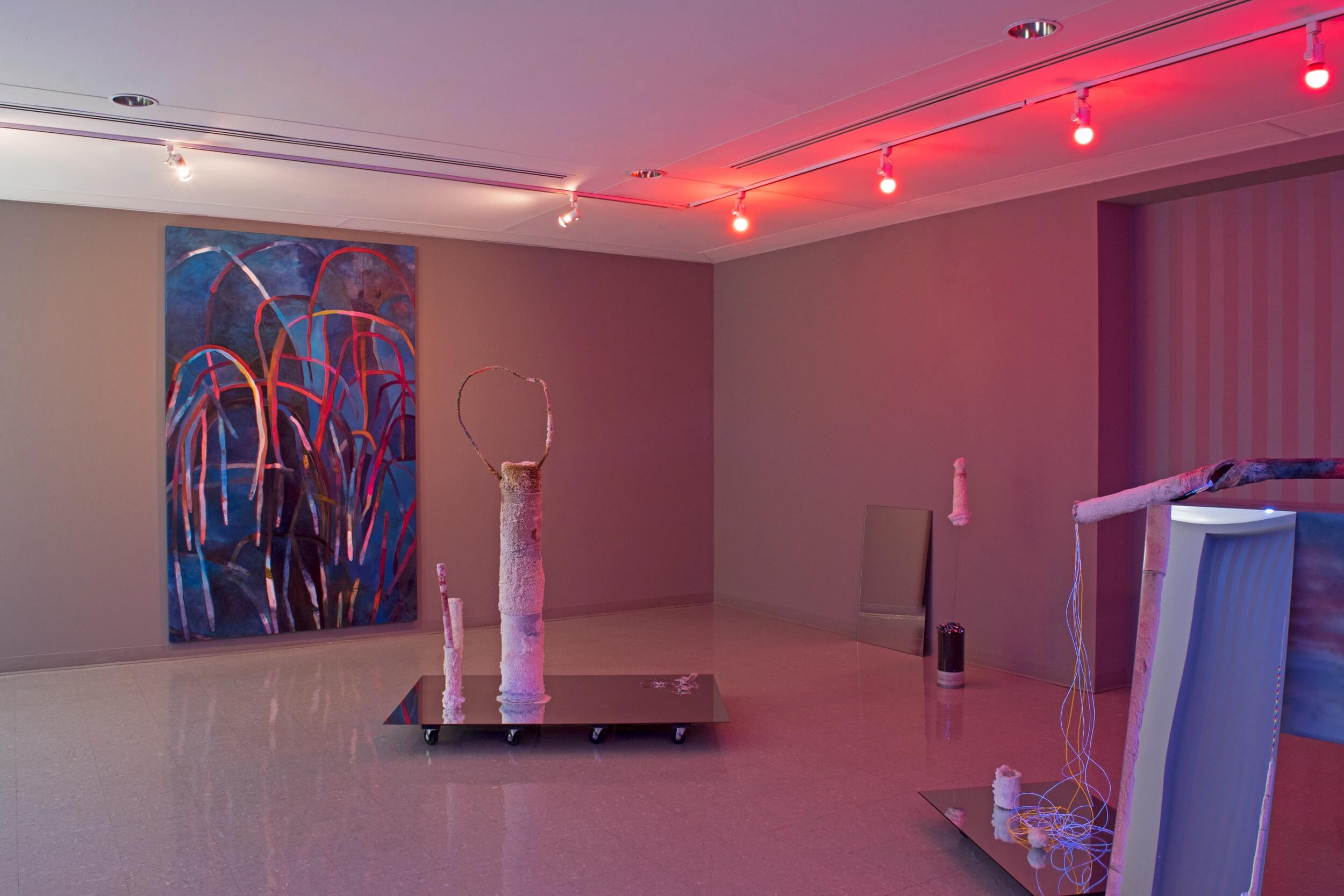 What are some recent, upcoming or current projects you are working on?
I recently mounted a solo show at the University of Illinois Springfield, Visual Arts Gallery. Curated by Jeff Robinson and Allison Lacher, digital dusk shadow storage was an immersive installation, a dreamscape exploring the palette of transitional time featuring salted tube totems, ghost images, sky blocks, and a large painting of fingers.
The exhibition statement: Pink air, light refracting, iClouds float in a Midwestern sky.  Civil twilight culminates in civil dusk; nautical twilight begins. Blue hour. A backdrop for an imperfect cinema, where horizons float on the surface of infinite data pools and time collects like condensation on cave walls.  
My iCloud is almost always full.  It rains error messages; perpetual pop-up prompts to buy more storage.  Real-estate in the sky with touch-access. Forever touching screens with touch IDs.  Hold touch, slide touch, swipe touch, touch time.
__
I have an ongoing painting project with artist Howard Krohn under the moniker bigweirdo. bigweirdo makes paintings that evolve over many years. Constructed one move at a time, works are passed back and forth until an agreement is reached about finality. Rather than collaboration, we consider this a practice of negotiation, navigating collisions of taste and methodology.
What do you do when you're not working on your art?
When I'm not working, I am usually working. I am the Senior Manager of Communications at the St. Louis Symphony Orchestra and a founding member of an artist-run gallery, Monaco. Attempting at work/life balance is an endless project. I take lots of walks and capture lots of videos.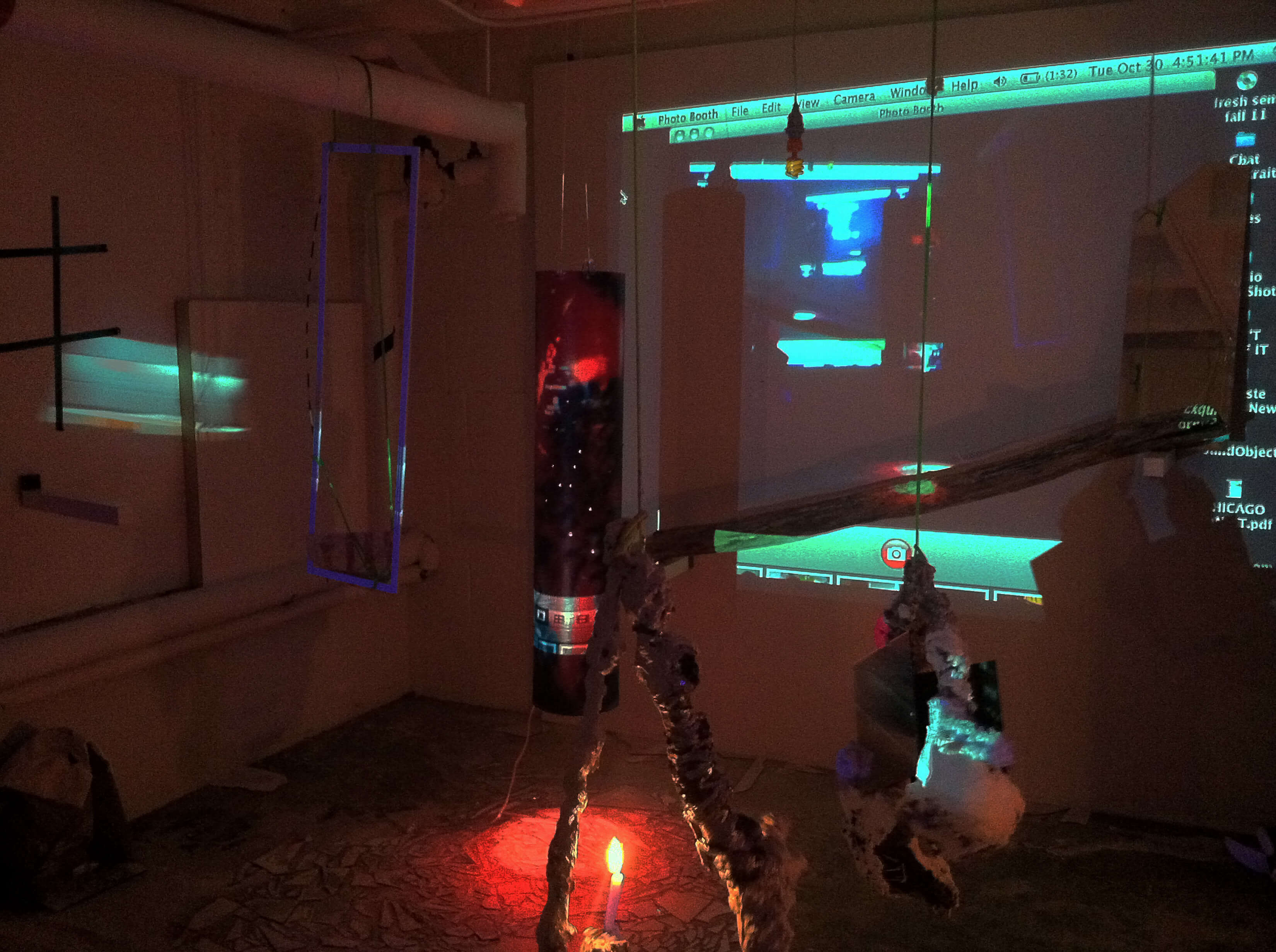 Can you tell us more about Monaco and your role within that space? 
Monaco is an artist-owned gallery founded in 2017. Operating through a cooperative model, members share financial and operational responsibilities equitably, contributing monthly dues to cover rent and managing duties through a series of committees. I am part of the communications and curatorial teams. We have an 18-month exhibition cycle, each member gets a 6-week block to use the gallery at will. Now in our tenth month, the space has witnessed an exciting range of exhibition strategies showing local, national and international artists in solo and group shows. Last month we hosted Good Weather gallery as guest curator.
In April, I used my exhibition block at Monaco to curate bodybodymoreless (origins), which brought together amazing artists Duda Bebek, Caroline Carlsmith, Addoley Dzegede, M (Abbe Findley and Brooke Hsu), Ashley Wick, and Nicole Wilson. The show highlights practices that explore a relationship to time through touch and memory. Featured works investigate interpersonal bonds, relations with oneself and others. They utilize voice, think about legacy; they look forward and back. Wholes, parts of wholes, holes – cycles, tracings, and recollections seeking to find ways towards something called home.
What is the best advice you have ever received?
We can do no great things – only small things with great love. —Mother Teresa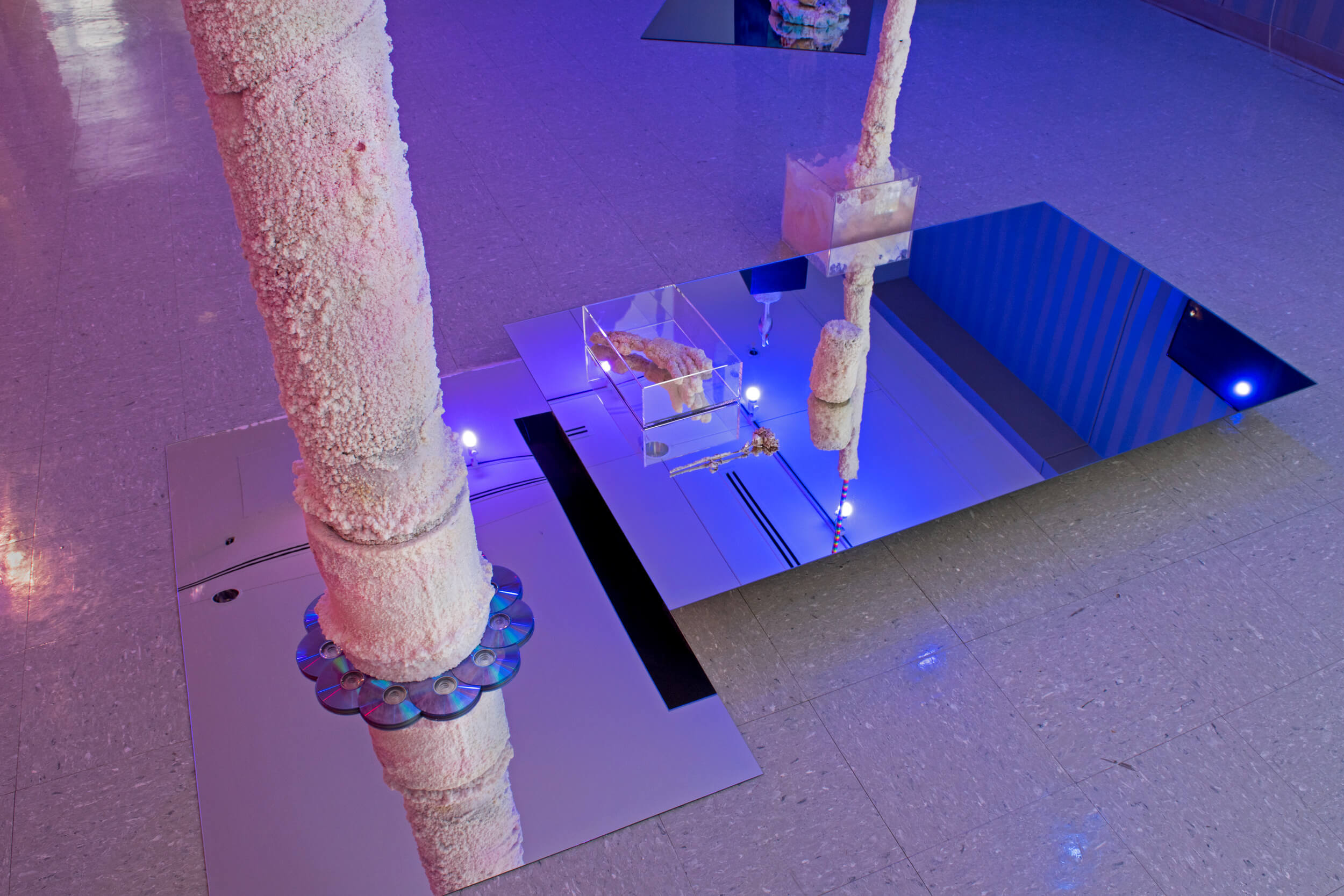 What do you want a viewer to walk away with after seeing your work?
Heightened awareness and unexpected associations, I want viewers to feel their bodies and walk away thinking. The work opens questions. I hope it generates conversation, creates poetry.
Where do you see your practice going next, any exciting changes going on in studio?
For the last number of years, I have been focused on cultivating a suite of objects (timekeepers), utilizing the studio primarily for production. I am in the process of shifting modes to performance. The studio will become a backdrop for online encounters and a site to host collaborative exchanges.
My work at the symphony has put me in close proximity with some of the world's best musicians. I have invited several players to spend regular time in the studio amongst the work to create a score based on our improvisational experiments. In my next exhibition, I will stage the musicians with objects to perform the composition live.