Tell us a little bit about yourself and what you do.
 I'm from New Orleans and came to Chicago to go to school for painting. My art background is rooted in drawing and papermaking, but most recently I've been focusing on making bags and wearables under the name HARCH. I have been exhibiting this work in a recurring, playful conceptualization of a pop-up shop titled, WINDOW SHOPPING. I find myself to be in an interesting market where I'm straddling between a fine art practice and fashion business. Mostly I'm just trying to figure out a way where I can work and play at the same time.
How did your interest in your work begin?
I went to summer camp at Joann's Fabric when I was eight, so I've been sewing and altering clothing for a while now. About a year ago, I designed a bag from blue tarp and my collection of karate belts. I was intending to make a functional object that would help take me out of my restaurant job. Ultimately it did, but the process became so formulaic and I grew really frustrated in my art practice. I felt like I wasn't painting anymore. So I started to use the sewing machine more expressively and let myself experiment with wearables. The framework of a t-shirt has become a surface for me to make collage based paintings. It's been so much fun, I haven't stopped since.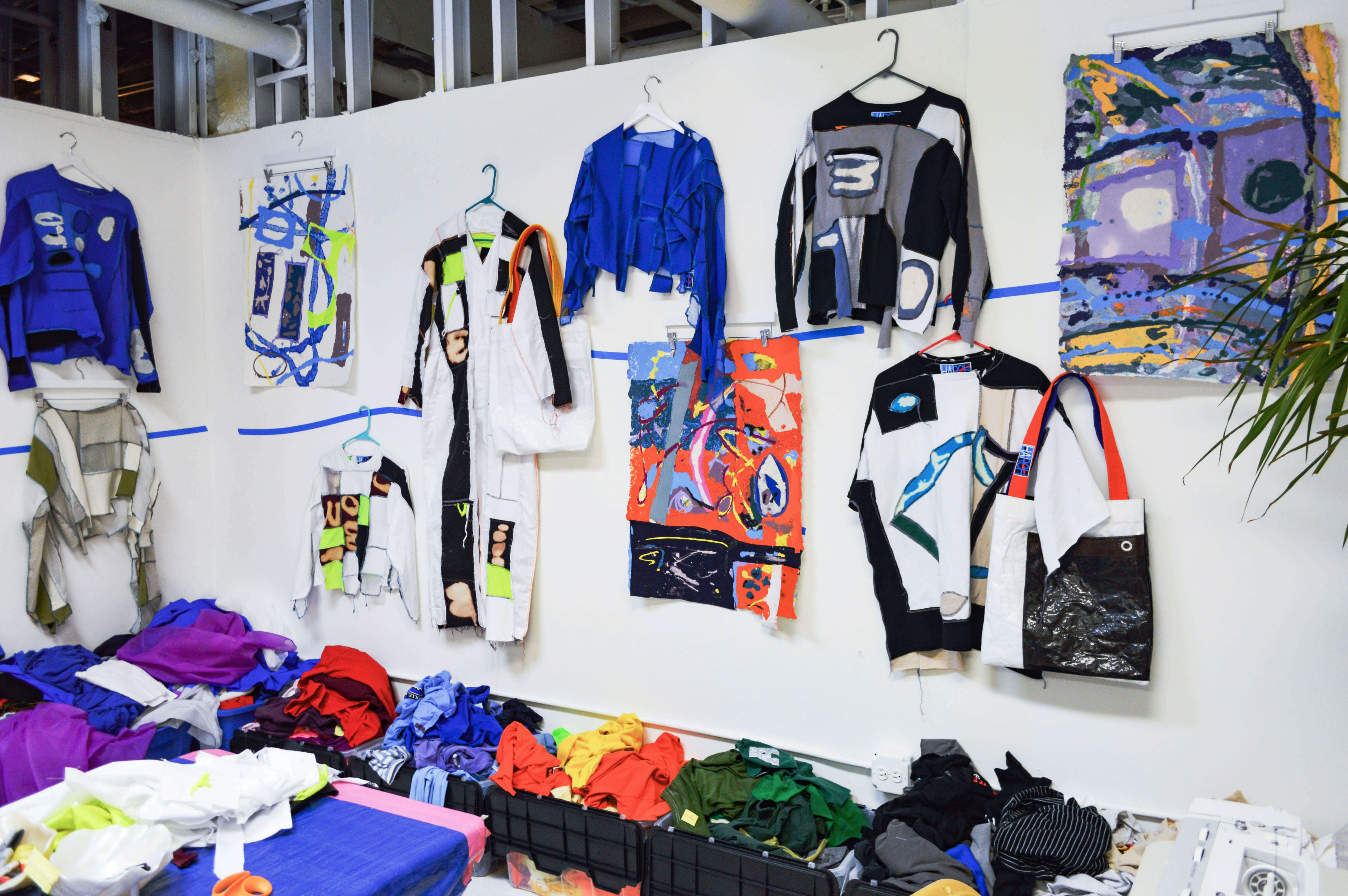 What has it been like getting ready for your solo pop-up at MOCAD?
I feel excited to show in a larger institution, but also slightly stressed because I have so much work to make. Sewing is incredibly labor intensive. But I just hired a studio assistant, so I can distribute some of the physical work and chatter in my head.
What are some things influencing your work right now?
Swimming pools, psychic powers, windsocks, flags, honestly anything with color and texture that is affected by wind.
I feel like Vivienne Westwood's attitude has given me permission to approach clothing in the way that I am. I never really thought much about fashion before, so it's exciting for me to be surprised by this world. It's so sexy and sculptural. I've been looking at a lot of Japanese street style blogs, Sonya Sombreuil of COME TEES, Raffaella Hanley of Lou Dallas, Sonia Delaunay's dress poems, Charlotte Knowles, Zoe Champion, and @surprisinghealthbenefits.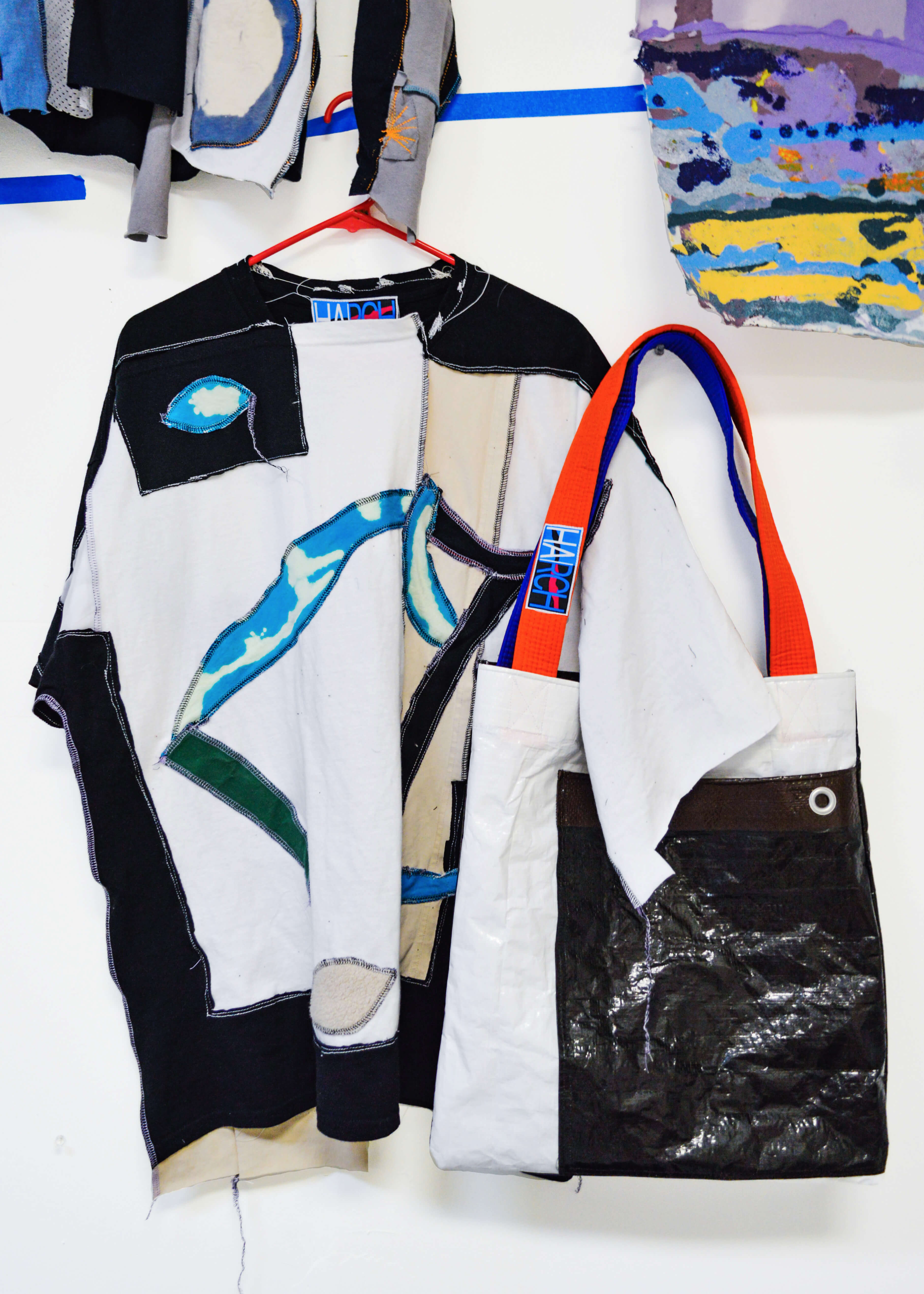 Is there anyone you'd ideally like to collaborate with?
If we are talking about dreams, I want to work with Nike one day. It would be so fun to design sneakers and sweatsuits.
But realistically in the near future I am going to start a collection of artist editions t-shirts. I want to organize a group of artists and provide them with material, have them make their mark on it, return it to me, and I'll piece it together. I'm curious to see the variety of tees created through this collaboration.
You work across many mediums and have created this visual language which is seen throughout your work. Can you speak to this and describe how the materials you use relate to your process?
Despite the material or the frame, color informs all of my decision making. When i'm putting together elements for the bags, for a shirt, I'm always doing the same thing. I'm just thinking about painting.
It feels like your t-shirts and paper go hand in hand.
Definitely. I'm realizing I have a material commitment to cotton, whether it's in t-shirt form or handmade paper.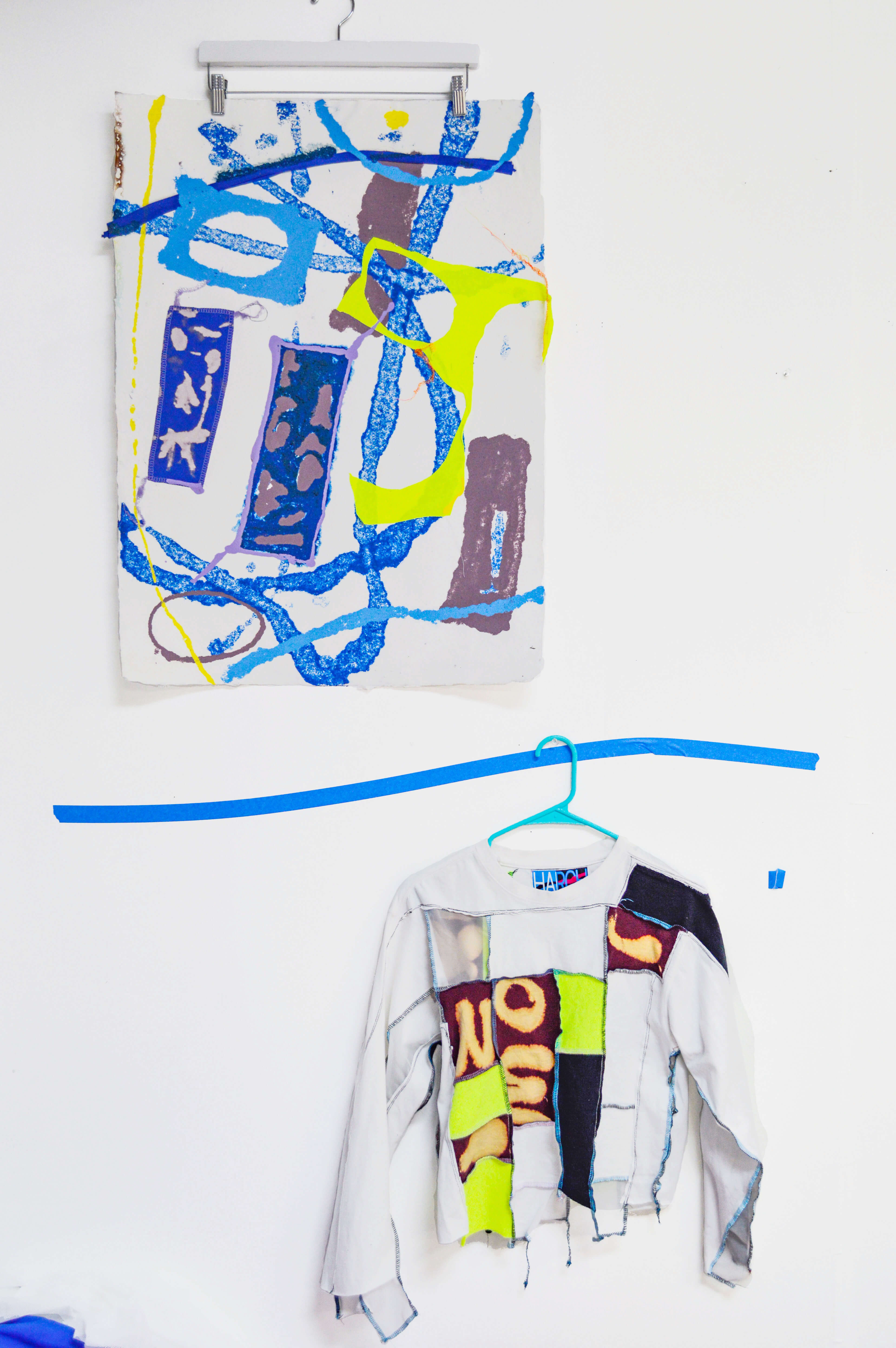 Since bringing your work into material objects and wearables, how important has it become for your work to be accessible?
It's incredibly important to me.
In the past and especially in school, I felt really sequestered in my practice. I had a difficult time articulating what I was doing and I noticed people were timid when talking about my work. Maybe it's just intimidating to talk about abstraction in general because people think it's smarter than them. But it's not true!!! We just need something to grip onto sometimes so we feel like we can enter.
The entire conversation about my work has changed ever since I started making clothing. T-shirts are one of the most familiar and accessible objects in the world. Everyone has one, it's cotton, genderless, we each probably have about 15 of them in our closets, they are everywhere. It's not only familiar, but it's comfortable. People are now confident enough to talk about my work because it includes them. You don't have to be educated or need to understand abstraction to connect with my work and I'm so grateful for that.
What do you want a viewer to walk away with after experiencing your work?
I can truly only ask for my work to evoke some type of feeling within you. I don't force language onto it, so I don't expect that from anyone else. Although It would be nice to know if wearing the shirts make you feel cool or sexy or more free to dance.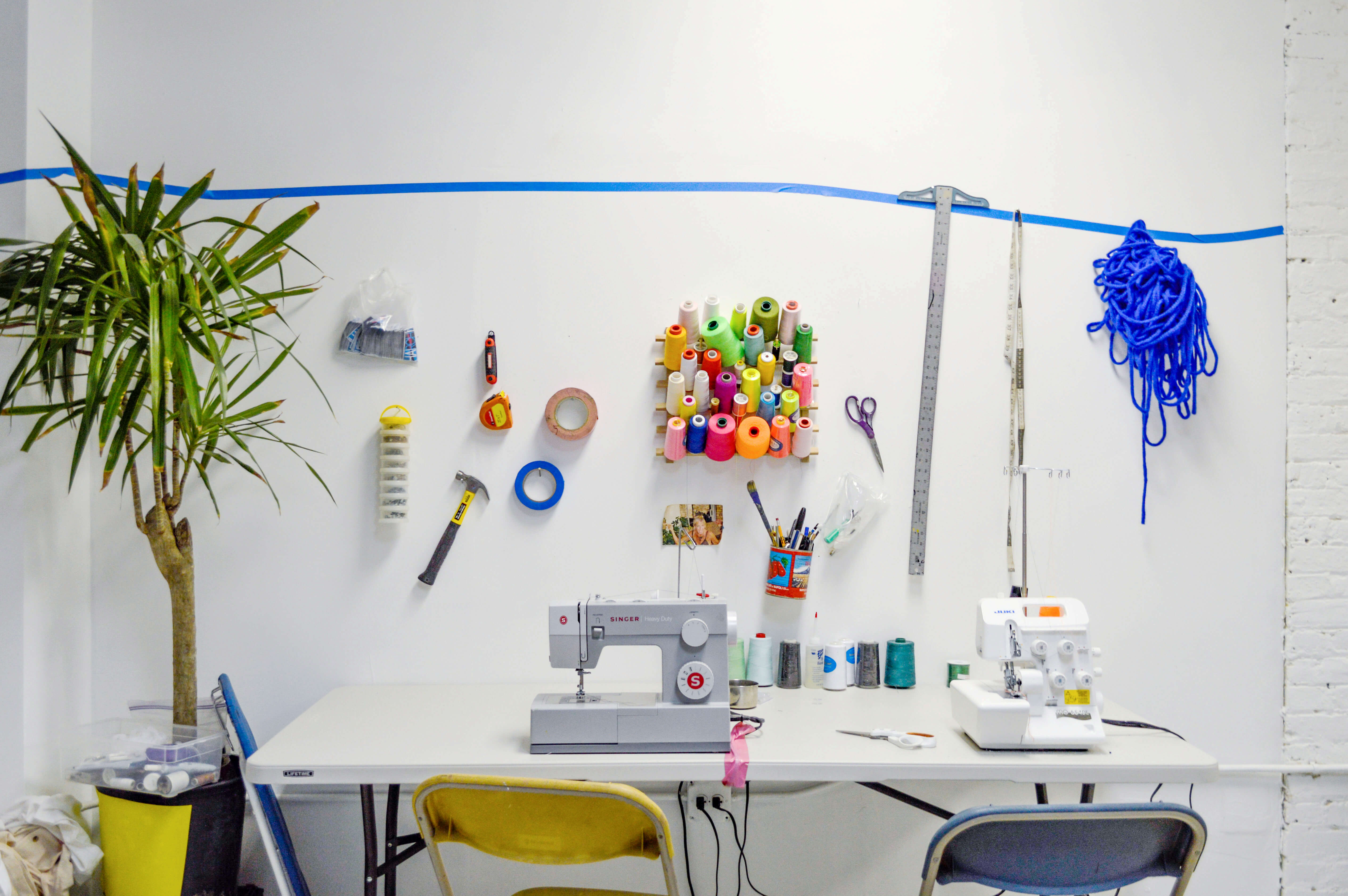 What was the last show you went to that stuck out to you?
Unfurled: Supports/Surface 1966-1976 at MOCAD.
What is your favorite thing about the community here in Chicago? Has it affected your art and design practice?
People show up and actually support you here. Not just coming to a show to drink wine and comment on each other's outfits. They do the work. Like letting me use their truck, helping me move studios, BUYING my shit, showing up for a photo shoot, editing my artist statements, letting me borrow tools, etc. I'm so grateful and I feel like people have my back here.
What are your future plans for your practice?
I'm about to open up an online shop and test drive selling things through my website. Then I will be going to Acre this summer for a residency.