Tell us a bit about yourself and what you do.
I'm a painter from New Haven, CT. I live and work in Williamsburg, Brooklyn.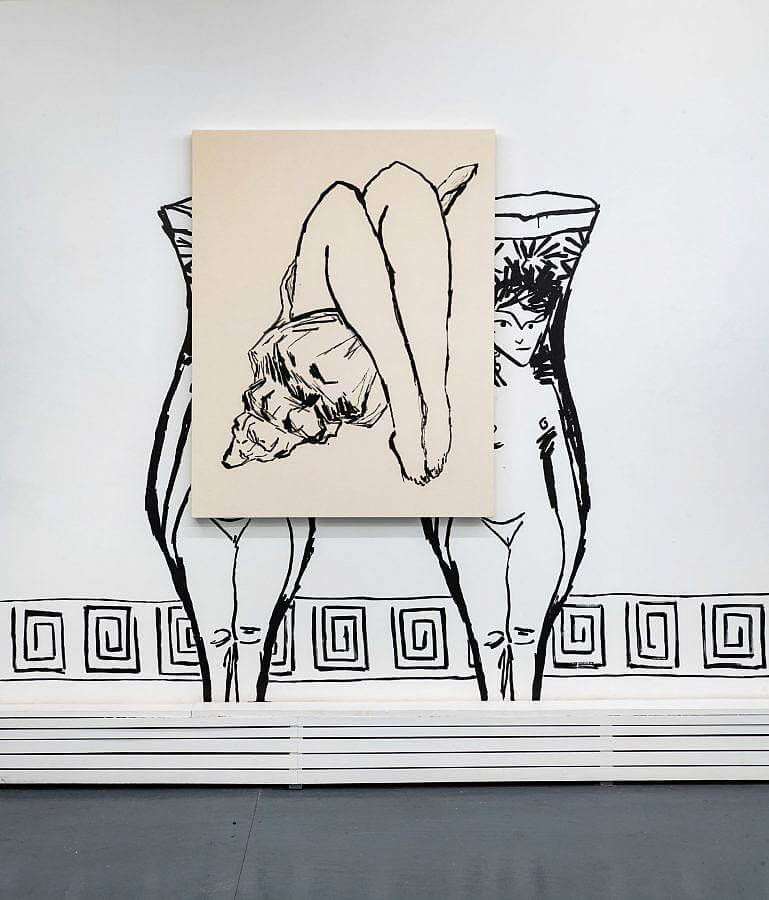 What / who are your biggest sources of inspiration?
My ideas come from so many sources: films, books, music, comedy, art history, conversations with friends. Sometimes, I draw to amuse myself. Other times, I'm inspired to say something about an observation I've had – some phenomenon I find funny, annoying, or just dishearteningly prevalent.
Lately, I've been thinking a lot about the state of our virtual interactions: how we present ourselves online, the way we communicate via social media, and the thwarted intimacy that results from these mediated connections.
Most (if not all) of your work consists of black + white painted line work. What draws you to this style? How did you start rendering this way?
I used to make very brightly-colored gestural oil paintings. I would start with a loose idea or narrative in mind and "find the painting" through the process of painting it. About 10 years ago, I was struggling to resolve a few large paintings, each of which depicted a group of abstracted figures in an ambiguous setting. I had no idea what I wanted the figures to do or what kind of space I wanted them to occupy, so I just kept painting, hoping to find some clarity along the way.
I never resolved those paintings. Instead, my frustration led me back to basics in an effort to understand my relationship to the figure.
I sat down with a ream of 12 x 9-inch drawing paper, some black acrylic paint, and a brush so hardened it scratched at the paper like a crude drawing implement. From that ream, I created my first series of monochromatic drawings. I initially abstracted a few and overlaid them on
colorful spraypainted grounds; however, I quickly realized the strength of the work came through the line drawing itself. It didn't seem necessary to do more than draw right on the canvas.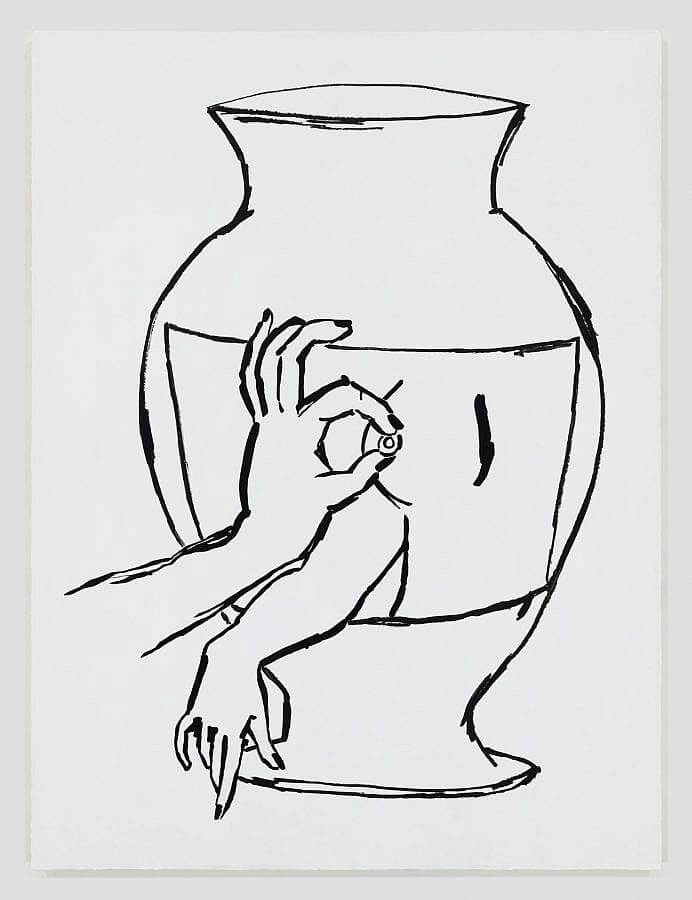 How has your work changed and evolved over the years?
I have eliminated all that feels non-essential. I am not averse to incorporating color or painterly brushwork, and I sometimes do so sparingly. However, my work is about economy of means. I am enjoying the challenge of saying what I need to say in as few moves as possible. Now, every mark conveys meaning.
Much of your work deals with female sexuality and the body. Could you talk a little about what feelings/ situations you want your work to convey?
While I hope my work evokes an emotional response, I am not interested in dictating any specific feeling. I tend to create situations that are somehow sensual, humorous, or uncomfortable, but how they are perceived is truly up to the viewer. I think that ambiguity of meaning is the work's strength. I don't consider my works to be particularly erotic, nor do I think they are simply about sex. I find it interesting when people see them that way.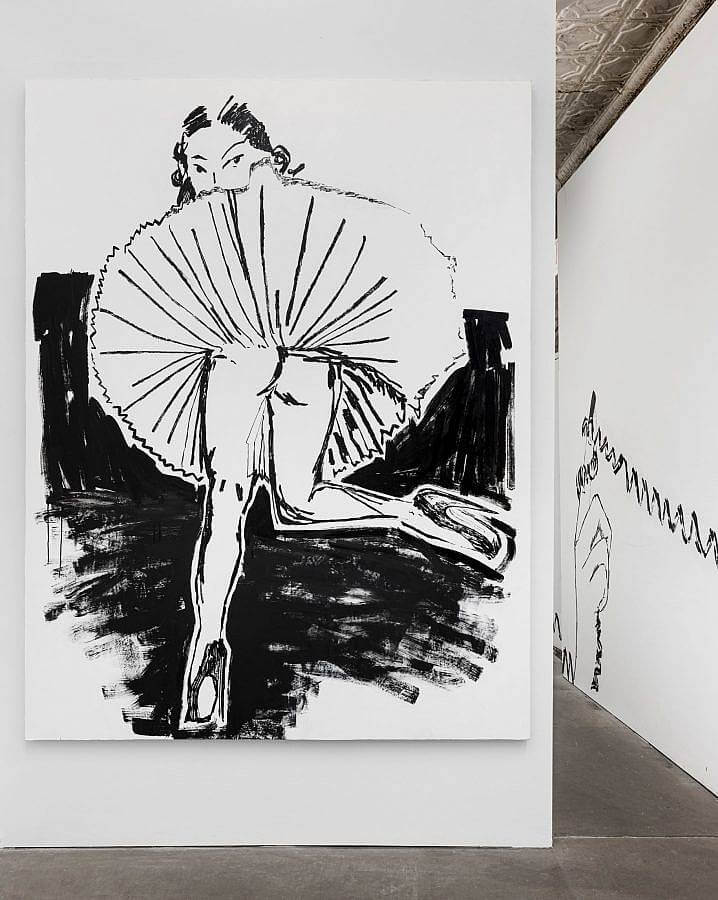 What role, if any, does personal experience and identity play in your work?
I am primarily a storyteller, and my paintings are works of fiction. However, anyone who tells stories borrows somewhat from personal experience. At the very least, art – no matter how fictional – gives us a glimpse into the way its creator views the world. So, my paintings are likely imbued with a sort of joyful contrarianism that is inseparable from my perspective and personality.
I wouldn't label my work as "identity art", though it is clearly created through the lens of cisgendered heterosexual woman. Nor would I call it "political art", though there is something inherently political in playing with and subverting misogynistic clichés.
In your work, there is recurring imagery related to BDSM and dominance / submission. For example, your piece ''I Tell People I Like It''. What is your approach to incorporating this imagery in your work?
Though I have repeatedly incorporated such motifs, I wouldn't say the work is about kink or that I have a strong interest in BDSM culture. I love vintage black and white photographs of Japanese bondage because they are beautiful pictures, full of tension, interesting bodily contortions, and constrained emotion. I am more interested in the metaphoric meaning of such imagery. My work is about sex and power to the extent that we are all governed by these forces. Our creativity and productivity spring from the same source as our libidinal desires.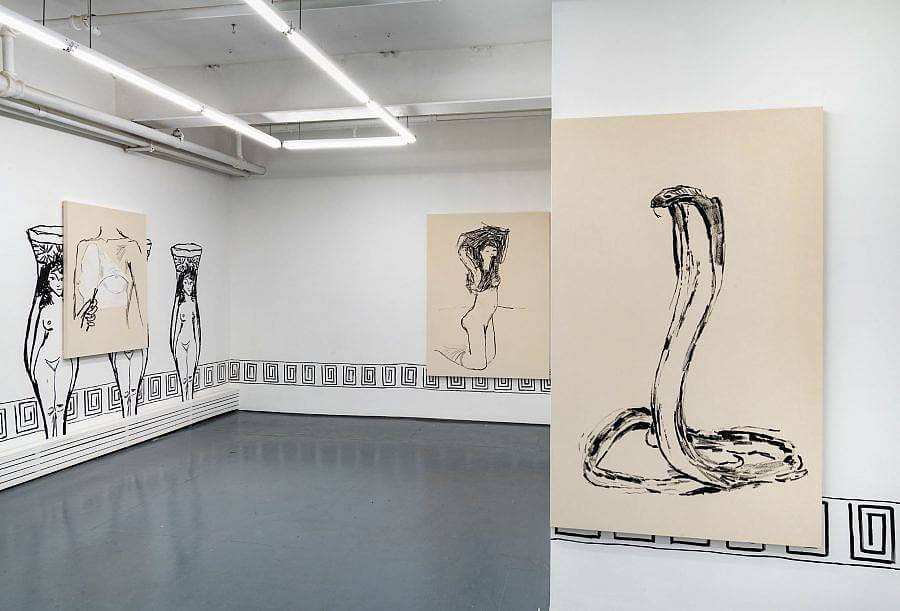 Your exhibition, ''The Vessel'' combines sexuality with Greek imagery / patterns. What was the driving force behind this show?
The Vessel brought together ideas I had been developing for several years. It was also the first time I created an immersive environment by pairing painting and drawing with wall painting. The imagery was informed by my experiences during the pandemic lockdown as well as my
previous travels to Pompeii's Villa of the Mysteries and Aleister Crowley's Abbey of Thelema. Prior to the pandemic, I spent two summers in Italy looking at frescos and Greco-Roman pottery. The inspiration for the vessel itself, however, came (unconsciously) from an object at the Louvre. I realized only after the exhibition that I had seen and photographed a vessel that closely resembles my creation.
The Vessel was an important show for me because in painting on the wall and utilizing the space of the gallery, I was able to add the element of time to the experience of the work. It became cinematic. The syncopated repetition of the wall painting created a set in which the paintings functioned as actors. And the paintings interacted with each other differently depending on the viewer's position in the room.
I wanted the loose, ritualistic narrative enacted in the paintings to flow from the vessel in the way the plot unfolds from the mysterious blue box in David Lynch's Mulholland Drive. And then the pattern that wrapped around the room turned the gallery itself into a vessel. So, there was a lot going on.
Often times with artwork depicting sexuality, there is a thin line between humor and eroticism, sometimes mixing the both. Where do you feel your work falls on this spectrum?
While my paintings are sexually provocative, I hesitate to call them erotic unless we are to understand eroticism as something that isn't always comfortable and easy. I can't fully know how my paintings are perceived, but I don't think they simply arouse sexual desire. Ideally, they are
imbued with the tension, excitement, and anxiety intrinsic to the female experience. I do think my work has always danced between playful sensuality and disturbing provocation. Recently, I've been using this interplay as a way to build narrative. My exhibition, Hung Up at Peninsula Gallery, relied on this dynamic. Coquettish, collaged imagery in the front room of the gallery enticed viewers who were then lured by phone cord to a mysterious backroom. The imagery in the front room of the gallery was sexy and mostly lighthearted, but once viewers
reached the back room, they were left wondering, "What am I really buying into here?" I think that sense of uncertainty is important.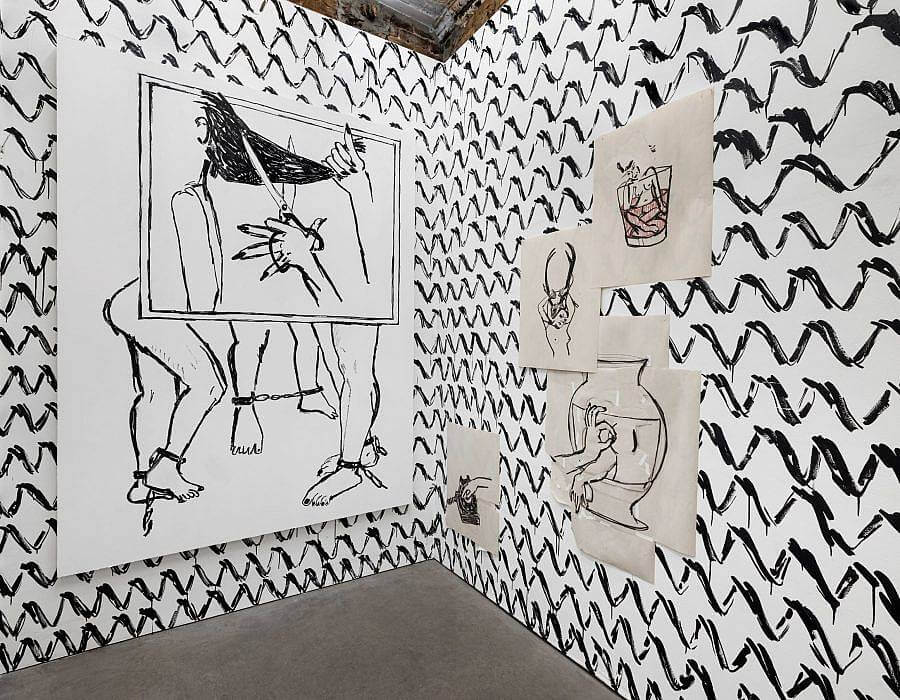 What are you currently listening to?
Podcasts, surprisingly. I usually have a strictly music policy in the studio. My last exhibition was loosely inspired by Lydia Lunch's portrayal of a phone sex operator in Richard Kern's 1986 film Fingered, and I'm pretty into her podcast, The Lydian Spin. It's a crash course in all things countercultural.
Any upcoming projects you are excited about?
I'm current preparing for an upcoming art fair and collaborating on a short documentary about my work. I'm hoping to work on a project with Parisian fashion line. But mostly, I'm just excited to be in my studio generating new imagery and ideas for my next installation.
Interview conducted by Ben Herbert, edited by Milo Christie