Tell us a little bit about yourself and what you do.  I'm an artist thinking about desire, distance, closeness, collecting, repetition, performance and flowers. I make drawings, actions, essays, videos, archives, and sculptures.

What are some recent, upcoming or current projects you are working on?  I am working toward a series of interventions at the Clyfford Still Museum that will culminate next year, currently researching and navigating the institution, which has been astonishingly supportive. I'm thinking a lot about Still's work in relationship to loneliness– at the height of his career he left the art world, continuing to paint in solitude for decades.
I'm also working toward a large project at the Mattress Factory for 2019, a two-person show with Brittany De Nigris at Current Space in Baltimore, and a group show at the Sculpture Center in Cleveland.
Lately, I have been really interested in engaging with other artists' practices through my particular lens. This includes writing about the work of other queer artists, like Felix Gonzalez-Torres or my friend Danny Ferrell. Last year I created a work called Remains out of the archives at the The Warhol, and am still sorting through that material as well. My boyfriend Fred and I have been conducting interviews with queer artists and are developing a bit of an archive. We also are beginning to host performances in our small apartment.
What do you collect?  Books, rocks, fake rocks, hair, art, pheromones and love potions, ceramic figurines, masks, wigs, mannequin hands, teeth, pressed flowers, found earrings, sugar packets, fake credit cards, brochures for psychology or plastic surgery or sexual health, "do not disturb" signs from hotels, screenshots, old toys, the orchid blossoms that fall off our plant.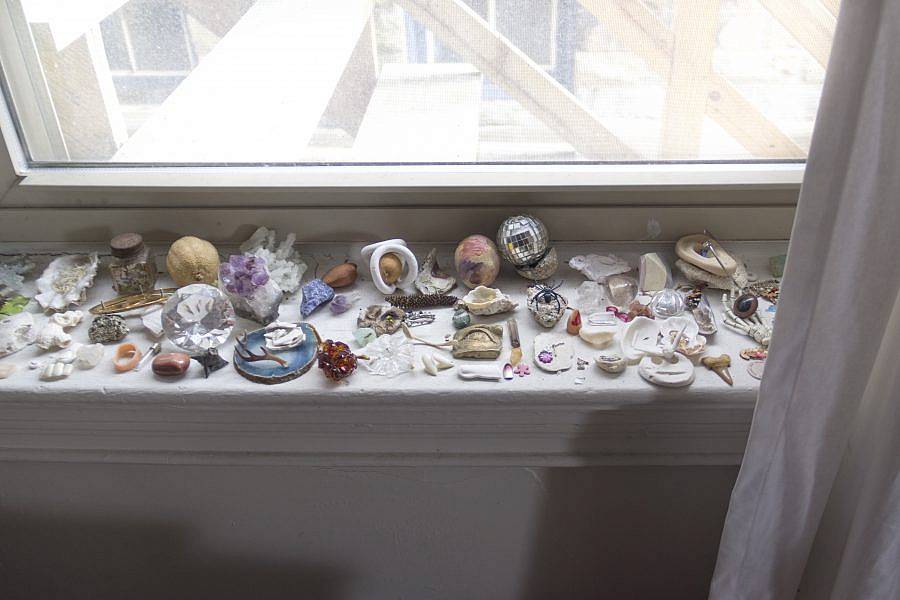 What is it like living and working in Pittsburgh?  Pittsburgh has two things that I'm really into: drag queens and weird museums. There's a church near me that boasts having the second largest collection of catholic relics after the Vatican. It's gray and rainy and kind of melancholy here. It feels like a small town and sometimes that's nice and sometimes it's not.
What is influencing your work right now?  I'm really delving into how we hold onto things, so I'm looking to spaces like the hoard or the museum and thinking about ideas of display and conservation. I had initially set these two spaces up in opposition to each other until I began spending time in various archives and realizing how messy and personal they are as well.
What is your process like?  I work on a hundred things at a time. Some performances or archives are ongoing for years, while other works are made intuitively and promptly. If I'm lonely, I make a lot of work while trying to make connections. If I'm in love, I make a lot of work about that person or while spending time with them. Often I use my work to talk about things I don't like talking about, things I can't articulate in any other way.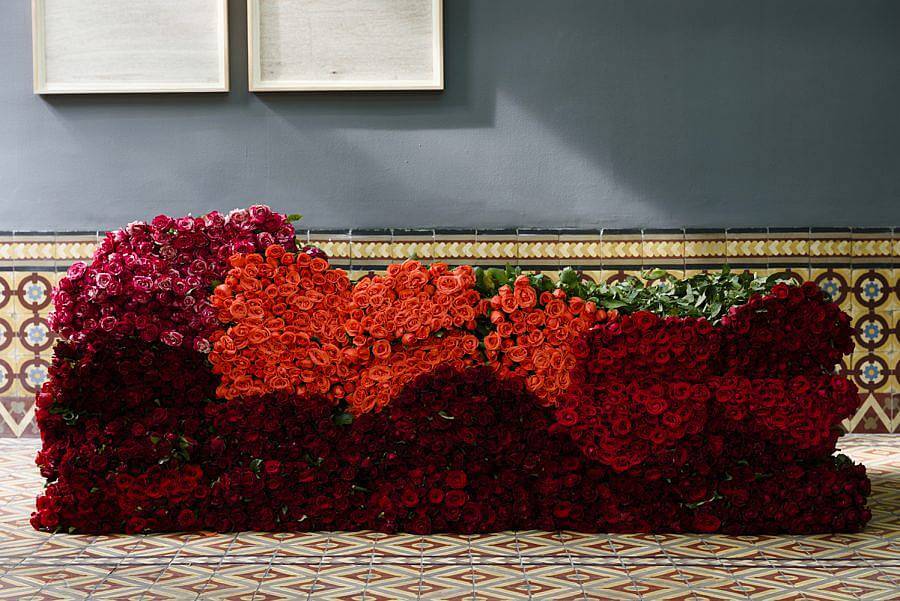 What materials do you work with?  I like materials that keep changing after the work is made, but I'm realizing everything does that. I've been using mine and Fred's blood for quite a while now, and it's a material that continues to mystify and intrigue me. I like how complex and difficult it is to work with materially, I like the cliche that it flirts with, and I like that as I use it, my body makes more of it. It's difficult to access and I like that too, that there's an inherent acknowledgement of the bureaucratic and logistical navigation we have with our own bodies.
I also collaborated with a material engineer at NASA recently and used some lunar regolith simulant, basically this earth that NASA mines from a specific volcano and then processes to be the same granular consistency of a moon sample brought back from an Apollo mission. I was stunned to realize that as the binder for this moon concrete, NASA uses bovine serum albumin, a protein extracted from cow's blood. It was staggering to work so closely with my own body and then attempt to zoom out and focus on this cosmic object, only to find blood again at the core.
I've also been making more books and videos so I can distribute them more easily and widely.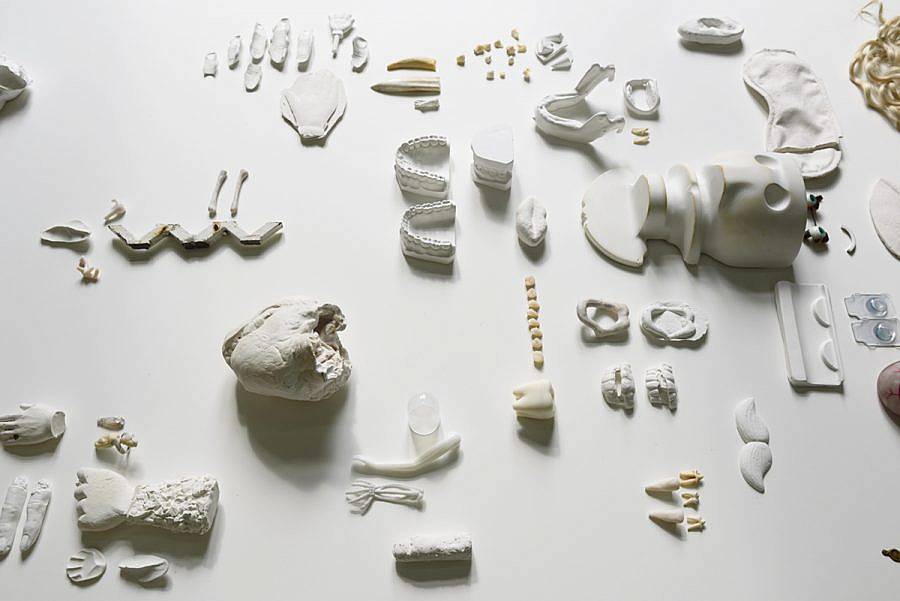 Describe your current studio or workspace.  I currently make all of my work in public space or at home, in a tiny apartment of the Friendship neighborhood of Pittsburgh. My practice is really impacted by the spaces I'm in, so I'm finding that working from home is a better fit for the ideas I'm working through. The home and bedroom have been an important site for my work for as long as I've been an artist; I used to open up my bedroom to the public and for a while had a Bedroom Residency for artists to attend while I was out of town. Felix Gonzalez-Torres' ideas of the studio as a kind of awkward stage have always resonated with me, like this is where you make art, go! Instead, I make projects out of my routines and during my interpersonal interactions. If you look around our place, any drawer is filled with a different project in process. Wherever I've lived, I've always had somewhere in the house I affectionately refer to as The Museum– right now it's a windowsill full of hundreds of tiny things I've found or made. Recently we have begun hosting performances in our home. The first was Summer Jade Leavitt for an audience of about ten people. The work was staggeringly poignant and to organize that experience for an intimate audience felt important.
For me, the most useful and productive aspect of a studio has been the proximity to other artists and the dialogue between us, so if you're reading this, come over!

What was the last exhibition you saw that stuck out to you?  The one that comes to mind is Los Animales Muertos (Dead Animals) by Jorge Satorre at Museo Tamayo. A one room show in which the artist had installed a new ceramic floor showing some animal tracks, and then small pencil drawings hung around the room which depicted, among other things, a bunch of men installing said floor while drinking beers and making out. It was confusing and beautiful and I found myself walking around to each tiny drawing over and over.
Can you share one of the best or worst reactions you have gotten as a result of your work?  Any reaction is probably valid. But I'm really pleasantly surprised when a personal experience of mine helps someone work through something of their own. For instance, I don't think of my work as being overtly about queerness, but then a young queer person will email me about seeing a work of mine and being impacted by it and empowered to be more comfortable in their own skin. Those moments are powerful for me. I think there's power in being vulnerable and sharing our experiences with each other. I think there's power in romanticism, power in caring too much.