Joey Villemont (b. Poitiers, 1986) is an artist newly based in France and Co-Founder & Curator of the collective It's Our Playground. He received his MFA from the Glasgow School of Art. Recent presentations of his work include Studies for a Collection at Intermedia Gallery in Glasgow, L'echo/ce qui sépare curated by Bruno Peinado at FRAC Loire Atlantique in Carquefou, Display Mediating Landscape curated by Flip Projects at Sala Murat in Bari, Relax at The Project Room, Glasgow (solo), and On the Rocks curated by Candice Jacobs at The Attic in Nottingham.
Tell us a little bit about yourself and what you do. I am an artist born in 1986. I grew up in Bourges, a small city in the center of France where I went to art school. I moved to Glasgow in 2009 to do a MFA at the Glasgow School of Art. I recently moved back too France a few weeks ago and I am currently based near Paris. My practice is plural and develops itself in a wide variety of forms, but mostly through sculptures or installations. I consider appropriation and representation as key to apprehend history, cultures, contemporary and ancient myths. My pieces borrow from different cultural lexical (and convoke them around 'global' projects where the communication, the graphic design, and scenography play an important part). Parallel to my individual practice, I started curating as part of It's Our Playground with artist Camille le Houezec in 2009. We run Itsourplayground.com and have curated online shows since 2010. We've been in charge of SWG3 Gallery in Glasgow between 2012 and 2014. I see curating as a medium in itself, allowing me to experiment and articulate diverse forms of display and presentation.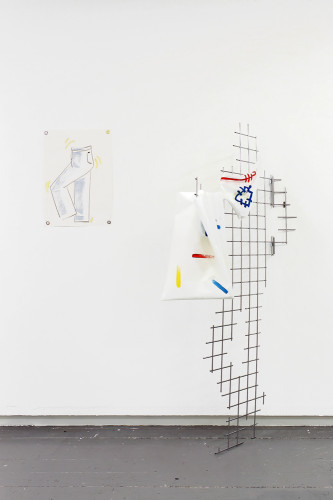 What are some recent, upcoming or current projects you are working on? This summer, I just had a solo show called Studies for a Collection at Intermedia Gallery in Glasgow. I made a series of garment/sculptures and accessories and exhibited them onto display units adopting the look of a fashion showroom and exploring what it shares in common with an exhibition space. It gave me the occasion to collaborate with ceramicist Sian Patterson on a series of home ware, which were part of the display. At the moment, I am producing a new body of work for a duo show titled My problem with abstraction with Camille le Houezec opening on the 7th of November in an artist-run space called Paradise in Nantes. I am also managing Relaax.in, an online based relaxation website. Recent contributions include: Tilman Hornig, Lili Reynaud-Dewar & Sportranquil, Luc Fuller, Ian Swanson, Debora Delmar Corp, Hannah Lees, Joey Holder, Rachel de Joode, Andreas Ervik amongst others.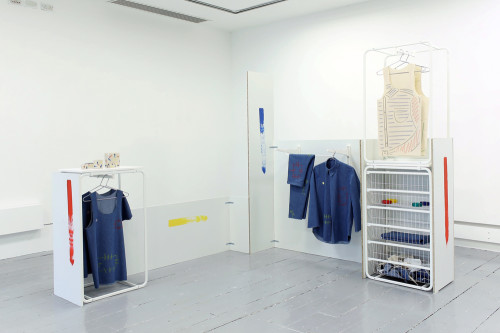 How did your interest in art begin? It came from seeing my mum drawing and being exhibited locally. Some grow up with sports trophies on the shelves but for us (me and my two brothers), it was those heavy bronze cast medal won by my mum at diverse local amateur salons. As kids, we'd been dragged to castles, churches and exhibitions everywhere we could while on holiday, or at weekends. Visiting something was the key to the journey. I remember being fed up with castles but never by museums. On a rainy day I would do some crafts. I remember picking up a Matisse book at a kids book fair. I also remember winning prizes at some drawing contests around the age of ten. Later, my interest in art was driven by an interest in learning how to make things.
What materials do you use in your work and what is your process like? I deeply believe in visual culture. Materials can be from diverse sources such as internet, magazines, products, furniture. I don't stick to a specific medium, even if textile is prominent these days in my practice; it hasn't always been the case and I could do a video or a phone app next time. My process can be quite porous and one idea can be developed in different shapes and forms and there's no limit on this development. I am interested in a system of hybridization: in the way an idea or a piece or a pattern can evolve successively from a logo, a monogramme, an app…a system reminding the creative industry of brands, disseminating their identity through a multitude of shapes and products (like I've done with Stoned happy face and Relaax more recently).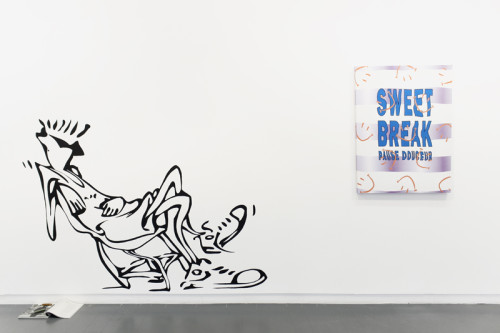 What artists are you interested in right now? Raf Simons, Jean arp, Sonia Delaunay, Eileen Gray, Christian Hosoi, Kojiro Kumagai, Ashley Havinden, Laura Owens…
What was the last exhibition you saw that stuck out to you? Decorum at Musée d'art moderne de la ville de Paris, a large scale group show subtitled carpets and tapestry, curated by Anne Dressen with Marc Camile Chaimovicz (artistic direction and scenography).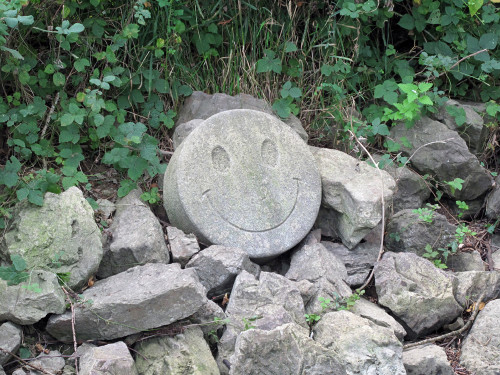 What is your snack/beverage of choice when working in your studio? I started to be into the new CocaCola Life but I can't seem to find it in France. On a more general basis, it's fruit juice for vitamins & sugar and chocolate bars with nuts for pleasure.
What do you do when you're not working on art? I broooooowse!!! But it's part of my artistic practice. Otherwise, I do some DIY/gardening, I make garments for myself, my girlfriend or for the house. I play tennis as much as I can, skateboard as much as I can, hang out with friends, watch TV, or read books and magazines.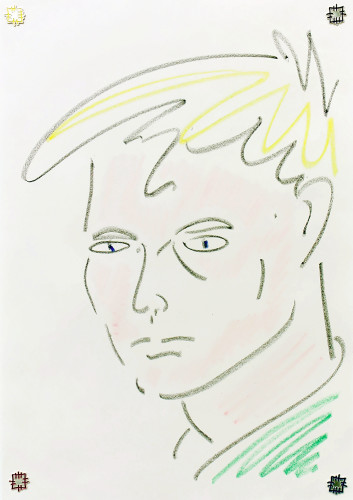 If you hadn't become an artist what do you think you'd be doing? Fashion design, stylist or musician.
What are you listening to right now? I am not obsessed to one album right now but NTS Radio, Radio Jiro, Beats in Space, the new King Tuff LP.