Calvin Ross Carl is an artist and designer in Portland, Oregon.  He grew up in the Pacific Northwest and graduated with a BFA from the Pacific Northwest College of Art in 2008.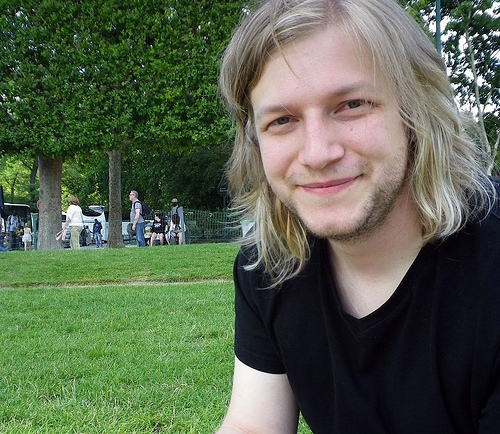 If you had to explain your work to a stranger, what would you say? Oh, this is always a tough one. I usually mention my love of simple geometric shapes with bright, flat colors, abstracted landscapes, and my interest in the myth of the worker and the materials we use in our workplaces.
What materials do you use in your work and what is your process like? I most often use enamel paint on canvas, paper, MDF, or some other type of wood. I always tend to have lots of long wooden dowel rods sitting around the studio for all the pole sculptures I do. Plaster and plastics also make occasional appearances.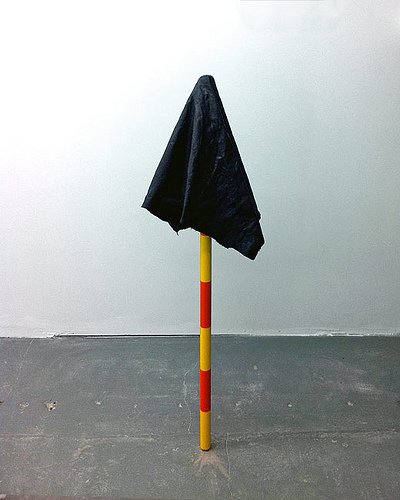 What kinds of things are influencing your work right now? I am a designer by day to pay the bills, so I have been thinking a lot more about design and how it plays a role in the typically austere nature of my work. Trying to bridge the gap between Judd's amazingly simple chair designs, and how they can exist in the same world as Jig-a-Patch, an oddly named construction material.
When did your interest in art begin? As long ago as I can remember. From the days when I was a little kid, trying my best to draw Bart Simpson, I knew I had no other choice than being an artist. My father is a really impressive woodworker, and I think that instilled an aesthetic eye in me from a very young age.
How has your work developed within the past year? I'm definitely moving a little bit away from sculpture, and more towards a painting practice. My work is becoming a little less narrative than it already was, and I am focusing on simplifying my compositions, and reducing them to just thinking about how colors and shapes interact with each other.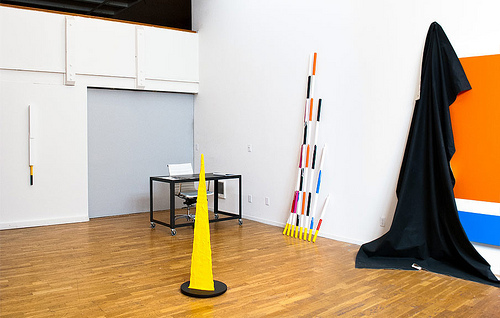 How has living in Portland affected your art practice? Growing up on the West Coast in general has affected the way I think about space. In the area around Portland, we have a great mixture of huge open fields sitting next to large snowy mountains. Not to forget the overwhelming amount of green landscape we have around here. My wife, Ashley Sloan, who is also an artist, grew up just south of Portland in the "Grass Seed Capital of the World" It's likely most can see the colors and shapes of our skylines influencing my work a lot.
What is one the bigger challenges you and/or other artists are struggling with these days, and how do you see it developing? In Portland, a huge population of amazing artists have arrived in the city, but the money has yet to fully show up. So there are lots of artists working for scraps, but this is slowly changing. It has bred a really volatile scene with a good independent streak. On a more national scale, I think displacement of the arts in culture has to be at the forefront of everyone's thinking. The very fact I am in Portland right now, while you are in Chicago, because you originally discovered my work online is mind-boggling. We can hardly understand what it means to be having our work viewed so easily across such a huge swath of land, because we are still too close in history to truly understand it. Artists are still trying to understand what it means to be a part of representing our own self-interests and our own views on culture at a global scale.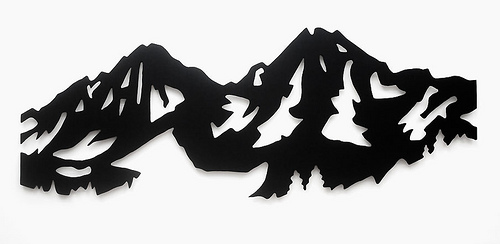 If you could go anywhere in the world where would you go and why? In a heartbeat, Berlin. I went a few months ago during my honeymoon, and I have thought about the city every day since I came back home. The clash of clean Modernist architecture and a sordid past makes it such an interesting place to experience. Also, the landscape and sense of space feels very similar to Oregon, so it oddly feels like home.
What artists are you interested in right now? I've been thinking about Franz West the past few weeks, largely because my wife has been looking at his work a lot. His large, frumpy sculptures still appeal to me in the way they reintroduce some character and poke fun into Modernist ideals. They also have some sincerity which appeals to me since they seem like they are made by the human hand. I also saw a big show of Alex Katz paintings recently, and I am still amazed at how much he can accomplish with relatively few painterly strokes and some flat shapes. So, I guess I have been looking at some oldies but goodies.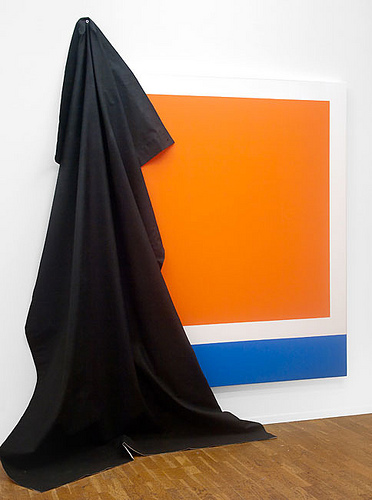 Can you share one of the best or worst reactions you have gotten as a result of your work? I had a solo show titled Split Shift a couple years ago. A group of jock-ish guys came in to the opening. They were visibly displeased with the show, and obviously weren't aware I was standing there watching them. When they were walking out of the show, one of the guys walked up to the window where the show's title was displayed in vinyl letters. He covered up the "F "in the word "shift"with his finger and said, "More like Split Shit."
What are some recent, upcoming or current projects you are working on? I just recently sent some steel sculptures down to Houston for a show titled Southern/Pacific at the Lawndale Art Center. They were somewhat of a culmination of a series of drawings and paintings I have been working on for a little while. The show is traveling to Marfa, TX early next year. Otherwise, after a few years of really focusing on sculptural work, I have somewhat fallen back in love with painting and other more 2D focused work.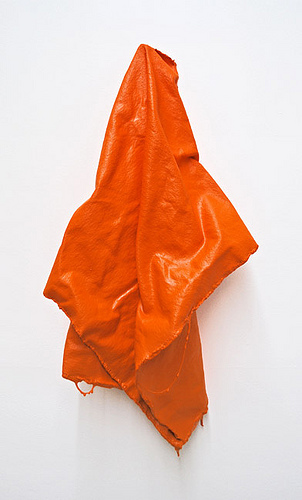 What was the last exhibition you saw that stuck out to you? The Cy Twombly collection at Museum Brandhorst in Munich blew my mind. It's basically a huge exhibition of the best examples of the merging of formalist shapes and gestural marks, and how they can translate between painting and sculpture.