Tell us a bit about yourselves and what you do. 
I'm Lesley, I make furniture for a living and I make art for pleasure or use at home. I have a particular affection for candlestick holders and containers that house specific objects.  These affinities find their way into both my art and teaching practices.  
I'm Danny, I mostly read, cut wood, and do political agitation through various channels. All of these things are related to now being a teacher, which is the newest hat I wear. I am quite excited about it. 
And I'm Alessandra, I make art for myself, and for a living, I  help other people make their art. I'm interested in examining the psychological and phenomenological ways we perceive the  world with our eyeballs. That interest filters into the art and objects that I make.
What led to the inception of School of Many Questions? 
The three of us started sharing a studio space in the fall of  2020. It was our interest in woodworking, the need for relevant tools, and a space to make things outside of work that brought us all together in the first place. The good fortune of having a studio that we can afford with a small collection of hand tools and machines are preconditions that are critical for undertaking something like this. 
We all had our own initial reasons for starting the school, but a shared motivation was to experiment with an educational space outside the context and limitations of formal academia. We have  some frustrations with the forms of knowledge that tend to  
materialize in those institutions and so we wanted a place to experiment with the process of knowledge production in ways that perhaps better accommodate students who may have felt the same. 
When we started running classes, we quickly realized that teaching is a time suck. There's the planning, the research, the prep work, the actual teaching, the revising of the teaching,  more prep work, in addition to the maintenance of a wood and metal shop, and the maintenance of us as people who also have to also go to work and cook dinner and try to be decent friends and partners. We realized too that what was once a studio space is now a 100% a school. Our studio area is occupied with seating and scrap wood from unfinished student projects instead of our own sculptures and furnishings. Because of these unforeseen demands on our time and the space itself, we've had to re-evaluate our roles here. Alessandra has decided to take a back seat in the organization of the school and will now be a  visiting teacher – the first of many we hope to have here at the school. As for Danny and Lesley, the school is very much our studio practice now, and we're okay with that.
Your workshops center around the craft processes, histories, and theories of specific utilitarian objects. What leads you to focus on a particular object? 
There are mostly straightforward constraints imposed on what we can build, all things considered. The school is only so big,  which not only means the scale of what can be done here is limited, it also regulates how many people can be in it at once.  The amount of free time we can expect others to be able to spare is also a limitation, and the things we make are also imposed upon by money. So with these parameters in mind, we started by organizing classes around objects that we were already familiar with through our respective practices. Danny makes chairs, 
Lesley makes candlestick holders, Alessandra makes lamps. These classes have become opportunities for us to delve deeper into and around these objects through the more theoretical lens of teaching.  
We are also thinking about objects in regards to the experience that can materialize in circling around the production of that object. For example, in our wood-turning class, the candlestick holder is a prompt for learning how to carve wood but also an attempt to engage two people in conversation about self-directed social production, the candle as an object for intimacy, and the evolution of simple tools into complex machines. In teaching these classes we've found that if the act of making an object reveals a clear and creative way to engage with historiography,  we can get interested in it as an object.
How can craft function as a guiding foundation for further conceptual discussions? 
In a very literal sense, the higher sciences are derived from material production. Geometry, as applied in the construction of buildings, for instance, did not come after mathematical abstraction. It was the other way around. It might not have been called geometry before mathematics developed into an autonomous realm of pure thought, but long before the old, robed gentleman sat around pontificating, people were engaged in the material,  social reproduction; deploying techniques that later became enveloped and articulated into this or that abstract science and therefore into concepts. If we take Craft to refer to the traditions or living histories of material production, then it is the very ground of conceptual thought precisely for this reason.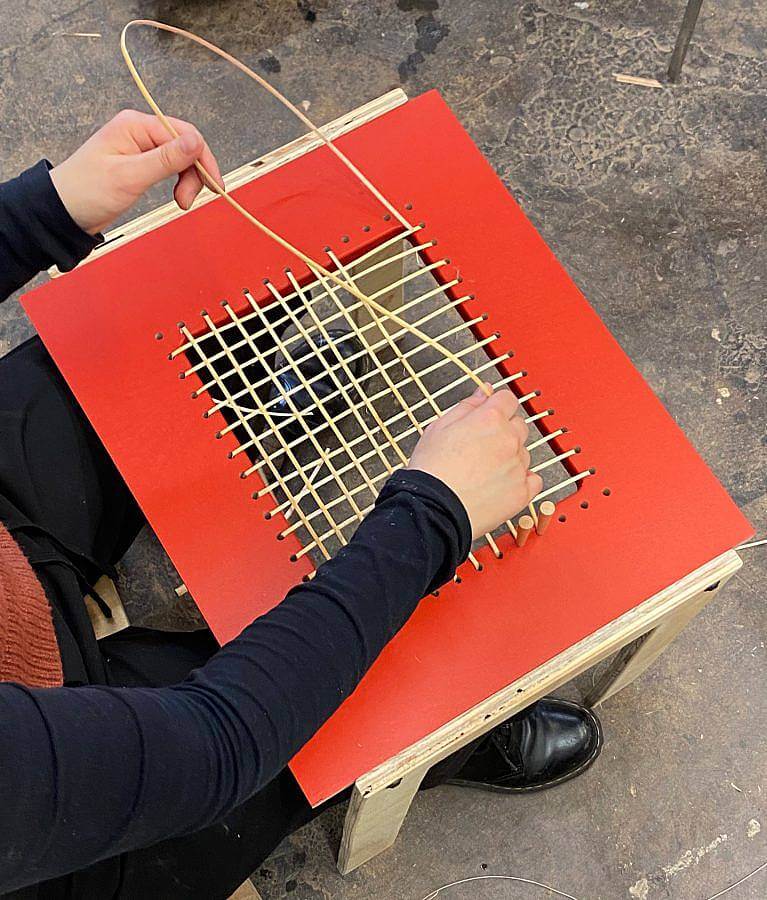 What role does skill sharing play within larger systems of community building? 
It is difficult to address this question without writing at length. But simply put, skill-sharing is community building. The caveat here is that we do not take the concepts of Community or "skill-sharing" to be unproblematic ones. A skill-sharing  Community is a neutral concept, it has no necessarily good or bad content. Further information is required to evaluate the nature of any community, for instance, on what terms are skills shared within a community? Is this community organized around a  system of freely determined and self-conscious behavior among its members? We want to address this at the school. Skill sharing is not one among other systems of sociality. It is the only system of sociality. This is where we begin. Skill sharing operates both at more immediate personal levels; say,  between a particular teacher and student but it also operates at a more general level over time-scales as expansive as the entire history of a species. Where the particular level interacts with the general level, this may serve as a starting point toward a  definition of Craft that we would like to employ.
In what ways do you hope to explore the human relationship to  objects through School of Many Questions? 
We aspire to show that any relationship we may have with an  object is at the same time a relationship between people. We understand our relationship to objects always and  everywhere as an "outcome" of relations between people. The  quality of social relations between people therefore directly conditions the relationship "between" human and non-human  nature. So at school, we attempt to organize classes with the understanding that we are making candlesticks and chairs but we  are simultaneously making ourselves in relationship to our  environment and other people, both past and present.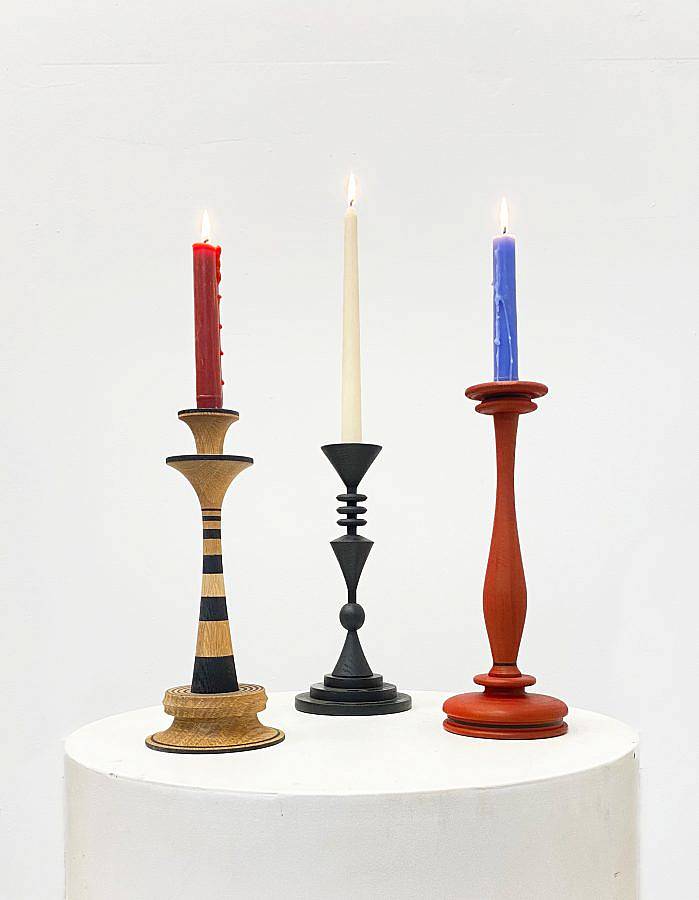 What are some objects and/or materials you'd like to feature in  future workshops? 
We have a few new classes in the works, the main one being an introduction to woodworking type of class. We don't know much  about the finer details yet, other than that we'd like the first  day of class to be a field trip to Home Depot in an attempt t  demystify the screw aisle over hotdogs. We're also developing a  class that is a very tentative stage but is projected to  revolve around wood-carving and casting pewter to make what we call a Reading Rock. This was inspired by the rock Lesley found for Danny to hold his books open. We're also working on a clock-making class about the history of time domination and a  container class where students build a wooden box and a metal display stand to hold specific objects they admire. But these might take us a while to prepare.  
Who are some of your favorite craftspeople throughout history? 
For the last two years or so we've been obsessed with just about  anything made of pine before the 20th century. We also love l things hand-painted. So that takes us all over the world:  the people of Cuba, France, Ghana, the Soviet Union, Mexico, the  Shakers of course. The truth of it is people from every corner  of the earth make things that just blow you away.  
A line by Walter Benjamin comes to mind here: "Art teaches us to  look into objects. Folk art and kitsch allow us to look outward  from within objects." The question "how was this made?" is not  as interesting to us as "why was this made?" This is not to say  that we are not concerned with excellence in our technical  skills, or that we don't admire them in others' work. We  practice regularly and take pride in the technical quality of  our work. But at the end of the day, the material achievement of  a craftsperson is deeply conditioned by an incredible series of  external factors that impress themselves on the technical  potential that may be slumbering inside of one's hand and  eye. "How was it made?" leads one to think about the maker, "why was it made?" leads one to think about the maker's world. The  craftsperson objectifies her life in a thing that invites one to step inside of it and lookout. She is our favorite  craftsperson.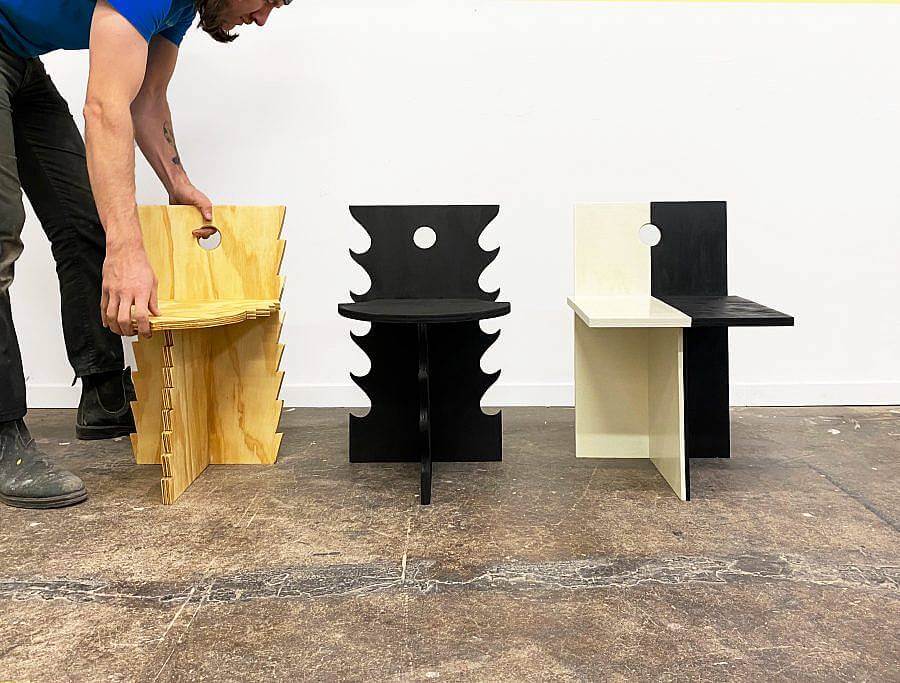 Tell us about your studio space! 
It's just a little schoolhouse, about 1000 sq feet. We have a  table saw, a bandsaw, a small jointer and planer, a drill press, a big lathe, and a small lathe. There's a nice welding station,  too, a metal bandsaw, a Hossfeld. There are 4 workbenches and  tons of hand tools, all of which have custom holders. We've also made a few funny interventions on the architecture. We installed  some "stained glass" window panes last summer that cast yellow and red and blue blocks of light into the space on sunny days  and a painted archway that leads into the woodshop.  
⅓ of the space is partitioned in the front, which we have  started calling the classroom. We have our furniture and objects  up there, some bookshelves, a kitchenette built around a great  red sink given to us by our next-door neighbor (thanks Brick),  and our new projector. Fresh flowers are always around in the  spring and summer months, taking up space on our workbenches.  Lesley's damn candles are all over the place. 
Describe the spiral.  
There's nothing new about being enamored with the shape of the  spiral, and this is perhaps why we like it the most. But popular  symbolism aside, the spiral represents the desired shape of our  learning. It does not begin with a question and terminate with  an answer but continues down a never-ending path where questions  lead to more questions (hence, the school of many questions). We are hoping that these initial inquiries into chair-making or wood carving can turn into curiosities that grow well beyond the  discipline of woodworking or any other craft we choose to engage in at the school.  
Shout out to our girl Crystal Zapata for designing our spiral emblem!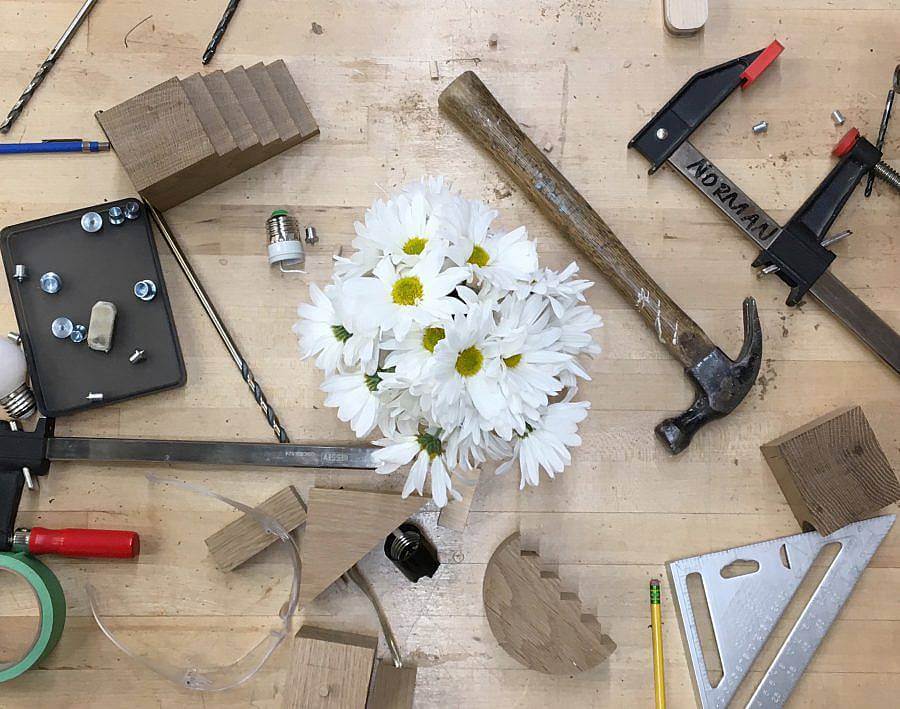 What are some goals you have for School of Many Questions moving forward? 
We visited John Wilson this winter and learned how to make oval  Shaker boxes and we hope to have monthly box-making nights shortly. Very casual, community events for doing a  little of everything, using your hands, talking, reading,
sharing food, etc. This is what we're most excited about. We're also working on these google drive portals for each class that act as reservoirs of information about each subject, including all of our research, adjacent readings, links, etc.  Students gain access to these portals when they take a class, edit them, add their research, and ideally engage with each other in an ongoing manner around each respective subject.
We also want to explore the less properly "material" crafts too.  Lectures, talks, book-reading, writing, music, you name it. With this will come material improvements to the classroom portion of our space, including a proper lounge area, a funny lectern,
special dishes to eat and drink from. Reach out to us if you have an idea for a class you'd like to teach or have something,  in particular, you'd like to learn how to do or make.
Interview composed by Ruby Jeune Tresch. Edited by Joan Roach.