Tell us a bit about yourself and how you got started as an artist. 
I was born in Jamay in Jalisco, México, and migrated to Chicago without knowing any English at the age of 15, in search of the "American Dream." My family migration stories are connected to manual labor and political agreements that affected both México and the USA. My connection to the Midwest dates back to the 1900s when my great grandfather helped build railroads in the USA. Decades later, my father was part of the Bracero Program which allowed Mexican nationals to take temporary agricultural work in the USA. My father eventually made his way to Chicago looking for job stability in 1968. In 1983, my family relocated to México where I was born in 1985. In the year 2000, my family moved back to Chicago due to the effects of the North American Free Trade Agreement. All of this background information was new to me and it was very powerful for me to learned migration had been part of my family for generations.
It was during my first years in the US that I started to make art as a coping mechanism to make sense of the struggles, bullying, and anxieties I experienced as an immigrant teenager. I believe that the cultural shock of migrating to a metropolis like Chicago was what made me consider art as a career and as a lifestyle. Through art, I explore the politics of identity and the state of double consciousness, addressing issues of colonization, migration, "the other," and futurism by producing a mixture of socially conscious installation, public, and studio-based art. My work spans drawing, ceramics, prints, and mixed media sculptural forms.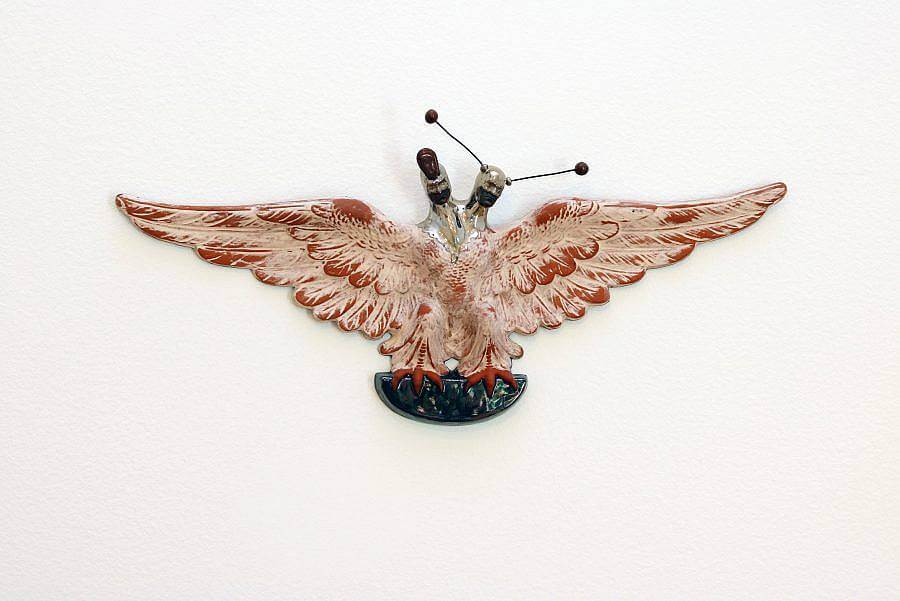 What attributes of clay's materiality make it suited to your practice? 
Clay as a material has a physicality that immediately evokes the past and gives infinite possibilities to visually create a future. I use clay because its versatility and intuitive nature allow me to translate my ideas quickly into tri-dimensional forms. I am also enamored with craft mediums because their origins are based on community labor, narratives, and accessibility. Growing up in a small town in México, I witnessed my aunts and mother cross-stitch designs on textiles, following patterns and symbols by color to complete a flower bouquet, a landscape, or a portrait of a religious figure. I never understood what they were doing, why they were doing it, or what their motivations were. My aunts and mother introduced me to art, craft, design, and love for labor. They showed me the meaning of having a passion for creating and leaving artworks behind. These cultural items captured my family's stories, knowledge, and genetic memories and as an artist, I get to do the same with my artwork.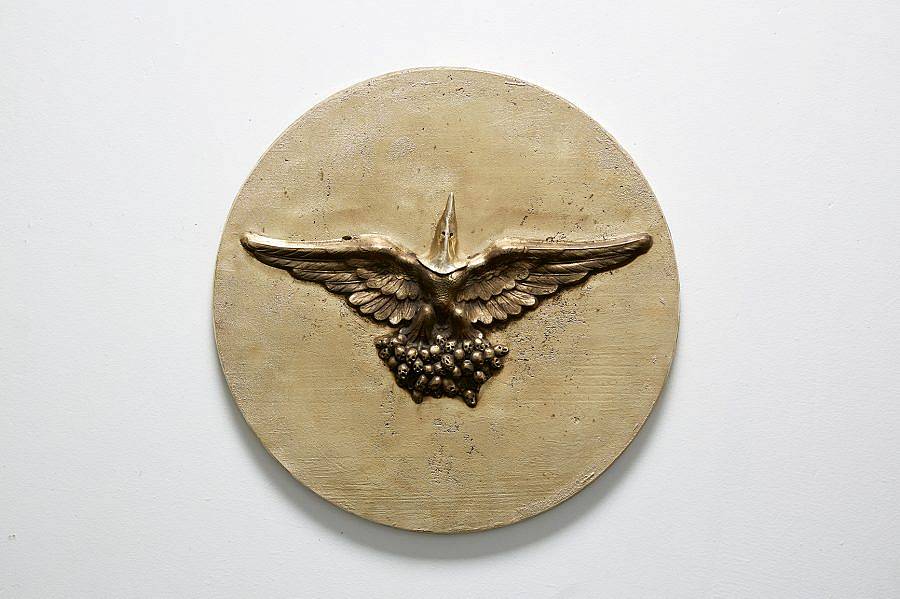 Can you talk about your speculative world of Rascuache-Futurism? 
My latest research is about exploring and developing a Rascuache-Futuristic aesthetic in my artwork where I can articulate pre-Columbian, colonial, and post-colonial histories. I try to imagine and create a future where the good guys look like me, understand me, and others can relate as well. This is an ongoing project and I will continue to mix ceramics with found objects to expand on this series. I draw on elements of Afro-Futurism, Funk Ceramics, Robert Arneson's satiric comedy, and ceramic self-portraits, as well as music and films by Sun Ra and Mexican singer-songwriter, Rodrigo González, also known as "El profeta del nopal". I am drawn to how these artists created their own imaginary worlds through art. I use these influences to create my own world of Rascuache-Futurism, where I can articulate pre-Columbian, colonial, and post-colonial histories and aesthetics through ceramics. An Imaginary World of Rasquache-Futurism in one word is freedom. Freedom from the expectation of what formal elements are in my work, freedom to make any type of work using any materials that are available, and most importantly, freedom to let my imagination roam free about possible futures. The framework of Surrealism allows me to create these dream-like hybrid forms as a way to make sense of the double consciousness and the anxieties that the Latinx community experiences in the U.S.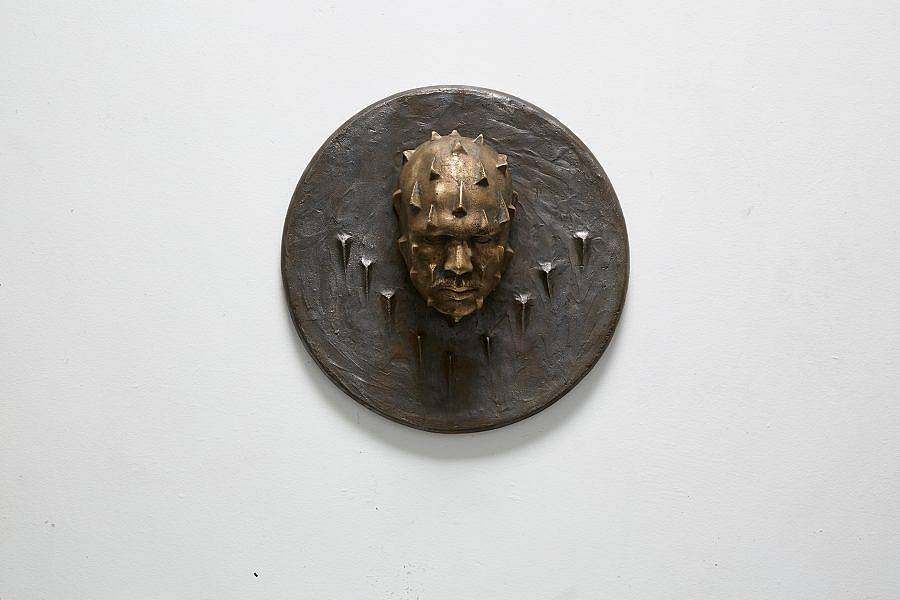 Can you discuss your 2016 work, La resistencia de los nopales híbridos / The Resistance of Hybrid Cacti? 
In 2016 I was invited to create a piece as part of a group exhibition at the National Museum of Mexican Art titled Memoria Presente: An Artistic Journey. This was right after Donald Trump was elected president. The political climate was dense and there were a lot of uncertainties. I knew I didn't want to make anything about Trump and his imperialistic policies. Rather I wanted to focus on the resiliency of Black, Indigenous, and People of Color. The cactus is a resilient plant that can survive extreme weather conditions and I use it as a symbol of resilience and hope for a better future. Through mainstream media and in most science-fiction content, the future is typically imagined as white. People of color have been erased from the future altogether. This pushed me to research for alternate worlds and I was excited to learn more about Octavia Butler, Sun Ra, and Gabriel Garcia Marquez. For Garcia Marquez, "Surrealism comes from the reality of Latin America" and I can relate to that as an artist of color living in the USA. For me, surrealism and hybridity are the only two things that make sense of my reality of living in the USA.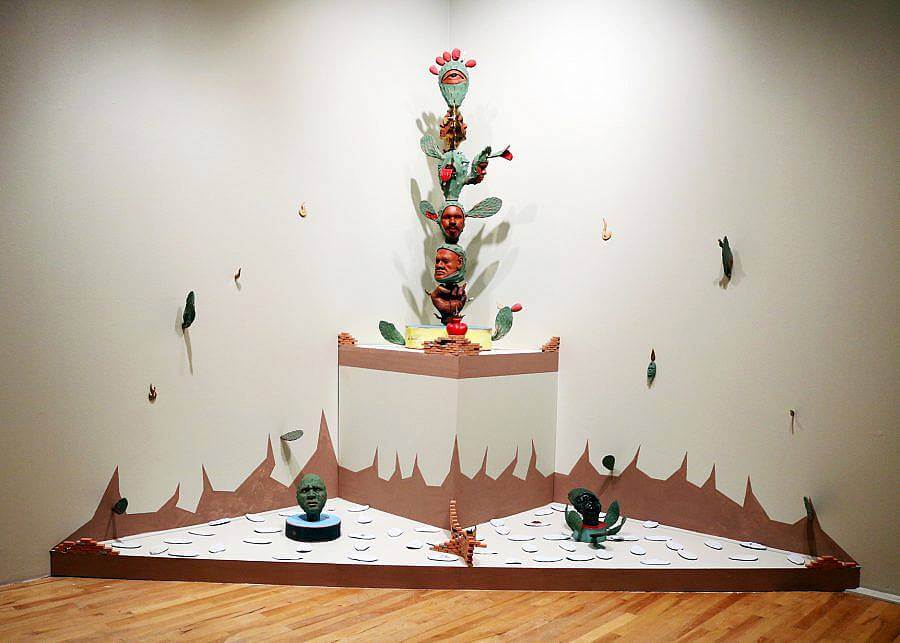 In your artist statement, you discuss your experienced state of "Double consciousness" citing how your work reveals this "hybridity." Can you talk about how this is reflected in your hybrid portraits?
The concept of the double consciousness comes from W.E.B. DuBois who introduced the term into social and political thought in his groundbreaking The Souls of Black Folk (1903). This concept in social philosophy referring to a source of inward "twoness" generally experienced by African-Americans because of their racialized oppression and devaluation in a white-dominated society. As an immigrant living in the USA, I related to this concept deeply and it has influenced my work and my understanding of "American" culture as I navigate the politics of identity. I am interested in creating hybrid portraits that represent my anxieties of living in a constant state of double consciousness where I feel like my identity is divided into parts. The challenge of being bicultural and bilingual is that I live concurrently in two different worlds. I adapt to both but adapting involves losing some part of myself in order to grow. I embrace these two worlds in my art, melding visual and cultural references from both to produce artwork with a magical realist twist.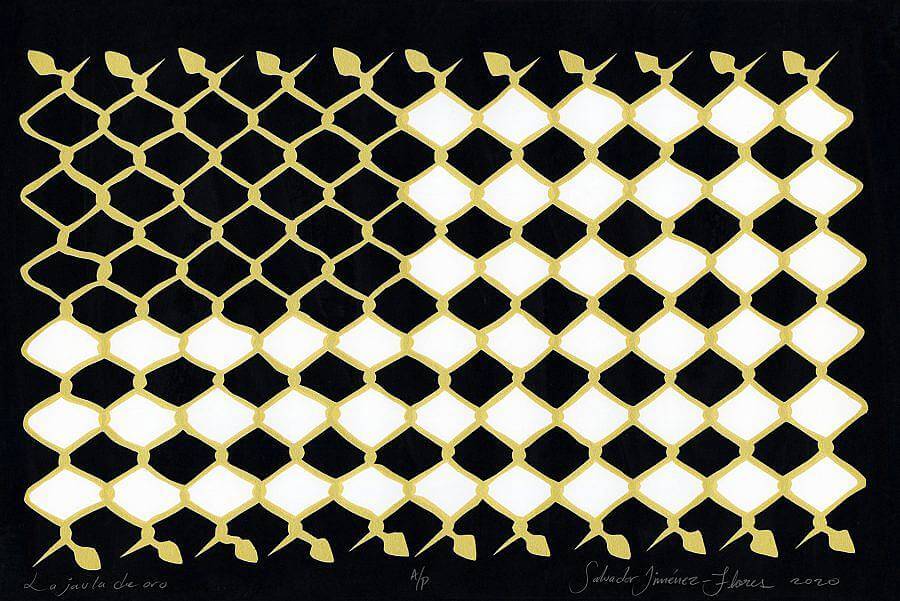 How does your teaching philosophy and desire to inspire socially conscious artists to relate to your art practice? 
I see my artistic practice as an amalgamation of the artist, the citizen, and the educator. As an artist, I have the responsibility to use my craft to address issues that affect my community, create awareness, and propose actions through my art. As a citizen, I believe that social change starts within oneself and that it takes community and relationships to manifest the change we want to see. Together we can create a more equitable and just society. As an educator, I want to impact the lives of my students in a positive way and inspire new generations of artists to continue guiding forthcoming generations—creating an unbroken chain of shared knowledge. In my work, the fusion of these three categories is significant because together they create the synergy that I need to stay hopeful, curious, playful, and to take risks.
What are you reading/listening to right now?
I am currently reading Pots of Promise: Mexicans and Pottery at Hull-House, 1920-40 Edited by Cheryl R. Ganz and Margaret Strobel. How We Get Free Edited by Keeanga-Yanahtta Taylor, Care Work: Dreaming Disability Justice By Leah Lakshmi Piepzna-Samarasinha and others
I have been listening a lot to Private Energy by Helado Negro and Freedom is Free by Chicano Batman for quite some time.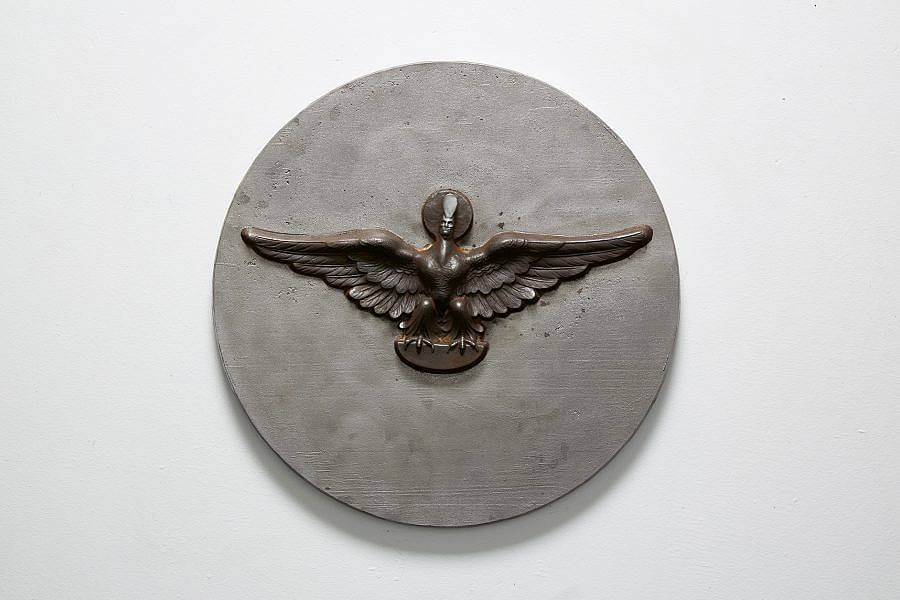 Can you talk about your Kohler Arts/Industry series of Brass and Cast Ironworks? 
The Kohler Arts/Industry residency was a very formative and intensive three months. I arrived at Kohler with no prior experience with foundry and no plans. This place allowed me to immerse myself in the understanding of this new material through experimentation, failure, and some success. During my stay there, I started with a series of circular relief pieces that I call portals. These portals are about time travel, transgenerational knowledge, and future ancestors. I don't see time as linear, I see time as cyclical. The sun, the moon, and the planets move in patterns and I compare this cycle to our history. The good, the bad, and the ugly. I created these portals with the intention that these pieces can be relevant in the past, present, and inevitably, in the future. For example, "Historia de los Estados Unidos ayer hoy pero no mañana / United States History Yesterday, Today, But Not Tomorrow" represents the oppression, genocide, and White supremacy that has happened in this country, this continent, and all over the world through colonialism, slavery, xenophobia, and more. However, I tried to be positive with the title hoping that we will learn from our mistakes in the past and prevent White supremacy in the future.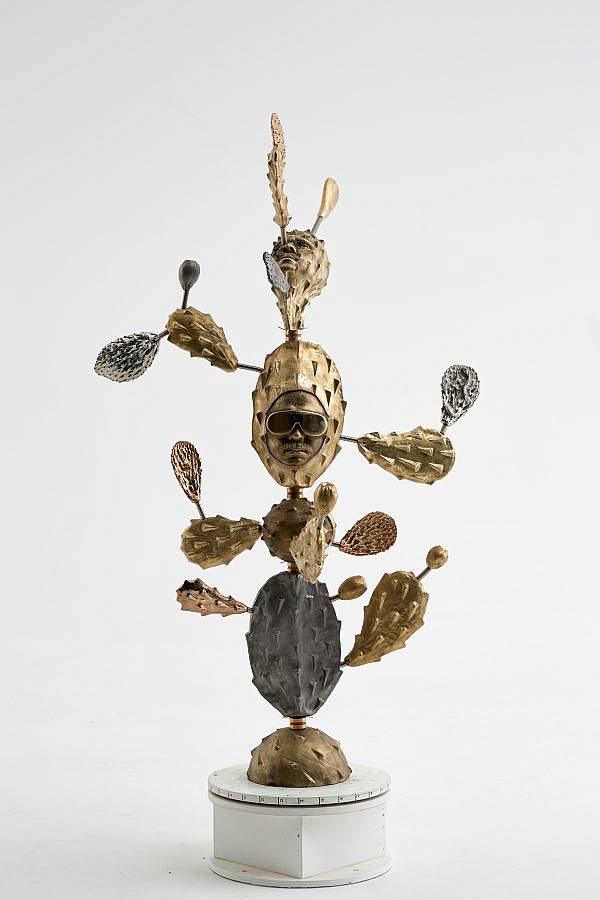 There are specific influences behind your hybrid portrait work, "Nopal especial." Can you talk about the process you went through creating this sculpture?
"Nopal especial" was created during my time at the Kohler Arts/Industry residency and is a continuation of the hybrid cacti series, which I mentioned earlier. The process for this piece was to sculpt each component with clay, make molds to duplicate them and create a sand-and-resin mold for each of them to later be cast in iron or brass. Some of those pieces are raw brass or iron and others are electro-plated to achieve different finishes. This piece is modular and each cactus was tapped so they screw into place. The rasquache approach to this piece was a combination of recycled and found materials in the factory such as defective brass hoses and other hardware that I was able to get in the factory. I was interested in creating a magical realistic sculpture that was hard to forget, that was shiny and looked like it was out of this world. Another influence for this piece was the Kohler factory itself. It was fascinating to see all of the industrial machinery in action and see the transformation of materials at a micro and macro level. I have a lot of leftover parts and sculptures from this series so at the moment I am reactivating them with other materials like wood, ceramics, and metal. My plan is to make a sibling piece to the "Space Cactus" with the concept of the eternal return.
Any upcoming projects?
Yes, I am honored to be included in the group exhibition LatinxAmerican, an intergenerational group exhibition featuring nearly 40 Latinx artists from Chicago and beyond at the DePaul Art Museum. Additionally, I am very excited to show some of the portals as part of Sculpture Milwaukee 2021. In my studio, I am finishing up a lithograph that I am very excited to publish soon. Also, I am leading a community clay project for residents in La Villita called Arcilla Arte Cultura (Clay Craft Culture). The idea of this project is to use clay as a conduit to forming and healing community through conversations about the Little Village neighborhood, the old days, the ongoing battle against environmental racism, its resiliency, and the histories that shaped our neighborhood. As the demographics of Little Village are changing, I want to capture and highlight the stories of longtime residents, leaders, activists, and organizations that have shaped the neighborhood. I am interested in using the versatility of clay as a way to reimagine the future of our community and as a way for the participants to shape clay for what they would like to manifest in their life, community, and more. This project is founded by Three walls.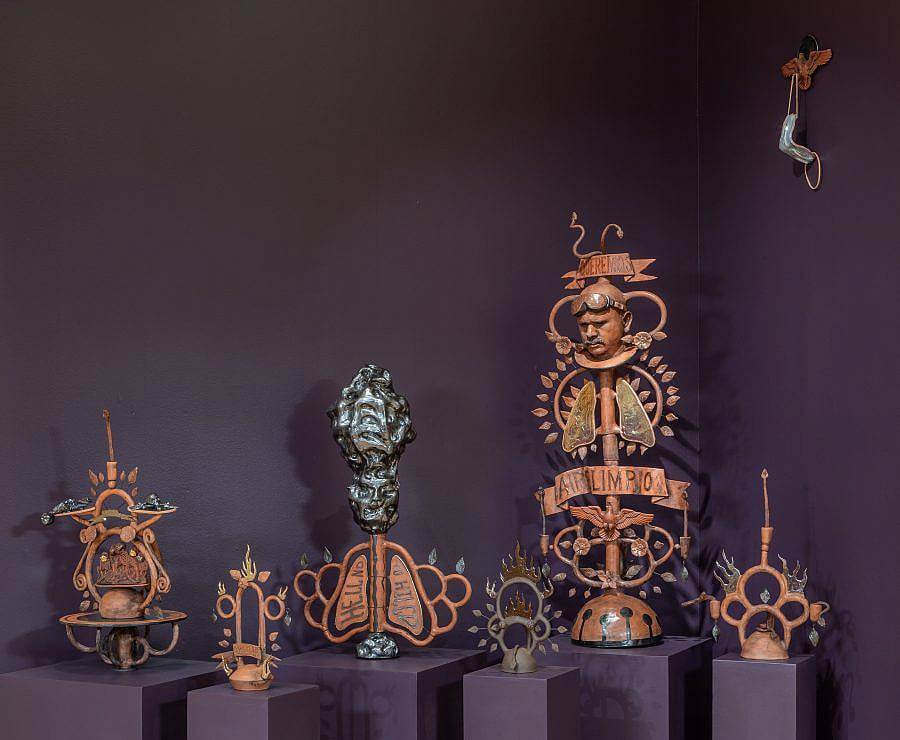 Interview composed by Joan Carol. Edited by Ruby Jeune Trensch & Joan Carol.