Tell us a little about yourself and what you do.
My name is Roland Knowlden, I'm an Artist and Architect.
Can you talk a bit about your upbringing in New Jersey and what brought you to Chicago?
I was raised in a small town in Jersey called South River. Which was mostly unremarkable, except that I was brought up around a lot of other immigrant families. This was probably because of its proximity to New York. 
My dad would commute to the city everyday, and would take us once in a while throughout my childhood, so I had a distant but familiar relationship to the city. Once, he was working in the UBS building and he brought me through that lobby, where I encountered a hand drawing of the skyline by the artist Stephen Wiltshire. He drew the entire skyline from memory after a helicopter ride over the city. I remember the scale of New York coming into focus by how expansive every detail of the drawing was. 
I came to Chicago for architecture school, and hadn't visited before the first day of orientation. I just had a really good feeling about the city.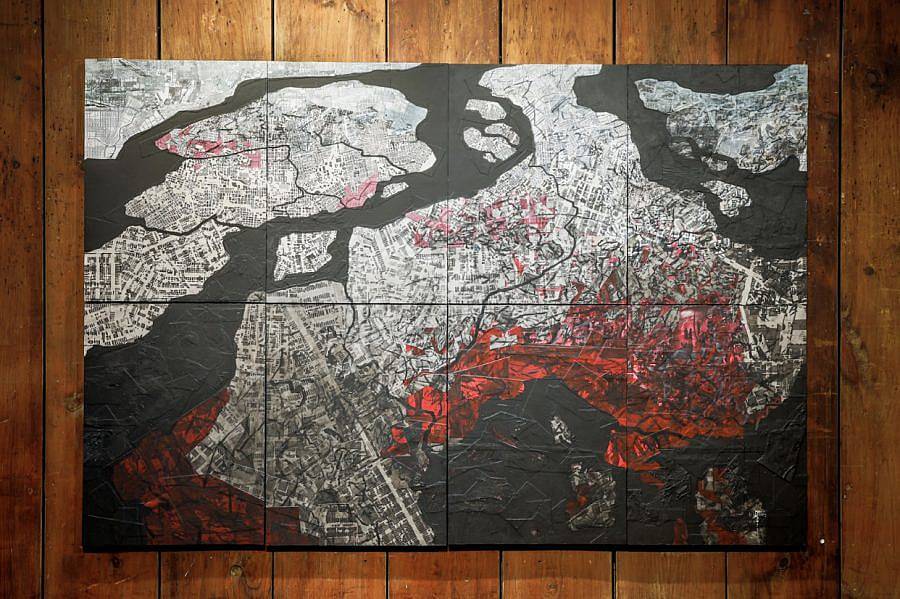 You currently work for Future Firm, in what ways do you feel that your profession informs your painting practice?
My practice both in architecture and art is about imagination. With Future Firm, we ask questions like, what can this vacant lot become? Materializing those possibilities feels very real, and tangible. In my art practice, I am imagining new geographies, landscapes, and worlds. Art for me is a much more expansive practice, while both act as an impetus to imagine otherwise. 
Can you talk about your latest solo exhibition "Horizon Expanse: A Source and A Mirage" at Cleaner Gallery in Chicago?
The work in the show was provoked by a passage in Eduard Glissant's Poetics of Relation, where he refers to Africa as both "Source and Mirage." while speaking on the formation of identity. I was in many ways processing my relationship to the continent, and how my parents would refer to Liberia (where they are from) as home. I had almost an idealized image of that place in my mind before ever having the ability to visit. In the show, I'm thinking about connecting Chicago and Liberia under the same horizon line.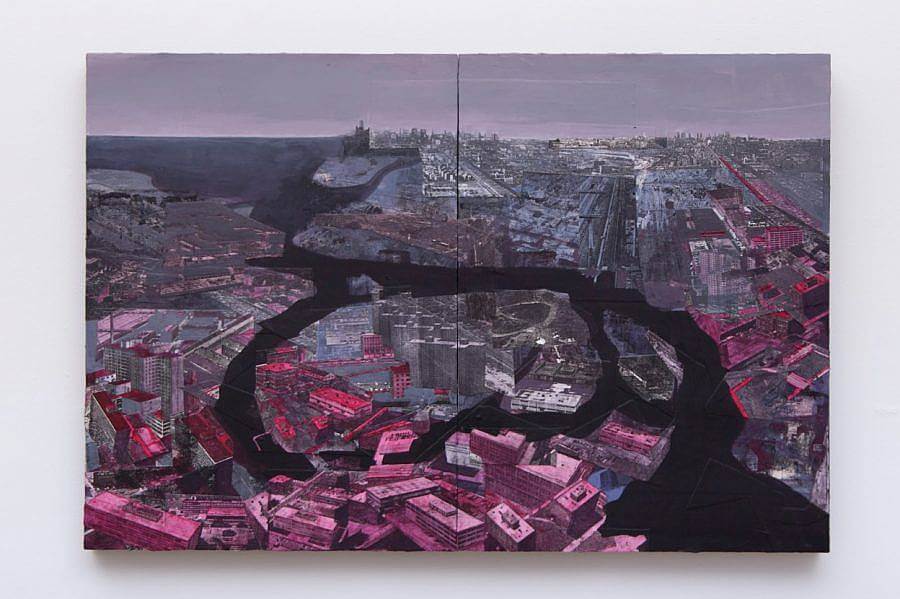 Can you talk about the recurring color scheme that is present throughout your work?
The palette began with my experience at IIT, while researching the history of the city and its urban infrastructure. Particularly its history of redlining, and the exclusionary practices that shaped Bronzeville where IIT is located. So red tones were used in my work as a response to how color was weaponized in those maps. I also find inspiration in the spirit of jazz and artists who spatialized it. The viridian green and violets of Archibald Motley paintings, or the palette of Romare Bearden's collages harness that energy. 
Who has been inspiring you lately?
Jack Whitten, Gwendolyn Brooks, Edouard Glissant, Romare Bearden, Julie Mehretu, J.M.W. Turner, Daniel Burnham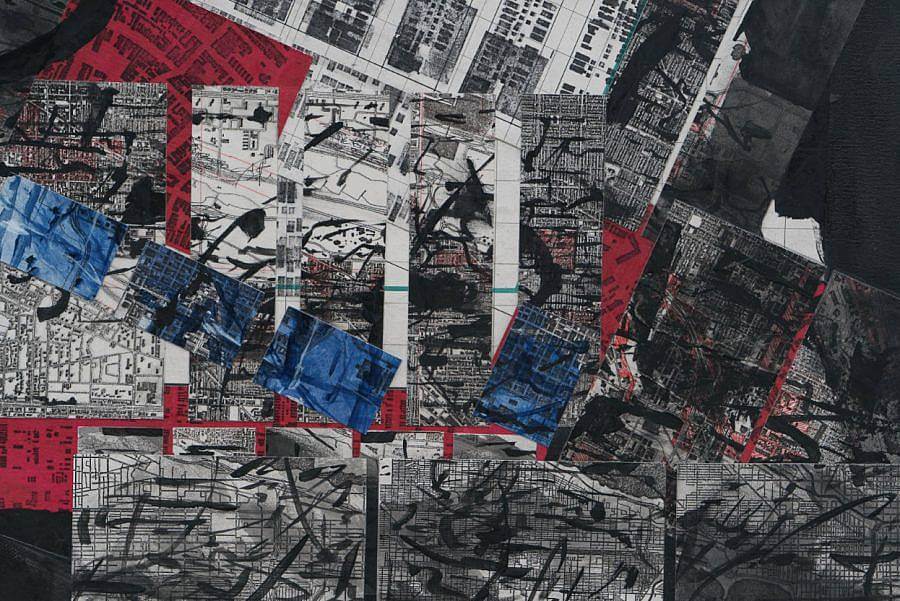 Can you talk about the modular constructions of your paintings and the way that you approach the grid and tiling?
I'm interested in the ongoing process of collage, as an active tool for world-building. The recent series, called Black Tributaries, have been large compositions made up of smaller 18" x 24" wood panels. The panels read together as an image in various configurations, and can function as a continuous scroll. Lately I've been experimenting more freely with the arrangement of the panels where they read less as a whole image, but more as fractured abstraction. The agency of reconfiguring a map is in relation to the power of shaping our cities and our world, and the intent is to redistribute that agency to others.
What does your studio look like?
My studio has been in flux and I am currently settling into a more permanent space. No matter the space, for me a studio space is composed of my library of books, a series of carts that are mobile containers for brushes, palette knives, acrylics, and paper. A printer – to make research into physical matter/material. Music.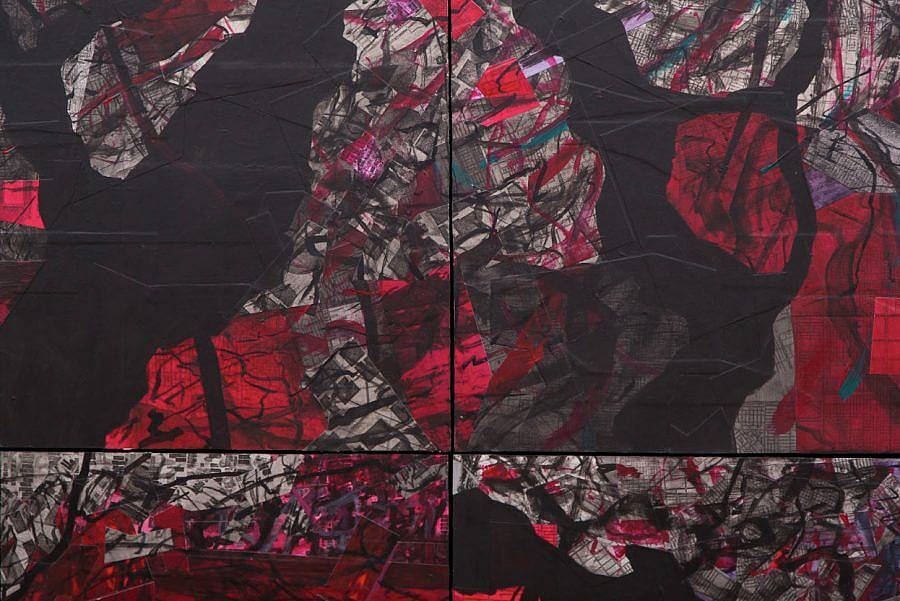 Thoughts on being a "working artist" (i.e. having a day job while maintaining a studio practice)?
For me it was important that I not only make a living, but that my work in architecture feeds my practice as an artist, and vice versa. I am constantly looking for ways my art practice and my architectural practice can be woven together. 
Thoughts on the physical objects that we surround ourselves with?
I'm interested in objects that have the ability to change. Our whole apartment is on wheels, and people rarely see it in the same layout twice.
Do you have any upcoming projects that you can share?
I'm really excited about two shows coming up at two polar ends of Chicago: 6018 North in Edgewater for the Chicago Architecture Biennial opening in September, and next year with Boundary Gallery in Morgan Park.