Tell us a bit about yourself and what you do.
I am a Chicago-based artist that was originally born and raised in Pereira, Colombia. When I was 9 years old my family moved to southern Louisiana because my parents found a job opportunity there. Since then, my family has moved throughout various parts of the American south including places like Texas and Florida. I moved to Chicago to pursue my career as an artist in 2016, and have been living and working here ever since. My Catholic upbringing combined with my experience in conservative homophobic places in the United States left me feeling like I didn't really "fit in." My work aims at creating images that generate a cultural vocabulary for folks who also find themselves at the intersection of a queer identity and coming from a migratory or diasporic background. I draw inspiration from my own friends and community, queer fashion, and internet culture to make paintings and drawings that glorify the queer body and place it in a state of safety, beauty, and prosperity.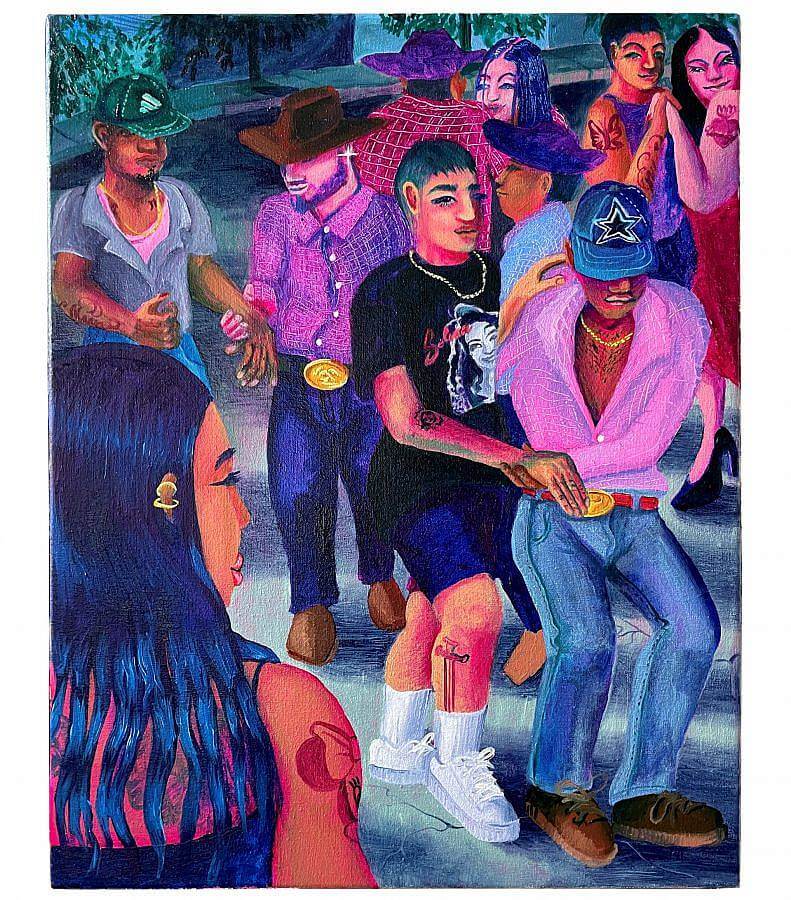 What is your favorite medium to work with and why?
Drawing is the beginning of any creative endeavour, in my opinion, and there's nothing that I enjoy doing more than drawing. There is a sense of immediacy to drawing, it is exciting. Drawing provides me with the opportunity to simply create.
What role does your experience as a queer individual play in your work? Would you consider your work autobiographical in any way?
My work is definitely autobiographical, but not an autobiography. While many of my works depict things, people, and places that exist in my life, there are many things in my work that are not rooted in reality. Growing up queer, I was made to feel like my existence was wrong, abnormal, or something to be ashamed of. From a very young age I realized that I wasn't welcome in the world, which pushed me to find other worlds where I could be whoever I wanted. As a child I found peace in fantasy video games, fantasy books, and cartoons. These outlets provided a sense of escapism from the reality where I was judged for the way that I walked, the way that I talked, the way I existed. Many aspects of these fantasy worlds influence my work today.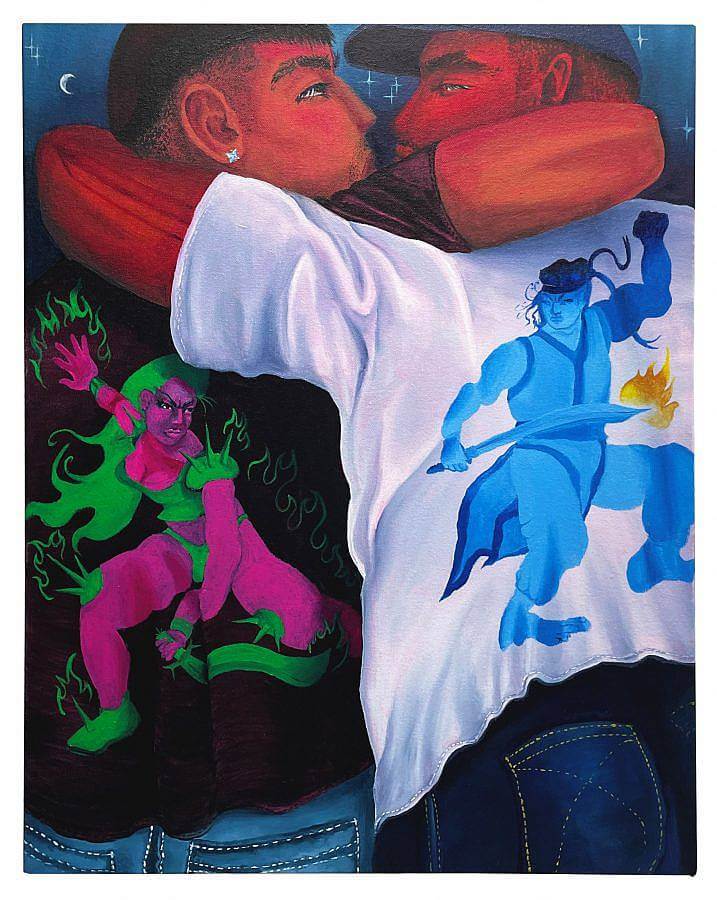 Do you have any guilty pleasures?
My guilty pleasure is reality TV shows. Anything from Netflix originals like The Circle to those really awful dating shows. I guess seeing other people's problems dramatically broadcast on television makes me feel better about my own problems.

What are you currently listening to?
Kali Uchis, she just recently dropped her new song "I Wish you Roses" and I am obsessed. I have her album "Isolation" on repeat all the time.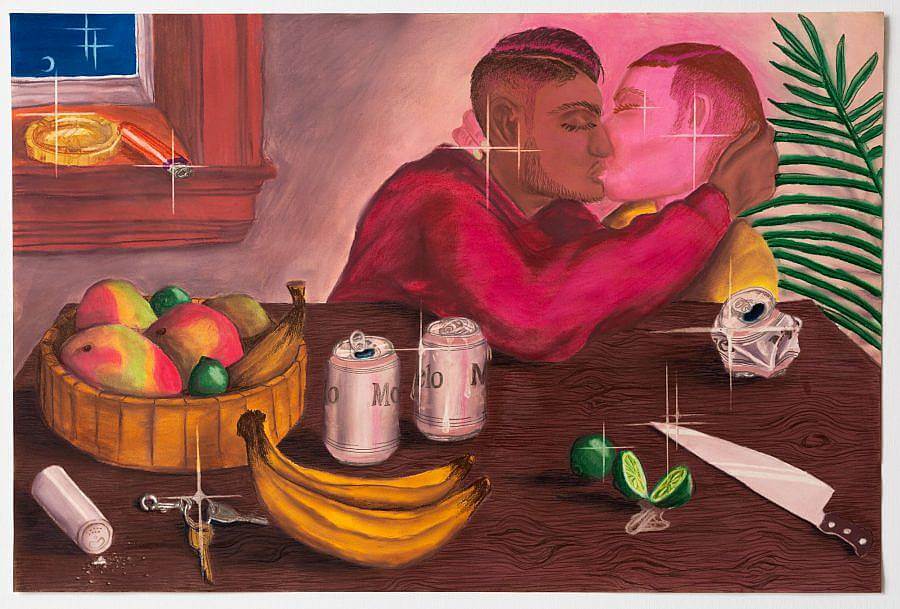 What is exciting to you at this moment?
I am really excited about the movement of figurative work that I am seeing in the contemporary art scene today. I see lots of young artists, many of whom are my peers, making really amazing work involving the figure. I am excited to be a part of this moment in the art world.
Do you consider your work to be narrative or non-narrative? Are there any recurring characters throughout the world you are creating?
I would absolutely consider my work to be narrative. I aim to portray moments, actions, and stories derived from my own experience, historical stories, and mythical folklore. The stories that I tell fall in different spectrums of emotions and memories. Some are sad tellings of heartbreak or crisis, while others are joyful moments of love and prosperity. There are some recurring characters in my work, some of which are auto-biographical, and others which are based on friends, lovers, and other people in my life. These characters are usually not exactly portrayed as they exist in actuality, I often switch up hair-styles, tattoos, and clothing to create a character that has the likeness of someone who exists, but isn't an exact portrait of that person. I do this because in my artistic practice I am interested in world-building and in creating my own parallel universe where these stories take place.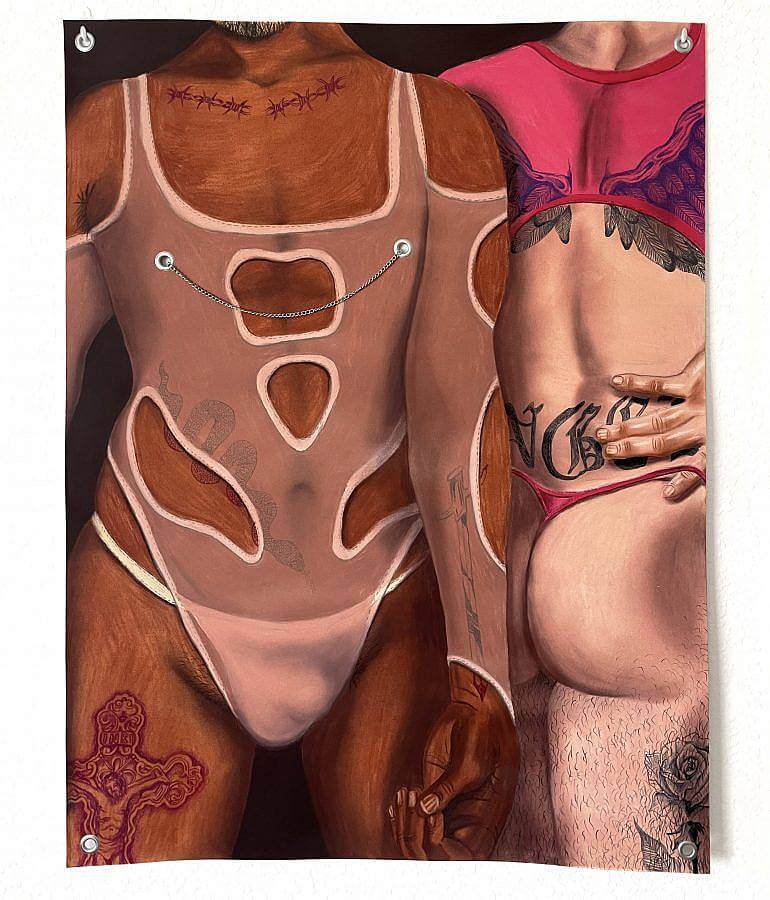 What was the driving force behind your recent series of paintings, Narrativas?
The driving force behind Narrativas was a recent exposure to Chicago-based artist Dom Orejudos AKA "Etienne." I found out about Etienne's work through a friend of mine who took me to see one of his books at an Art library. Etienne was an openly gay Latino Chicagoan who created many of the classic images that we now associate with the Leather community. He produced images and designs for some of the first gay bars in Chicago, and his work was very much in conversation with the work of Tom of Finland. Seeing his work, and seeing it in a context that I am so familiar with — the queer scene in Chicago– I started to see new possibilities within the male figure. Narrativas is the beginning of my exploration of those possibilities. Like Etienne, I started to imagine the human figure in an erotic way: cruising in public, being intimate in private, replacing leather with more contemporary spandex and other fashions. However, I didn't want to make the queer body solely erotic, I also wanted to give it life in cheerful celebrations and let it tenderly exist in lonesome moments of serenity as well.
If you could only be remembered through one piece of yours, what would you want it to be?
Up to this point in my career my absolute favorite painting I've ever made is Nadie Deja Que Muera una Flor tan Bella. That painting was inspired by the lyrics of Reggaeton artist Don Omar in his poetic song "Ayer La Vi." This heartbreaking song describes the longing of a somber lover who asks the question "who would allow such a beautiful flower to wither?" I found that lyric particularly empowering. While in the song the question is being asked by the lover of someone who's heart was broken by another man, I am instead asking the question to myself. I am recognizing myself as beautiful and valid, and full of life, and asking who would allow such joy to be drained from me? I made this painting while heartbroken and it was lyrics like the ones in this song that helped me find love in myself again.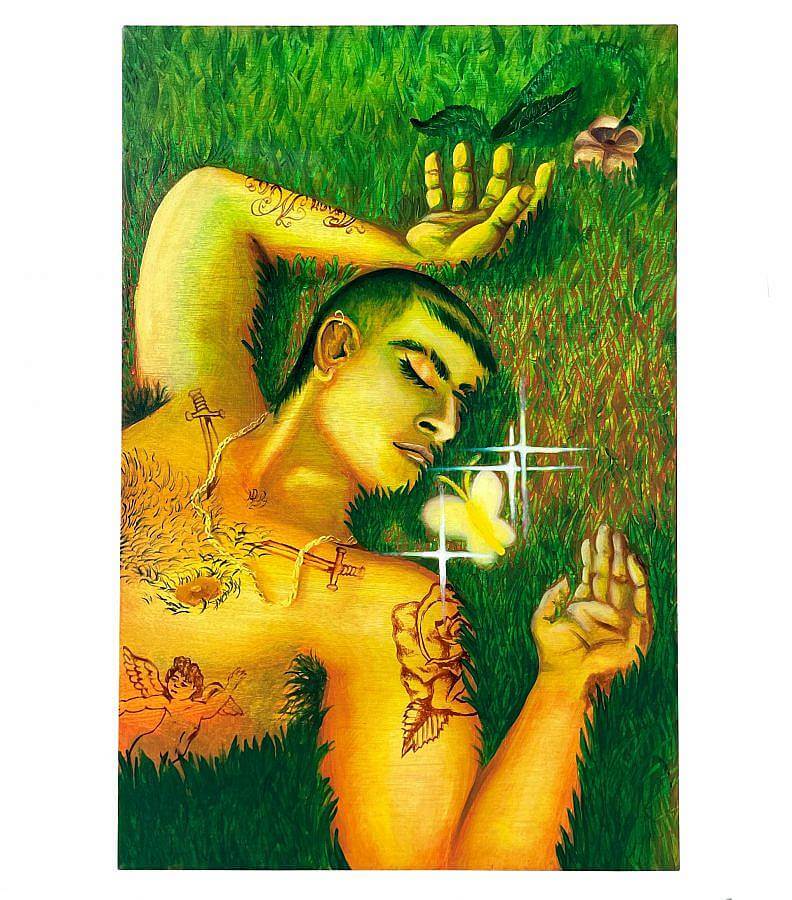 Any upcoming projects you are excited about?
Yes, I am very excited to share that I will be participating at the Barely Art Fair this year featuring a solo booth presentation with New York based gallery Selena's Mountain. Also, I have a very exciting project coming up that I would like to invite everyone to! June 9th I will be having a duo show with amazing artist (and my best friend) Vani Aguilar at Roots and Culture here in Chicago. This exhibit is titled El Brillo en sus Ojos, and will feature drawings, paintings, textiles, and sculptures surrounding themes of queerness and how it intersects with our Latinx identity.
Interview Conducted by Ben Herbert and Edited by Milo Christie