Tell us a little bit about yourself and what you do.
My name is Jonathan Korotko. I am an artist who works with fiber in sculptural form. In my current practice, I examine the intersections of aesthetics coming from my own family history and what an empowering queer aesthetic might look like today. As a maker, I think of ways to allow people to connect to a sense of political agency and community through aesthetic form. 
Where do you think aesthetic taste comes from? In general and specifically in your work?
My understanding of taste is very personal. I look to my grandmother, who in her time was an extreme personality. She smoked out of an extender, always had a drink in hand, wore mismatched colors and patterns, and donned feather boas instead of scarves. She helped me understand that dressing and one's style serves as a very personal way of asserting agency. 
What inspires your material choices and what does your process typically look like?
I begin with the interior spaces and domestic objects from my childhood that may appear mundane but for me have always held a sense of poetics and beauty within them. I am interested in ways objects can be just as influential as people in one's coming of age. I draw or sketch as a way to remember and re-imagine these objects as fabulous and living up to their full potential. Moving into making sculptures, I use materials that represent my grandmother's sense of flair and what some might consider her "bad" taste.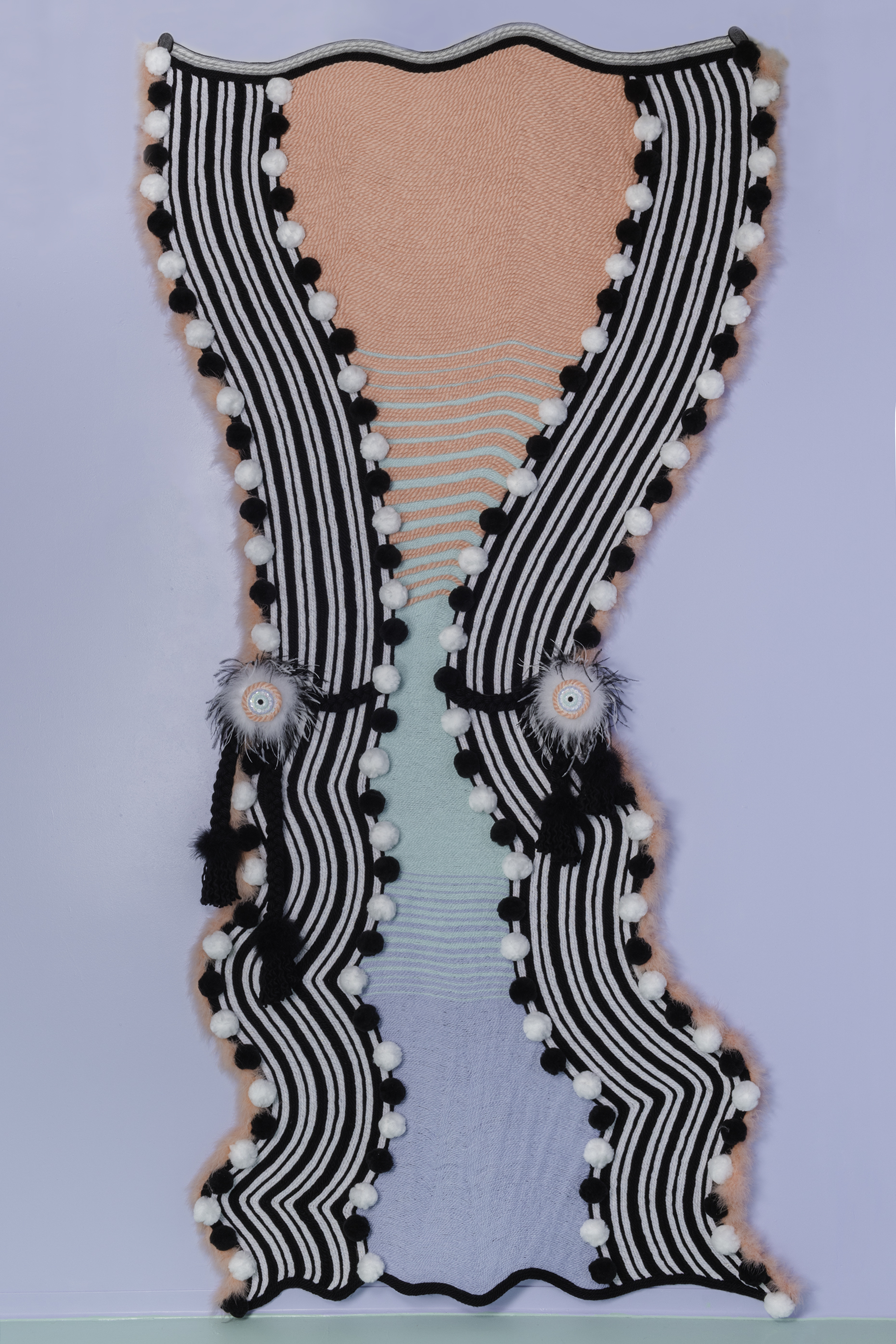 When did you interest in fibers begin?
I was actually trained as a printmaker. But while doing my MFA at the School of the Art Institute of Chicago, I found print a limitation to exploring my interests. While the play of object/image representation—a very print based thematic—remains a constant in my practice, fibers holds the visceral impact that for me print can not. There is an emotional honesty to the fibers I use, and that cannot be found in the mediation of printmaking.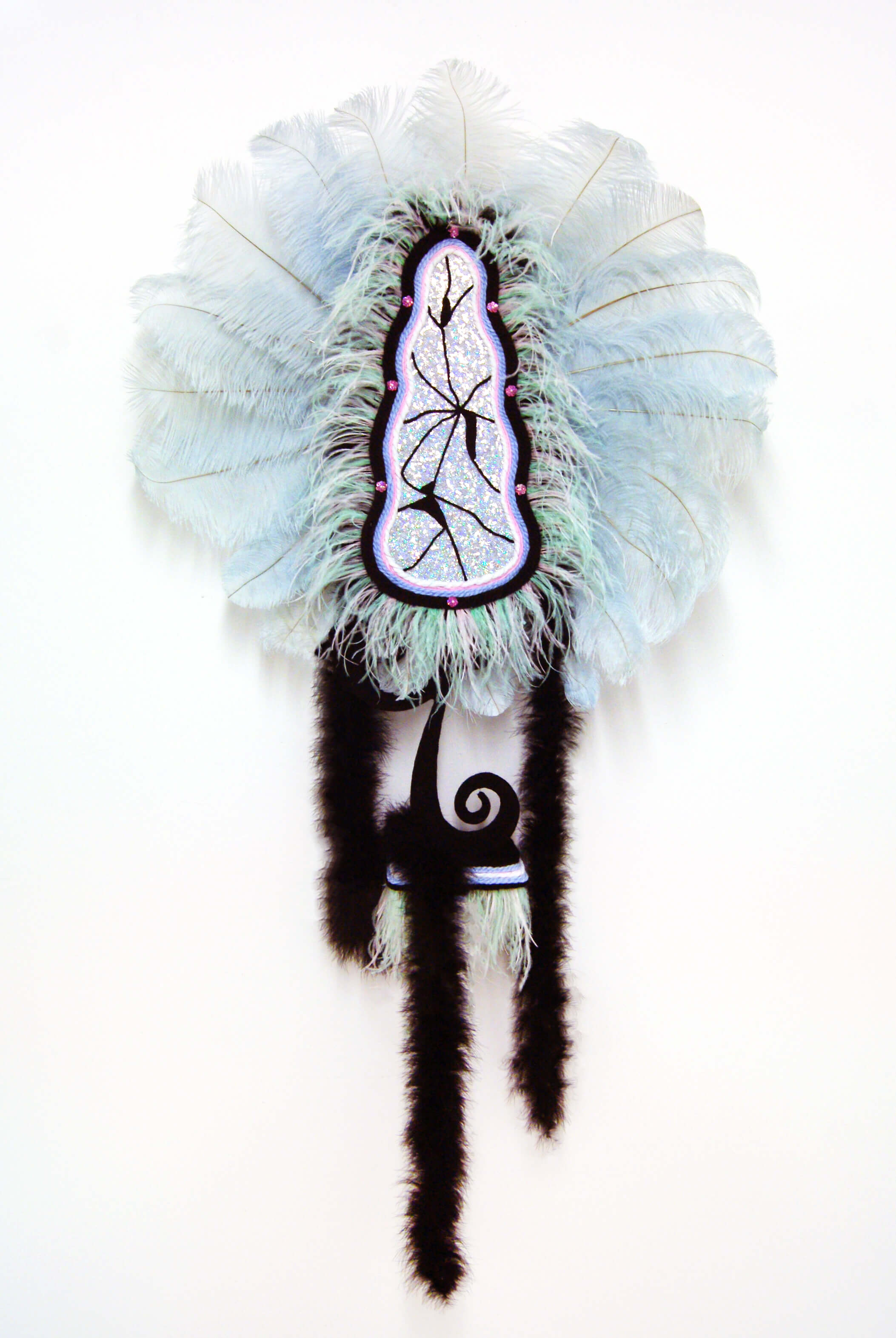 In a few words, how would you describe your "style"?
I want people to think about the significance of style as part of political mobilization in queer history. I'm interested in camp aesthetics as a form of play that distorts traditional norms of appearance. My work mimics spaces and objects that are traditionally associated with certain gender norms and class, in order to create a new sense of opulence and whimsy. I accentuate the artificiality of it all.
What is one thing you always consider when installing?
I always consider the point of entrance. Making sure that there's drama to the experience of the installation—maybe a sense of excess that comes with an idea of melodrama.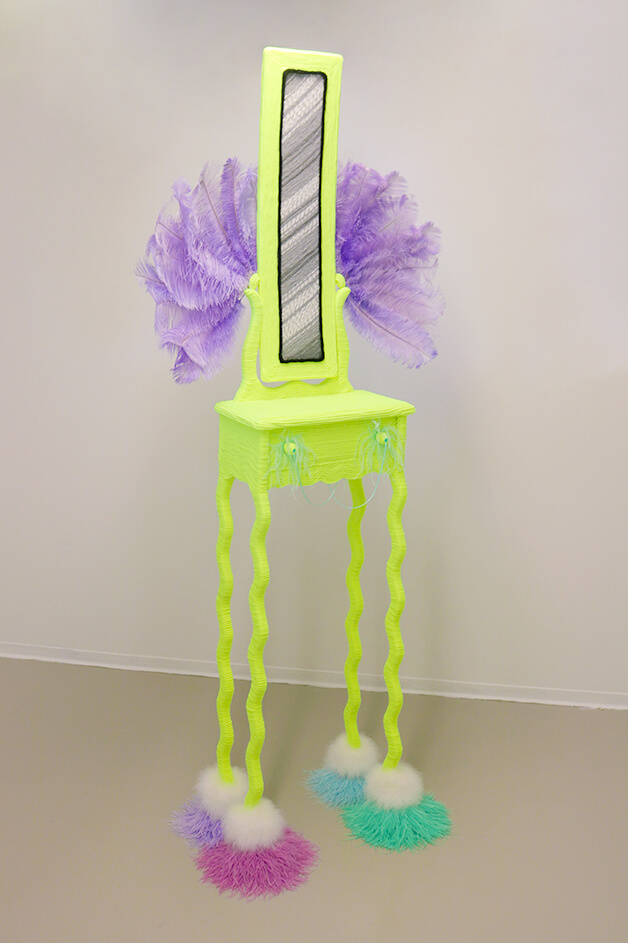 What do you want a viewer to walk away with after seeing your work?
As I embrace the aesthetics that have empowered me in my queer youth, I want viewers—especially young viewers—to feel empowered. I was drawn to and identified with certain objects: flamboyant ones, feminine ones. If viewers see my objects and are drawn to them, I want the viewer to feel affirmed in their desires or fantasies. There is no shame in this.
What was the last exhibition you saw that stuck out to you?
The last truly impactful exhibition I saw was Richard Rezac at the Renaissance Society. I enjoyed his semi-abstract sculptures that referenced domestic objects but through industrial materials traditionally coded as masculine.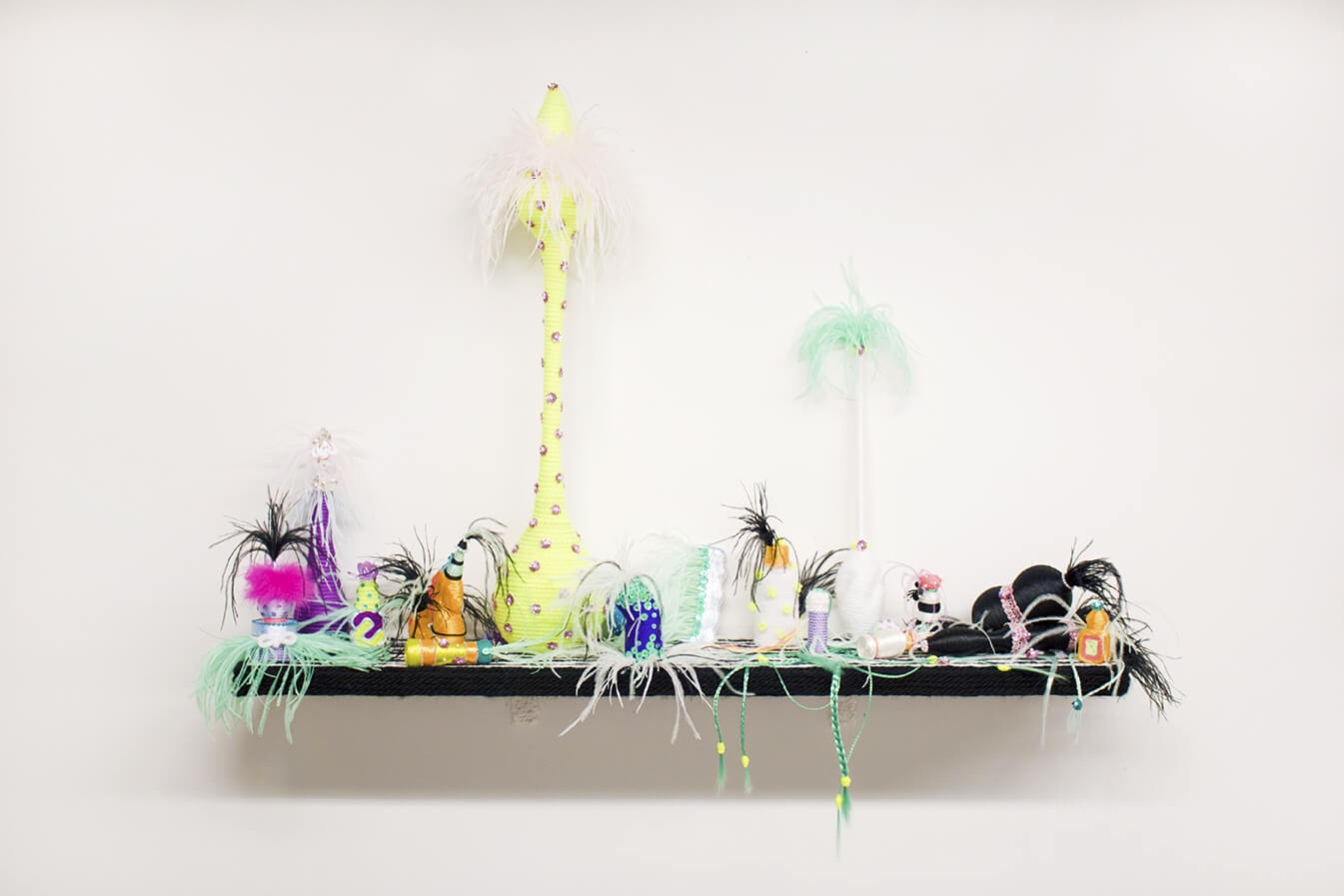 What is the best advice you have ever received?
To not ask so much of my work.
What are some recent, upcoming or current projects you are working on?
I recently worked with fellow artist and friend Rebecca Tanda on a curatorial project called (dis)comfort zones: Underrepresentation and Invisibility in the Institute which was held at Carroll University. This exhibition allowed me to suss out larger questions I was working through. How do we decolonize the canon? How do we give space for women artists and artists of color? What is the place of previously marginalized media practices, like fiber and ceramics? Organizing this show provided me with the means of starting a conversation that was lacking at my undergraduate institution. It's an offering that hopefully gave viewers exposure to discourses and modes of making that I did not have access to as a student there.
Where do you see your practice going next? Any major changes happening in the studio?
After I finish my MFA this spring, I will be pursuing my interest in arts education as a summer teaching fellow at Laumeier Sculpture Park. Afterwards, as an artist-in-residence at Oxbow School of Art and Franconia Sculpture Park, I plan to work on projects that ask how celebration can be embodied in sculptural form.