Tell us a little bit about yourself and what you do.
I'm FEE LION. I write, produce and perform electronic music. I also create visuals and garments.
Can you describe how your interest in music began?
I really can't. Music has always been ingrained into my life- I consider it my religion.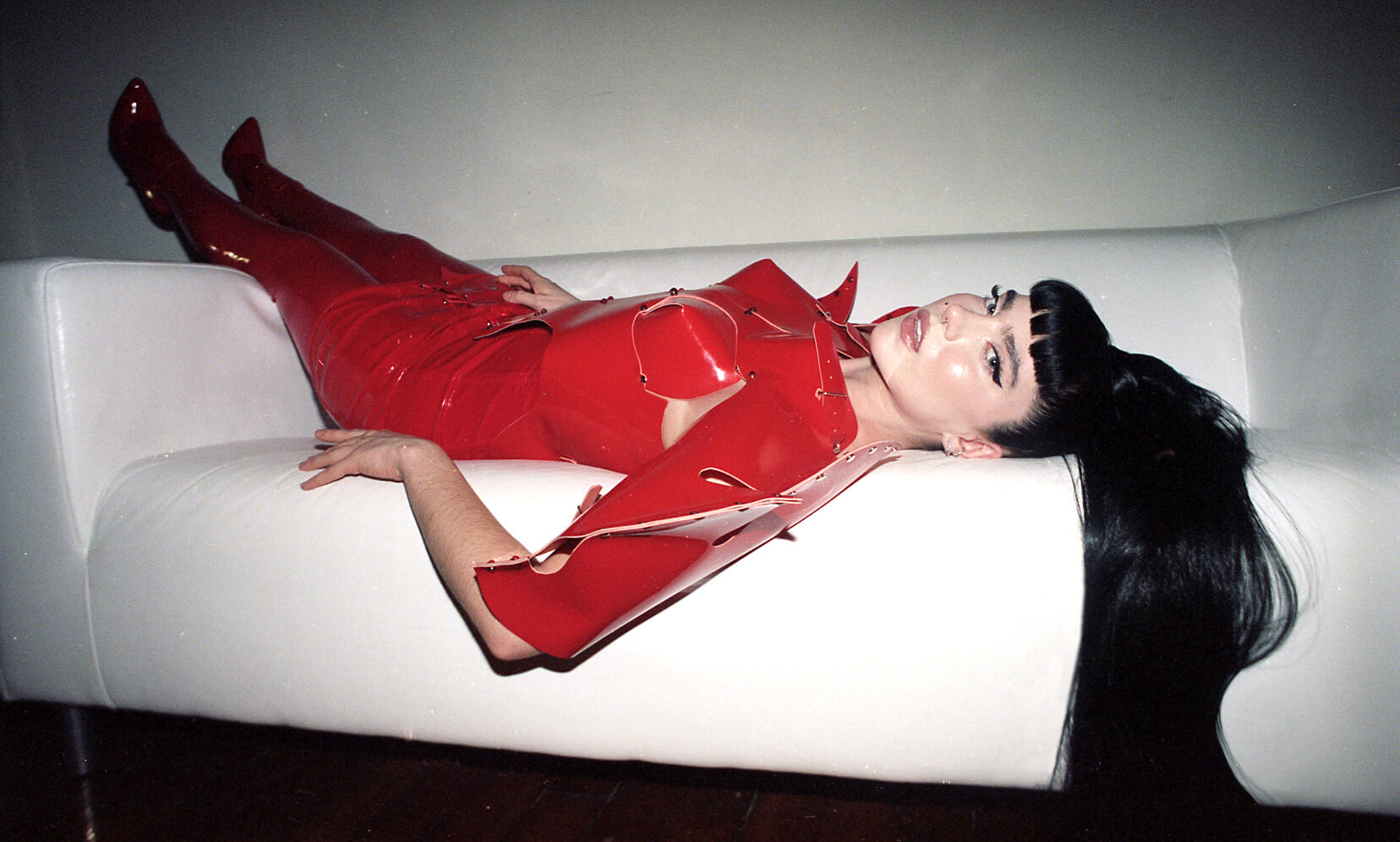 How has living in Chicago affected your music?

I love Chicago! I have the kind of freedom and flexibility here that other major cities do not offer. That's not to say that I don't have to hustle every single day, because I do, it's just that I can allow myself time for FEE LION instead of committing to a full time job. When I was living in New York I was paying twice the rent and was twice as miserable. Living in Chicago, I can take time to write, re-write, experiment and when I need to, travel. I've been blessed to have an extremely supportive community here that inspires me to keep working so it feels great to call Chicago my home base.
If you had to explain your music to a stranger, what would you say?
Someone once said FEE LION was like "…if Trent Reznor and Bettie Page had a baby" and I think that's perfect.
Can you describe the writing/recording process of your upcoming EP Blood Sisters?
I wrote the songs on Blood Sisters over the span of almost two years. It was an extremely challenging transitional period for me- I felt deeply disconnected from myself and was struggling to function at full capacity. All the songs on the EP, in one way or another, are self-love anthems. I was also thinking a lot about the important people in my life, my family, my sister, and my chosen blood sisters- you know who you are. I produced and recorded everything in my home studio and then took it to John Hiler for extra production, vocal tracking, mixing and mastering. Finishing the EP was tough. I had already been singing these songs live for maybe a year, so I wanted to make sure I was still able to connect to them. I'm really happy with the end product, it feels amazing to have these tracks out in the world- they've been through a lot. 
What were some of your biggest influences for this EP?
About half way into my writing process, I saw a video of Valentina performing 'Hoy Quiero Confesar' by Isabel Pantoja. She's alone, getting ready in this lavish mansion and delivers a heart wrenching rendition of the song in an immaculate diamond studded gown. I was so struck by how flawless she looked while confessing the pains of love, fate and vulnerability. Her gaze was transfixing and made me think…what is she not telling us? What if she confessed to having done something unimaginable next? The story for me became about a vengeful bride who had murdered her lover and now was stuck in a luxurious yet lonesome cycle. I imagined her waking up each morning to and empty mansion, just to get ready in diamonds and sing her song. This idea inspired the lyrics on My Man and Heaven.
Your costumes seem to be an integral part of your practice, what do you look for when deciding on your wardrobes?
She has the passion for fashion! I am quite particular with what I choose to wear in general but especially when I perform. All of the pieces I wear inform my performance. My body develops a language with each garment and I love experimenting with movement accordingly. I once wore this huge Alex Ulichny spiky coat on stage- I felt like a sci-fi sea urchin humanoid. My movements that night were very precise and delicate- it was such a special experience, I really felt like the garment was alive and a part of me. I've found that when choosing or designing FEE LION looks, there's been a pattern of insect and sea life influence. My first collaboration with An Authentic Skid Mark was what we now call the squid dress. The garment I wear on the album cover is our most recent endeavor which was inspired by beetles and cockroaches. Overall, I like to feel empowered, otherworldly and believe it or not, comfortable when I'm on stage. Sometimes the most insane outfits make me feel the most "me". 
How do you prepare for a show and what do you do to get in the mood to perform?
Right before I go on stage I usually jump up and down a bunch of times and shake out my limbs. One time though, I walked on stage to a sold out crowd completely out of breath. That's when I knew I had to take it easy on the jumping. Sometimes I light Palo Santo to get centered but it's different for every show, especially when I'm touring. I am perpetually terrible with routines. One of my biggest goals is to instill a daily routine into my life.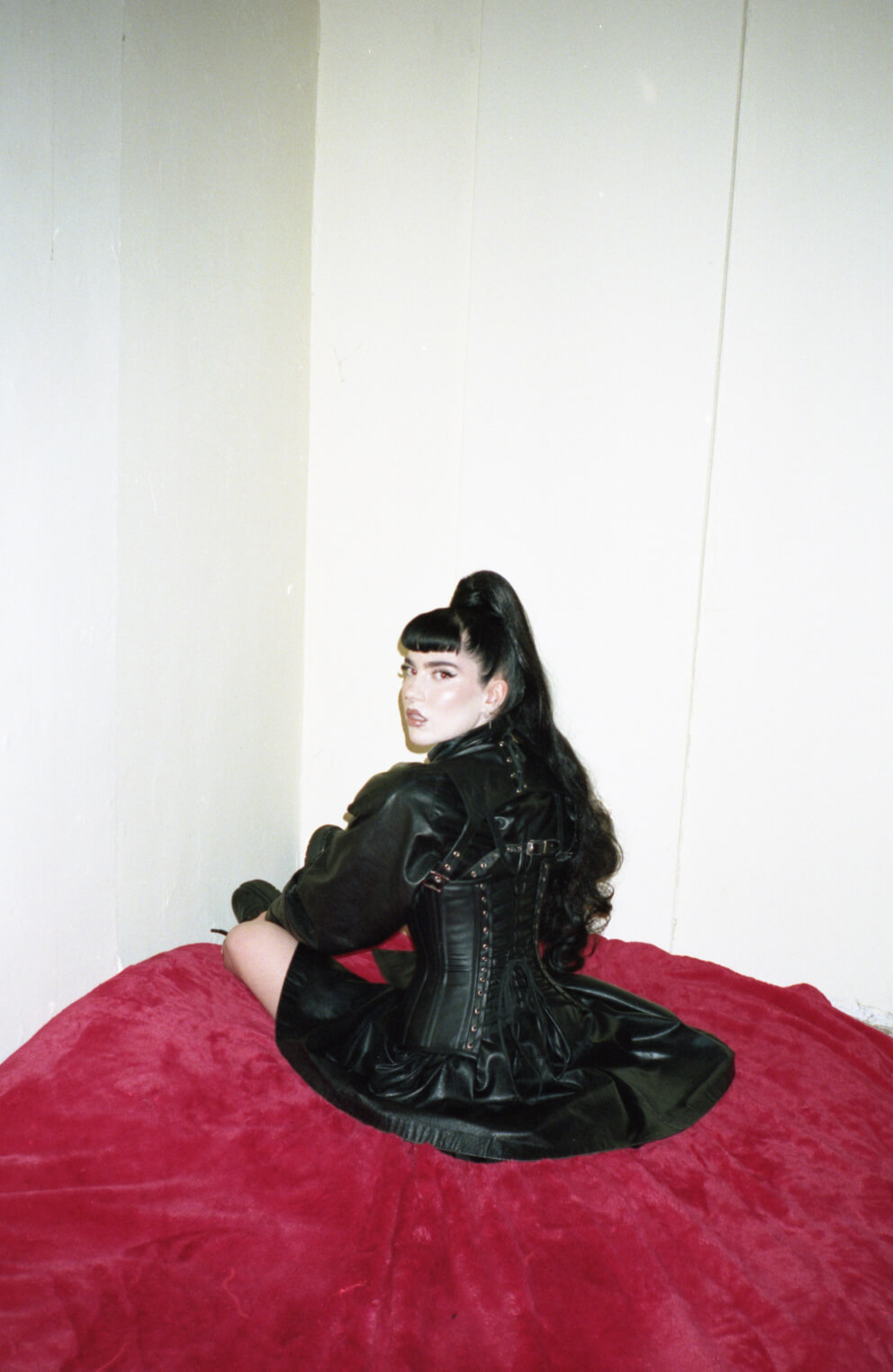 What was the last show you went to that stuck out to you?
I cried while dancing to "Tears" at the Boy Harsher show a few months ago.
What do you do when you're not working on music?
I've been working on this EP every single day non-stop for months- any glimmer of my life beforehand is quite hazy. Lately, I've been fantasizing about a technology detox and taking a much needed visit to King Spa. I'm already working on upcoming FEE LION business though, so before I get sucked into that, I'll have to dedicate some time to reset.