Tell us a little bit about yourself and what you do.
I was born in Venezuela. I studied Architecture at the Universidad Central de Venezuela (UCV), where I was a professor of design before I moved to the US. I did my MFA at the California Institute of the Arts (CalArts). I have an expansive artistic practice, I incorporate painting, sculpture, and installation. My current work revolves and questions historical allusions, myths and references regarding the perception of women, sex and contemporary life. I share my time between my architectonic firm and my art practice.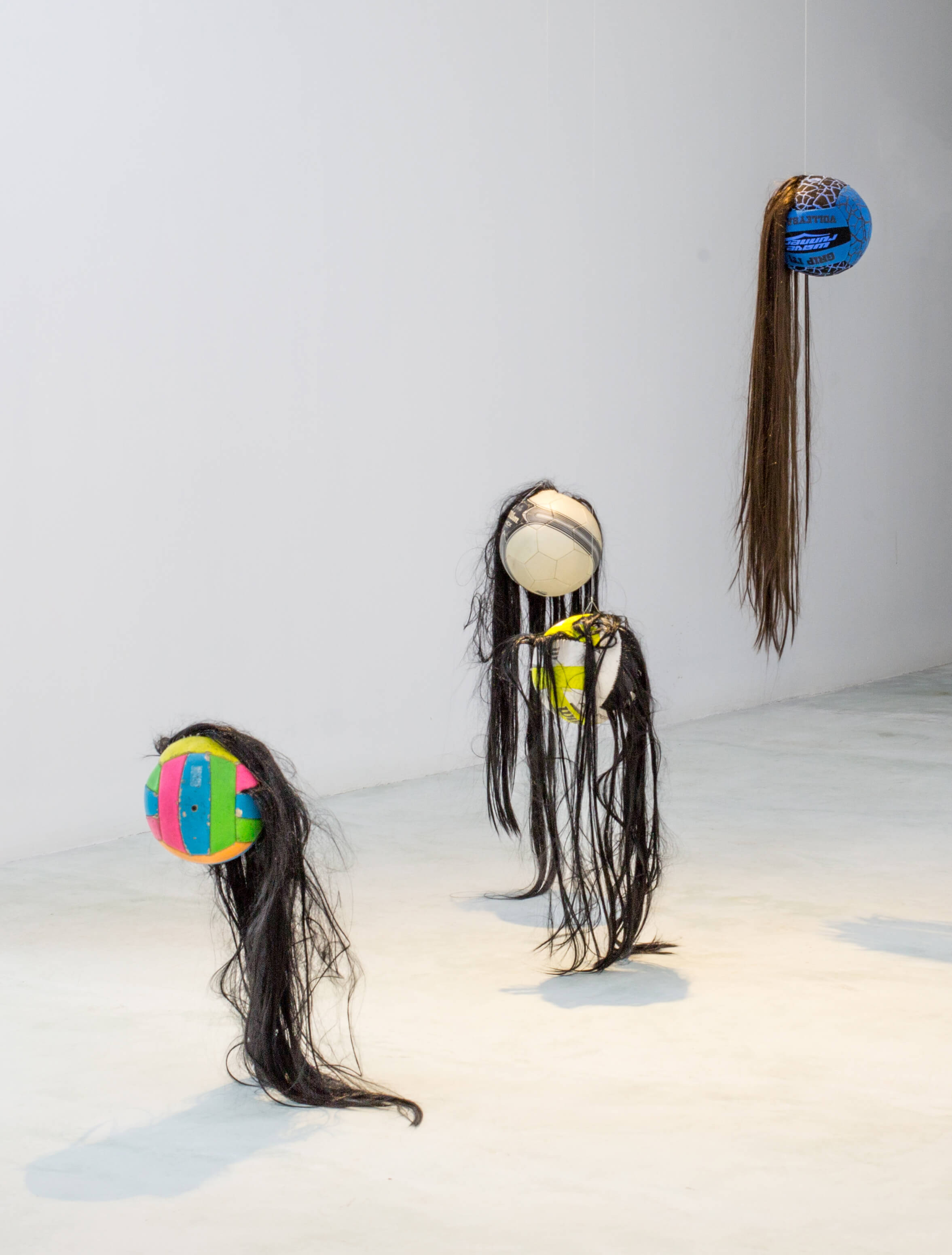 What are some recent, upcoming or current projects you are working on?
I am currently doing an art residency at NARS Foundation in New York city and showing at FREE! in Miami organized by Spinello Projects. I also just published a children's book titled "Hiss, hiss, hiss. A story I heard somewhere" with Dale Zine at MANA Contemporary Miami. I have a few shows coming up in Lima with IK Projects. I am currently including politics from my home country into my work. I am working in a series titled "images of home" which incorporates paintings and sculptures that relate to many issues such as politics, gender, misplacement, memory and time. I feel that our lives are saturated with so much information, topics and images… this series aims to include everything that is me, a female immigrant that left her country due to violence and political repression, and that works in art and architecture in the US.
What materials do you use in your work and what is your process like?
I use many materials, like hair, concrete and found objects. I think of my sculptures as collages, where I put together things that in my mind have an urgency to be together, like long black hair and volleyballs. I have a real clear mind when it comes to sculpture making, I draw sketches of a sculpture, look for materials and then realize it. My painting process is very different, I have an idea of what I want to paint, but when I start I never know what will be the end of it.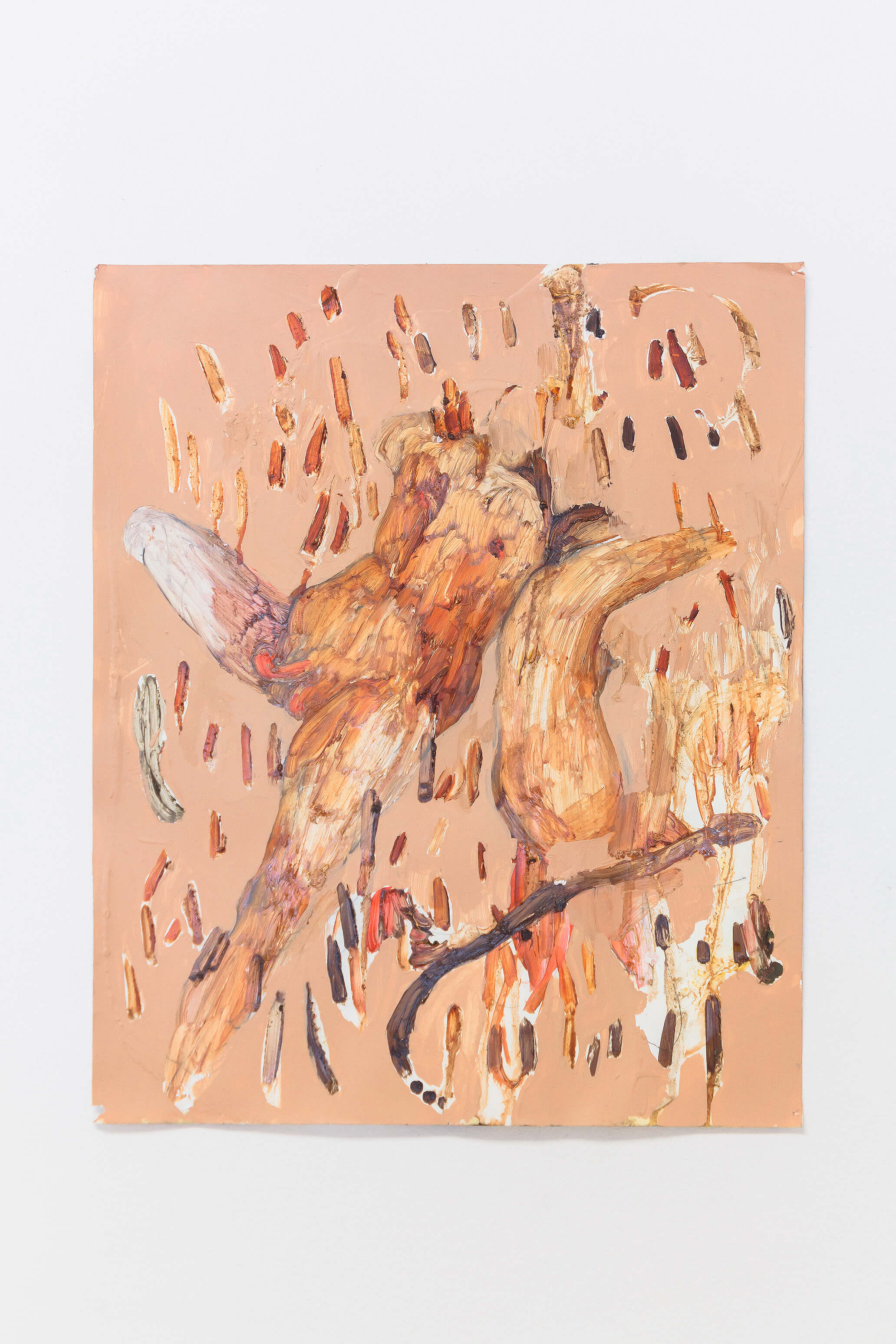 For your sculptures, there is a theme of hair. What draws you to this material?
I started using hair in some of my sculptures in 2016. Hair has always been associated to women, culturally and politically. In some cultures women are obligated to cover their hair, in others we are expected to have our hair a certain way. It is always an issue how you style your hair or where in your body you let your hair grow, making us always feel self-conscious of our bodies and constantly try to change it. Men's bodies are accepted as "the natural body", while female bodies must be reshaped and groomed in a certain unnatural way. By making us women feel like our natural bodies are not "right" we develop insecurities and alienation at an early age, and hair plays an important role in this issue. By mixing hair with different objects I try to bring this objects to life and also comment on the objectification of women, turning objects into women. I like intervening chairs because they are "lonely objects" as their shape evokes the absence of the human body. Dining chairs are also this abused piece of furniture, that you always move around and is never the center of attention. I also like my work to be funny, for example, I called my chairs Bimbo Chairs, because they are beautiful with their long blond hair, and they are stupid, because they are chairs.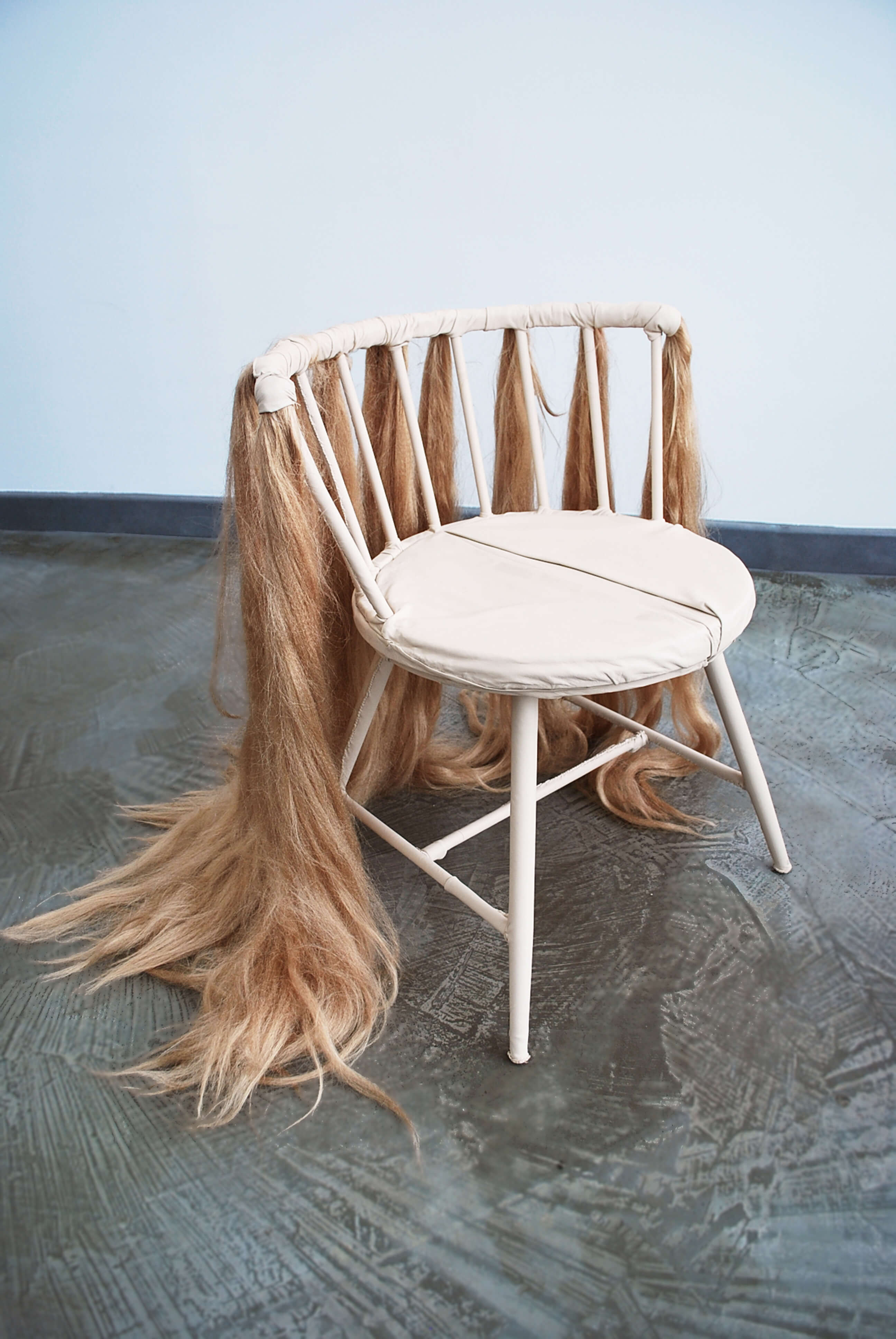 Does your background in architecture have an influence your work?
Yes and no. I consider architecture to be very rigorous, in architecture you should not make mistakes, you are liable and you can literary affect people lives. My artwork on the other hand is all about making mistakes. All my works are mistakes. Art is a free experience. But of course many construction materials leak into my sculpture making, such as concrete, blocks, chairs, sealing foam etc. Mid century modern furniture also plays a role in my practice, I learned to love this objects in architecture school.
Do you collect anything?
Yes, I collect dolls, plates and art.
Can you explain the challenges and importance of working as an artist exploring femininity and gender?
Gender and femininity are topics that I have been working for over 3 years now. I think that as a woman these issues simply come to me, is easy for me to express it as I see so clearly how women don't have the same place as men in todays western culture, which is far more progressive than other cultures where women literally have far less rights than men. I was also raised in South America, in a country where abortion is still illegal and this discussion doesn't even exist. I find that women have so much to overcome, and is challenging how this topic annoys so many people. But I don't consider my art to be only feminist art, I don't like to be put in this box as I also incorporate other topics.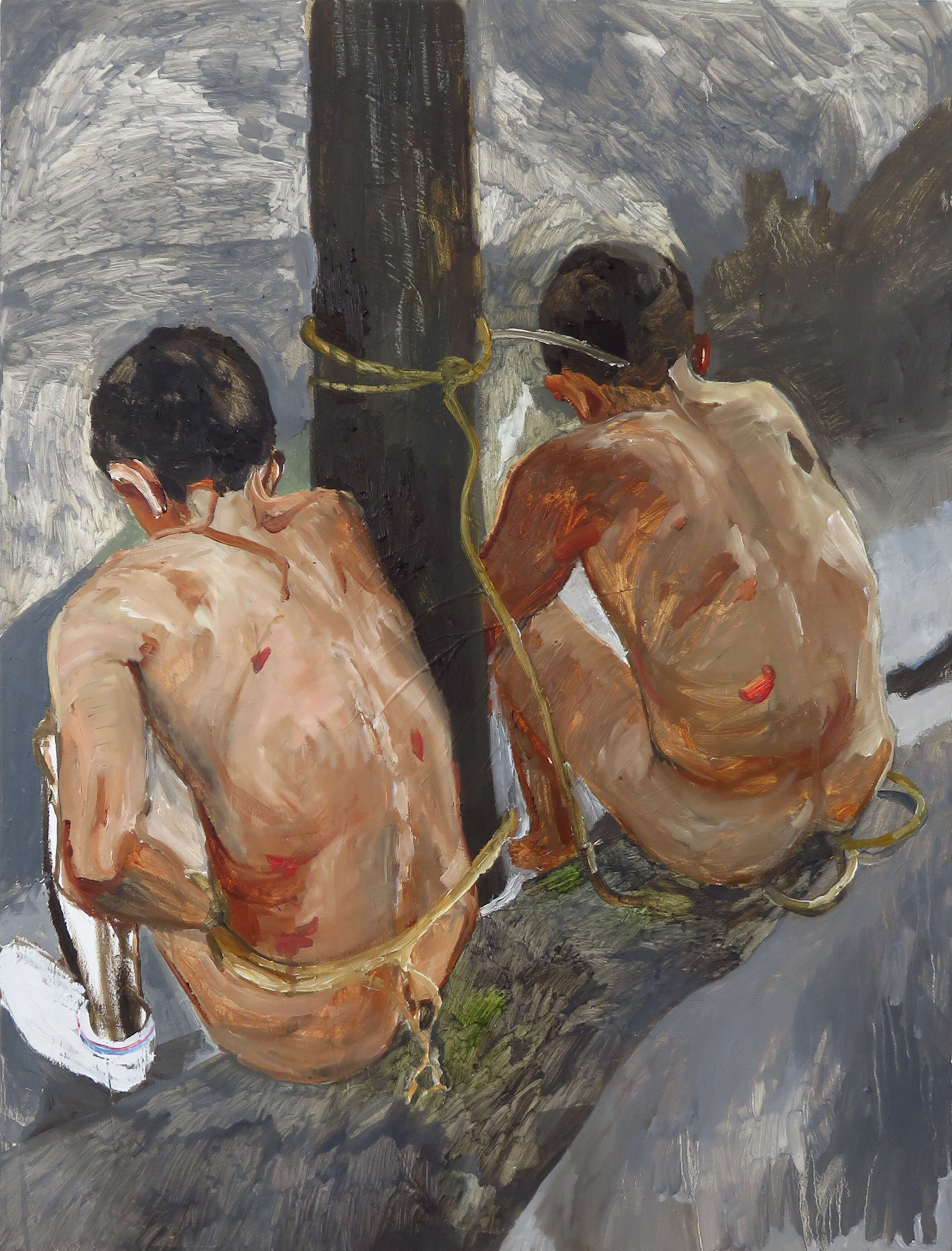 Where are you currently based and what is it like living and working there?
I live between Miami and New York, and I love bought cities. Miami is spacious and warm, its easier to make bigger works there… and New York is just amazing, such a vibrant and inspiring place, where there is no judgement, you can get lost in the crowd. I love that.
Describe your current studio or workspace.
My current studio is in Brooklyn. I am at 4th floor and have two great windows facing the bay, I have a wonderful view. I love this space, I share it with two great artists, painter Frédérique Ulman-Gagné and multimedia artist Jemila MacEwan, they are both very inspiring artists and also friends.
What was the last exhibition you saw that stuck out to you?
Susan Wick's paintings at Vacation Gallery in the Lower East Side.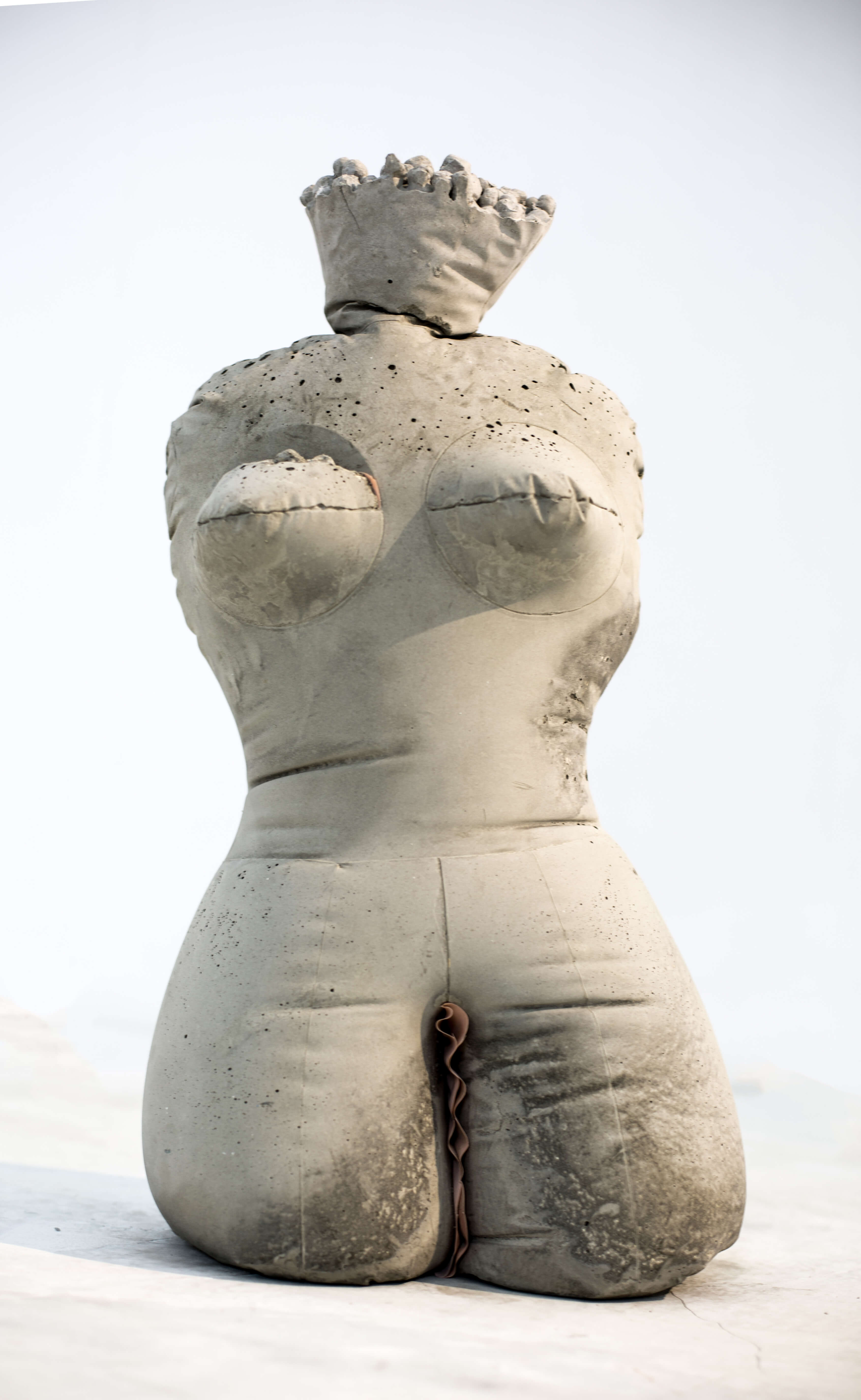 What do you want a viewer to walk away with after experiencing your work?
The worst you can have is indifference, I want viewers to love or hate my work. I want my work to stick in their memories, either because it resonated with them or because it made them uncomfortable. I am happy that in my latest shows I have achieved this.
Where do you see your practice going next? Any major changes happening in the studio?
My practice is shifting into a very political and personal stage. I see myself producing more paintings, drawing and sculptures, and violence becoming a part of my work. I'm expanding and developing the use and intervention of furniture in my practice and producing more paintings.