Cody Tumblin is a Chicago based artist from Nashville, Tennessee. He is a recent recipient of a BFA from the School of the Art Institute of Chicago. From his background in graphic design, Cody approaches his practice with a nod to type, semiotics, and the like. Generic decorative icons and subtle cryptic messages become inflated into uncertain mosaics of pattern, image, shape, contour and line. His time outside the studio is spent seeking out the best food in Chicago, expanding his library, collecting artwork and printed ephemera, and constantly watching any and all horror movies. Recent exhibitions include a solo show at The Salon for The Salon Series, SHIT IS REAL at Devening Projects + Editions (2013), Crossing the Palisades at SAIC (2013), and The Prospective Series pop-up gallery at Untitled (2013).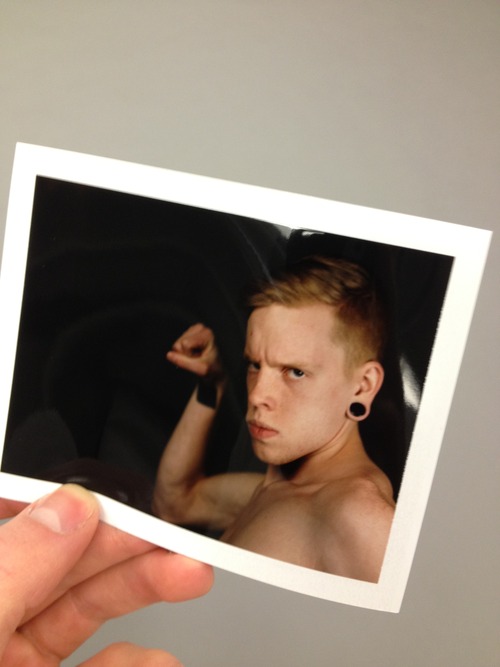 Tell us a little bit about yourself and what you do. I grew up in a small town just south of Nashville, TN and lived there until I came to school at SAIC in Chicago. Although I'm considered the artist in my family, my older brother was on the news for his artwork when he was in 4th grade. Ironically now, he's pursuing his PhD in history, and I'm the one pursuing a career in the art world. I went from pursuing an English major, to the fashion department, to the visual communications/design world, and finally to just art. Ultimately though, my foundation is design-based. Learning that kind of approach and skillset really informed how I make art and how I read aesthetics.
I enjoy "floating" between the art and design worlds, and seeing where things meet up/ keeping up with trends and work on both ends is a large part of my routine.
I constantly absorb anything and everything at all times. I definitely admit I'm a bit of a social media nerd, and alongside running two of my own blogs, twitter acct, etc. I check at least 20+ blogs daily, alongside a few journals/magazines I can get my hands on. You know, there's always a lot of conversation on how an artist should either be aware of what's going on or completely ignore all the hype, all the trends and just make. But I've always loved pouring over images and text. It really fuels my practice. Aside from that, I work at Whole Foods right now haha.
But I'm primarily a painter. I make dyed paintings with dye on cotton. And do a bit of this and that, drawing here and there. I stick to simple images and color is a huge backbone of my practice. Bits and pieces things come together. I like to think it's not all so complicated.
Tell us about your work process and how it develops? Typically, I try to force my work to portray a kind of attitude, something similar to the way Rebecca Morris's Abstract Manifesto  conveys a "fuck everything and go for it" kind of façade. "BLACK AND BROWN: THAT SHIT IS THE FUTURE." I really enjoy it when work has this kind of persona. But typically, to gear myself into a kind of mode, I begin with drawing tons of thumbnails and wireframes. Just generating out crap, pushing out lots of similar compositions and images until I get into a good "zone" and things start to feel right. Sometimes words in all caps, sometimes there's poetry and sentences. I like to use the word "shitty" a lot, and it comes up a lot in my drawings. It conveys the dumbness of the imagery/ drawing style while simultaneously carrying that attitude I mentioned earlier. So the work has to reflect that. I like it when the forms and space don't sit quite right, so I try and keep myself sort of unbalanced.
Alongside the thumbnails, I keep a huge folder full of iPhone snapshots and things I drag off of blogs––things like snippets of a shitty screenprint of corn cobs on a box, to lots of posters/flyers, border motifs, "KISS" carved into the cement outside my apartment. Mostly it's design based. Type, design, and the forms that come along with editorial spreads and book covers really get me going. So I keep those handy when I'm generating my imagery.
All of this eventually boils down into something that agrees with me, and I put it into final production. This consists of preparing the fabric, lots of washing and ironing, mixing the dyes, getting the colors right. This is usually the easy part because I'm just laying down color/plotting things out and editing things out of/into the fabric until things balance out.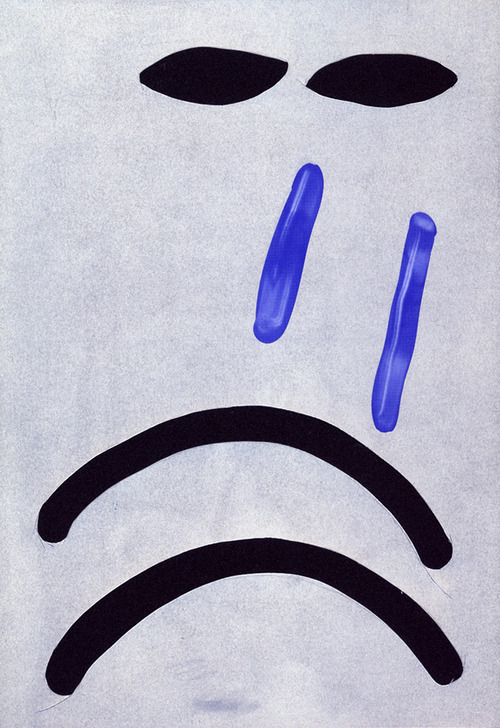 What are you reading right now? Well I just finished Ender's Game haha. I was rereading it in prep for the movie (which was horrible, don't see it) because I hadn't read it since middle school. I'm always reading something of Stephen King's. Usually his short stories. But I also just finished Joshua Abelow's A Painter's Journal, which was excellent. It was a bit like the soap opera of an Artist's Life. But I loved it. Mostly just because it was exciting to peek into his life for me.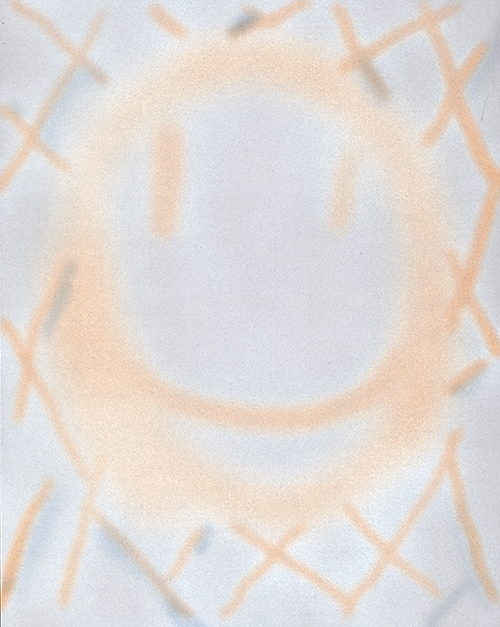 What artists are you interested in right now? That's always tough. I'm always absorbing other people's work. Every time I see work I like, I make a folder with the artist's name and drag images into it. Same goes for new work of artists I already have. So I have a pretty hefty library of a few hundred folders by now.
But primarily, I always come back to Gary Hume. Got to see/learn quite a bit about him while I lived in London for 6 months. Joshua Abelow is also a constant presence in my mind. His work is phenomenal. Really nails it. And I check ART BLOG ART BLOG every day, usually 2-3 times haha. Christopher Knowles drawings are a huge one. Others would be Josh Smith, Henning Bohl, Allison Katz, Daan Van Golden, Arturo Herrera to name a few. Also, David Shrigley is another artist that I really look up to. It's brilliant, flawless work, and it has a presence and attitude that most art will never be able to portray.
I also can't not mention the designers I'm looking at a lot, because they influence me just as much. Like: Kokoro & Moi, HORT, M/M Paris, Studio Harsh Patel and a few others.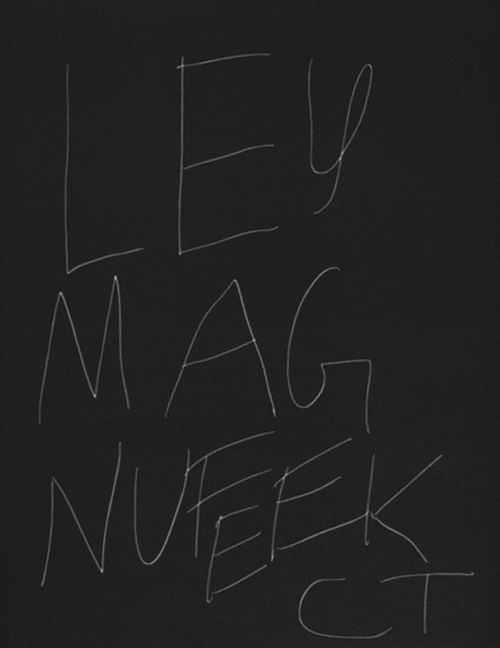 What kinds of things are influencing your work right now? I recently found this book called "The X Directory: Kink Cards 1984/1994" while I was studying at Goldsmiths in London 2 summers ago. I bought it immediately. Amazing scans of kinky business cards that were taken from London telephone booths and street signs, advertising all sorts of devious acts and sexual desires of your wildest dreams. The typefaces, arrangements, and images are just brilliant, and at the same time they're very naïve and DIY looking, much like punk zines. Most them are just made on Xerox machines. I can't get enough.
Other things are those enormous mind-blowing ornate drop caps found in old Manuscripts. Also, generally horror movies. I'm always watching horror movies.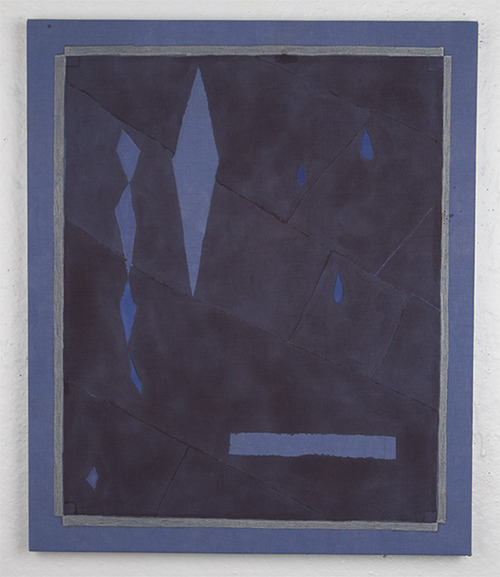 What are some recent, upcoming or current projects you are working on? I like to keep a little mystery shrouded around my current work, but there's definitely a lot of something "new" going on. I've been building a new series of paintings that rely more directly on type and more recognizable imagery. Things that think/feel like icons. I've been embracing my writing a bit more. I am also juggling a few newer things outside of my paintings that are weird. There might be some steel stuff in the near future. I've also been investing back into drawing more than anything, and making these sort of odd abstracted "flash sheets" with ink, which are getting translated into some interesting projects that I'm stoked about.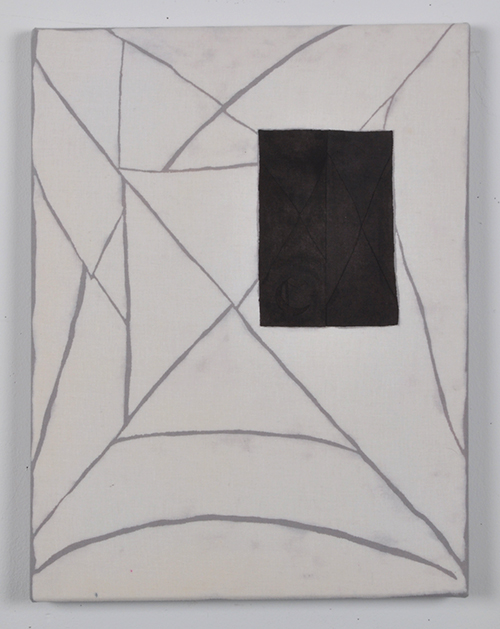 Top 3 favorite or most visited websites and why? 1) ART BLOG Like I said, I love Joshua Abelow's work, and I love art blogs. So this is a 2 for one deal. He keeps really up to date with the art world and pulls out some random things occasionally. Always interesting.
2) Gilded Beast, Half Man Half Skeleton (my own blogs). My blogs and the blogs that influence them are a big part of my life. I enjoy building up a repertoire of artists and seeing what others are doing. I enjoy the community surrounding them.
3) Amazon.com I buy a lot of stuff online. I'm a huge book freak so I have a huge, HUGE wishlist just full of artist monographs, cookbooks, zines, and the like. (If you want to get me anything for Christmas, just look there.)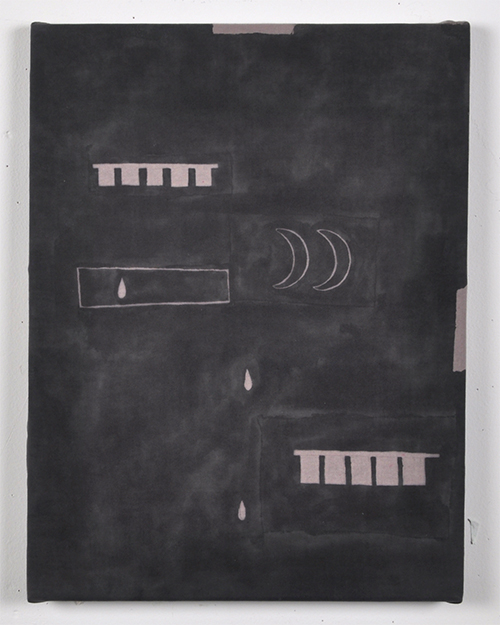 Describe your current studio or workspace I actually love my studio. I just started renting it in October. Little room in a large building full of other artists. Tall white walls with a big double window. Everything is Ikea. Ikea table, Ikea broom, Ikea glasses, Ikea Shelves––full of dyes, chemicals, rubber gloves, bottles, graduated cylinders, scales. It looks a bit like a science lab. I have a nice little fridge for film and dyes. I always keep some Cheerios, peanut butter, granola bars, crackers, and chocolate on deck. I also keep part of my loose leaf tea and teacup collection there for civil enjoyment. Other than that there's a big Ikea table with all my drawings, boxes full of fabric, and color samples But I like to keep it clean and orderly. I like to sweep and pace around like I'm on to something.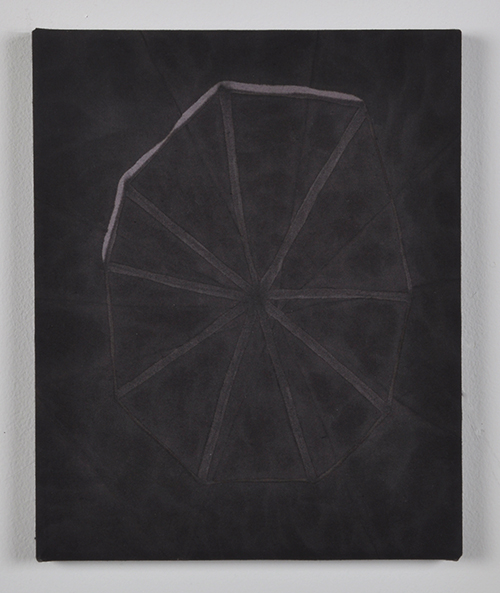 Any current or upcoming shows we should know about? For the moment, no immediate shows are ahead which is nice. I just finished a solo show with The Salon Series and an awesome group show at Devening Projects + Editions earlier this year. I'm just building up work and taking my time, eating junk food in the studio and singing to Jay-Z. The usual. But I've been working on two secret collaborative projects with some artist/designer contacts recently, so you might hear about those soon. Top secret area 51 stuff.