Matthew Northridge is a visual artist living in Brooklyn, NY.  He received his BA from Boston College and his MFA from the School of the Art Institute of Chicago.  He has shown his work internationally and has an upcoming solo show at KANSAS in New York City.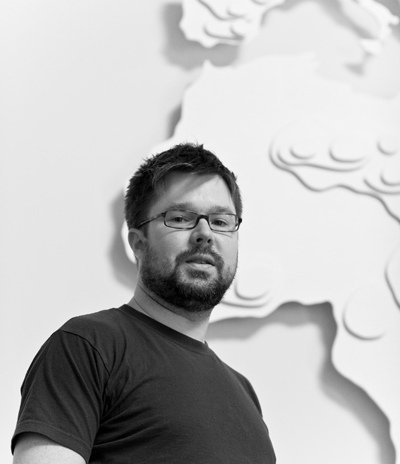 How did your interest in art begin? When I was a kid growing up in New Hampshire, my father would bring me along with him to flea markets and antique shows.  I remember being fixated on mysterious objects and ephemera, particularly in large variety and quantities.  I didn't distinguish between these things and something that would be viewed specifically as art.  Albums of photos, baseball cards and coins, as well as tins of buttons and stacks of letters come to mind.  These are some of my earliest memories of being drawn to a particular aesthetic.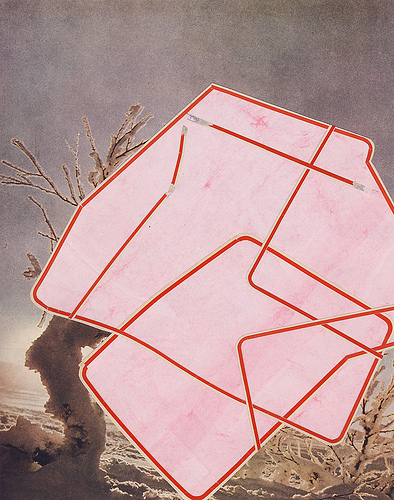 What materials do you use in your work and what is your process like? The foundation of my process is collage.  I have a large, ever-growing collection of mostly old reference books that I thumb through and cut from.  Each collage, though being its own autonomous piece, also provides the occasion to realize some ideas for sculpture and installation.  The materials I use are often simple and pared down, consisting most often of pre-existing material, paper and wood.
What kinds of things are influencing your work right now? Old school commercial design and product packaging, maps of all kinds, and, in the larger world: faded signs, billboards, and architecture (particularly in disrepair). I also regularly search through racks of used books.  All these things, through no particular effort, seem to provide a sense of cumulative history.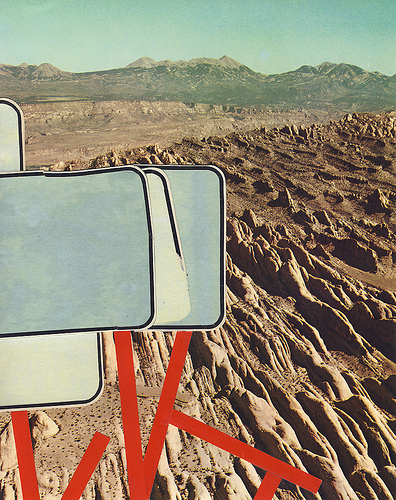 How long have you lived in New York and what brought you there? I've been in New York for twelve years now.  I was part of an exodus of graduates leaving Chicago after I finished the MFA program at SAIC in 1999.  The move seemed, more or less, instinctual.
What's your favorite thing about New York? My neighborhood in Brooklyn.  I've lived and worked here since moving to New York in 1999. Whether I'm returning from a long trip or from an afternoon in Manhattan, it always feels good to get back home. Though its one of the most densely populated areas in the country, it seems small and familiar.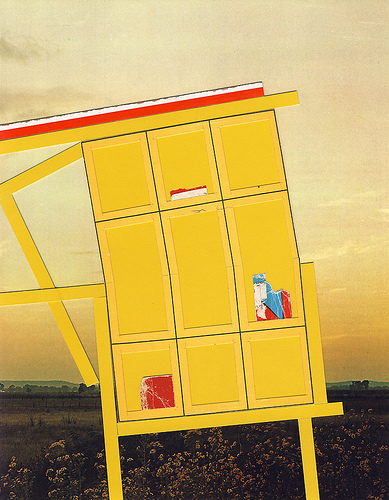 What artists are you interested in right now? This list could have been current anytime in the past several years: Öyvind Fahlström, Joseph Cornell, Gordon Matta Clark, Donald Judd, and H.C. Westermann.
What was the last exhibition you saw that stuck out to you? Last year's National Design Triennial: Why Design Now? at the Cooper Hewitt.  This exhibition is always a highlight for me.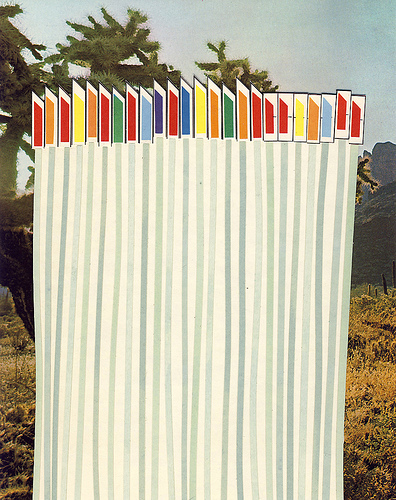 Any current or upcoming shows we should know about? I have a solo show, Pictures by Wire and Wireless, running from November 5 through December 17 at KANSAS, a gallery that recently opened in Tribeca.