Raised in Greeley, Colorado, Letha Wilson currently lives and works in Brooklyn, New York.  She received her MFA from Hunter College in 2003 and in 2009 she attended the Skowhegan School of Painting and Sculpture.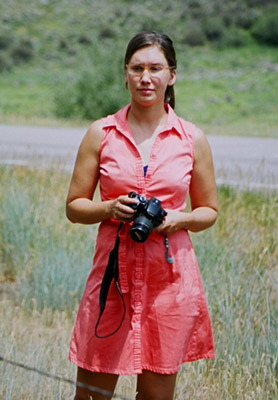 If you had to explain your work to a stranger, what would you say?  Sometimes I describe it as taking a beautiful landscape photograph and then punching it in the face. Not in a mean way, more like an "I love you so much I hate you" kind of way.
What materials do you use in your work and what is your process like? My work usually begins with a photograph I have taken, and then giving it a good hard look. Printing my photographs in the color darkroom has become part of my process – I think the hands on aspect of printing makes the photographs become more of a physical material, and less precious. I often pair a photograph with materials such as paint, paper, wood, or cement, or make it function somehow within / out of a frame. I'm usually working out several pieces at once – some come quickly and others take a while to work out.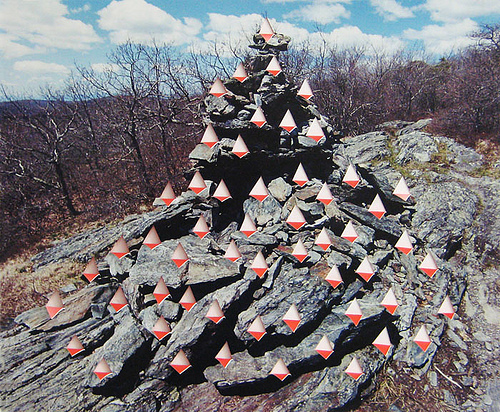 What kinds of things are influencing your work right now? Hmmm.. yoga moves, pouring cement through holes, the color of dusk, geometry, back bends, odd rocks, and gravity.
What was the last exhibition you saw that stuck out to you? Anne Truitt at Matthew Marks. Amazing.
If you could go anywhere in the world where would you go and why? I have always wanted to go to Machu Picchu in Peru, ever since I saw photographs of it in middle school. It looks so amazing and magical. Also Yosemite National Park in the winter.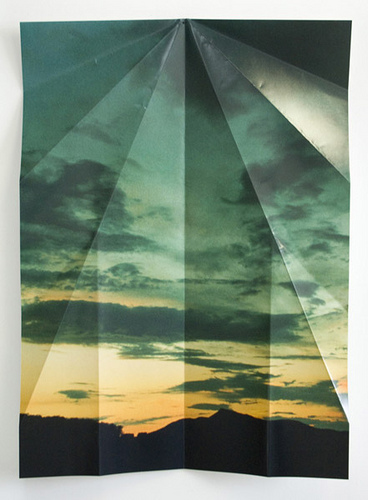 What are your plans for the next year? Right now I'm on a three month residency at the Bemis Center for Contemporary Arts in Omaha, Nebraska. It's a really great opportunity here to work in a big studio and they provide the artists support to work on whatever we want. After this I'll drive to my parents house in northwest Colorado and we will take a road trip to Utah and Nevada ending up near Wendover. I'll be shooting as many photos as I can in the process. Then back to Brooklyn for the rest of the year.
Any recent or upcoming shows we should know about? I recently had a solo exhibition "Punch the Sky" at Vox Populi in Philadelphia, here's a review of it. I'm in a few group shows back in NYC while I'm gone – "Paper A-Z" at Sue Scott Gallery, "The Working Title" at the Bronx River Art Center (curated by Progress Report), "Groundwork" at Storefront in Brooklyn, and "New Monuments" at Lesley Heller Workpace (curated by Ben Godward). Finally I will be making a new outdoors piece for the group show "Nature Unframed" at the Morton Arboretum, just outside Chicago. The opening will be May 19th and the show will be up through November.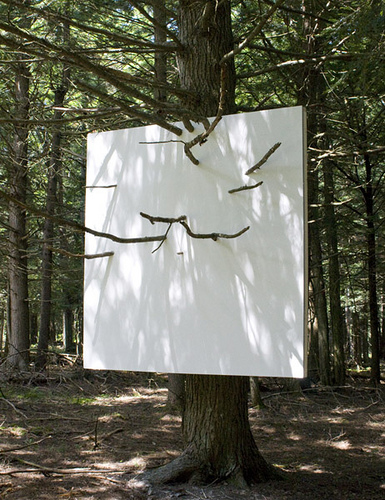 What do you do when you're not working on art? I go running every other day, it really helps get me clear my head, its so simple. I'm also on a co-ed volleyball team. And of course I have my freelance work to do (web design, wall building, artist assistant)… and I'm in an art book club.
How long have you lived in New York and what brought you there? I've lived in NYC/Brooklyn for almost 13 years. I moved here from Syracuse, NY, where I went to undergrad, but I grew up in Colorado. I actually moved to New York City because I was so scared of it, and I wanted to get over that fear, it seemed unreasonable. I did not enjoy living here for the first few years, just because it can be extremely difficult and constant and overwhelming. Eventually I fell in love with it once I figured out a way to live here on my own terms, but I also need to travel a lot to balance out its intense urban nature. If I haven't be to the woods or mountains for a while I get stir crazy.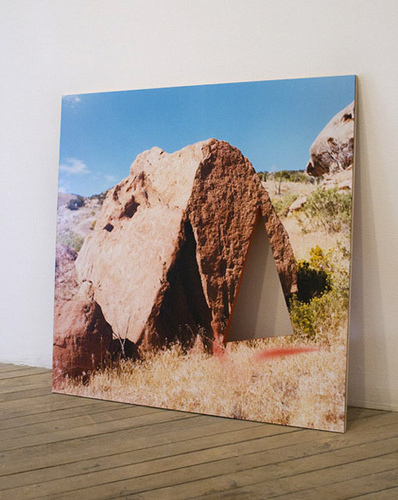 What's your absolute favorite place to be? In Colorado, in the mountains. There are so many places to hike, explore and camp just in that state, it's amazing. Also Utah, Nevada, Wyoming and New Mexico aren't too bad either.