American Medium is pleased to present Imperfect Tools For Navigation, an exhibition curated by High Tide, an artist-run gallery and project space located in the Kensington neighborhood of Philadelphia. This exhibition, opening January 10th at American Medium, will be installed in our front gallery while the main gallery remains a space for our Winter Sessions, with furniture designed by Will Stewart.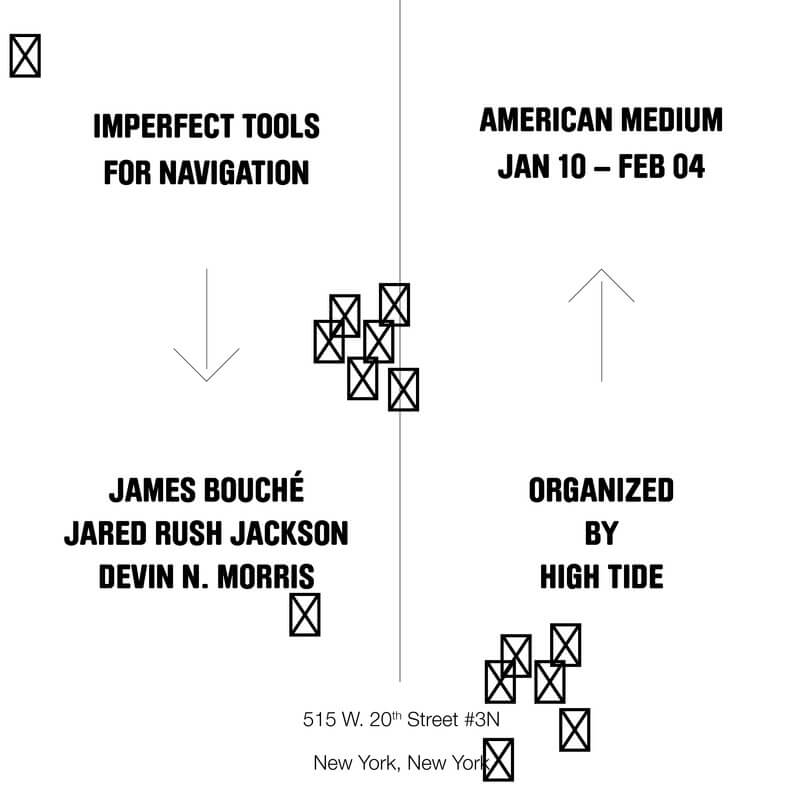 The simple act of recalling a memory allows us an opportunity to distort a once unshakable truth of a past once lived. Perhaps this exercise can simultaneously lead us closer to our present self while further obscuring our past. This process is further complicated as we increasingly rely on the internet, the nebulous bank of collective memories and cultural artifacts to contextualize our present and track our universe's various histories. As wikipedia entries shift and expand, youtube videos are taken down and paywalls go up, the memories we rely on the internet to catalog, just like the memories we store in our mind, can distort or fall just out of reach. Just as this exchange can be tragic, it can also be empowering.
The artists in Imperfect Tools For Navigation are comfortable drawing from their personal histories and the collective zeitgeist to conjure new moments that bring to light ecstatic truths. Utilizing a variety of tools and media, Bouché, Jackson and Morris create new expressive art works through scanning histories both recent and deep. As we look towards an uncertain future, this act of reframing and reclaiming our personal and inherited past is a radical act that can function as a beacon forward. In this way the rear view mirror offers a sound metaphor, as we move forward our ability to understand our history must be continually reframed, with certain details fading from view and others appearing larger than they once did. Our ability to successfully utilize this imperfect tool allows us to travel safely forward.