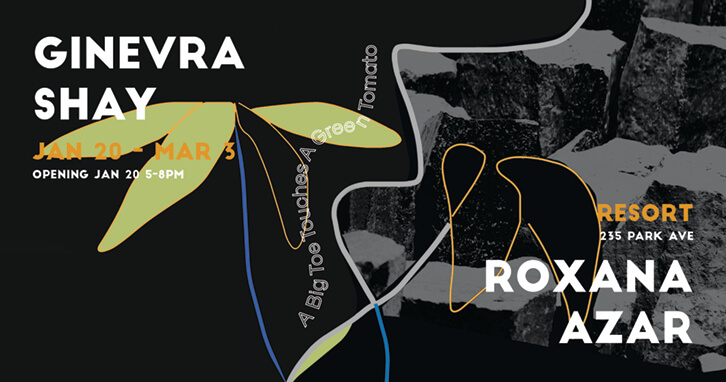 Resort is pleased to present its inaugural exhibition, A Big Toe Touches A Green Tomato, featuring the work of Roxana Azar and Ginevra Shay.
These artists use photography, sculpture and ceramics to depict poetic moments of observation and adaptation. Both artists use dystopian backdrops of collapsing dominant structures to point out not just the flaws of these systems, but to highlight alternative, minor modes of persistence.
It is worth noting that Azar and Shay are close friends. The subjects of their work vary greatly, ranging from modernist architecture and speculative science-fiction, to geology and cinematic slapstick. However, when their work is viewed together, the body becomes their shared point of dialogue. In their work, bodies are acknowledged as permeable and vulnerable, while striving to retain autonomy. The body and its environment are forever acting on one another; Azar and Shay re-envision these interactions, folding together bodies, plants, minerals, and space to discover alternative trajectories.