Tell us a little bit about yourself and what you do. My name is Wyne Veen. I have a lot of ideas and lately they are translated in what you could call an installation design, which then becomes a photo and then a digital composition.
Top 3 favorite or most visited websites and why? I am a perfectionist so I have a problem with wanting to know everything without any partial uncertainty, which kind of always results in the opposite because you will never get to the point this way. I always get totally lost in Wikipedia & translation & dictionaries & newspaper site––never-ending curiosity in combination with small lack of focus and discipline in regards to the inter web is really disturbing.
A website I love is VPRO, an amazing Dutch public broadcasting service, which proclaim creativity, global citizenship, innovation and quirkiness. I would give huge donations to them if I were wealthy. Our government is increasing their budget drastically, while it is on of the best sources of well spread ideas situated in the best environment to do so. They try to stay very true to their values and make the least concessions I have ever noticed in a media environment.
What kinds of things are influencing your work right now? Dealing with the feeling of being deceived in everything I try to do, especially when buying products I seem to need for my work or just basic necessities.
What are some recent, upcoming or current projects you are working on? I am working on an impression of the futuristic opera "Victory Over the Sun" for which Malevich did the costume design. At this point, I was browsing through my animated gif collection to find symbols to work with and now I can move on to the tangible version in my studio. So Russian futuristic poetry, music and art is actually my main focus right now.
How did your interest in art begin? I remember the first piece of art that ever got through to me: Christo's Valley curtain in Colorado, 1972. I remember being heavily impressed with such a GREAT feeling of unlimited possibilities in life.
Who would you ideally like to collaborate with? Hmmm, I am not sure I am able to really collaborate with somebody and be ultimately satisfied with the outcome, I am such a control/decision freak. But, I would love to work together with great craftsmen of all kinds––a glassblower for example.
What do you want a viewer to walk away with after seeing your work? I want them to feel surprised, uncertain, revolted and amused. A deep depression would be ideal, but not as the sole result and not without hope.
What are you reading right now? Arnon Grunberg, De man zonder ziekte.
Any current or upcoming shows we should know about? There is an architectural reconstruction going on in a public passage in Amsterdam for which I made the works attached. They show the craftsmen still around in that specific area. The photos will be on display for 10 years in huge light boxes! This project will open in early 2014 and I am really looking forward to see it all finished. This is for Ymere & Stadsdeel Amsterdam Zuid.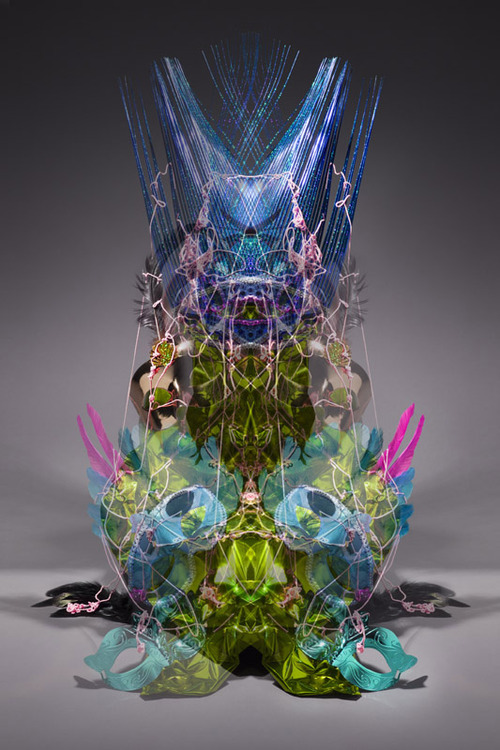 Can you share one of the best or worst reactions you have gotten as a result of your work? An email with 'love your work ya biittttttchhhhhhhhhhh' accompanied by some smiley faces. Or, somebody wrote 'this is the stupidest & dumbest work I have ever seen.' Pretty great! But, people have mentioned positive crying as well! Whatever is in the eye of the beholder. After a portfolio viewing with an ad agency I got asked straight away: Are you a spiritual person?