Ryan Lauderdale lives and works in New York, NY. He received his BFA from the University of Texas in Austin and is currently pursuing his MFA at Hunter College. He was born in Cushing, Oklahoma.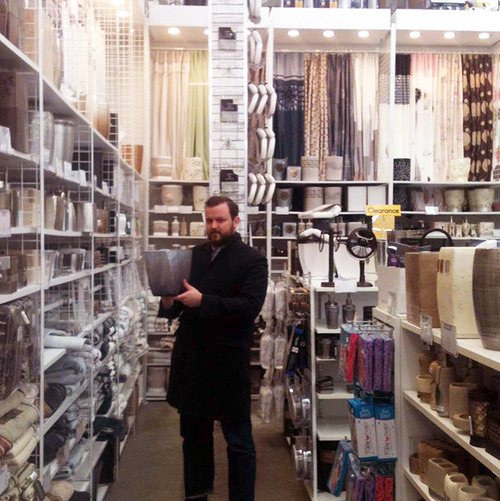 Tell us a little bit about yourself and what you do. I grew up in Oklahoma then moved to Austin, Texas when I was about 19. Spent several years trying to make music but eventually fell into the visual side of art. I've lived in Brooklyn for about 2 1/2 years. I study at Hunter College, work as a graphic designer (my main skill is powerpoint) and I also make sculptures.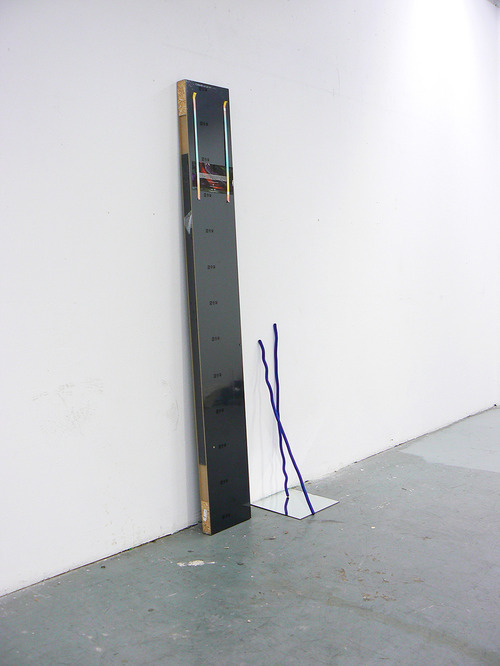 How has living in New York affected your art practice? A lot. New York has something about it that I think affects all people working here. The place is on visual steroids, which is both an inspiration and also something that you desperately want to get free from…sounds like the Internet.
Growing up out in the country, cities were always alien-like. Architecture felt spiritual and the cleanliness of mall spaces and the suburbs felt like a possible future. In a way, no city could compete with the outlandish dreams I had about them as a kid. NYC comes pretty close though.
What kinds of things are influencing your work right now? Furniture design is huge… Karl Springer, Mario Botta, Milo Baughman. Interiors. Bruce Goff architecture. Chrome. Brass. Malls. Object Oriented Ontology…reading Levi Bryant today. Star Trek NG. David Lynch. William Eggleston. Haim Steinbach. Music. Meditation. Henri Bergson. The Internet.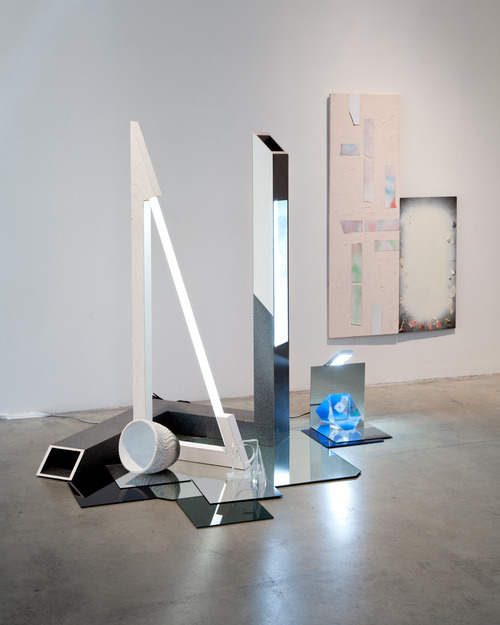 What are some recent, upcoming or current projects you are working on? I just finished a show at Sadie Halie Projects in Sunset Park, Brooklyn.
I have a few things coming up this fall, the biggest one being my thesis exhibition at Hunter. So this summer I'm hunkering down and trying to get most of the production complete so I can start figuring out the arrangement aspects.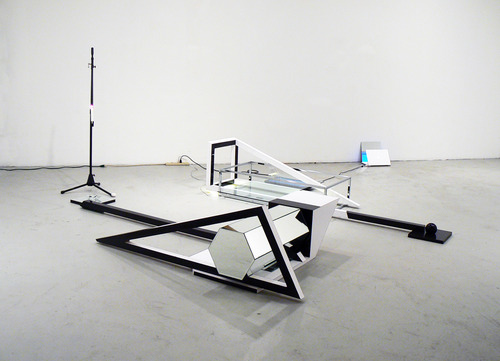 Tell us about your work process and how it develops? It is usually some other form that acts as the jumping off point into sculpture.
This past summer I was heavily obsessed with late 70s jazz-fusion and the almost clown-like synthetic sounds of Weather Report. I was also falling deeply in love with furniture from the same era. I started thinking of creating physical pieces that would be a vestige of these two things, mutated furniture haunted with those sounds.
As things get created, new interests and information floating around in the headspace can't help but be grafted into the production of the work. You're left with a Deleuzian assemblage of, by this point, completely abstracted references. It's a half-intuitive, half-semantic process that grows the body of work.
Lately, I just came off a trip back to Oklahoma where I took a lot of 35mm photos of Oral Roberts University, a space-aged Christian utopia in the Tulsa suburbs. This stuff is all in the same spiritual spectrum as Weather Report or Aphex Twin or Pierre Cardin furniture or glass shelving at Home Depot…at least to me. I'm attracted to things that seem to have some sort of unspoken connection. The work aspires to be like a residue of these connections.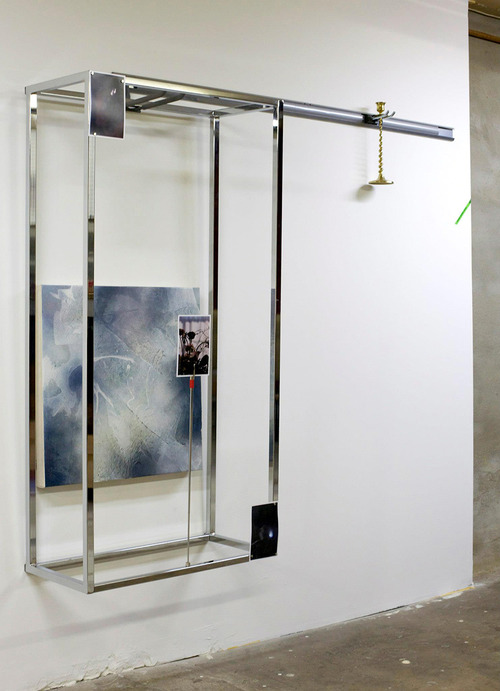 What do you want a viewer to walk away with after seeing your work? I'm a big believer in what David Lynch has to say about meaning. It's always been my hope to create a space/image in which a viewer can easily slip into. My ideas are there and I think they are somewhat direct, but I want the viewer to have the freedom to mesh with the work and insert his or her ideas and feelings into it. The goal, I think, is that the mood surrounding my work begins to interact with the viewer's and they walk away with an intuitive knowledge of the work. Words can often pollute an art experience, so having meaning be more fluid and conversational is key.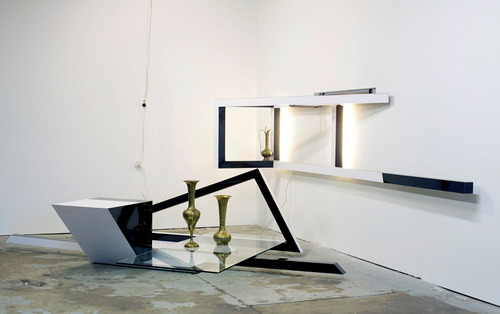 Describe your current studio or workspace. Hunter has been blessed with a lot of space in Manhattan so right now I have a very large studio and part of another room that I use as a photography area. Most of my work is built with what I call "jpg-consciousness" where a work is conceived with its online life in mind. This allows things to be in flux in the studio, modular pieces get rearranged and mutated into newer work. Having a clean space free of visual noise to set up arrangements and periodically photograph them has become increasingly important.
I also use a shared wood shop to fabricate my work, and am looking forward to the day where this is totally integrated into my own space and no longer two floors away.
What artists are you interested in right now? I am a big fan of Ian Pedigo. I'm really interested in the intuitive nature of his arrangements and the sort of "thing-logic" that goes along with them. He seems directly tapped into his materials. It's almost as if he is more of a conduit for some deeper intuitive process than the one calling the shots. The objects seem to know where they want to go within a piece and the pieces know where they want to go in a room.
I'm also in love with Oneohtronix Point Never and some of the other kraut-like synth stuff coming out these last few years in the music world. Grouper, Emeralds, Steve Hauschildt are all sound-tracking my life at the moment.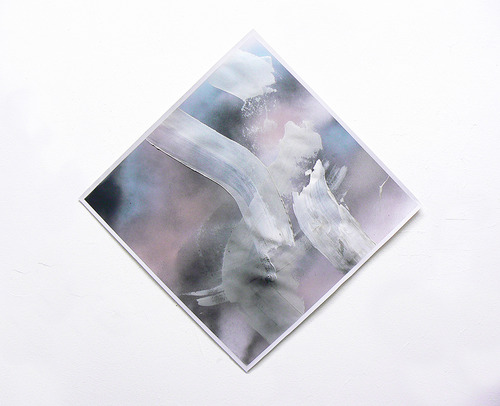 Top 3 favorite or most visited websites and why? I feel like I stay in the same really predictable online spaces. I remember when I was a kid in the 90s having these moments where you would travel way out to progressively weirder and weirder sites online. You would start on one subject and surf through a stream of consciousness from site to site eventually arriving on what felt like a different planet. Now it seems more about traveling within the territory of social media sites to find other users/content creators.
I'd say I look at Tumblr the most. I have my portfolio there and keep a sketchbook/blog. I like the jogging a lot and lately have been opening up Vince Mckelvie's tumblr pretty often to bliss out on his gifs. I also, like most people, frequent facebook often. Nick Faust's facebook feed has replaced all my art-blog needs. It is a constant flood of forgotten and under appreciated artists. Other than that, I google a lot of furniture.
What were you like in high school? I was a hippie.