Tell us a little bit about yourself and what you do. I did my MFA at The School of the Art Institute of Chicago in the Fiber and Material Studies Department. Though I did not have a background in fibers, I found an immediate connection with the department: my colleagues and faculty mostly worked by piecing materials together, collecting, accumulating and collaging. After three years in Chicago, I moved to Berlin on a Fulbright Fellowship to research ad hoc and informal architecture in Berlin post 1989. The end of the research resulted in a practical outcome; with Carrick Bell, we did our own ad hoc renovation in a former butcher shop and established a studio space for ourselves and other artists. Last year, we began running projects in the space under HORSEANDPONY Fine Arts (HPFA).
If you had to explain your work to a stranger, what would you say? My work begins with found objects. From household items to generic dollar store products, I collect things that are often overlooked or treated as valueless. Currently, I am collecting objects that are thin in mass such as laundry rakes, futon frames, and garden fences. I use these objects as "structure" to support paintings. The surfaces of these paintings are construction meshes, window screens, and glass table tops, basically, materials that have some level of transparency, so the object is connect to the space it is installed in. The actual painting is pretty minimal — a few splatters of enamel or a lines of spray paint will often do the trick. In a way, it is a gesture towards painting, or as one curator put it, a sculpturer's take on painting.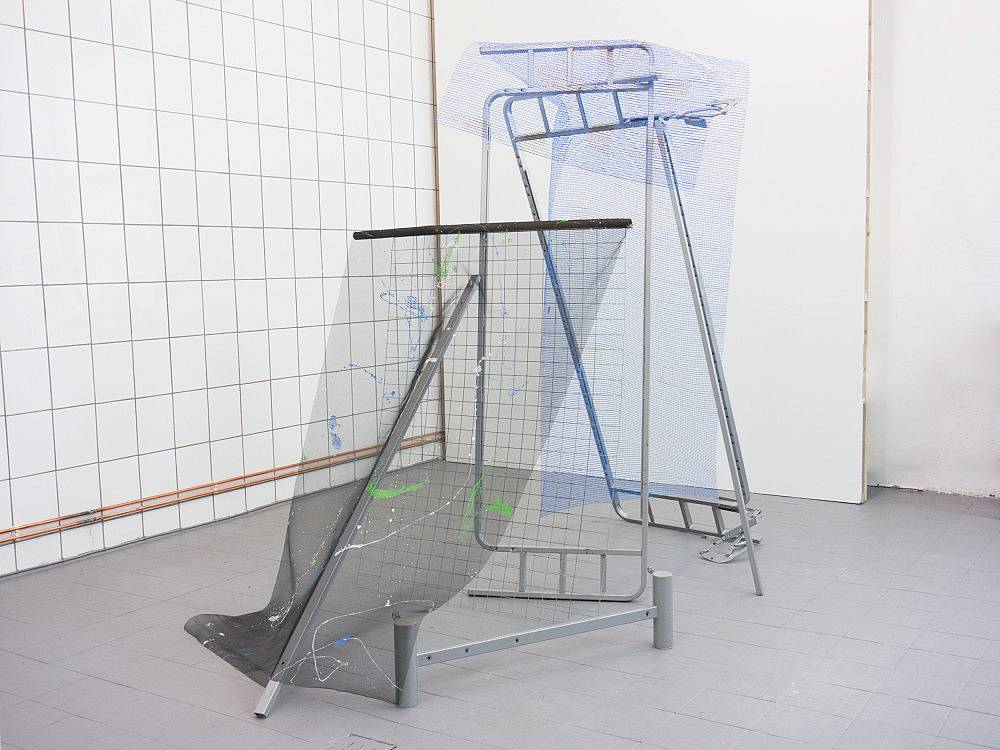 What are some recent, upcoming or current projects you are working on? Currently, Carrick and I are running our second season at HPFA, and just opened a solo show of Cheryl Donegan's work, called The Softest Punk, which is now on view. Our aim is to provide artists, curators, and other project spaces the opportunity to extend or act outside of their existing practices. In addition to the projects at HPFA, I have been producing a new body of work based on grids, structures and wreckage. This work plays with ideas of abstraction with some approaches similar to abstract painting. I have been focusing on this new body of work since the New Year and now I feel like my ideas are materializing into a complete body of work. Now that things are photographed and ideas are on paper, I am hustling for new opportunities and working on grant and residency applications.
What is one of the bigger challenges you and/or other artists are struggling with these days and how do you see it developing? I think the biggest challenge for me and perhaps other artists is the balance mobility and space/security. As artists, though we seek opportunities globally simultaneously, it takes a lot of effort to establish a physical studio space to produce and store work in a sustainable way. For the past five or six years, to some extent I prioritized this, focusing on my studio space and building a community around my space through studio shares and projects.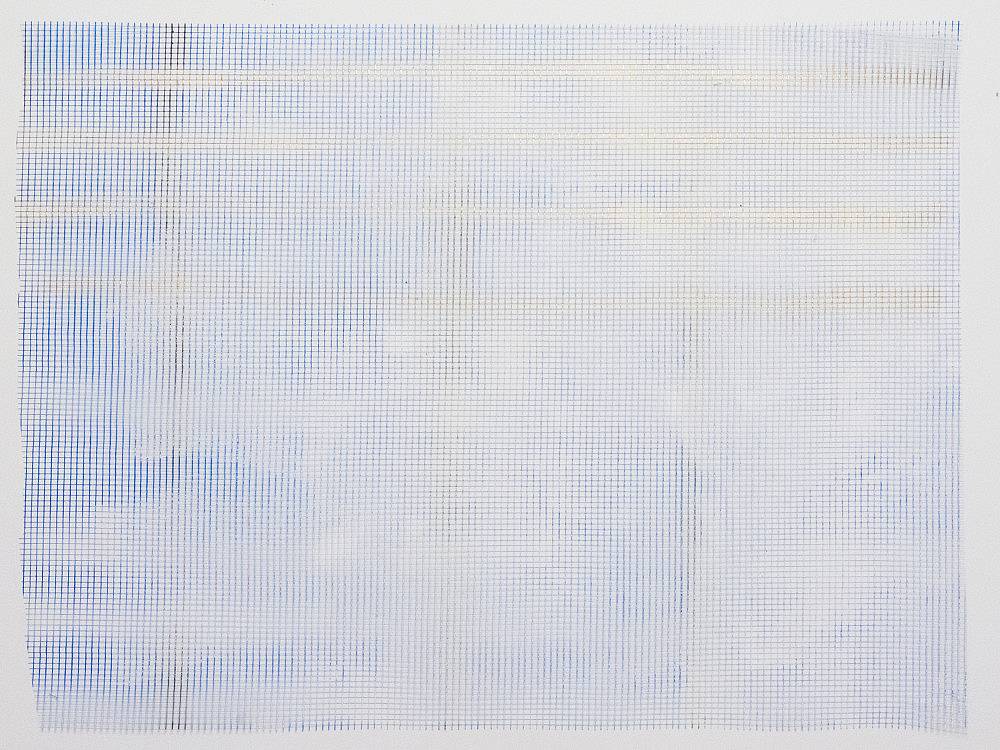 How did your interest in art begin? My mother is an artist and my father is a psychologist. They both strongly encouraged me to produce and pursue my career as an artist from an early age. I kept to myself as a child and was often content living in my own imagination. In middle school through high school, I used my bedroom walls as a canvas for murals and collages, covering every inch of the room in painted psychedelic images of the sun and skulls, and cutouts images from Flaunt magazine and Rolling Stone. I suppose even back them, I wanted to carve a space for a community, as my room became the hangout spot to smoke pot, listen to music and make art and poetry.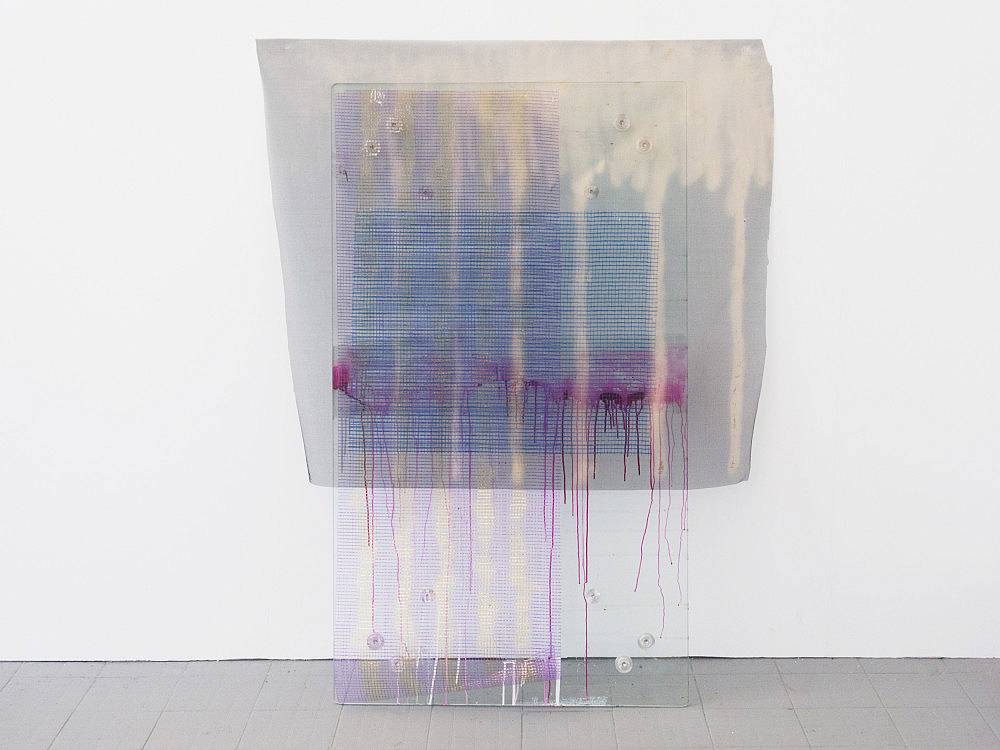 What are you listening to right now? MsPorch, big momma, Junglepussy, KELELA, Fatima Al Qadiri, CHAE BUTTUH, Le1f, Mr. Mitch, Joey LaBeija, schlomo, SAINT., UNIIQU3, Nidia Minaj and Berlin-based DJs Lotic, KABLAM and Mobile Girl.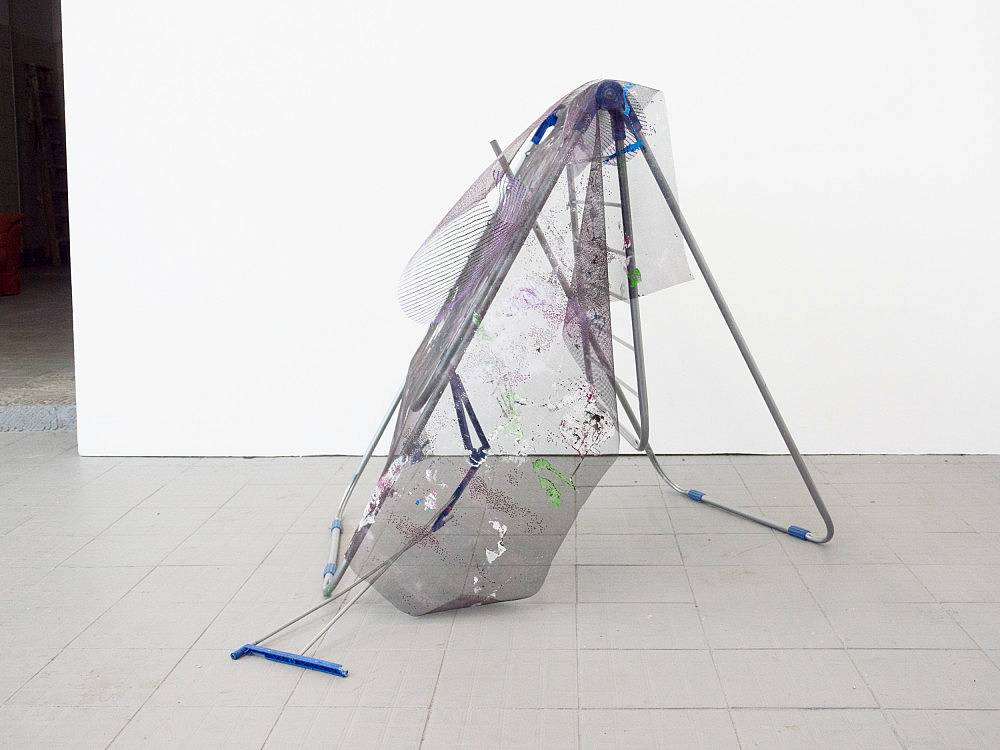 What artists are you interested in right now? At the moment, I am looking at modernism again, and some of it's lesser known "heroes". Alvin Langdon Coburn is really interesting to me right now. He is arguably the first nonobjective photographer who used lensless photography and kaleidoscopic mirrors to generate images he called Vortographs. I am really interested in how lensless photography relates to sculpture and, specifically in his work, how objects repeat, mirror and grow into something new and obscure. John Divola' Zuma Series, Noël Dolla, and Olaf Metzel are some others artists I am looking at right now.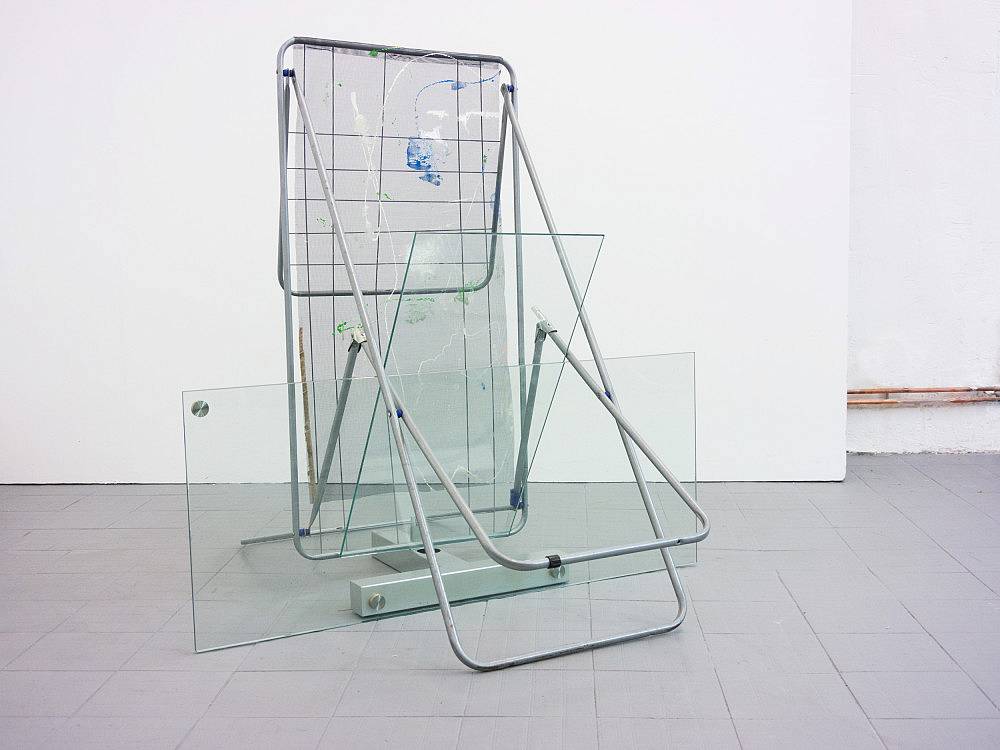 What do you collect? I collect building debris both for my own work and renovations. I have a tendency to hang on to too much materials, so it's always a balancing act to store materials for new projects and archived works. There is a constant movement between the dumpster and my studio, and I am always rearranging my work and storage spaces.
What's your favorite thing about your city? Berlin is still pretty manageable for artist. It can be a pretty chill city to work in, while still having a lot going on culturally. I really enjoying walking and biking in and around the city. I think the pace of the city can be pretty relaxed if you let it.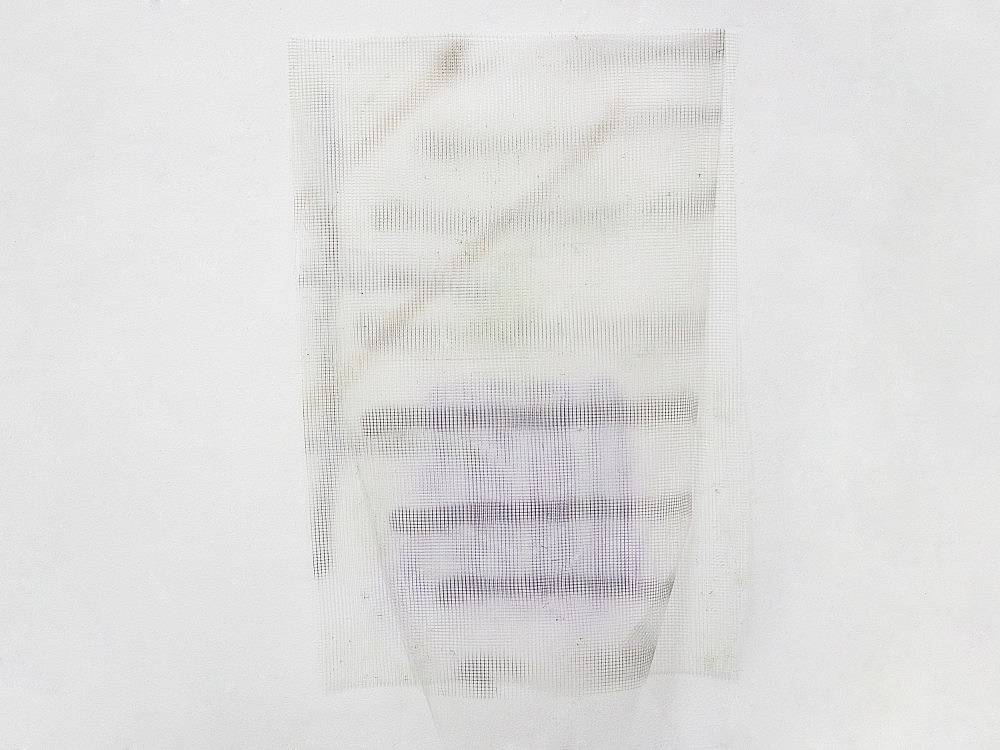 What do you do when you're not working on art? We have a Brussels Griffon named Timo. He is about 16 months old and has a lot of energy. I walk him consistently and take him everywhere. He is definitely an art dog, and goes out to plenty of bars and openings. He is pretty shy with new people, but very cuddly once you get to know him.
Can you share one of the best or worst reactions you have gotten as a result of your work? I had an advisor cut our meeting 55 minutes short and walk out of the room after five minutes because the work (and odor) offended him so badly. I knew then I was on the right track.