Michael Dopp was born in Bloomington, Indiana in 1978. He received his BFA from the School of the Art Institute of Chicago and attended the New York Studio Program in 2005. He received his MFA in Painting and Drawing from the University of California Los Angeles in 2009. His most recent work is included in the show In the Making currently on view at Roberts & Tilton in Los Angeles. Dopp lives and works in Los Angeles, California.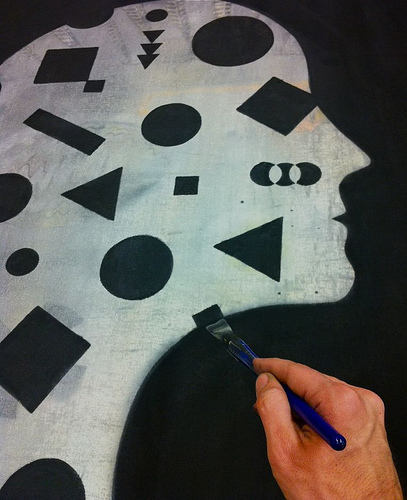 How did your interest in art begin? It really began in my hometown of Bloomington, Indiana. The Chicago Imagist painter Robert Barnes lived down the street, and he represented a sort of freedom and eccentricity that cast a spell on me. He and his wife Nancy Barnes taught painting at Indiana University, and at their urging I started studying with them when I was 16 and I haven't stopped painting since. I was also deeply affected by my parents' neighbor, Miriam Gottfried. She had spent a good deal of her life traveling, and had collected books and art from all over the world. She had an incredible collection of prints. From the time I was very young I would go over to help her with chores, and would inevitably spend most of my time contemplating the ukiyo-e wood block prints she acquired in Japan and listening to her stories about traveling through Afghanistan (I think that my own desire to travel was seeded then as well). I have a 1st state etching of a Piranesi view of Rome that Miriam gave me when I moved to Los Angeles that I look at everyday.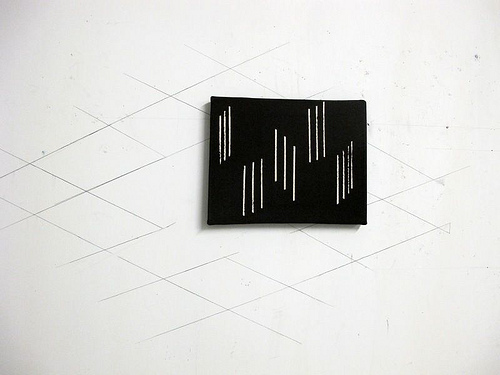 What are some current projects you are working on? I currently am putting together a line of leather goods with some friends. We are making belts, wallets, and bracelets. It all began when my friend David Korty brought back this raw hide from a fishing trip in Montana, we started figuring out how to stamp it, and the next thing we knew we were hooked. Staying up all night tooling and dying and punching leather, watching ehow videos and visiting all the local leather shops and distributors.
How long have you lived in Los Angeles and what brought you there? I moved to Los Angeles in the fall of 2006 to attend UCLA for graduate school. I came thinking I was going to move back to NYC as soon as I finished, alas I am still here.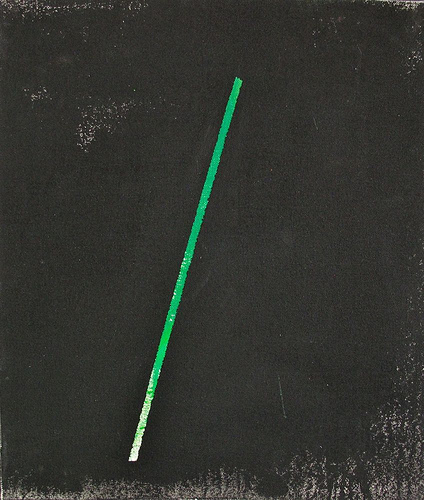 How has living in Los Angeles affected your art practice? Los Angeles has a strange effect on my work, its almost ghostly, or barley there. Whereas other places I have lived, Chicago & New York, the city insists itself on the work, Los Angeles's effect is transparent, like a windshield. There is a certain neutrality here, underscored by the horizontality, the constant blue sky, a sort of prozac-ian hum. This shifts my attention away from place, inward. In a sense LA is a deeply psychological city for me, and that is perhaps the effect on the paintings I make. A material search for encounter. The term 'process' is being bandied about a lot these days; its back in the zeitgeist of painting. Certainly those ideas are not LA centric. But perhaps my own relationship to process in painting is in part a result of being here.
What's your favorite thing about Los Angeles? My favorite thing about LA right now is Guisados Tacos in Boyle Heights. It is a revelation. Apparently part of the secret is that the maize is milled freshly next door every night for the tortillas.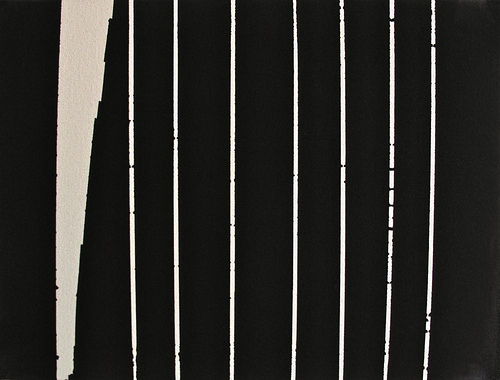 If you hadn't become an artist what do you think you'd be doing? I would like to think that I'd be a wandering mendicant poet, kicking about the streets in some romantic city. But I would probably be working at a book store in southern Indiana.
Top 3 most visited websites and why? Huffington Post, New York Times, BBC News; because I enjoy being aware of events outside my vision and beyond my control.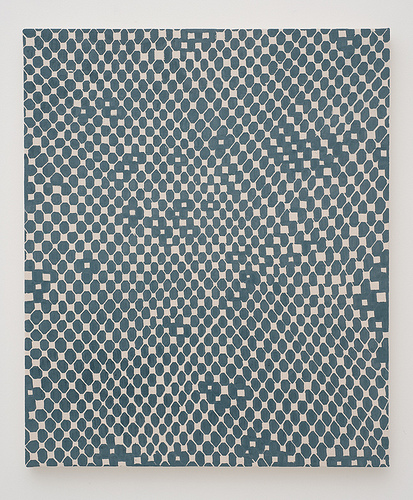 What are you really excited about right now?  I am excited about the people I know and what they are accomplishing. Los Angeles is a place where artists have a great sense of agency. I am continually inspired to see what is happening here. I'm excited about my buddy Mark's project, and Matt's blog, Korty's paintings and Laura's books, Whitney's photos, my friends Davida and Mieke's gallery, Lauren's publications, Geoff's blog, Victoria's work and the up coming Nudes Painting Show!
If you could go anywhere in the world where would you go and why?  I'd go back to Berlin in August at sunrise after another night of one too many. Because its beautiful to eat dinner at that hour and watch the city slowly waken as you drift to sleep.