Originally from Bo'ness, Scotland, Kate Owens currently lives and works in London. She received her BA in Painting from Edinburgh College of Art and her MA from the Royal College of Art.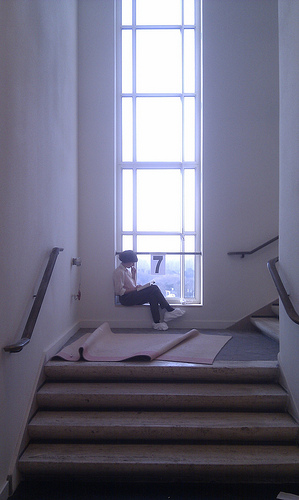 Tell us a little bit about yourself and what you do.  I do a range of practical things such as catching the bus, watching TV, cooking, cleaning, eating, cycling etc. My work happens amongst these activities: sometimes I'm in a shop and I'm working but other times I'm in a shop and I'm just shopping.
What materials do you use in your work and what is your process like?  My process relies on an objective state of mind or an unexpected moment, both of which are hard to summon on demand. I've come to recognize that a glitch can often trigger a new work and I frequently follow warnings given on packaging, as instructions rather than something to be avoided.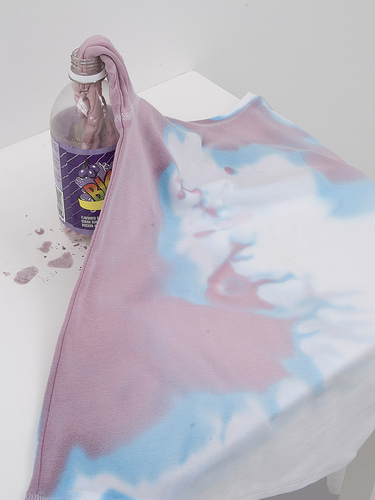 Affair at Styles (pink & blue), 2008-2011
soft drink, cotton t-shirt
What kinds of things are influencing your work right now?  Dance, chance and engineering
What are some recent, upcoming or current projects you are working on?  I recently made a new work titled Good News (rue saint gilles), 2012 for the glass entrance of Galerie Chez Valentin in Paris. It's part of a group show called Glaze curated by George Henry Longly. The work proposes the idea of removal as a constructive act and brings into focus the window surface as an active space rather than something to look beyond. Another work that I've just finished is Poser (x5), posters, tape, 2012. It's currently on show at Altman Siegel in an exhibtion called You Know? curated by David Berezin. There is a bit of visual magic that happens in both these works where the tape effectively disappears leaving the poster edges floating on the surface.
What do you want a viewer to walk away with after seeing your work? A feeling of release.
The Old Youdye transferred from jeans to paper
The Old You # 9, 2012
dye transferred from jeans to paper
21 x 29 cm
How did your interest in art begin? I always loved the 'art' subject at school but quickly realised that, as a school subject, it wasn't totally committed to the idea of creative freedom.  Aged 11, I was scolded for cutting an oval-ish shape freehand rather than the recommended square that could be accurately pre-drawn with a ruler.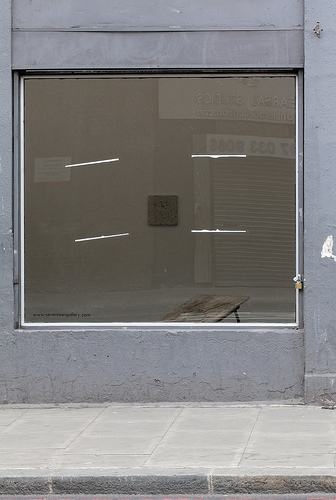 Good News (kingsland rd), 2011
paper, tape
How long have you lived in London and what brought you there? I moved to London 6 years ago when I came here from Scotland to do an MA.
What's your favorite thing about the city?  To me London is really economical. Most people tend to have modest living spaces and use public transport, things are more communal because there are so many people in one place. If I ever left London I'd really miss cycling as I would never cycle just for fun, I only do it here because it's the cheapest and quickest way to get around.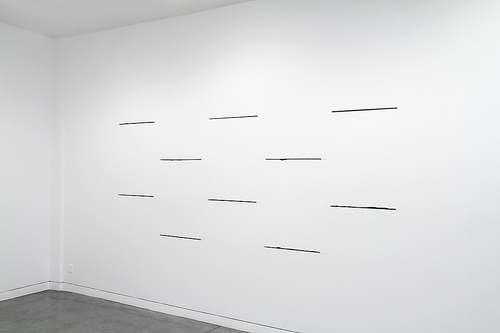 Poser (x5), 2012
posters, tape
345 x 227.5cm
What artists are you interested in right now?  The works I've enjoyed recently include: Carambolage, 2005 and Ajutage 2011 byVincent Ganivet, the Portrait Mode series, 2011 and Shelving for Unlocked Matter and Open Problems, 2010 by Nina BeierandKreuzberger Pfütze, 2008 by Kirsten Pieroth.
What was the last exhibition you saw that stuck out to you?  Matisse: paires et séries at the Centre Pompidou in Paris. I wasn't interested in the overall concept of the show but it's the first time I've ever seen his collages in real life. I found it so strange that he didn't use shop-bought coloured paper but hand painted his own sheets in the colours he needed. It gives them a very particular quality that I was never aware of from looking at reproductions.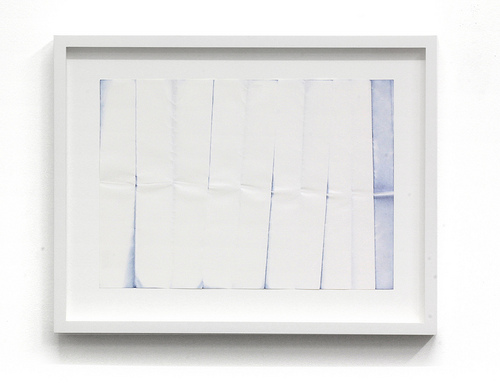 The Old You # 6, 2012
dye transferred from jeans to paper
21 x 29 cm