Jaime Angelopoulos received her MFA from York University (2010), and BFA from NSCAD University (2005). She was awarded the Hazelton Sculpture Prize in 2013, as well as artist residencies at Meadows School of the Arts in (Dallas, TX) and the Banff Centre for the Arts (Alberta). Angelopoulos has presented solo exhibitions across Canada and in the United States, notably at Parisian Laundry (Montreal), Cambridge Galleries (Ontario), Stride Gallery (Calgary), YYZ Artist Outlet (Toronto), and Meadows School of the Arts (Dallas). The artist has shown in group presentations in Vancouver (BC), Forth Worth (TX), Sydney (AUS) and at the Museum of Contemporary Canadian Art (Toronto). Her works are included in the collections of The Ministry of Foreign Affairs, Norton Rose, ALDO Group, York University, Bank of Montreal, Hazelton Hotel, The Claridge Collection as well as numerous private collections in Canada and the USA. Her solo exhibition, Brittle Radiance, is currently on at Parisian Laundry in Montreal March 27- April 26.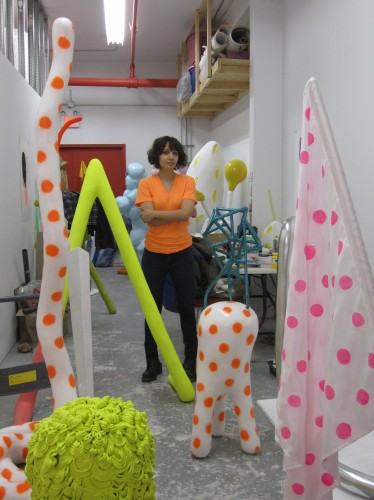 Tell us a little bit about yourself and what you do. Since receiving an MFA in 2010, I have worked full time on my art practice that consists of sculpture and drawing. I am currently based in Toronto and represented by Parisian Laundry in Montreal.
What are some recent, upcoming or current projects you are working on? I am very excited to present my second solo exhibition at Parisian Laundry March 27 – April 26 2014. The title of the exhibition is Brittle Radiance, and it consists of a new body of work made over the past four months.
What is one of the bigger challenges you and/or other artists are struggling with these days and how do you see it developing? It is all challenging, but I think that is what gives it meaning.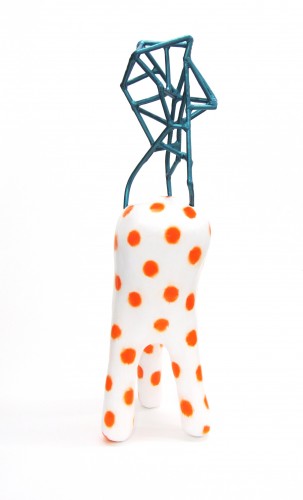 How has living in Toronto affected your art practice? Being in an urban environment definitely informs my subject matter. My work is about social interactions, behavior and bodily movement. What better source than walking down a city street.
If you had to explain your work to a stranger, what would you say? I create sculptures that evoke a human presence. Reemerging themes of perseverance and vulnerability are expressed through the physical language of sculpture. My drawings are a critical tool for mapping out ideas and emotions through an immediate and spontaneous process.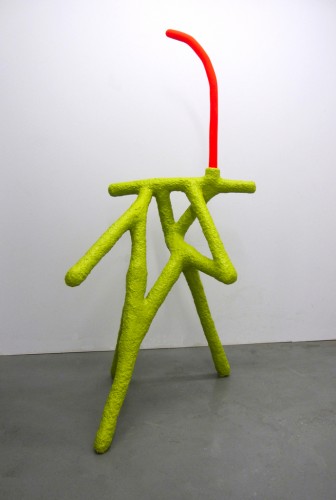 What materials do you use in your work and what is your process like? I create sculptures with plaster, paper mache, and bright paint. I begin with a form in mind, but it evolves throughout the construction. I start by building a strong armature—my sculptures may appear precarious or "unskilled", but I can assure you that sculpture making is always laborious. With the drawings, I work on over-sized watercolor paper, masking lines with painter's tape. I have many potential colors, and sketches in a book to help inform my decisions.
What artists are you interested in right now? I recently bought the "Sower of Discord", a new monograph on Marcel Dzama. It is fantastic. I have known about his work for years, but it is only now that I realize a strong affinity with his practice.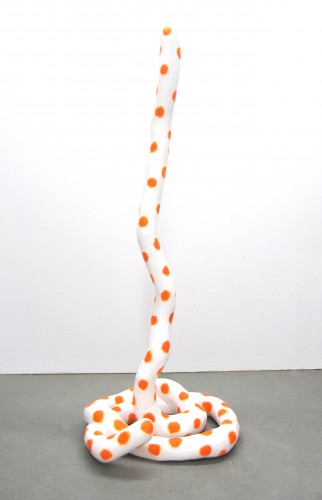 How has your work developed within the past year? I create allegories or parables of contemporary experience. There is a hidden message in my work that is social, moral, spiritual, or political. Previously my work was closely tied to my own personal experiences, but now I feel I could be tapping into collective emotions.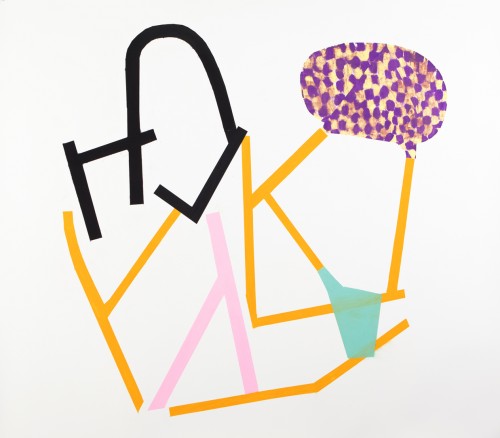 What do you do when you're not working on art? It's kind of hard to do anything but art; it's a lifestyle and you need to be focused. My partner, Derrick Piens, is also a sculptor, so we are immersed in it everyday. Any alternate activity seems like a distraction or kind of boring.
What are you listening to right now? It's been a lot of hip hop lately. I admire the artistry, skill, and it's ability to arm people with a political and social conscience. It is a form of real life story telling; that can be very powerful!