Fraser Taylor is a British interdisciplinary visual artist who lives and works in Chicago. After receiving his Bachelor of Arts in printed textiles from Glasgow School of Art, Taylor continued his studies at the Royal College of Art in London where he earned a Master of Arts. Taylor co-founded The Cloth, a creative studio focused on exploring fine art and design practices, which lasted from 1983 to 1988. His work has been exhibited in galleries and museums around the world, including major cities such as Glasgow, London, Paris, Madrid, Sydney, Tokyo, Chicago, New York, Boston, Detroit, and San Francisco.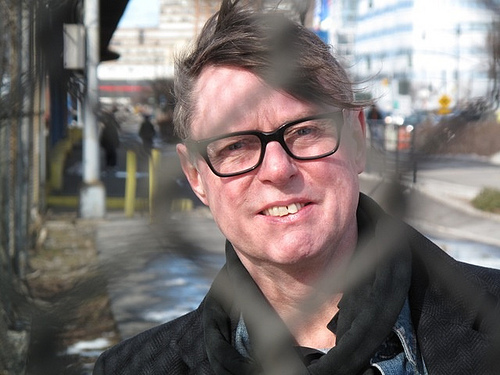 How did your interest in art begin? My interest in art began at a very early age. I was living with my family in Glasgow, Scotland. All my free time was spent drawing and painting and my father built me a studio in the attic in our home. I was happiest when working in that solitary space. At the age of thirteen I attended weekend art classes at Glasgow School of Art (GSA). From the moment I walked into the high ceiling painting studios at GSA I knew that I was committed to a career in the visual arts.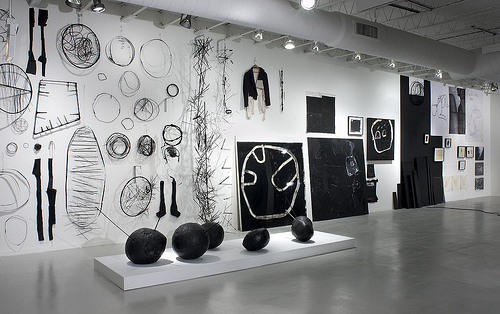 What kinds of things are influencing your work right now? Influences are diverse and include, truncated bodies, totems, abandoned architectures, and my connection and dislocation from bodies of land and water. Collectively these influences assist in demonstrating a fragile yet optimistic engagement with uncertainty.
What materials do you use in your work and what is your process like? I consider drawings to be the core of my process. Drawings are constructed in both two and three dimensions utilizing conventional drawing materials in conjunction with resources such as found materials, wire, wood, and fragments of clothing. I employ collage, as I am interested in the visual peculiarities that the act of cutting, splicing, and rearranging allows. When building sculptures I am constantly trying to find materials that allow me to construct line dimensionally. I need to find materials, which I can buy in large quantities and inexpensively. I am more likely to buy supplies from a hardware store than an art store. I also work across a range of scales from minute drawings on 35mm slides to large-scale digital projections. Formally and materially ideas are characterized by their dichotomies. For example: organic vs. synthetic, hard vs. soft, and black vs. white.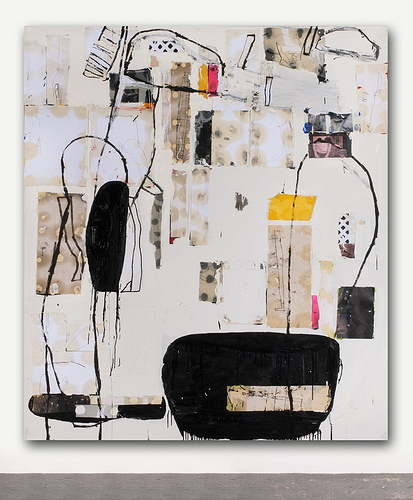 What are some recent, upcoming or current projects you are working on? I am currently collaborating with New York based dancer and choreographer Rashaun Mitchell. The performance we are developing is titled Interface. I am partnering with Nicholas O'Brien to construct a combined film and animation projection in conjunction with a sculptural installation, which will act as a visual setting for the performance. The intention is to bring the audience inside the experience, to allow them to witness the impulses, intentions and micro-movements that are usually missed. The project explores the psychology behind movement and the origins of emotion. This summer we presented this project as a work in progress at the Institute of Contemporary Art, Boston and in Chicago at the British Consulate Residence in conjunction with Balloon Contemporary. The completed work will be presented at the Baryshnikov Arts Center, New York March 2013.
I am also developing a new body of paintings titled Peculiarities. These works return to a recurring theme of the male nude. The works intermingle the personal and the political, creating arrangements of metaphors, which imply a history of occurrences, desires, sexual encounters, loss and recovery. Previously my work hinted at the phallus, openings of the body, and sexual acts. Now these components are clearly visible. The grounds of the paintings are constructed with a restricted color pallet, collaged forms, and line that evoke territories of the body. I collage drawing and photographs depicting single male figures and sexual acts cut from gay pornographic magazines and adhered to the surface of the canvas, activating the surface in a way that appears agitated and raw. The pornographic imagery is small in relation to the size of the painting. From a distance the paintings read as textured abstractions. It is not until viewed from close proximity that the explicit sexual content of the collage becomes apparent. Formerly collage elements were submerged in paint but in this work the collage is left exposed making visible spliced fractured surfaces. Images are scribbled over erasing facts of something possibly no longer significant. Thick smears of oil paint are used to adhere the paper to the canvas, allowing the oil to seep through the surface leaving a stain, altering the color and the contingency of the paper. The surfaces stir a sense of disorder and perplexity.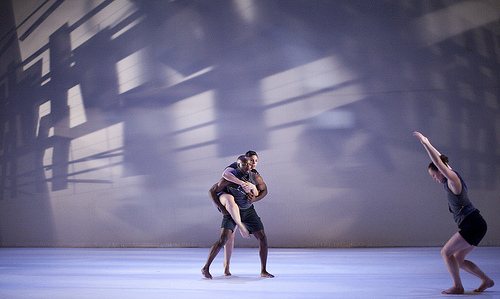 How long have you lived in your city and what brought you there? I have lived in Chicago for eleven years. In 2001 I relocated from London as I was appointed the Visiting Artist in the Department of Fiber and Material Studies at the School of the Art Institute of Chicago where I continues to serve as a faculty member.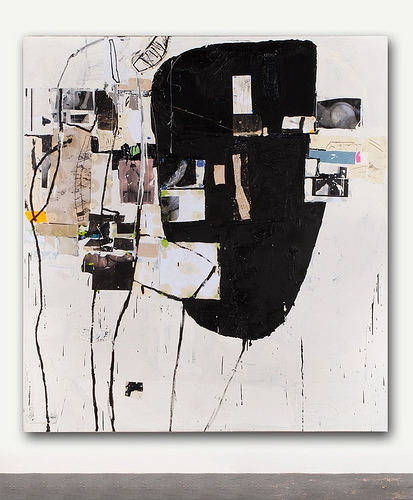 How has living in your current city affected your art practice? Living and working in Chicago is very unlike residing in the United Kingdom. When I arrived in Chicago I was struck by the radical physical difference in the landscape. The topology in UK is very turbulent and dramatic. I was raised on the west coast of Scotland where the geography is mountainous and very craggy and the climate is bleak. The flat terrain and the grid structure of Chicago are so unfamiliar to me that I was forced to reconsider the surface and structure of my work. I became conceptually interested in borders and boundaries both actual and theoretically. This interest was triggered by my consciousness of the segregated neighborhoods of Chicago. Living in a city where I have no history allowed me to reexamine the trajectory of my work. I felt that my practice in the UK had become prescribed and formulaic. Relocating allowed me to explore new strategies of making and develop new modes of production. Recent projects have become dimensional and configured into animation and digital film. A newfound freedom allowed me to make this shift.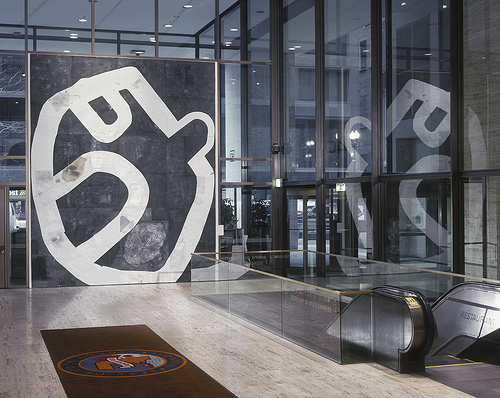 What was the last exhibition you saw that stuck out to you? Lucio Fontana at Gagosian Gallery, West 24th Street, New York. I have been interested in Fontana's use of line and gesture for many years but seeing this survey of his work, including drawings, paintings, ceramics, and installation, was overwhelmingly moving.
What are you really excited about right now? Working collaboratively is relatively new to my practice and I am very excited to be working with dance again. The first time I worked with performance was in 2010 on a project titled Marchland, with Chicago based dance company The Seldoms. The project was staged at the Museum of Contemporary Art Chicago. Working with Rashaun Mitchell in New York is allowing me to advance some of the ideas that I encountered while working with The Seldoms. I am interested in the movement of the human body and how that relates to the activity of drawing. Presenting visuals within the context of a theatre, where the audience is stationary, allows me to investigate scale and installation strategies in a new and challenging way.
What do you do when you're not working on art? I also teach at the School of The Art Institute of Chicago (SAIC). When I am not teaching most of my time is spent in the studio but I do spend time walking on the lakefront enjoying the expansive sense of space and light. Travel is important to me. I return to Europe at least once a year and go to New York as often as I can.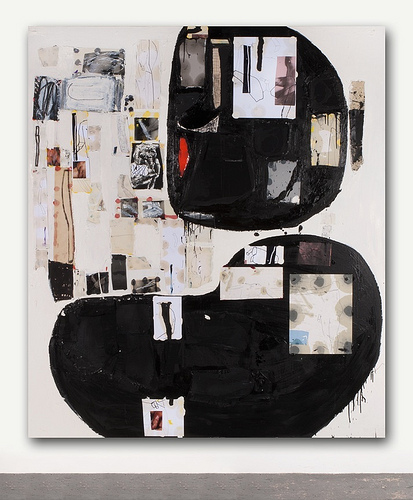 Favorite music? My favorite all time song is Heroes by David Bowie. I am also obsessed with Antony and the Johnsons. His music, lyrics, performance, and voice haunt me.
What are your plans for the next year? At the end of the spring semester at SAIC I will be returning to Scotland. I am thrilled that Wasps Artist's Studios Live-Work Space has granted me a ten-month residency allowing me to focus on a rigorous period of professional practice. I will be situated in three contrasting geographic locations. The Shetlands, which is Scotland's furthest northern island, Glasgow on the West coast, and Fife in the east. I am intending to research Scottish Standing Stones, which are rich in cultural and historical interest. Such forms have been the source for recent sculptural forms
Any current or upcoming shows we should know about? I will be exhibiting my new body of paintings, Peculiarities, with Balloon Contemporary in Chicago. The paintings that accompany this interview will be featured in this exhibition. Venue TBA. I also have an exhibition titled Bulge at Lula's Walls in Logan Square. Opening reception, Tuesday, December 4th.