Erin Zona received her MFA from Rhode Island School of Design in 2009.  She currently lives, works and teaches in Owensboro, Kentucky.  Her work is on display at Roots and Culture, along with Carmen Price, until May 31st and we highly encourage you to take a closer look at the detail that goes into Erin's work.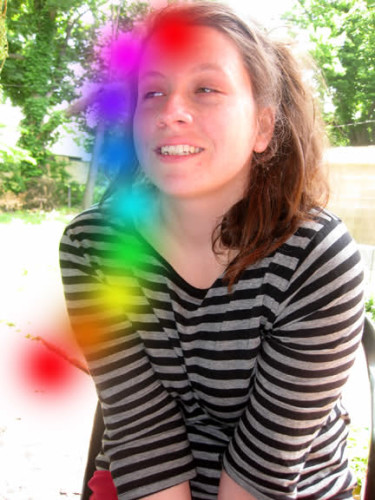 If you had to explain your work to a stranger, what would you say?  Explaining my work always comes out like generalized analysis of a great poem.  I might say, "This drawing is about shadows, desire, windows, death and dying."  That's a real turn off to a stranger, right?
What kinds of things are influencing your work right now?  I am teaching a film class this summer for the first time.  In preparing for the class, I noticed the relationships that my drawings have to silent film.  I am currently obsessed with F.W. Murnau's Nosferatu.  At the end of the film the character Ellen Hutter dramatically and sacrificially opens a window in her bedroom to allow Nosferatu into her home to satisfy her (and kill her).  Right now, for me, images of women opening windows are like a bikini carwash.  My work, although seemingly minimal, is about desire and dissatisfaction.  As a series, my most recent work relies heavily on visual subtext, just like in a film, subtext can be easily overlooked and most often I don't even see it until the work is in frames and hanging on a wall.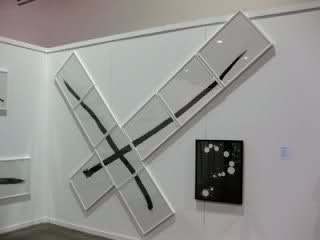 What materials do you use in your work and what is your process like?  For my drawings I exclusively use 500 Series plate-finish bristol and Rapidograph india ink.  I have a studio down the street from my house, but I sit at my dining room table to really "work".  You know that feeling when you are completely engrossed in a task and time seems to stop for you on one level and fly by on another?  This feeling is what drives me as an artist.  I reject the romanticized studio artist – one that drinks, socializes, and works and has women and draws them and retires in the morning.  It's a class issue for me, but it is important that my work feel like labor.
What's your favorite thing about Owensboro and what are your thoughts about its art scene?  I moved to Owensboro, KY last summer for a teaching position.  There are several benefits to living in a city like this for me.  The cost of living is really low.  I live in a huge four bedroom house.  It's kind of a dump and haunted, but we have so much space to work with.  In our house we have a music studio, two offices, two studios, a library, and the basement is still completely empty!  The downfall, I guess, is that Owensboro is the kind of place that people typically leave for something better, but I think that's kind of interesting.  The trend now supposedly is to make your own city, right?  To move into the heartland, but I don't really buy that.  I went to grad school at RISD and after that everyone just moves to Brooklyn – same story.  If just five more young artists lived in Owensboro, we could own this place, write a book about it, make a record about it, and then move to Brooklyn.  Most young people aren't really willing to sacrifice their social network – even for just a little while.   I am pretty anti-social and I am lucky because I function well in solitude.  My work kind of requires it.  I can't get a thing done otherwise.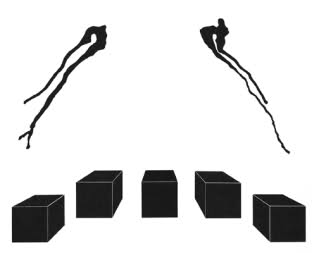 What do you do when you're not working on art?  I am taking the summer off from the studio.  One important perk to living in Kentucky is that I am very close to Nashville.  My grandparents live there and are very important to me.  Also, Nashville is a great city with lots of grocery stores.  I love to go grocery shopping.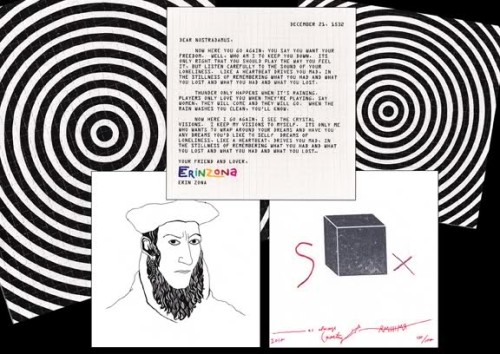 What are you really excited about right now?  I am really excited about turning 30 this summer and I am not being facetious.
Top 3 favorite or most visited websites and why?  My morning coffee/web time is a ritual.  I am pretty boring though.  Mainly I use the Internet for news and research.  #1 Gmail.  #2 News.  #3 Public Library.  I recently quit my online social network addiction, it was bringing me down.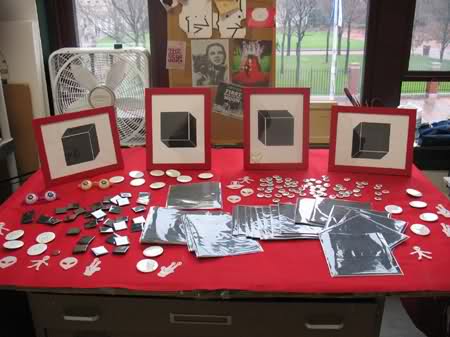 What are your plans for the next year? Any current or upcoming shows we should know about?  My plans for the next year are pretty square.  Right now, I am focused on my career, getting a better job, I have some shows coming up, etc.  More importantly, in my fantasy future, I would move back to Kansas City, start a band with my friend and hero Natalie Myers, have huge sums of money in the bank, AND I get to eat cake everyday without getting fat. *Portrait of Erin Zona is an Aura Painting by Mark Dal Pra. Buttons and other multiples from Erin's portfolio are always available for free.  Interested parties email erinzona@gmail.com