Born in San Francisco, Emily Keegin received her BA from Bennington College and her MA from the Royal College of Art in London.  She currently lives in Brooklyn, New York and makes photographs and multimedia sculptures about the 21st century American dream.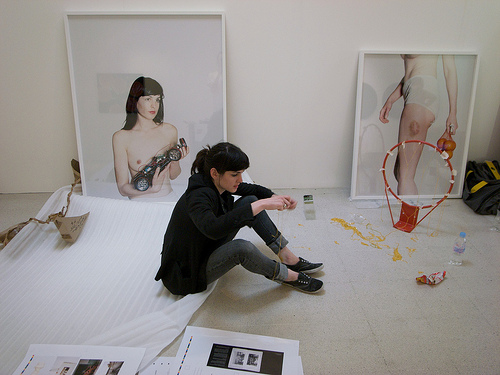 If you had to explain your work to a stranger, what would you say? Pop-art photography with a dark sense of humor.
What materials do you use in your work and what is your process like? I have a very messy studio but make very clean photographs and installations.  I work through ideas kinesthetically.  I like to slop around with paint and glitter and found objects until things start to become clear and then I strip away 90% of the slop to end up with something that falls within my aesthetic lexicon.  For my photographic work I use a 4×5 wista camera and Kodak 160 portra film. I print my work traditionally —- I'm a sucker for long afternoons spent in the darkroom.
What kinds of things are influencing your work right now? American girlhood. Pop stars. Turning 30.  Aging. Memory. Sex. Womanhood. Spray-paint. Basketball.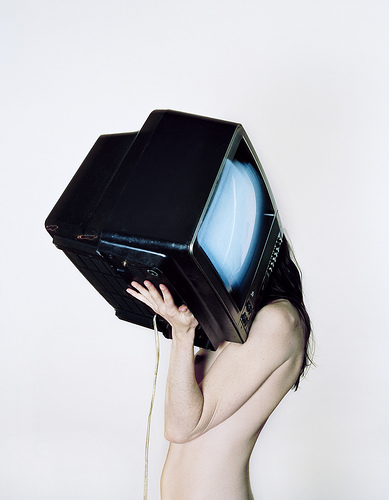 What do you want a viewer to walk away with after seeing your work? A reconsidered sense of contemporary Americana—I want my pictures to be the song of the summer.
How has your work developed within the past year? I spent 2008 & 2009 working on a group of self portraits that were about womanhood in a post-bubble America.  Then one drunken day I cut off all my hair, and my long-haired model was no more. So I had to change direction slightly.   In the year since, I've focused on non-portraiture photography. Working more three-dimensionally, I've begun bringing elements of collage and installation into both the creation and presentation of my work.
How long have you lived in New York and what brought you there? I moved to Brooklyn in 2003 after graduating from Bennington College. It was the only city where I knew people. I settled into a clan of recent liberal arts & design graduates. I kept trying to leave New York for somewhere less harsh, less American, less expensive.  But at some point New York became home and it turns out I'm a homebody.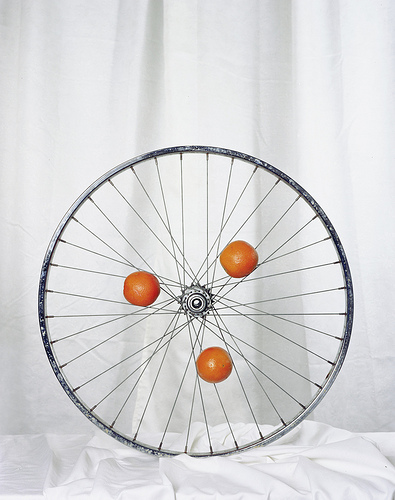 How has living in New York affected your art practice? I moved back to new york in 2009 after two years in London. Working outside the US was fantastic. The physical distance from America granted me the physical room I needed to make work about my American upbringing.  Now back in Brooklyn, it's a struggle to gain the same kind of distilled perspective. But it's nice to be home. I think my work since returning has reflected a degree of comfort.
What's your favorite thing about New York? The pace of New York suits me.  I like the radio dial of the city – the constant hum of strangers and coincidence.  Also, the pizza.
What artists are you interested in right now? Jan De Cock. Isa Genzken. Anne Collier.  (Jan De Cock's website is especially great)
What is one the bigger challenges you and/or other artists are struggling with right now? $! $$$$$
If you could go anywhere in the world where would you go and why? Anywhere that is currently experiencing SPRING. Porto?
What was the last exhibition you saw that stuck out to you? I saw the Independent art fair a few weekends ago – organized by Elizabeth Dee and it was great.  But really, the best art I've seen in the last 10 days is Can't Stop the Music, which is quite possibly the worst movie ever made.  And yet I couldn't stop watching. I couldn't stop the music.
What do you do when you're not working on art? I'm a photoeditor for Bloomberg Businessweek magazine.  As for hobbies, I watch a lot of Knicks games.
If you had one wish what would it be? More self-control. Less Netflix.
What are you really excited about right now? Turning winter into spring.  Finally moving on a sculpture project 1.5 years in the making.
Favorite or most visited websites and why?  New York Times, because the news is my weakness.  NPR.org, because terry gross could read me the phonebook and I would be happy.  Tumblr, because it's a brilliant way into the rabbit hole.  Artcards, a trusted list of art-ings.
What are your plans for the next year?  More art, less Netflix.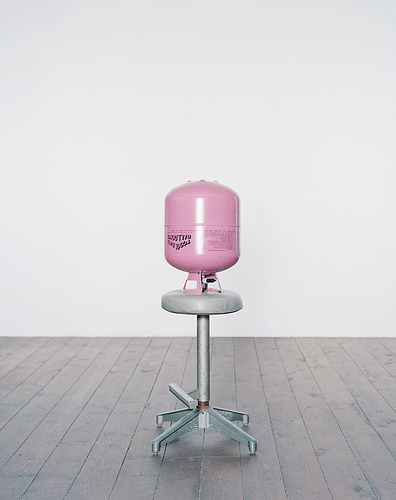 Any current or upcoming shows we should know about?  My work is currently included in the Humble Arts "Collectors Guide to New Art Photography: Volume 2"—- showing at the Chelsea Museum through April.
If you hadn't become an artist, what do you think you'd be doing?  I would probably be a less distracted photoeditor.
What's your absolute favorite place to be? Rooftops.
Favorite music? Right now I'm listening to Frank Ocean: Nostalgia, Ultra and it's doing a very good job being awesome.  Also- I do love me some COOKIES!
What were you like in high school? Oh jeez.