Daniel Vom Keller is a Swiss artist based in Amsterdam, where he recently graduated from Gerrit Rietveld Academy with a BA in Fine Arts. He previously studied at the Ceramic Design Class in Bern (CH) and at the Punkt G in Zürich. During his studies he has traveled and exhibited his work around Europe and in New York, where he did an exchange program at Pratt Institute.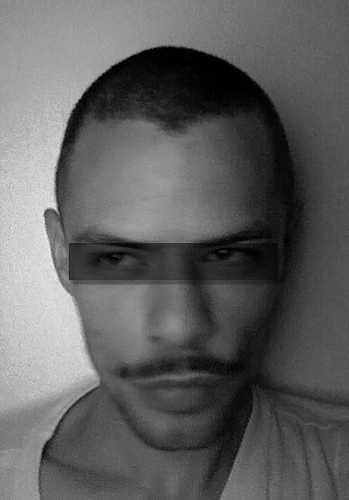 What materials do you use in your work and what is your process like?  The range of materials I work with is quite broad since it is also my passion to research and study all kind of materials that surround us. Often experimentation is the starting point for my work. I like to challenge myself and the material that i am working with by, for example, processing them with techniques that are usually used for an other purpose.
Right now I am working often with plaster, styrofoam, play dough and aluminum, to mention a few favorites.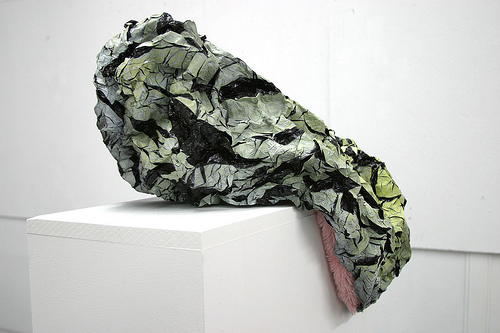 What kinds of things are influencing your work right now? In general I am interested in surfaces, the outer look of materials and how it affects our perception. Therefore comes that I like to work with material imitation or optical illusions.
Lately I got especially inspired by elements and techniques from architecture and also the visual language of traffic signs. The interaction of human-made structures with nature in our surrounding is a complex and fascinating source for my work.
What do you want a viewer to walk away with after seeing your work? I think confusion and a feeling of surprise would be a good mix. And the urge to go back.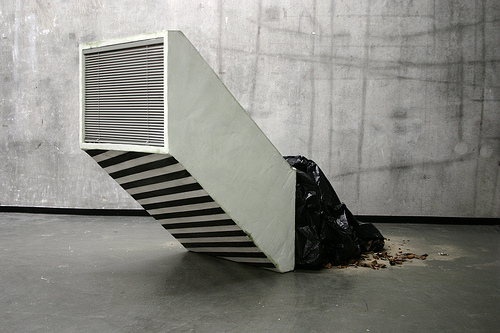 How did your interest in art begin? I started going once a week to a studio of a friend of my mum when I was five. She was telling stories and we would paint and model things with clay. It was the highlight of the week back then so I think this was the moment when art became part of my life.
How has living in Amsterdam affected your art practice? I moved to Amsterdam three years ago to study at the Gerrit Rietveld Academie. The international scene over here and the people I met through my studies opened up my view,  the way of working and also how i look at art.
Living in Holland also awoke my interest in the relationship of nature and society even more, since everything is absolutely designed and planed. Build instead of wild nature, a land where every tree is planted on the right spot.
Another great thing about Amsterdam are the weekly trash days, where you can find really good materials.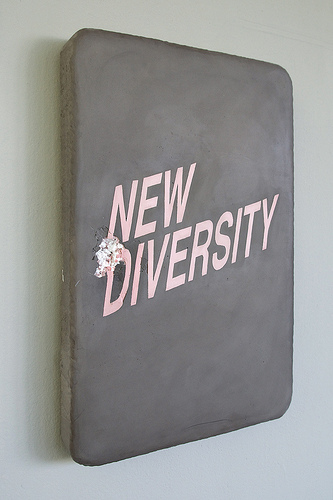 What are some recent, upcoming or current projects you are working on? The latest project i was working on arose from the thinking about the future of the sea floor in which i was playing around with objects and surfaces from daily life, like the look of tiled surfaces known from bathrooms or pools; I further fossilized kitchen sponges to conserve a proof of life from today for the future. This installation is on view right now at W139 in Amsterdam.
In autumn I will do a residency at the Good Life – a platform for contemporary ceramics, where I will focus again on work in ceramics – which is still one of my favorite materials.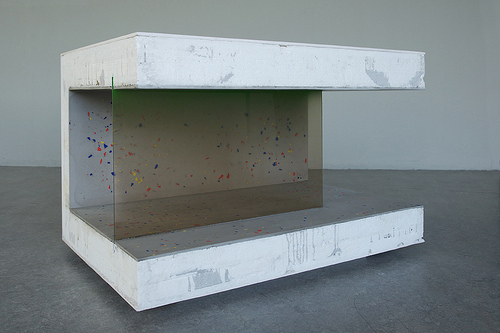 If you hadn't become an artist what do you think you'd be doing? I would probably be a marine biologist that has to scuba dive a lot.
If you had one wish what would it be? That animals would recapture our planet and I would be a duck.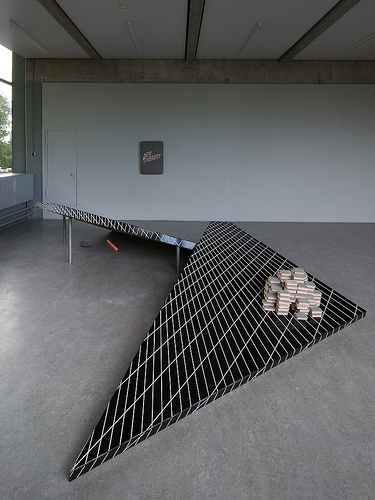 What artists are you interested in right now?  I am really taken by the work of the scandinavian duo Elmgreen and Dragset, the work of swiss artists Valentin Carron and Mai-Thu Perret and also Marc Dion and David Shrigley.
What do you do when you're not working on art? If I am not working on my work I am busy with the AWA Gallery, a project space I am running with friends where we offer different residencies. I also love to dance and cycle around. But most of the time when I am doing something else I get inspired by something I see and then my thoughts are back on my work again.