Annie Strachan lives and works in London.  She earned a BA in Fine Art from the Chelsea College of Art and Design in 2011.  Her work has been exhibited throughout the UK and in Vienna.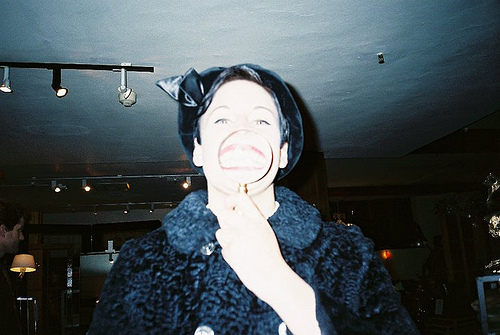 Tell us a little bit about yourself and what you do. I'm an artist based in South East London with an interest in classic Hollywood cinema and post-war European design.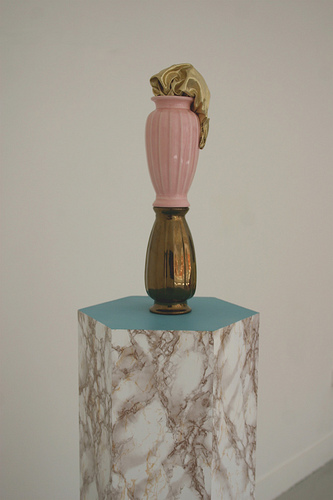 What materials do you use in your work and what is your process like?  In the past I've used a range of materials in my work from ceramics and self adhesive vinyl to found objects and fabric. However, I think the most prevalent has to be MDF. I sometimes describe my sculptures as totemic structures because of the way they are constructed. Although I often start from a sketch, most of the construction takes place through the instinctive stacking of objects on top of each other until I get the desired effect.
What kinds of things are influencing your work right now?  Well, I've really gotten into bakelite and 1980's takes on Art Deco. Some of the earlier episodes of the David Suchet TV adaptation of Poirot, where the set design is noticeably very cheap and of its time, really interest me. I think I'd like to start working more with plastics and creating lighting.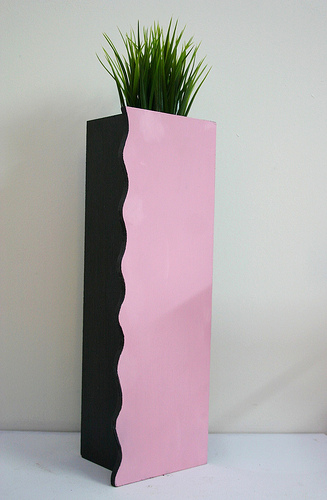 How has your work developed within the past year?  Over the past year I've been involved in so many different projects that I've had the chance to explore ways of working I'd probably not have otherwise gotten into so soon. For example, the series of 'Fascist Table Centres' I produced for the exhibition, This House is a Triadic Fascist and Made of Industry Glass, a one night event that merged art and design. Considering that my work is so heavily influenced by commercial design, it seems ironic that I'd never applied myself to making practical objects. However, the process of working to a design brief was really exciting and gave me a new perspective on my work.
How has living in London affected your art practice? Living in South East London there's quite a community of artists. This and the cheap rent have helped encourage a sort of DIY ethic whereby local artists are taking the initiative and setting up their own galleries or organizing their own opportunities to exhibit work. Curating some of my own exhibitions like Divine Party-Time allowed me to work with artists whom I really admire and maintain creative control over the whole process. This helped develop my work in new ways and opened doors to collaborations with other artists and designers.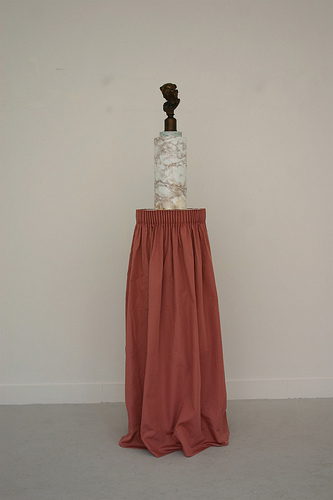 What was the last exhibition you saw that stuck out to you? I suppose the exhibition that I've most enjoyed this year has to be Postmodernism: Style & Subversion 1970 – 1990 which gave me the opportunity to see a lot of the Memphis group's designs in person rather than just in books or on someone's Tumblr. On a smaller scale, I really enjoyed Ben Wheele's exhibition, Antiquity Bonk at the Sunday Painter in Peckham and Alice Channer's recent exhibition Out of Body at the South London Gallery.
 
What do you want a viewer to walk away with after seeing your work? Although an important part of my work is the research I undertake and the references to these influences found in my choice of materials and form, I don't believe that it is essential to necessarily 'get' these in order to enjoy the work. For me the visual experience is the most important part of making work, I want people to enjoy viewing it regardless of whether or not they recognise that I've referenced the set design of a Douglas Sirk film.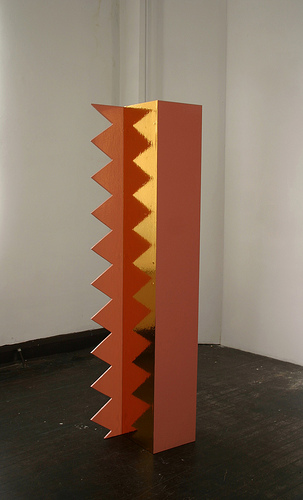 Can you share one of the best or worst reactions you have gotten as a result of your work? Luckily I haven't experienced many negative reactions to my work, although I probably just wasn't around to hear them. However, I have had my plinths used as drinks holders on occasion and at one show where I made centrepieces for the tables in a club, a person took my work off the table and left it on the floor.
If you could go anywhere in the world where would you go and why? I'd like to visit Hollywood and take one of those famous film stars' homes tours. Since coming across the BBC Arena documentary from the 1980s on Kenneth Anger's series of Hollywood Babylon books, I've become really interested in the ironic glamour and tragedy of the stars of yesteryear.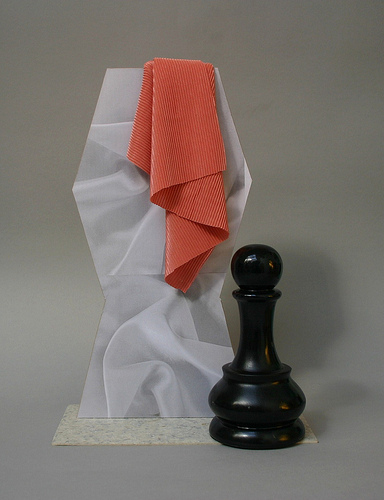 What are you really excited about right now? I'm really excited about visiting the BA summer shows and seeing what this year's graduates are up to. I'm also working on some exciting new projects that should be coming together in the next few months.